I always love when January rolls around because it means that wedding publications roll out their new issues, and it gives me all sorts of new eye candy to get me through the cold, wintry months!  Real Maine Weddings has just posted their issue online (and you'll be able to pick up the magazine in stores soon), and I thought I'd share my photos that the editor decided to include- how exciting!
Here's the cover of the magazine, in case you want to pick up a copy.
Annie and Steve, who had a Point Lookout Maine wedding, had their cake, designed by Owen Dyer of ConfectionArt, featured on the contents page (AND elsewhere, as you'll see below!).  The image is the fourth one down– the one with the bike!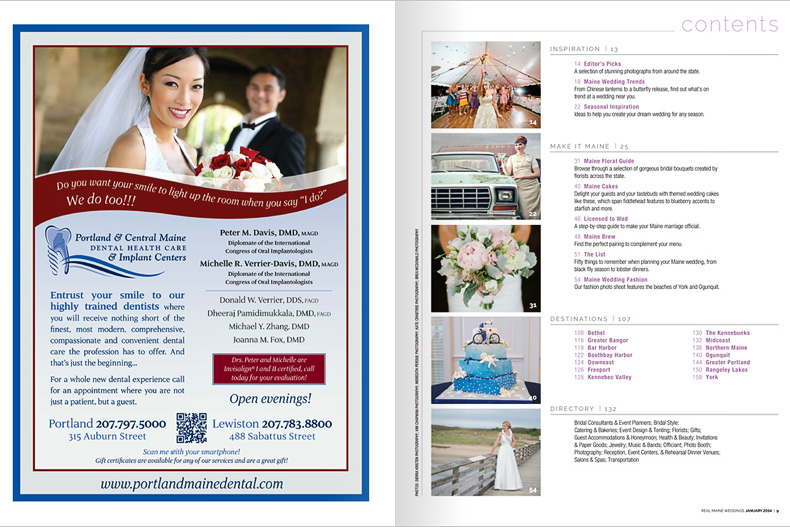 I love the Editor's Picks section because it focuses on special moments at weddings, and was pleased to see one of my favorite dancing ringbearers from this year, who attended Kayla and Brent's Cape Elizabeth wedding, made it into the spread.  This image also won a Fearless Award earlier in the year!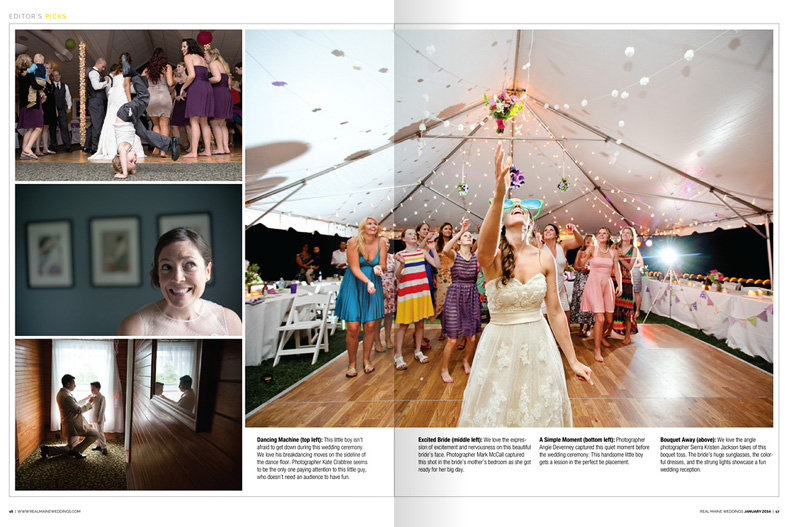 On the second page, the gorgeous peony bouquet is designed by Hoboken Gardens and is from Sam and Ryan's Samoset Resort wedding.

And there it is featured in full size– on the day of their Rockland Maine wedding, the breeze blew so forcefully that it flung Sam's dress around in quite a romantic way.

Annie and Steve, who had a Northport Maine wedding (and whose cake was featured previously), also had their delightful orange bouquet, designed by S. Scollay, featured in the flowers section (second page, top left).

There's Annie's cake, by ConfectionArt, featured larger than before (second page, lower left).

Chelsea and Bobby's Waterville Maine wedding was featured in the Kennebec Valley section.

And a portrait from Tanya and Abe's private residence Lincolnville Maine wedding was also featured!

Thanks, Real Maine Weddings, for featuring some of my photos!  It's always a delight to see them printed and being shared.