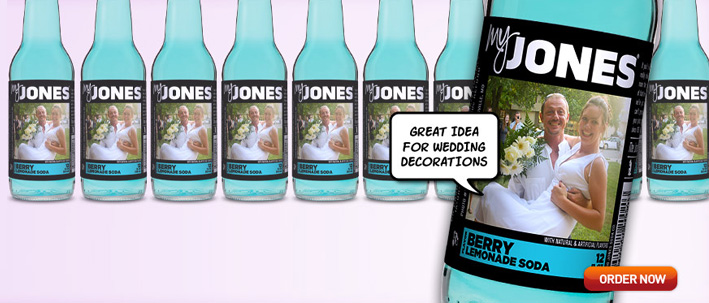 When I was younger, I loved Jones Soda. The flavors were creative (Green Apple Soda! Fufu Berry!), and so were the bottles. For those of you unfamiliar with Jones Soda, each bottle features a photo submitted by a fan. I used to look carefully through all the bottles in the convenience stores I frequented to ensure that I snagged the bottle with the coolest photo, and, once I finished the soda I would place it on display in my bedroom.
A week before my own wedding, it dawned on me-- Jones Soda wedding favors! How cool would that have been? It would have represented my husband's love for soda and my love for Jones and photography. Of course, at the time when I thought of the idea, I had already finalized my favors, so it was a no go. It's the only thing I'm a little sad about not being able to do at my wedding.
So here's my offer-- if you use Jones Sodas at your wedding as wedding favors (or in another context, so long as I approve it), and those bottles feature engagement photos done by me... I will give you 10% off your wedding package!
Let me live vicariously through you. You know you want yummy, artsy soda at your wedding. How can you say no?
Go to the Jones Soda Website for more information
(Offer will continue until a couple has decided to take part in it).