See Lucas and Ellie's wedding write up in the New York Times!
Lucas and Ellie both work on Broadway (Lucas as a producer, Ellie as an actress), but found themselves with lots of free time on their hands when the pandemic forced Broadway to shutter for an unknown period of time. Despite neither of them being particularly outdoorsy (which was highlighted many times throughout the wedding), the two of them decided to use this abundance of time to road trip across the country to visit national parks. Before they knew it, they were hooked, and it only made sense for Lucas to propose in 2021 at a national park (Channel Island National Park, to be precise). Thus, what better place to have their wedding than at a National Monument, Mount Katahdin? While there aren't many wedding venues in the Millinocket Area, New England Outdoor Center (or NEOC) was an easy choice for its breathtaking view of Katahdin, the highest peak in Maine (and, NEOC is one of my favorite wedding venues in the state of Maine!)
I started my coverage with Lucas and Ellie at their open mic night, which they did in lieu of a rehearsal dinner. When I arrived, guests were chatting over snacks and drinks, but soon afterwards the open mic night began in earnest. Lucas' parents began with pitching a rom-com concept to Ellie, Lucas, and their many guests (many of which are also involved in Broadway), which hilariously detailed Lucas and Ellie's meet cute and relationship. Friends and family were laughing and crying, and when Lucas' parents asked if anyone would pick it up, they answered very much in the affirmative, the emotion in the room palpable. After that incredible toast, friends and family would approach the mic, give a short toast, and then would sing a song they had picked with Ellie and/or Lucas in mind. The energy was high, the feelings big, and it was such a delight to photograph.
I wasn't sure if Lucas and Ellie's wedding could top the joy of their open mic night, but their wedding day delivered in spades. From their very emotional ceremony, in which Ellie and Lucas shared emotional, heartfelt toasts which caused both of them to tear up, to their outrageous dance floor (headed by the incredible band The Connection), I was in photographer heaven capturing all of the incredible moments taking place on their wedding day.
Here is a small selection of my favorite moments that took place on Ellie and Lucas' wedding day. Enjoy!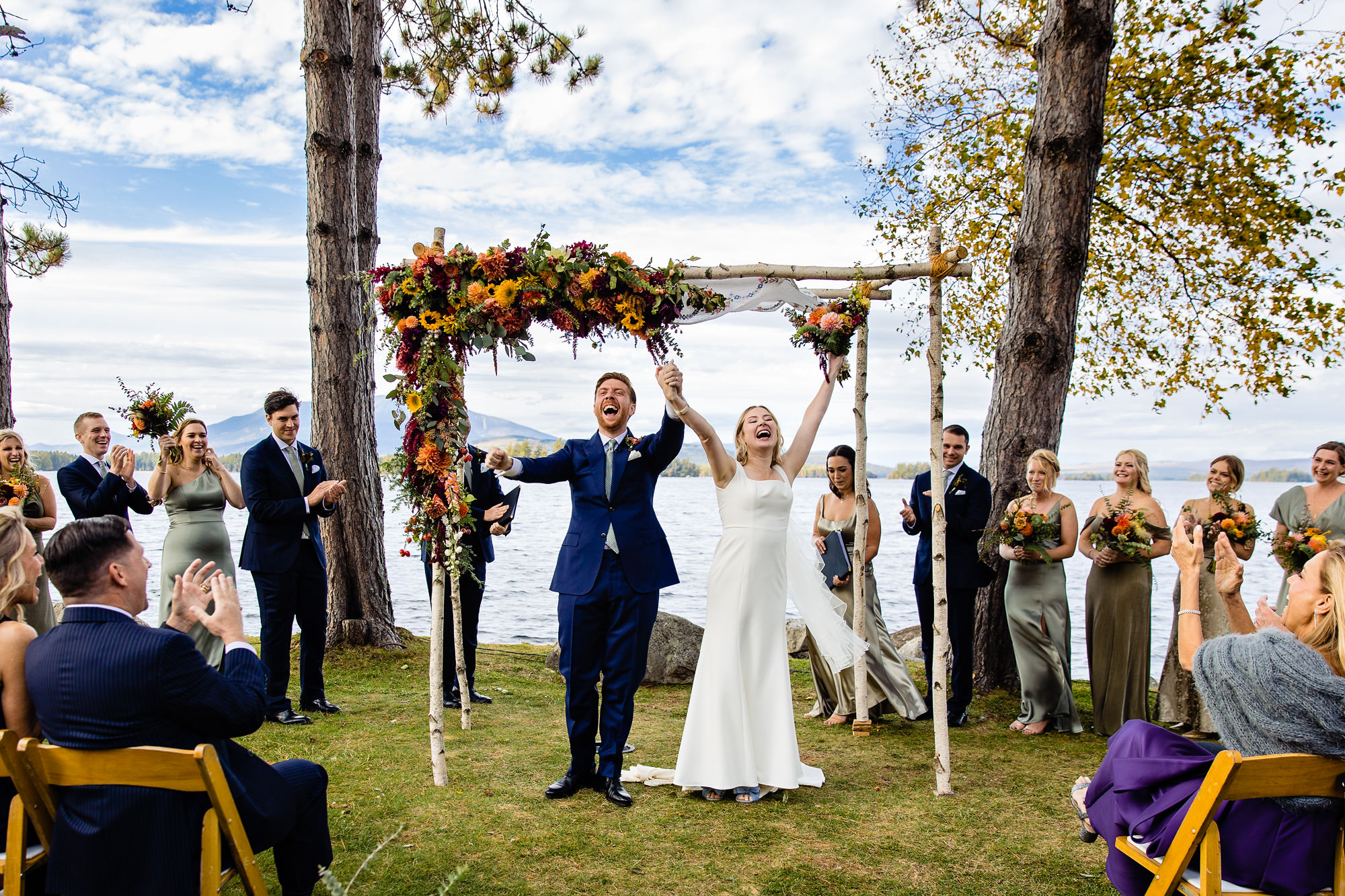 Vendors:
Venue: New England Outdoor Center (NEOC)
Coordinator: Shorey Ewing
Caterer: River Driver's Restaurant
Photographer: Kate Crabtree Photography
Second Photographer: Kate Harris
Band: The Connection (Wilson Stevens)
Videographer: Life in Focus
Makeup: Bar Harbor Beauty, Caitlin Wooters
Florist: Belladonna Floral
Cake/Desserts: Wildflour Cake Design
Officiants: Zachary Baer and Nicole Capatasto
Ellie's Dress: Jenny Yoo
Lucas' Suit: Alan David Custom Suits