So, you've fallen in love with Acadia and want to know how to elope in Acadia National Park? I've got you- read on and I'll tell you everything you need to know! In short, you'll need a few crucial things, but you'll want to continue reading this in-depth guide to create the best possible plan for your elopement.
Acadia National Park is such a wonderful location to elope in Maine. The weather is flawless in the late spring, summer, and fall, and with such a wide variety of landscapes to choose from, such as rocky coastlines, sandy beaches, ocean views, fields, forests, mountaintops, lakes, ponds, and more, you can't go wrong with wherever you choose to say your "I dos" in the park.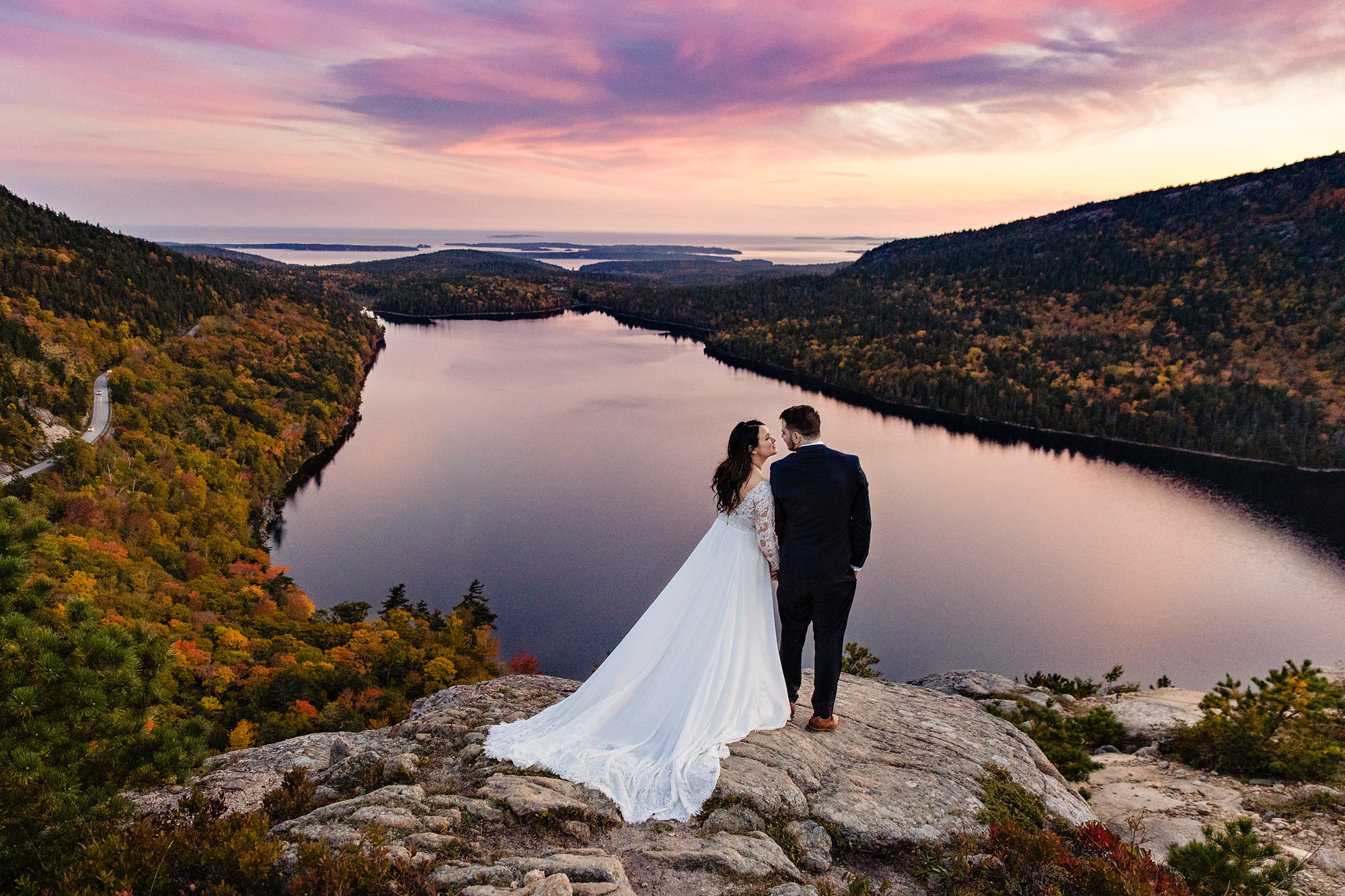 The basics - how to elope in Acadia National Park
Eloping in Acadia is a fairly simple process. The most important steps will include securing a Acadia event permit, a park pass, and a marriage license, hiring an officiant (or having a friend or family member officiate), and ensuring you have two witnesses. If you're hoping for more guidance, keep on reading- I'll share everything I know to help you plan the perfect Acadia elopement.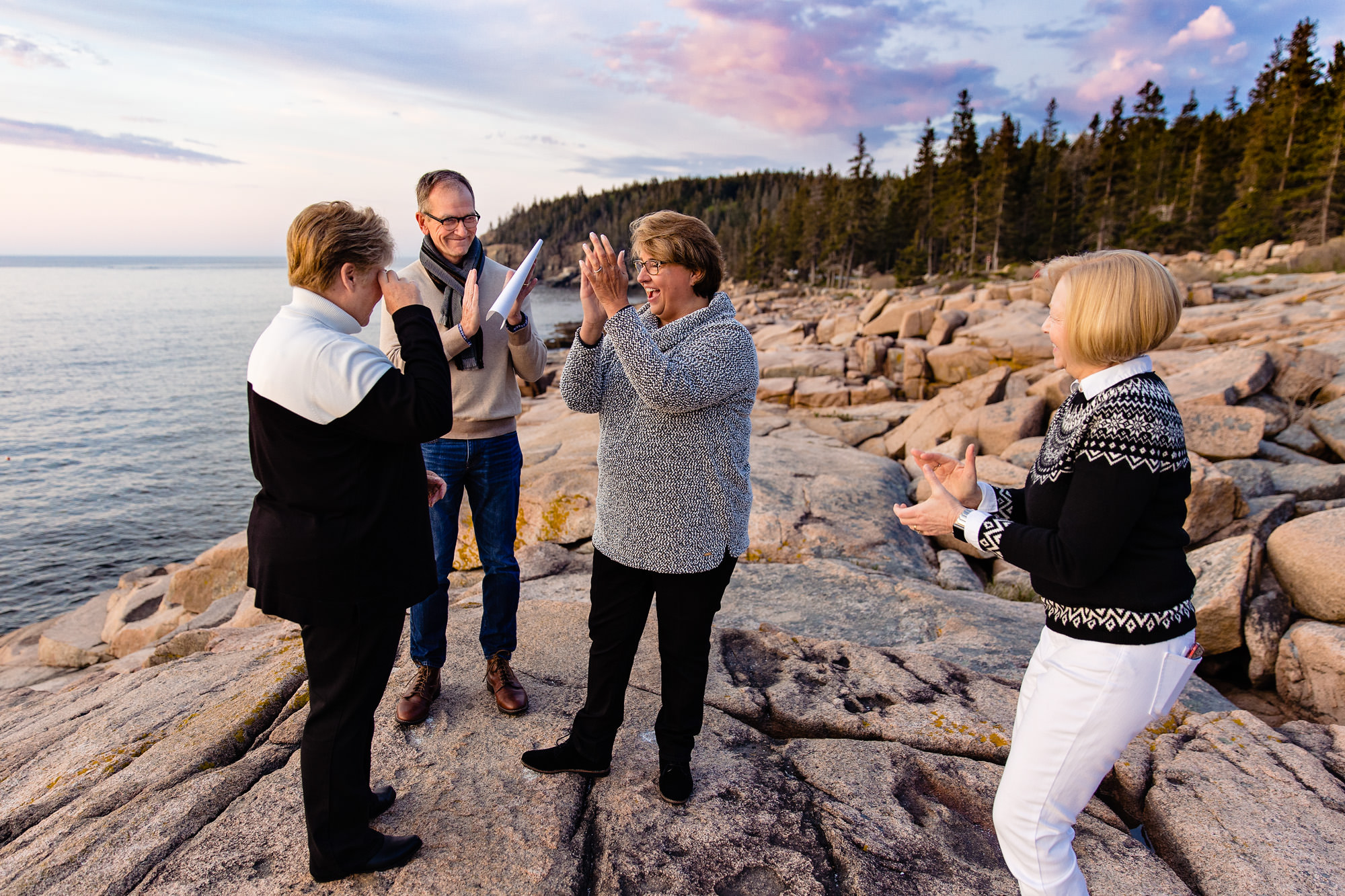 Select a date/season for your Acadia elopement
You might already have a date in mind; perhaps you've already booked your vacation to Acadia, or are planning to elope on your date-aversary. However, if you're flexible, consider the following:
1. Acadia is busiest from July 4th through the end of August, and October tends to see a lot of leaf peepers. You can certainly elope during these months, but you'll have to be more thoughtful about the locations and times you use. If you'd like to explore the park when it's a little bit quieter, consider May (although Memorial Day weekend can be exceptionally busy), June, or September.
2. If your elopement is at sunrise or sunset, you'll have a better chance of finding a quieter location. People tend to leave the park around 5-6pm for dinner, so if you elope at sunset, you'll have a greater chance of finding privacy from May through mid September, when sunset ranges from around 7-8:30pm. May and early June tend to be quieter and the sunset is late, so they are excellent times to visit Acadia.
3. Acadia (and other national parks) host entrance free days, in which entrance fees are waived. It's best to not elope or get married on these dates as the park typically sees heavier traffic. They dates for 2023 are the following:
Monday, January 16th, 2023
Saturday, April 22nd, 2023
Friday, August 4th, 2023
Saturday, September 23th, 2023
Saturday, November 11th, 2023
4. Wedding vendors often don't provide elopement services on Fridays, Saturdays, or Sundays (they're often photographing larger weddings during those days). By having your elopement on a Monday, Tuesday, Wednesday, or Thursday, you'll be more likely able to find available and awesome wedding vendors.
In short, my favorite time of the year for elopements based on everything above is May (excluding Memorial Day weekend), early June, and mid to late September. By the way, if you're interested in trying to visit at peak foliage, the Maine Foliage website will be super useful, as it provides past foliage reports.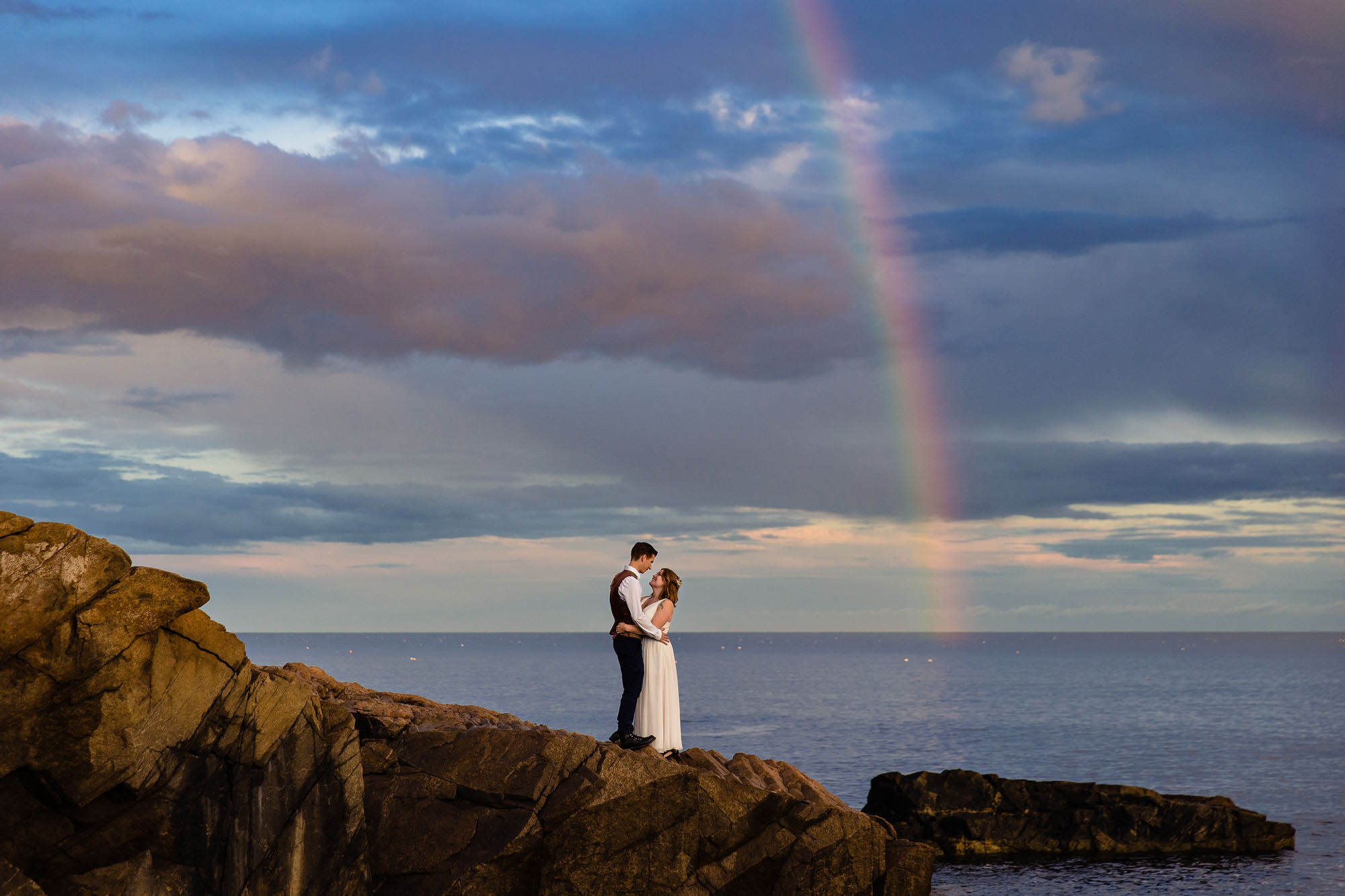 Determine your elopement guest count
Are you planning on having an Acadia elopement and including just the two of you, an officiant, and a photographer? Or, are you hoping to have an intimate ceremony that includes a few of your friends and family as guests? You'll want to estimate your guest count before continuing any further- the number of must-have guests you'd like to have at your elopement may determine where you can have your ceremony, and what steps you'll need to take to obtain permission. Keep in mind that you'll need to include your officiant, photographer(s), yourselves, and any other present vendors in your guest count- we're participants!
If you're planning to have ten or less people participating in your Acadia elopement, guess what? You're in luck- you won't need a permit, and you will be able to have you wedding just about anywhere in the park! If you're not entirely sure what your guest count will end up being, I recommend applying for a permit just to be safe- permits are only $50, and it's a small price to pay for security (and, bonus- you're supporting the park)! However, you should wait until you finish the steps below before applying for your permit.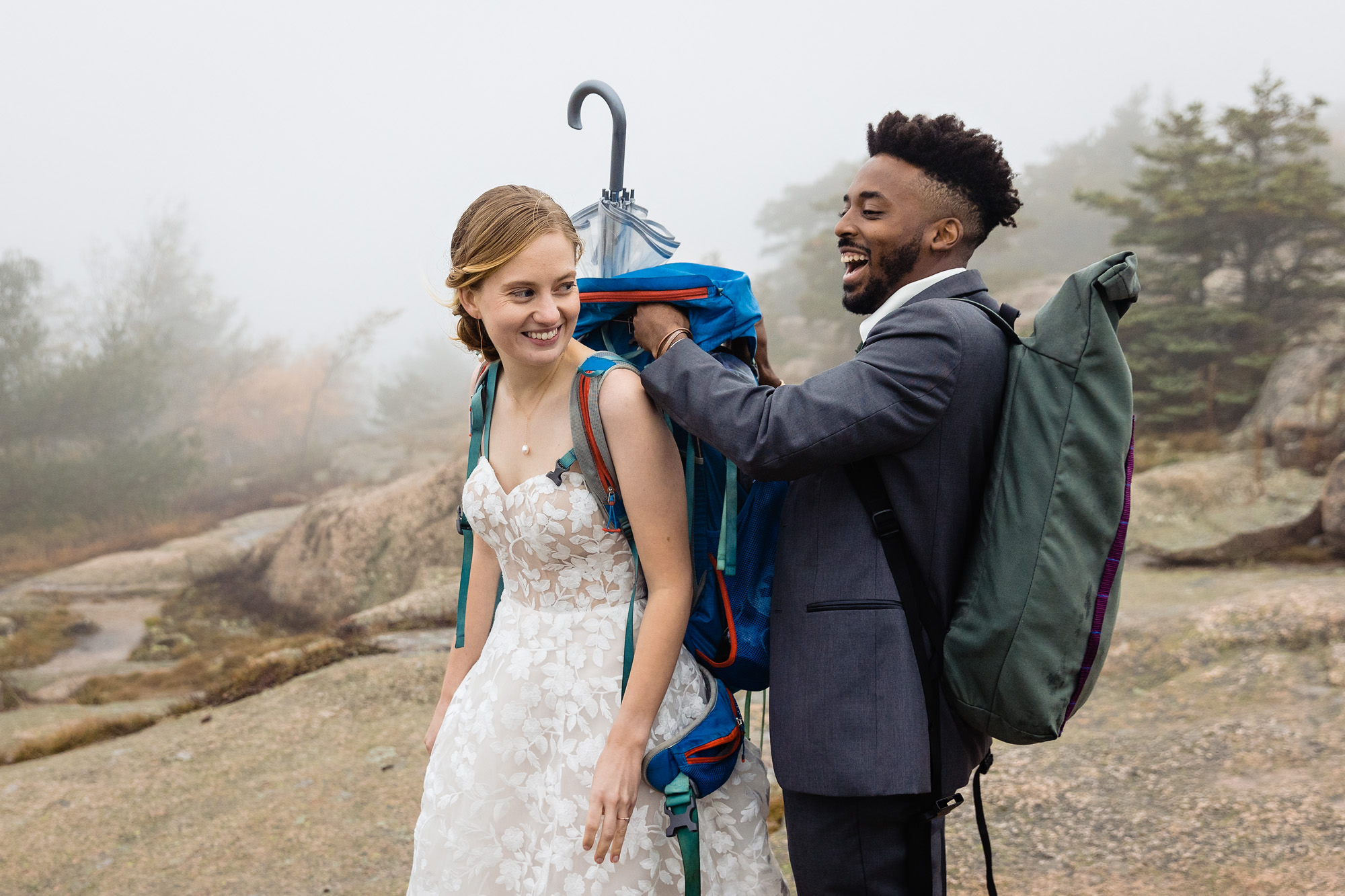 Review Acadia National Park's policies on elopements and weddings.
Next, you'll want to review Acadia National Park's elopement page, which provides a lot of useful information on what you can and cannot do at your elopement/intimate wedding, and also includes a link to the permit document. If you book local vendors, they should already know what they're allowed to do in the park, but it's not a bad idea to send it to them, just in case. The most important thing to note in Acadia's elopement policies is the request for you and your guests to follow Leave No Trace policies- so, in short, park in approved parking spaces/lots, and don't install decorations. But, do you really need decor when you have Acadia's beauty as a backdrop?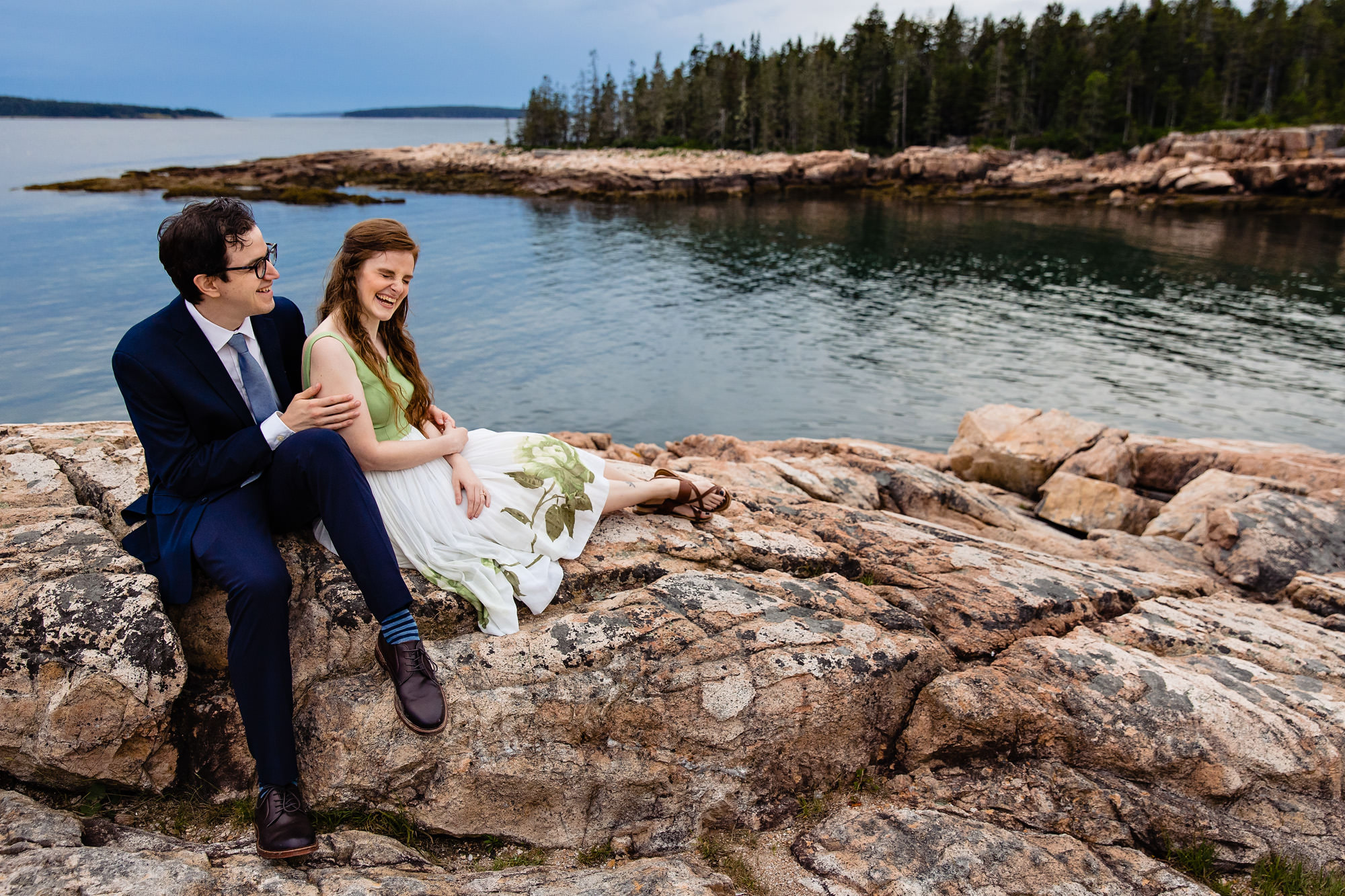 Plan your elopement/wedding day on Mount Desert Island
Your elopement can be more than just ceremony coverage and portraits. Want to grab an ice cream cone? We can! Do you want have a luxury picnic at some point during your day? That can be arranged! Want to pop a bottle of champagne and toast to each other? Sure! Do you imagine the two of you hiking to cool spots while wearing your wedding gear, or maybe changing up on top of the mountain? I'm in! What about a sunset boat ride? Your elopement/wedding day can look like whatever you want it to like like, I'm just along for the ride!
Here's a few examples of unique Acadia weddings and elopements!
Book your Acadia elopement vendors. Choose local!
If you want to elope in Acadia, there's a lot of high quality wedding vendors to choose from. Whether you're going simple and hiring just an officiant and a photographer, or perhaps adding a few others to your team- a hair/makeup artist, florist, planner, and perhaps a catering/restaurant reservation for afterwards- I recommend hiring a local team. Why? By hiring local vendors (in particular, a photographer, planner and/or officiant), you'll be able to pick their brains in regards to selecting a location and time for your elopement that will (hopefully) allow you to avoid crowds. I assist all of my Acadia elopement and wedding couples with selecting an elopement spot as well as locations for wedding portraits, and I've developed tricks and suggestions that ensure that parking shouldn't be a problem on your big day, even if you're getting married at a fairly popular spot.
The Best Acadia wedding vendors
Here's a short list of some of my favorite vendors in the Acadia area. They won't steer you wrong!
Planner: RL Sisson Events
Florist: Floret, Chickadee Hill Flowers, Cottage Flowers
Caterer: Clark Point Catering, Bar Harbor Catering Company, Luxury Picnics Acadia
Makeup/hair: Bar Harbor Beauty, Echo Salon
Officiant: Malen Hsu, CC Ceremonies
Weather Consultant: Nor'easter Weather Consulting
Boat charters: Sail Acadia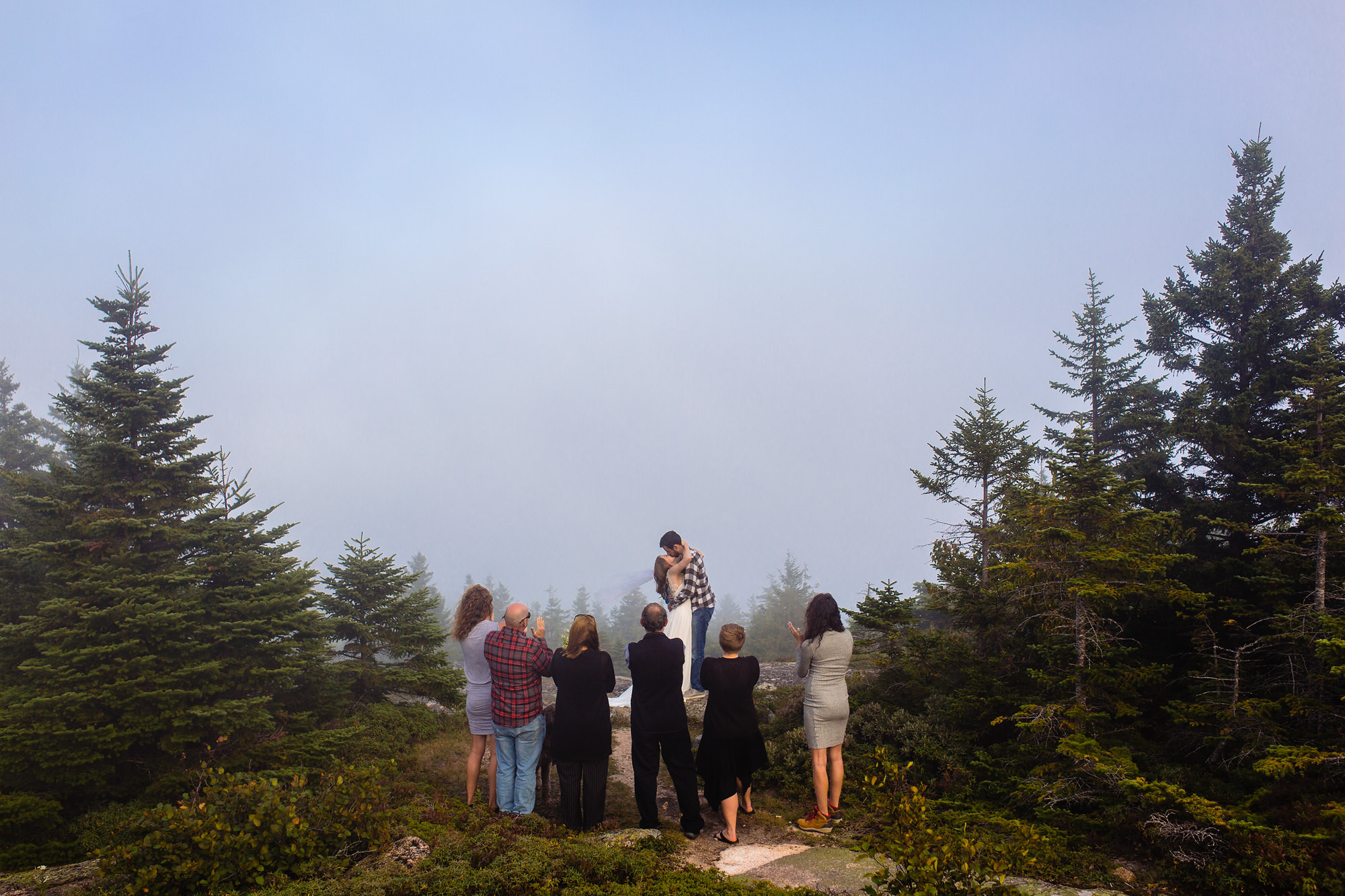 Choose a location for your Acadia elopement
Acadia National Park has become a very popular vacation spot from Memorial Day weekend through the end of October, and many of the most popular locations are slammed during peak hours. And, since Acadia is a relatively small park, parking is often hard to come by at the most popular locations. You'll need to keep all of this in mind as you consider locations, as you don't want to encounter a situation in which you, the officiant, and your guests are unable to come across parking when it's time for the two of you to elope!
First off, I've photographed many elopements - feel free to look through my past Acadia elopements blog posts to see if any locations speak to you.
If you decide to book with me, I can give personalized advice about these locations, as well as share other locations that are off the beaten path (if I were to post about them online, they could become overcrowded!).
Places to elope in Acadia National Park
The most popular (or asked about) Acadia elopement locations are the following:
And, here's a list of possible ceremony locations for weddings with more than ten guests (per the Acadia National Park's weddings page)
Cadillac Mountain - 30 (No ceremonies during sunrise or sunset.)
Sand Beach - 30
Ocean Drive - 30
Otter Cliff - 20
Otter Point - 30
Fabbri Picnic Area - 30
Little Hunters Beach - 20
Seawall Picnic Area - 30
Thompson Island - 50
Schoodic Point - 25
Frazer Point Picnic Area - 50
While all of these spots are stunning, keep in mind that they have a tendency to be crowded. If you'd prefer a quieter spot in Acadia National Park to elope, I'd be happy to provide you with a list of recommendations should you book with me.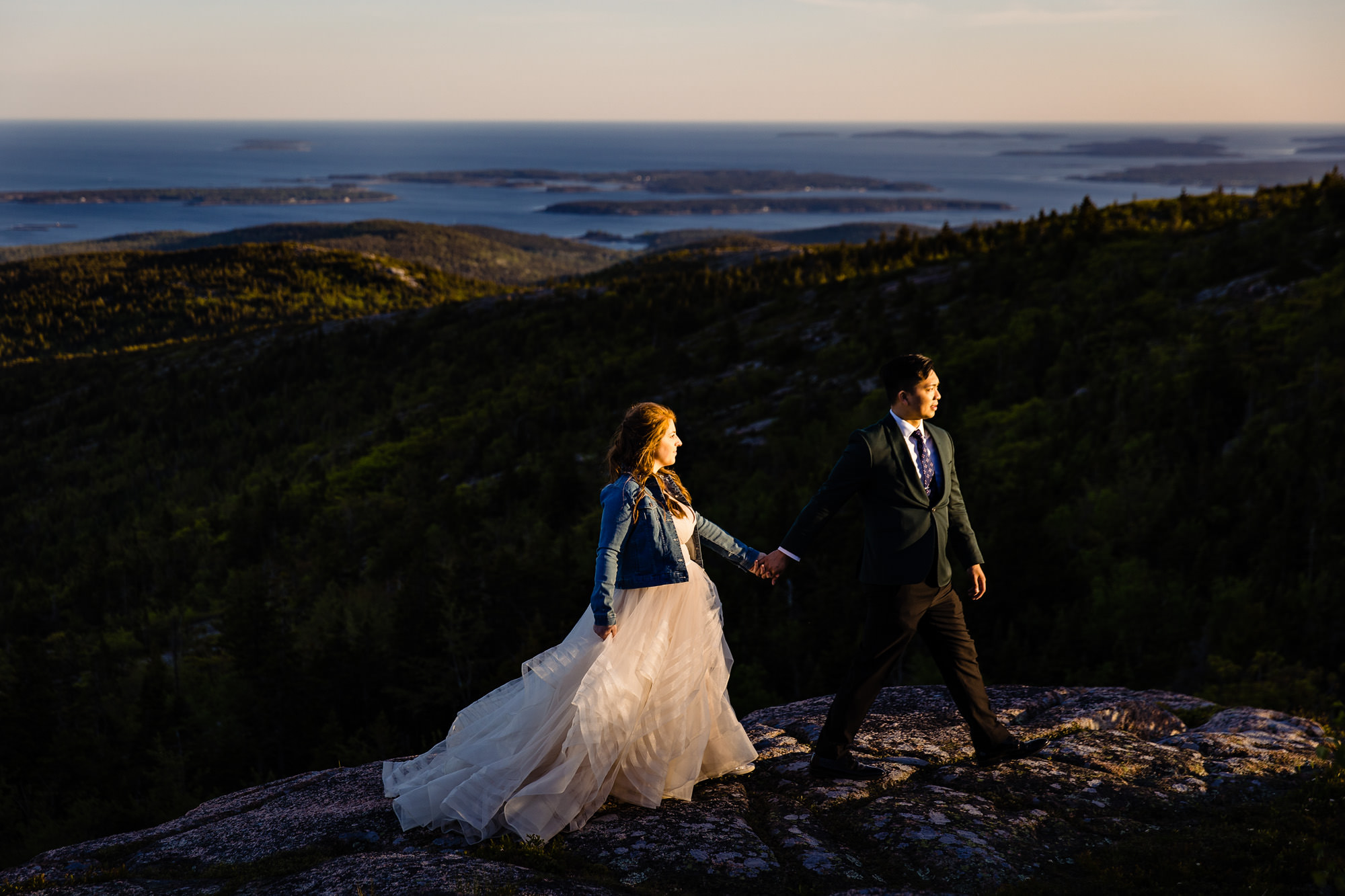 Complete and mail your Acadia National Park elopement permit
At this point, you should have enough information to complete your permit if your wedding requires you to submit one. Remember- you MUST apply at least ten days prior to your elopement. I personally recommend applying at least two months out, as Acadia is very busy during the summer, and you'll want to make sure it's reviewed in time for you to elope in Acadia.
Buy your Cadillac car registration pass(es) if needed for your elopement
From June 23rd through October 22nd 2023 (exact dates have yet to be released yet) Acadia National Park will require those driving up Cadillac Mountain to purchase a $6 car registration pass for the time they would like to enter. These can be purchased starting March 25th, at 10am EST. They'll be released in two waves- 30% of the Cadillac Summit Road vehicle reservations will be available 90 days in advance of the reservation date. The rest of the reservations will be accessible for purchase two days prior to the reservation date, at 10am EST. From personal experience, it's usually easier to try and snag a reservation 90 days prior.
What does this mean for you? If you want to take portraits at Cadillac Mountain, you'll want to talk to your photographer to determine what time you'll want to purchase your pass for, as well as how many car registrations you will need. I suspect car registration passes will sell out very quickly, so you'll need to make sure you're on the ball and purchase your pass on the day(s) it becomes available. Would you like to avoid having to deal with car registrations? If yes, I recommend considering hiking to other, quieter mountaintops. While hiking may sound daunting, some can be reached with as little as a 15-20 minute hike, and many mountains offer excellent panoramic views.
If Cadillac Mountain is somewhere you absolutely have to visit during your elopement, make sure to visit Recreation.gov's vehicle registration ticket page!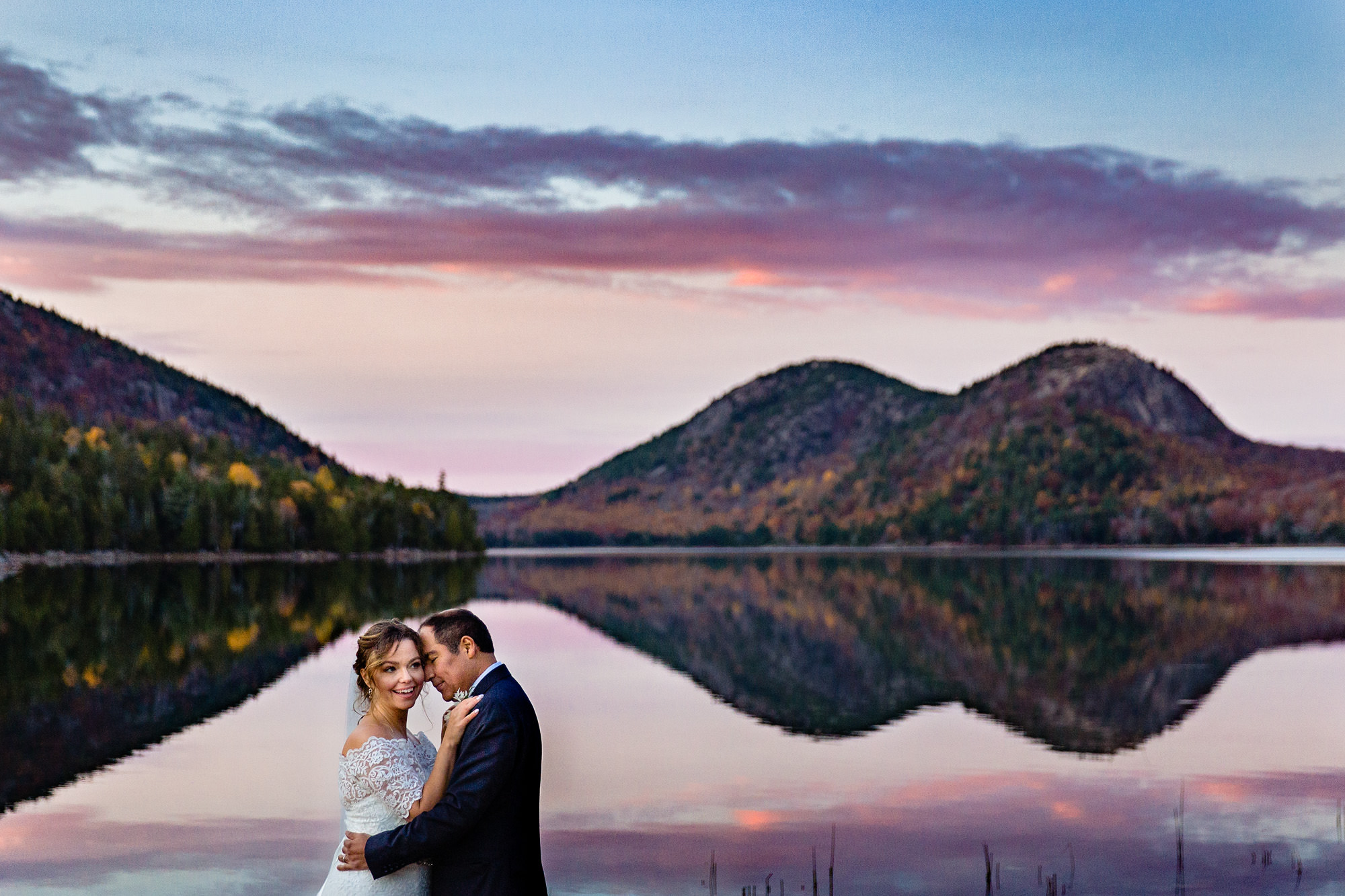 Determine where and when you will obtain your marriage license
If you are a Maine resident, you'll need to apply at your city/town office. However, if you live outside of Maine, you'll be able to apply in any Maine town or city. The marriage license will be valid for 90 days once obtained, so plan wisely. If you'll be traveling up to Maine only a day or two prior to your ceremony, I recommend contacting the town office you plan to apply for your marriage license just to make sure they'll be open and ready to provide your marriage license for the day you plan to stop by.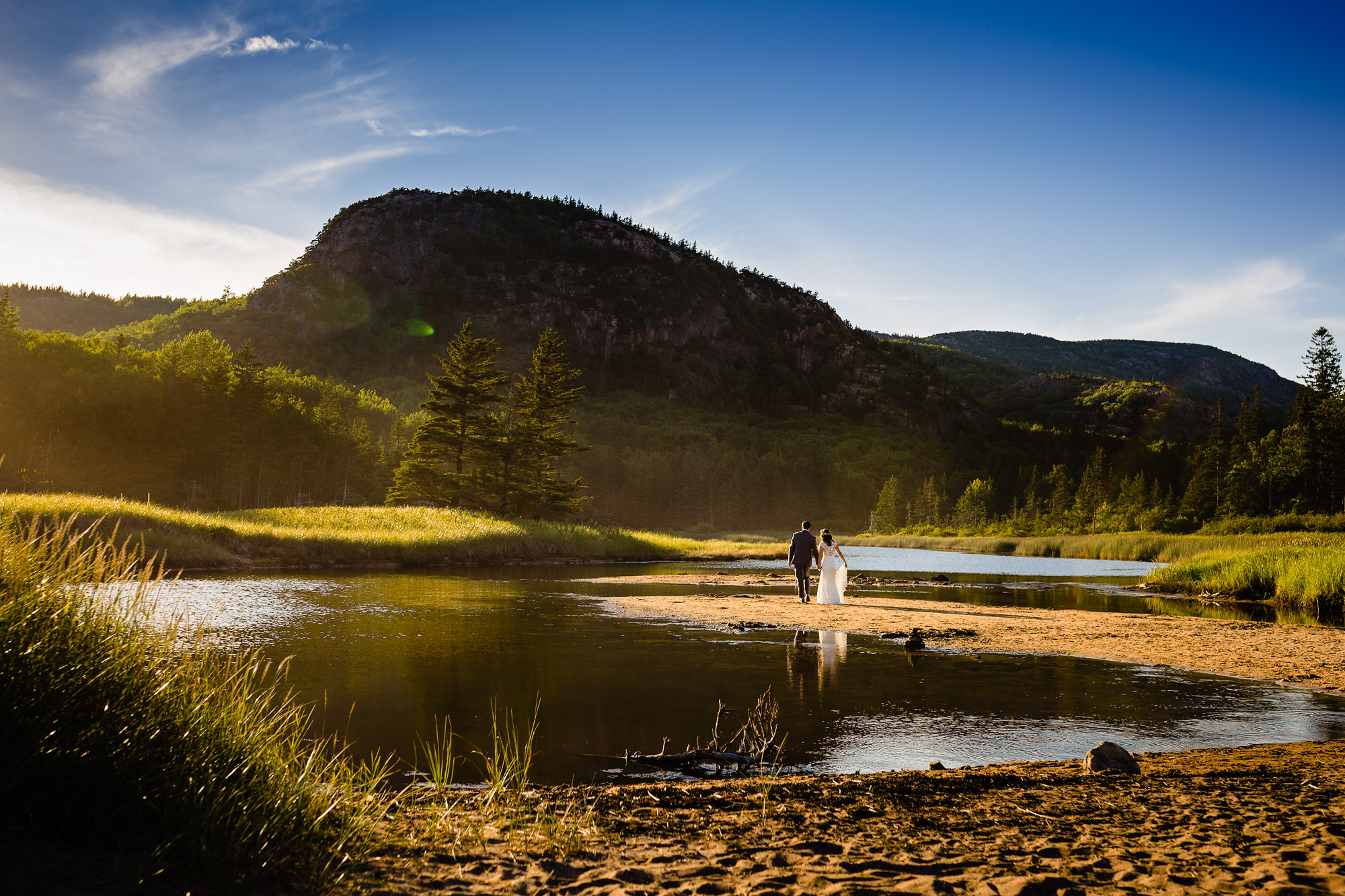 Pick a rad place to stay for your elopement on Mount Desert Island
You'll likely be staying on Mount Desert Island for a few days, so you should pick an inn or AirBNB that's fabulous! The hardest decision will be where you'll want to stay on the island. It's fun to pick a place close to or in downtown Bar Harbor if you want to be walking distance from restaurants, bars, and shops, but if you're hoping for a quieter experience, I suggest checking out some of the communities on the other side of the island- Tremont, Southwest Harbor, Seal Harbor, Somesville, and Northeast Harbor, to name a few. Most spots on the island are only a short drive away from Acadia National Park.
At this point, I hope that your questions about how to elope in Acadia have been answered! Eloping in Acadia is a (relatively) easy feat, and many of my past couples have told me how wonderful it was to keep their weddings simple and intimate. Want to make the process even easier? If you book me, I'll help you select the perfect ceremony and portrait locations, collaborate on a timeline (so that we ensure we stop by every location you'd like to visit while avoiding crowds and parking snafus), and more. What are you waiting for? Email me and let's craft the perfect Acadia elopement!
Pin this guide!