Brandy and I emailed back and forth in the days leading to her and Michael's elopement, as the chance for rain loomed large. I always advise couples not to panic if the forecast looks iffy when they look at the ten day forecast, as Maine's forecasts are known to rapidly change and shift, but the forecast continued to look dour. The day prior, I told Brandy and Michael that my schedule would allow a shift to the next day. They briefly considered that option, but when the forecast looked a bit better the morning of, they decided to go forward with their Acadia elopement. While at the elopement, I told them that I was surprised they stuck with their original date, but they reminded me that their engagement had taken place on that day in 2021, at Schoodic Point, and so the date was special to them. The weather, by the way, ended up being fine- while it was a bit cool, and it misted from time to time (but almost always while we were driving from location to location), Brandy was prepared and brought along a furry stole to keep her warm during the ceremony so she could focus all her energy on what mattered most.
While Matthew, Michael's brother, officiated, Brandy and Michael's families watched as Brandy and Michael read touching vows, and shared thoughtful messages Michael had left Brandy over the course of their relationship in her daily planner. Their two pups, Penny and Charles Wallace, both watched (and got into a little mischief from time to time). Acadia, by the way, is a dog friendly park, and dogs are allowed most places in the park provided they are on a leash. For more information, visit the Acadia National Park website.
We then continued on to a lovely pond on Mount Desert Island, then headed back into the park to visit a rocky beach. We had planned to hike a mountain to see the sunset, but since everything was quite clouded over and it was possible we would have zero visibility at the top, we opted for another spot.
Here are a few of my favorite photos from our time together. Enjoy!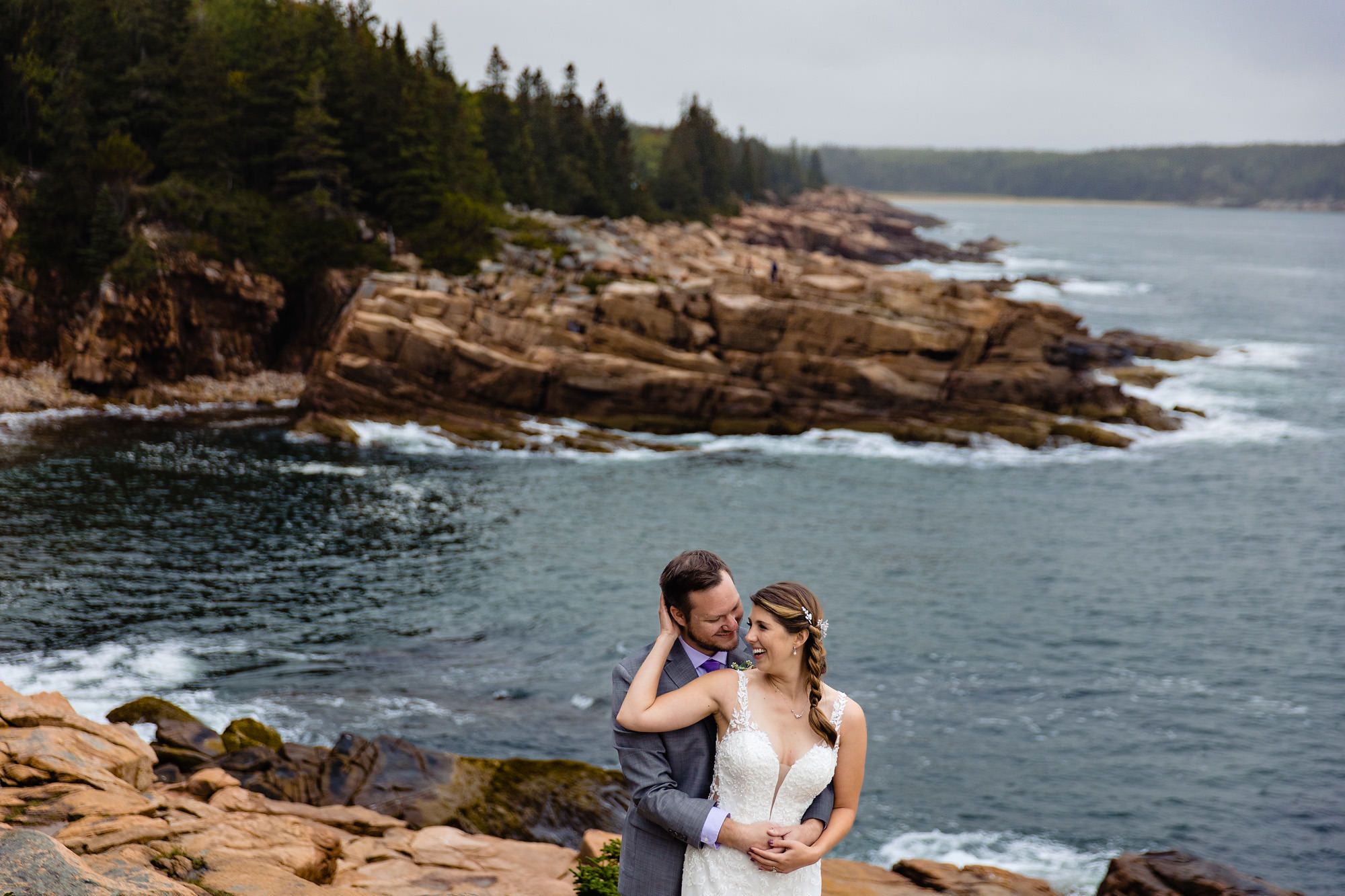 Vendors:
Photography: Kate Crabtree Photography
Makeup/hair: Bar Harbor Beauty