In the middle of May, Lindsay, Brendan, their families, and a short-lived cheering swarm of black flies (we were in the Maine woods, after all!) celebrated L & B's marriage at Lindsay's sister's beautiful Dedham Maine property. It was a leisurely day- the kids, who all adorned flower crowns, swang, climbed, and slid on a jungle gym, while Lindsay and Brendan prepared in separate buildings. Lindsay got ready with a checklist at hand, taking care to ensure everything was coming together for the wedding, while I got to watch Brendan put in a valiant effort to tie his bow tie (ultimately, Lindsay's uncle saved the day). And finally the pair met at a arch made of birch, in the woods, where their families witnessed Lindsay and Brendan coming together as husband and wife.
As afternoon turned to evening, everyone ate, drank, shared a few toasts, a first dance was had, and Lindsay and Brendan facetimed some of their favorite people who couldn't be there. I was pleased to see Angie, my cousin, show up on Lindsay's phone (she's a close friend of Lindsay's!), but I was so happy to see the joy on Lindsay and Brendan's face as they showed off their rings and Lindsay spun in her dress.
These photos are a few of my favorite moments from Lindsay and Brendan's wedding- enjoy!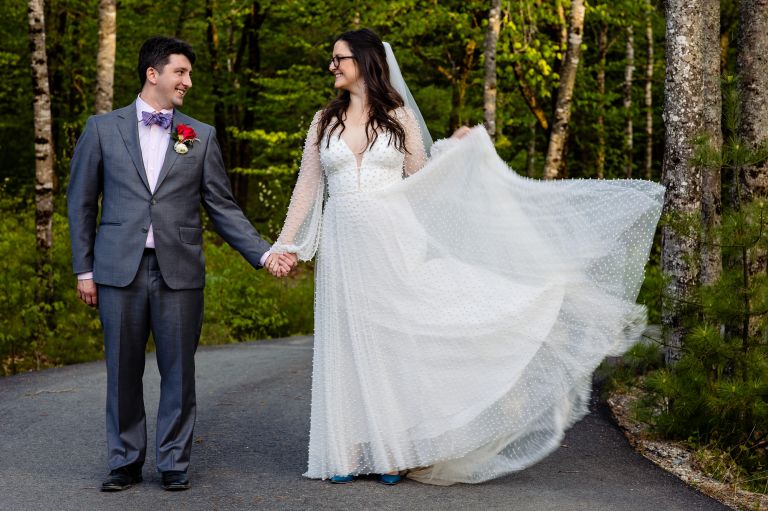 Venue: Private Residence, Dedham Maine
Photographer: Kate Crabtree
Officiant: Lindsay's aunt
Caterer: Stagecoach Catering
Florist: Chapel Hill Floral
Dress Shop: Andrea's Bridal
Dress: Willowby by Watters
Suit: Peter Renney's Fashions
Makeup/hair: Ally Sullivan, Eden Salon
Stationary: Minted