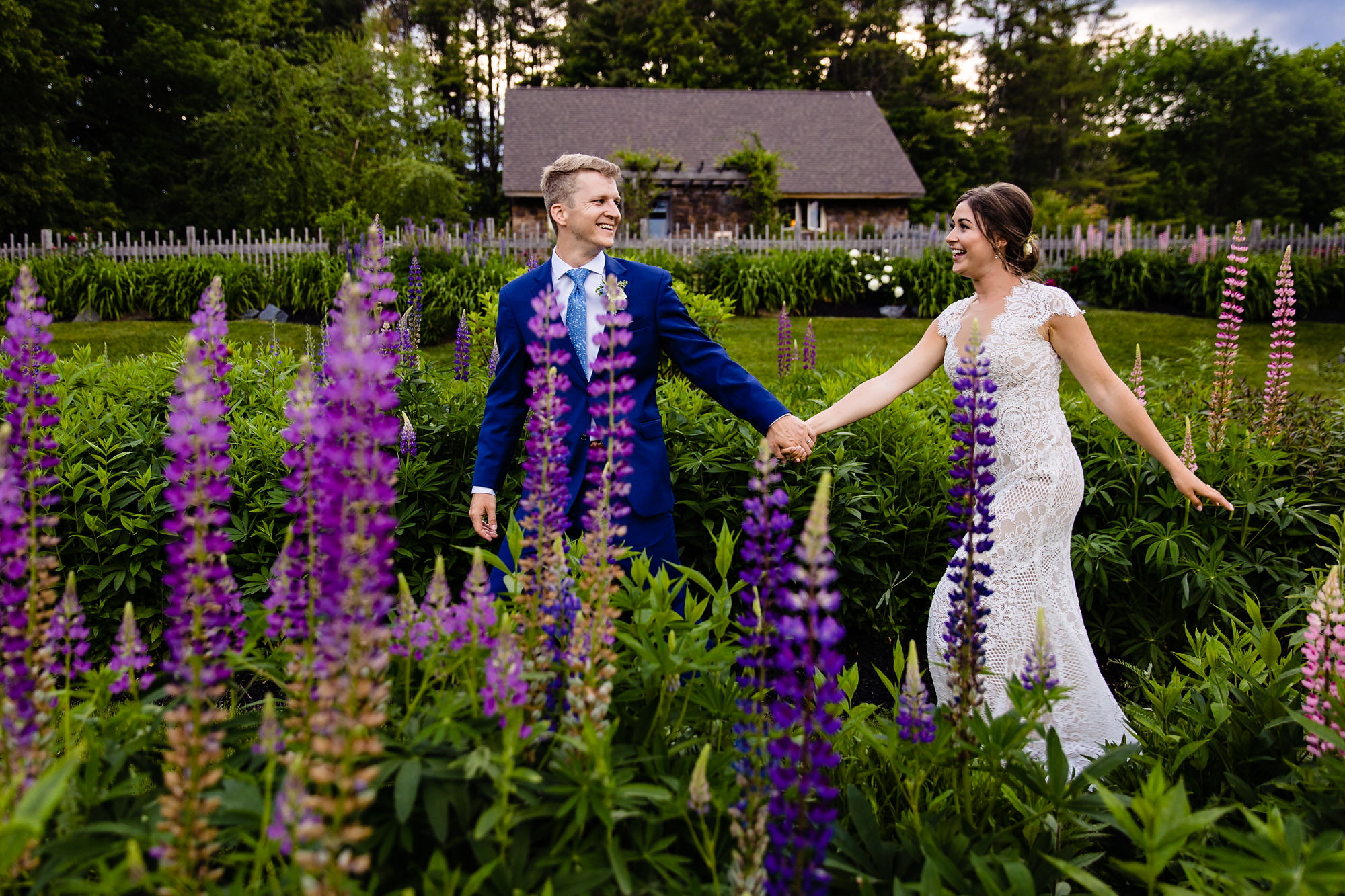 Midcoast Maine is a popular area to tie the knot, and for good reason- it's a beautiful and serene area to visit at any time of the year, but especially May through October. The weather is temperate and typically warm, usually allowing for outdoor ceremonies and portraits, and the low key, peaceful atmosphere makes it an ideal spot to relax and spend time with your favorite people. Have I mentioned that the midcoast's coastline is particularly craggy, making for stunning vistas? It's such a lovely place to host a wedding!
Midcoast Maine has many different types of venues- from inns, to farms, restaurants, resorts, gardens, and more, you're sure to find the perfect fit for your own wedding. While Maine has relatively small towns and cities (it's largest city, Portland, located in southern Maine, has a population of only 68,000), there are plenty of places for your guests to stay, eat, and shop due to Maine's focus on tourism, so your guests can make your wedding into a weeklong vacation, should they choose to do so.
I've been photographing midcoast Maine weddings for years now, and have curated a list of some of my favorites below, which include photos from real weddings. Hopefully this post helps you in selecting the right venue for your wedding! I will update this page on a yearly basis with new photos and venues.
What Towns are Considered Midcoast Maine?
The midcoast is the center section of Maine's coastline and it's generally accepted that midcoast Maine starts around the Stockton Springs area, and continues on to Brunswick, covering the counties of Knox, Waldo, Lincoln, and northern Cumberland. The coastal area north of the midcoast is called downeast Maine, while anything on the southern coast is referred to as southern Maine. The most commonly known towns in the midcoast Maine region include Belfast, Camden, Rockland, Bristol, Boothbay Harbor, and Wiscasset, among others. Most towns in the midcoast are only one to two hours away from airports.
Midcoast Maine Wedding Venues
---
Marianmade Farm - Wiscasset, Maine
Website: https://www.marianmadefarm.com/
Address: 28 Sherman Lane, Wiscasset, ME 04578
Can guests stay on site?: A few can, see below
Min/max guest counts: The barn provides space for 140 people, but the clear top tent allows for celebrations of 200+ people.
Weddings hosted at Marianmade Farm: Julie & Scott, Diana & Kiril
If you're obsessed with flowers, you're going to love Marianmade Farm in Wiscasset, Maine, a 13 acre property, of which 7 acres is open space. While many Maine wedding venues boast impressive florals, Marianmade Farm, which originally started off as a flower farm, feels like a garden paradise. No matter what time of the year you host your wedding, you'll find that flowers are in bloom. Not only are there gardens aplenty, but Marianmade Farm sits on the Sheepscot River, so you'll have water views down by the ceremony. Smaller weddings fit comfortably in the whitewashed barn, but if you're hoping to have a huge bash, Marianmade Farm has a cleartop tent so that all of your favorite people can celebrate with you. While most guests will need to find accommodations elsewhere (which shouldn't be an issue, as there are hotels and inns in Wiscasset, Boothbay Harbor, and a variety of other coastal communities), there is a 2 bedroom cottage on property that sleeps up to four people. There is also an airstream trailer that can sleep an additional two guests.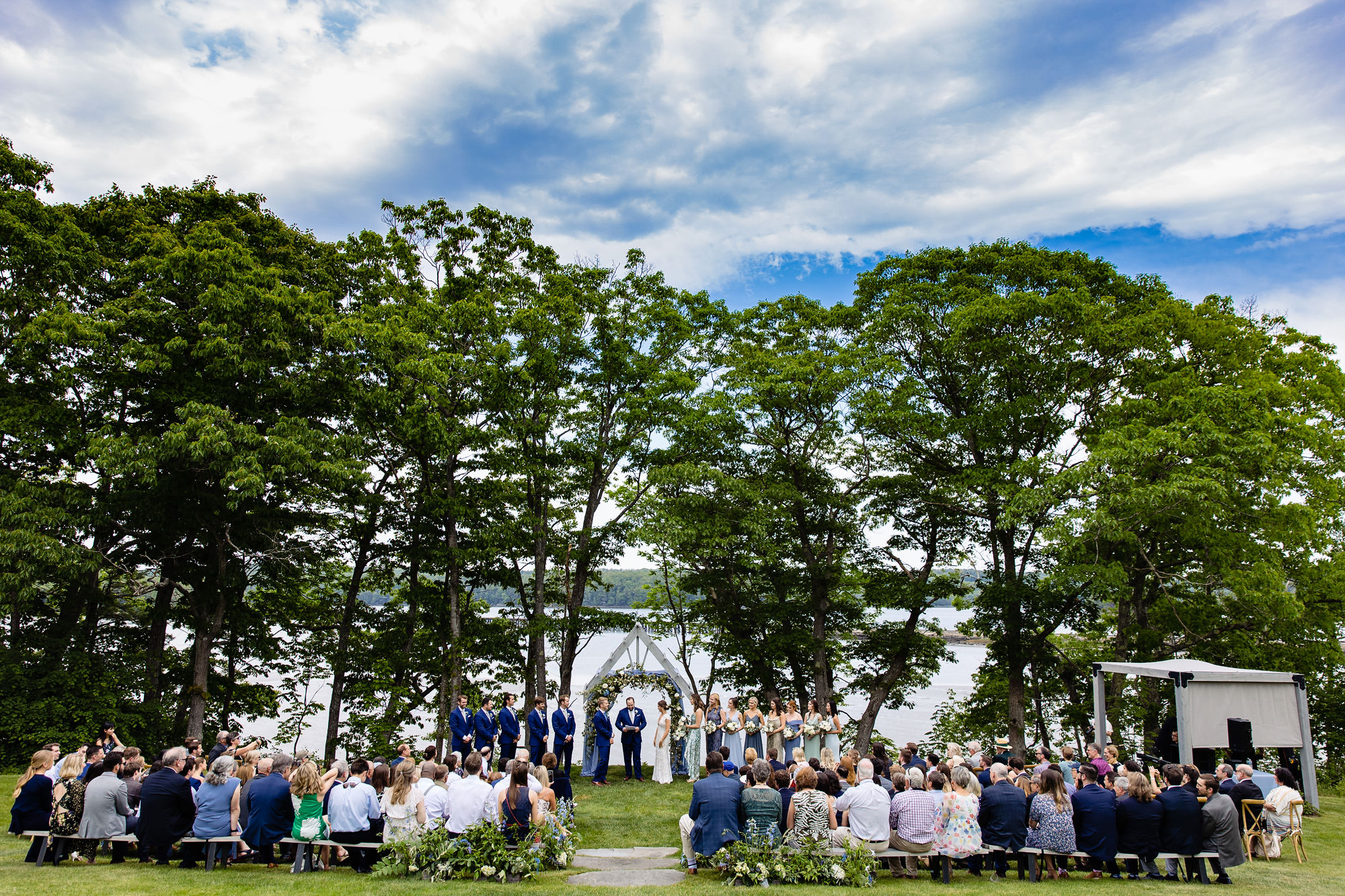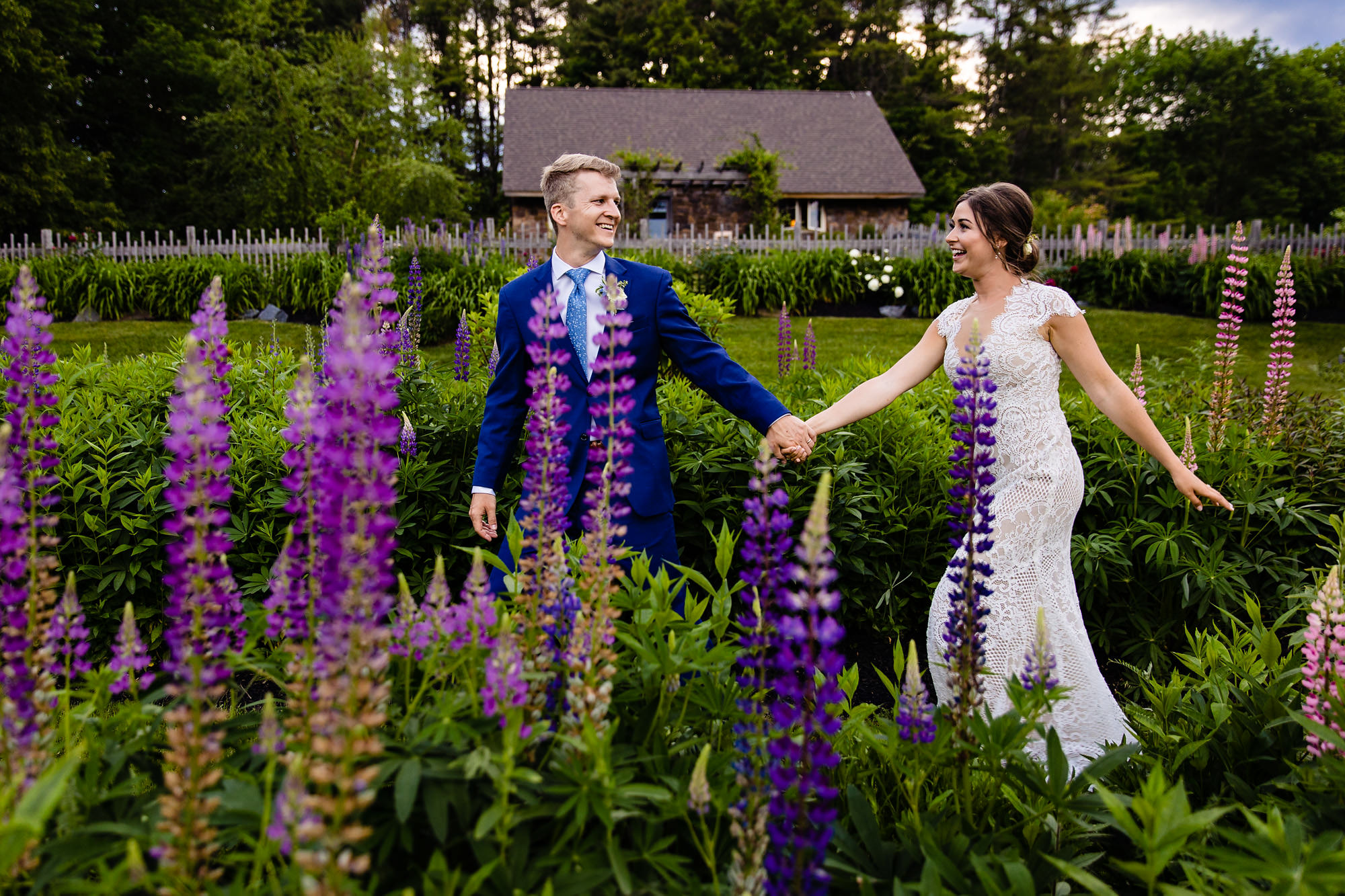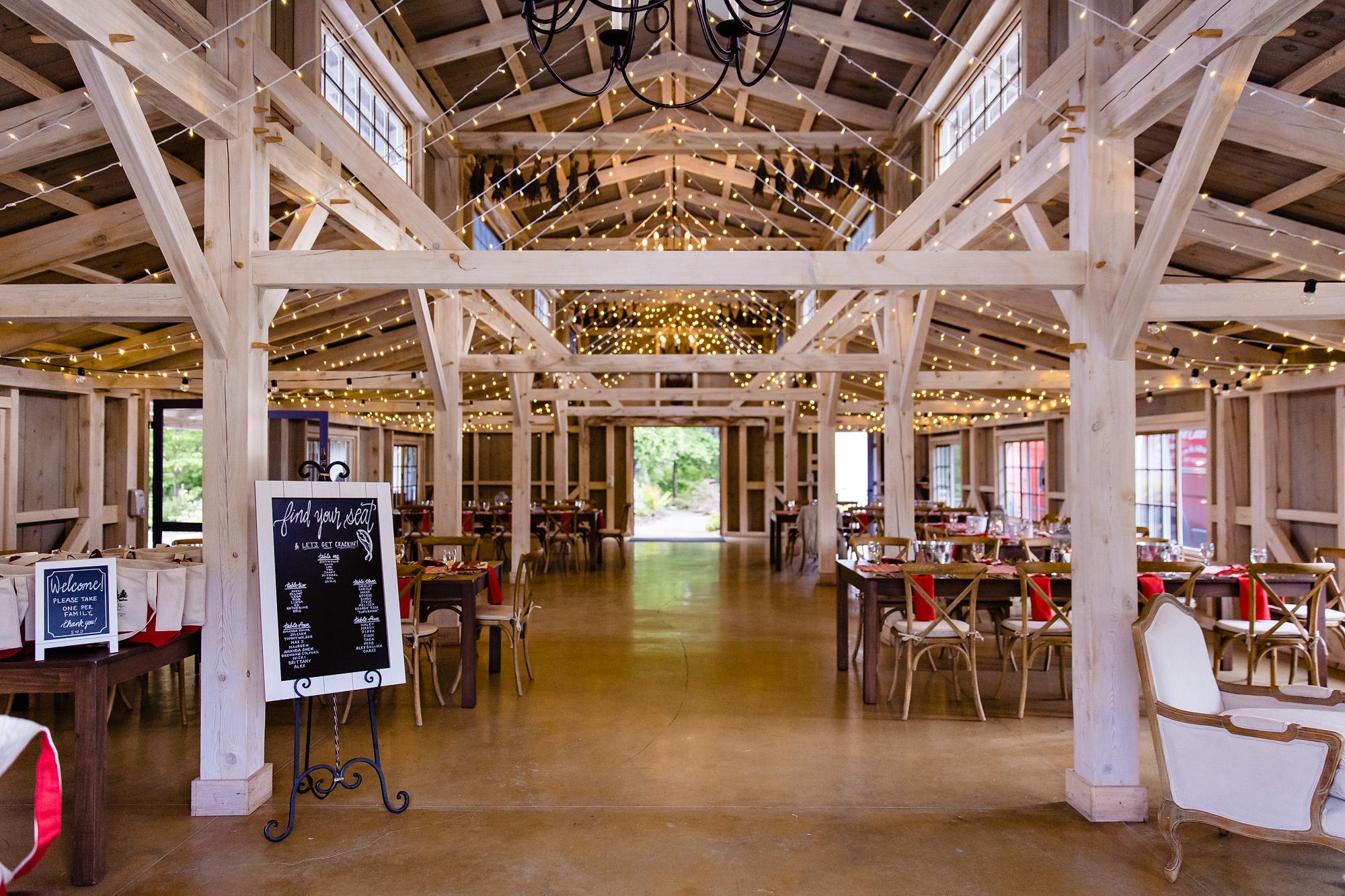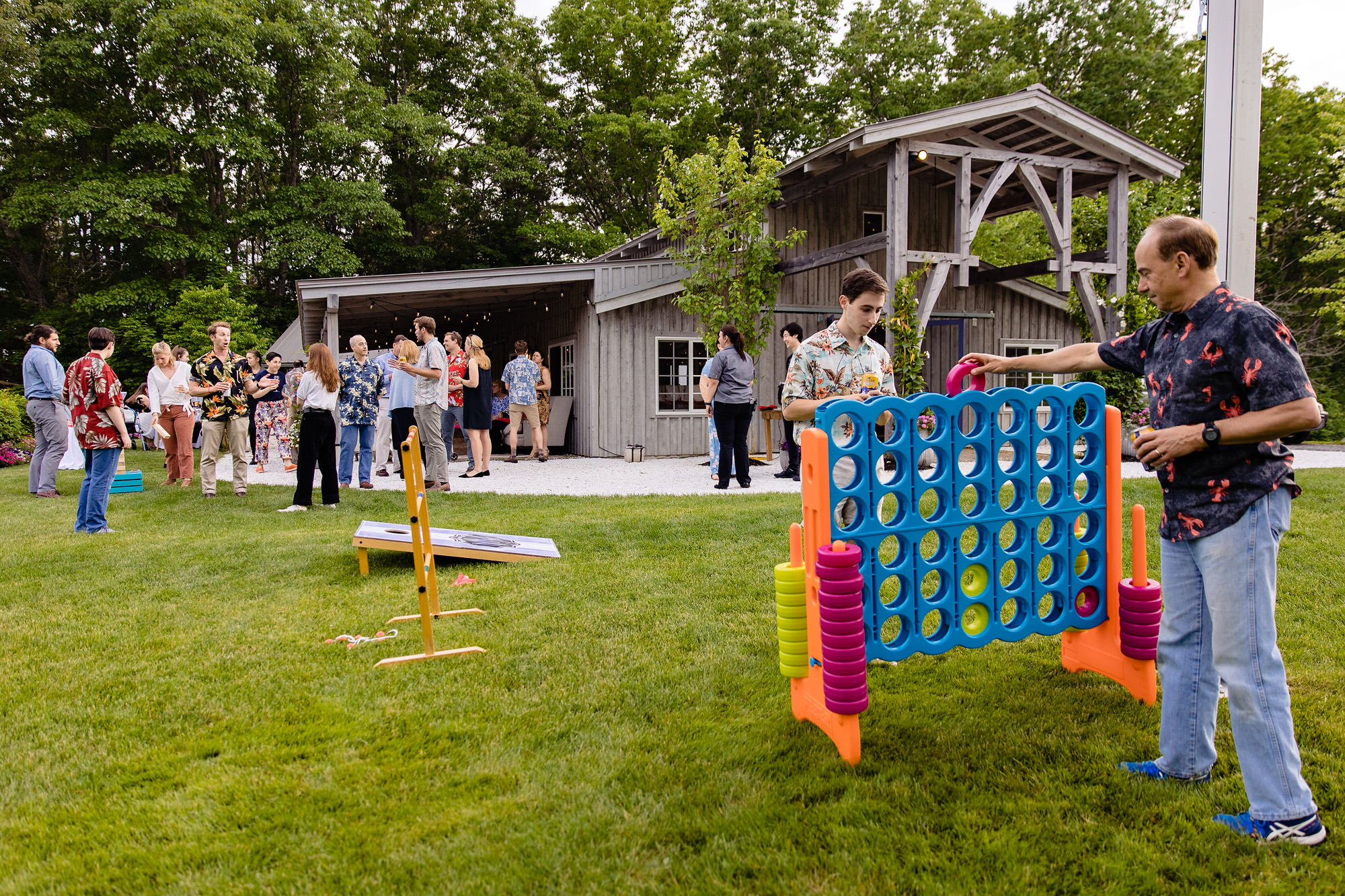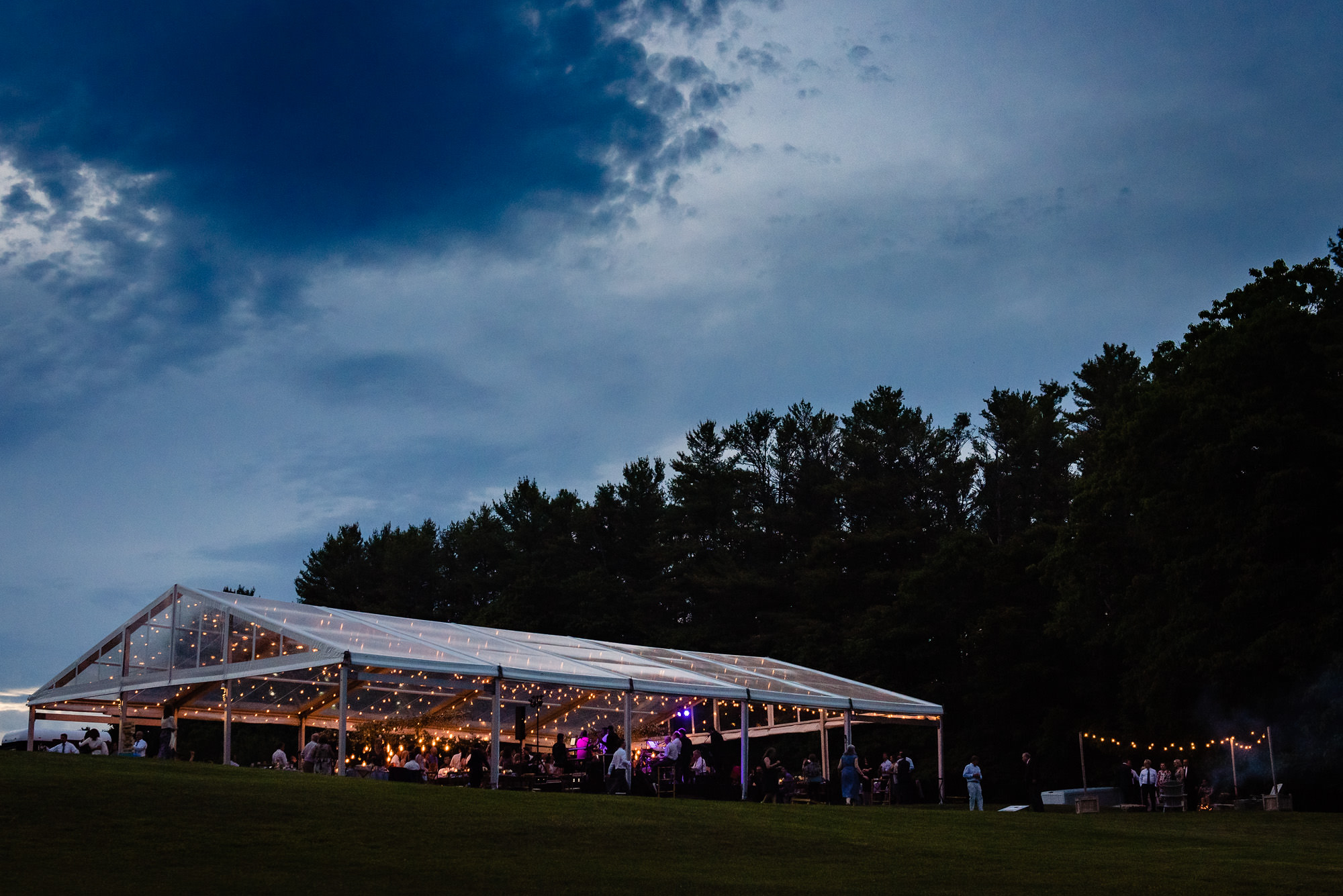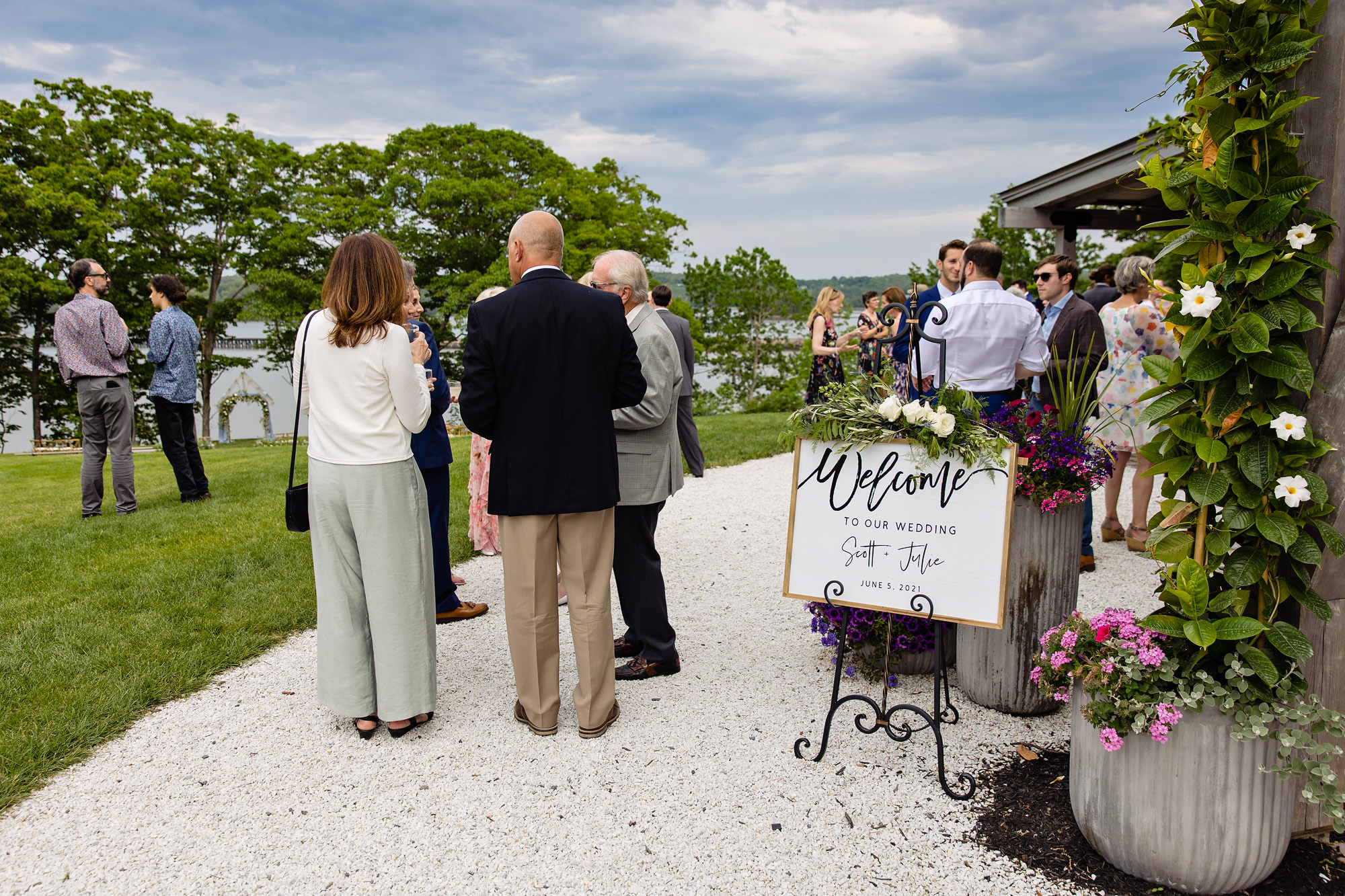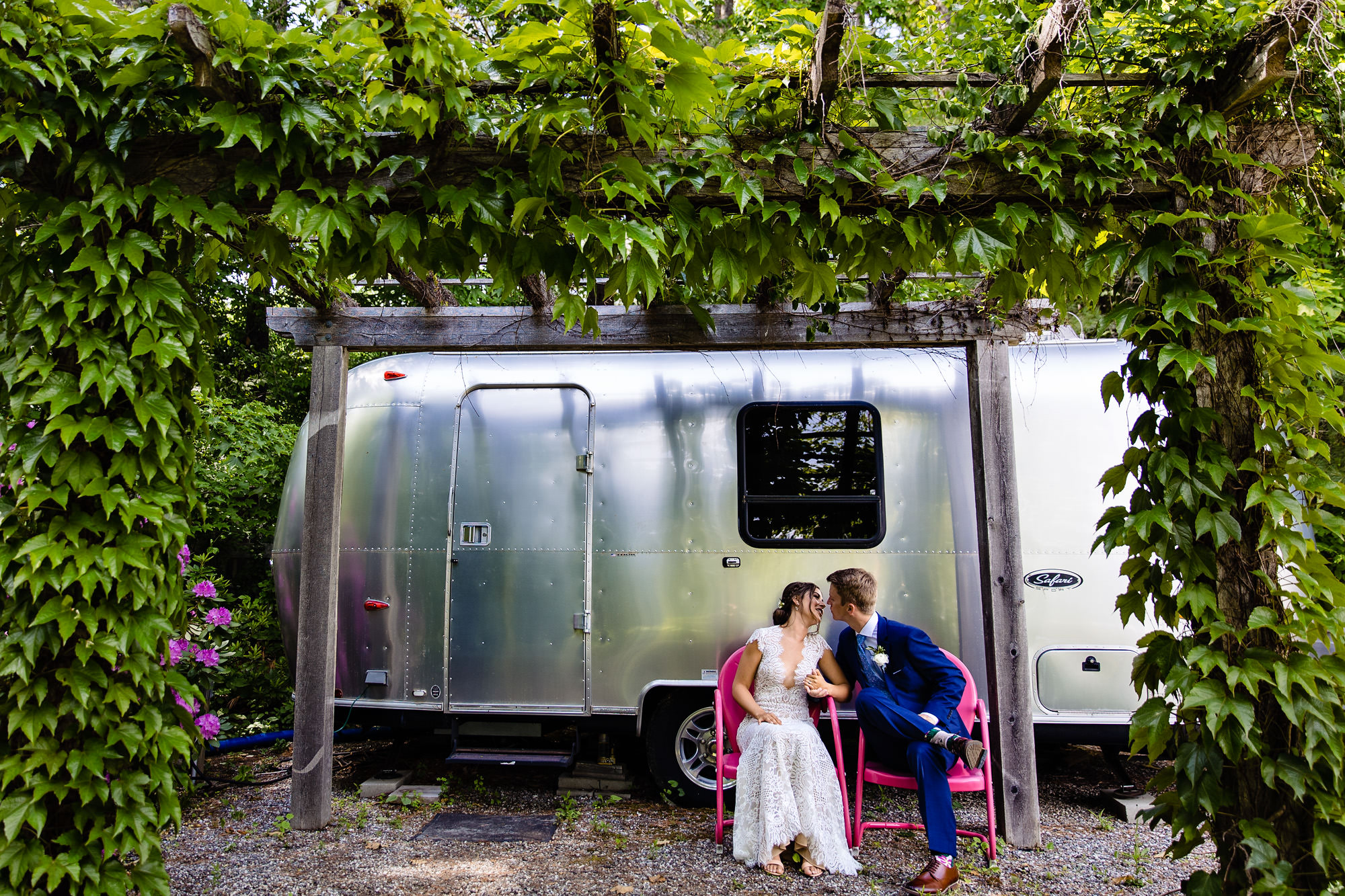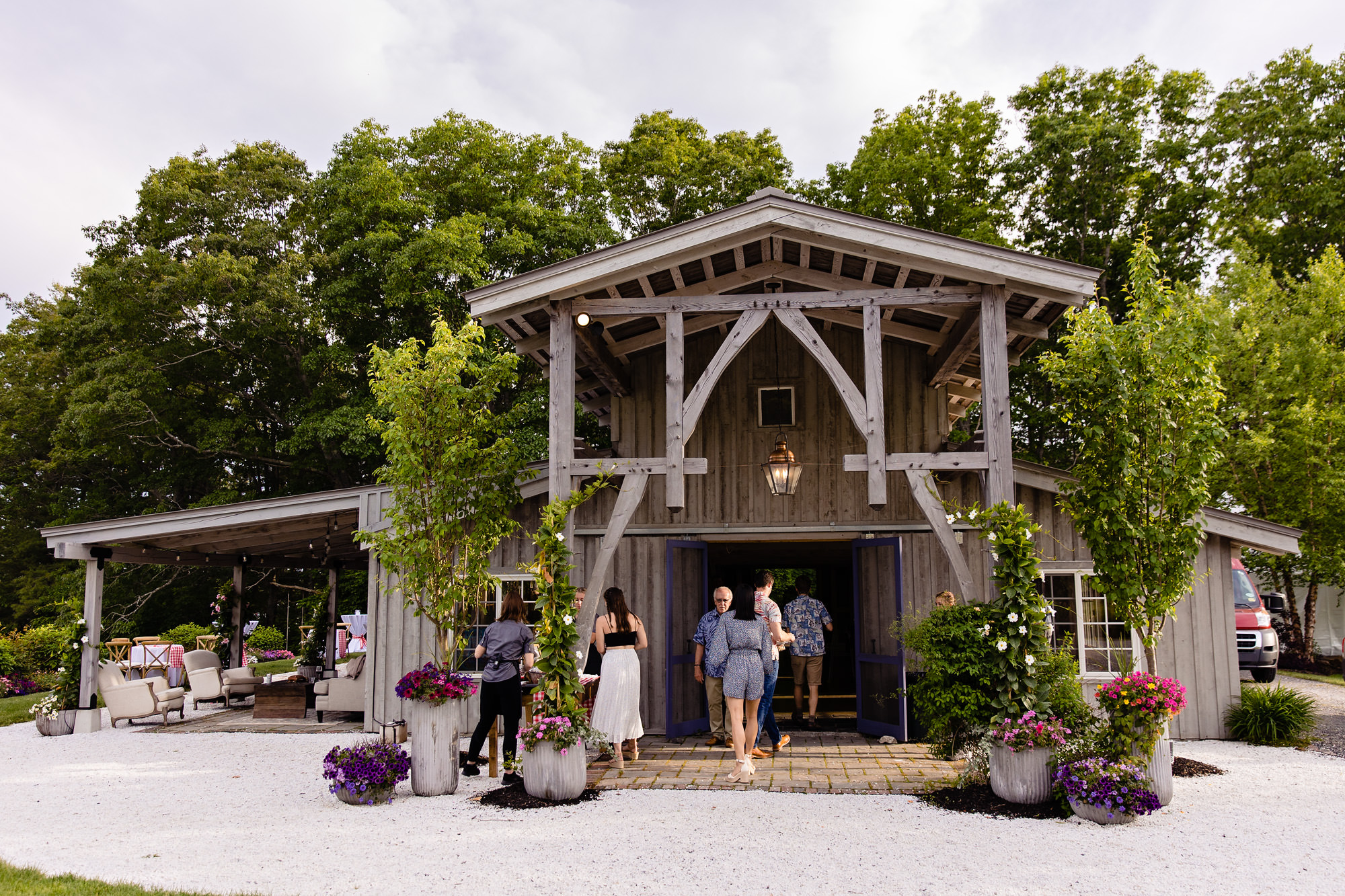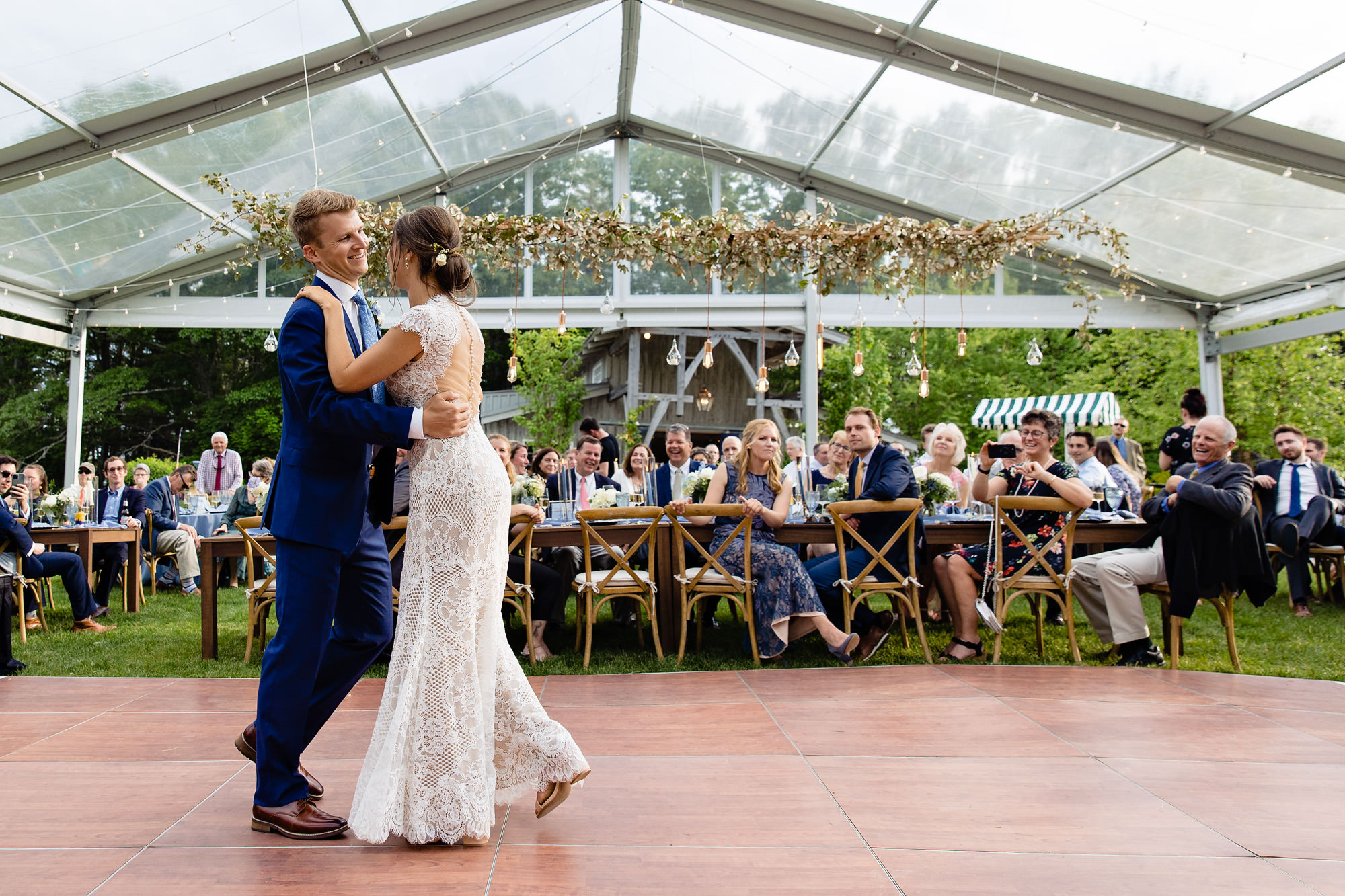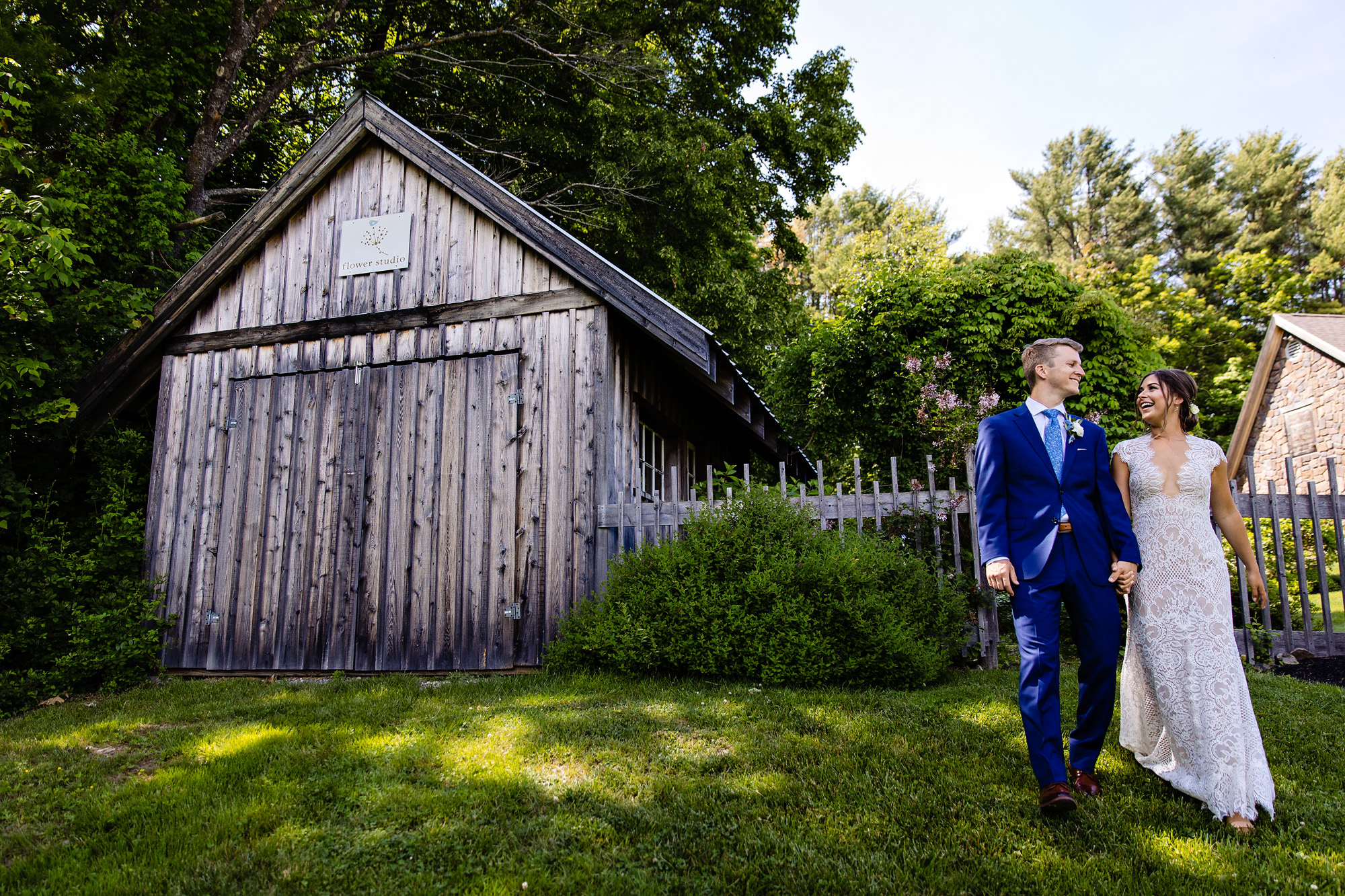 Linekin Bay Resort - Boothbay Harbor, Maine
Perhaps you've imagined having a wedding weekend (or week!) where all of your favorite people would stay on property with you and soak up the magic of the Maine coast while celebrating your marriage. If this is your dream, Linekin Bay Resort, located in Boothbay Harbor, will appeal to you. Linekin sits directly on the water and is surrounded by woods, making the resort feel relatively secluded from the outside world (although still being close to Boothbay Harbor restaurants and amenities you may want during your stay). Guests have the option to stay in lodges or cabins, both oceanside and tucked in the woods. There is space on the property for a beautiful waterfront ceremony, an airy dining area that has large windows and views of the sea, and a lodge to dance the night away. And, the sunsets are one of a kind- odds are, if you have a clear night, your guests will line up by the saltwater swimming pool to drink in the incredible views. Sounds great, right? Linekin is the perfect place to host a wedding that brings together friends and family for a weekend (or week!).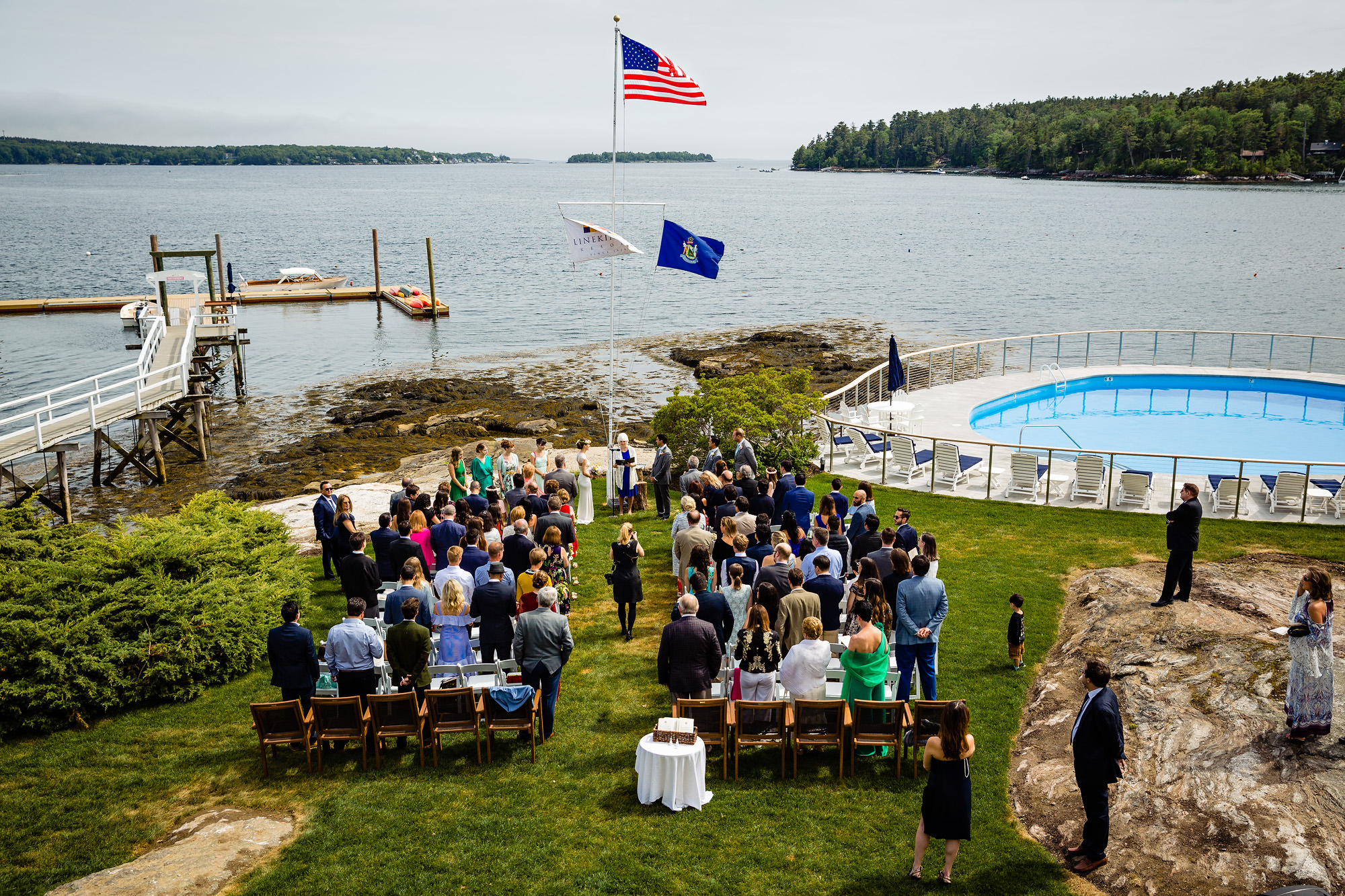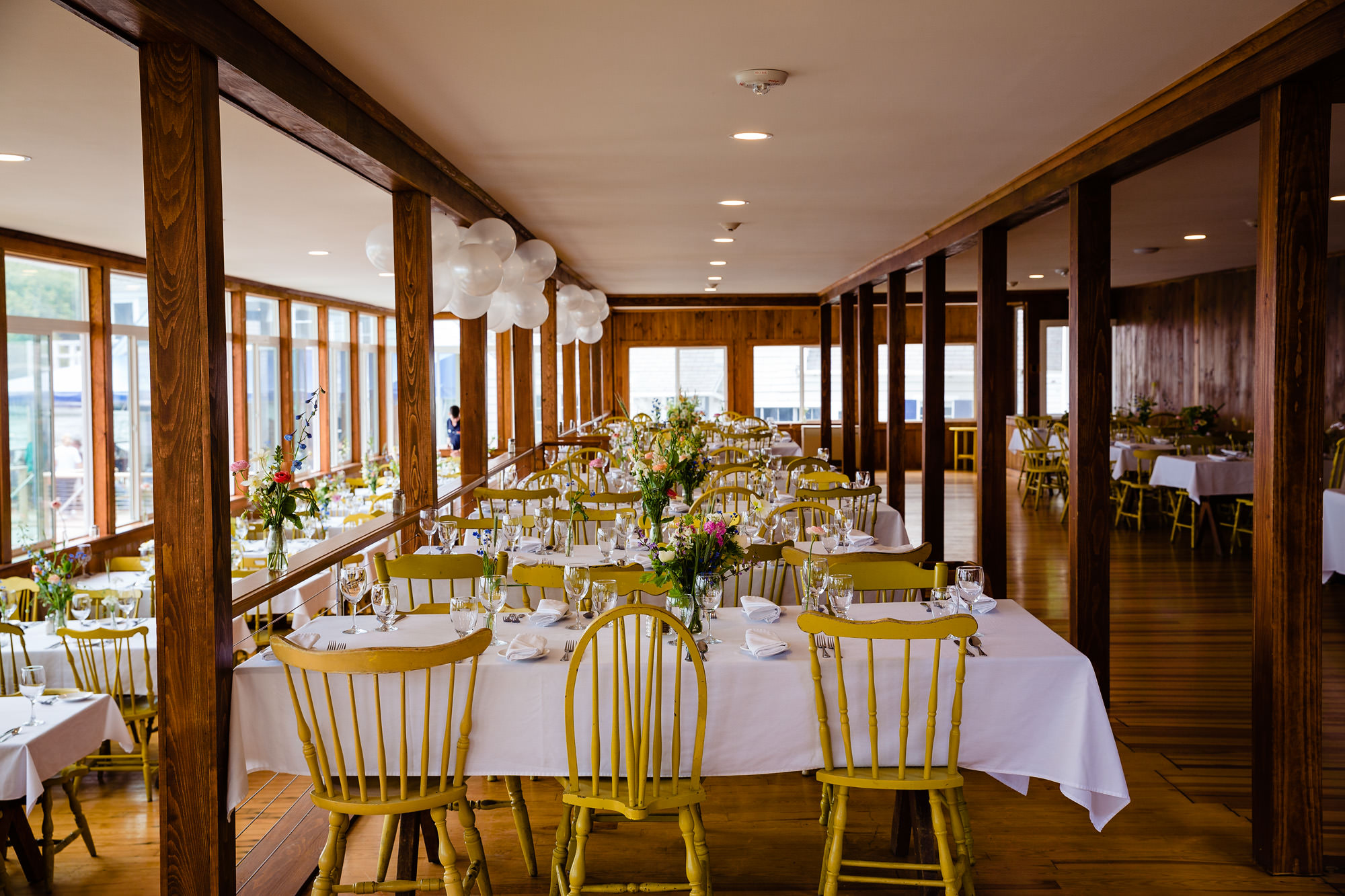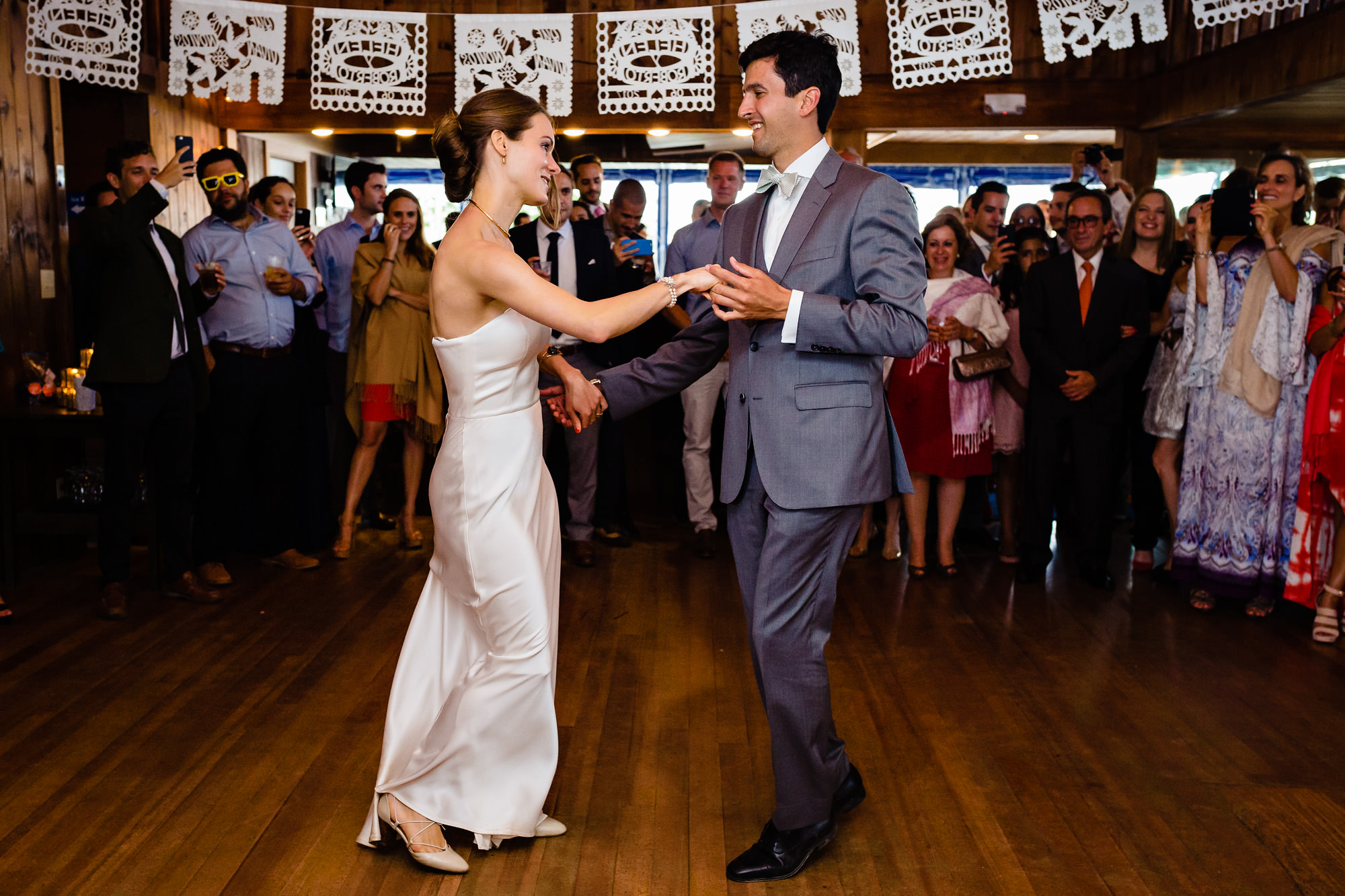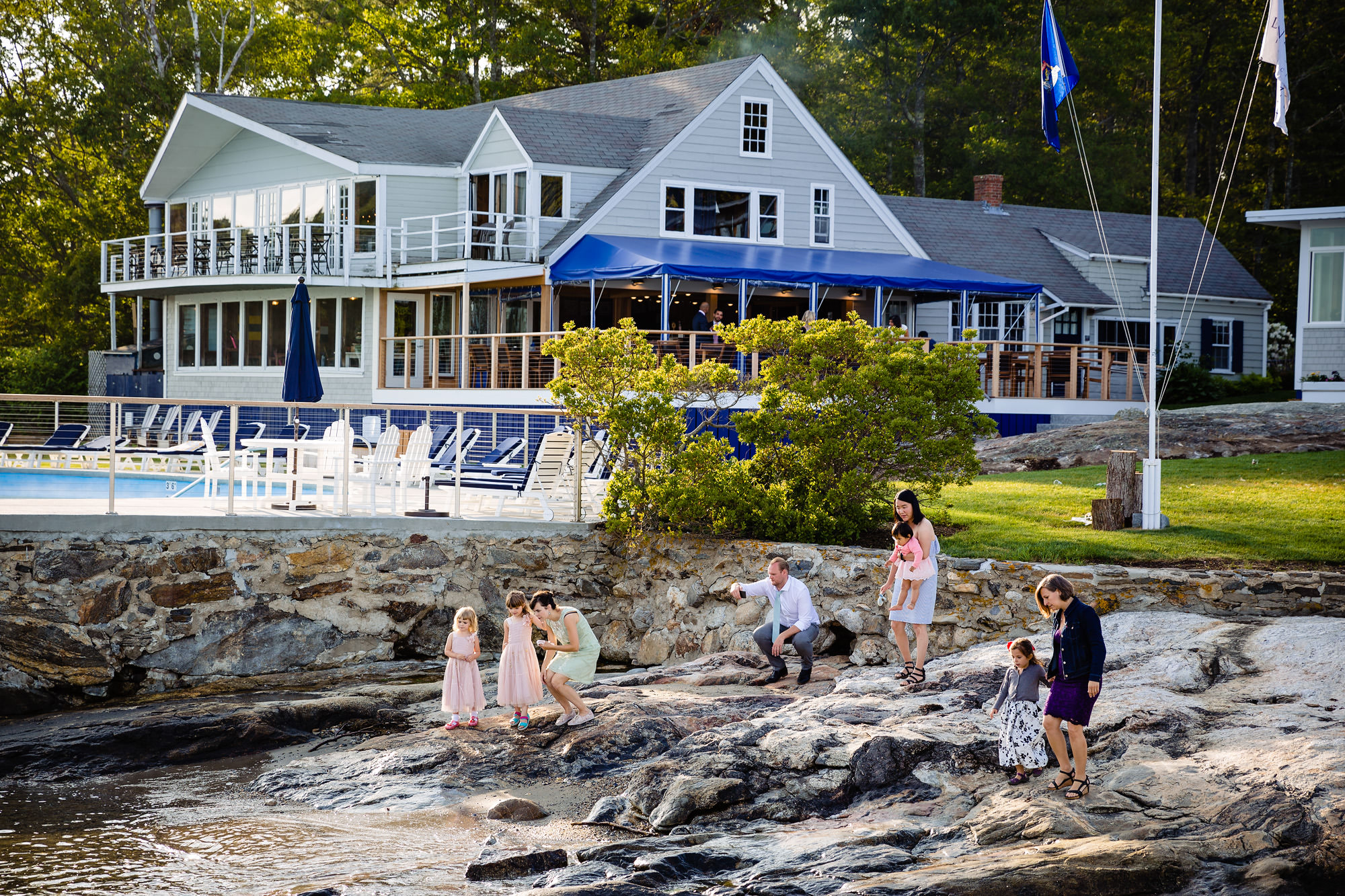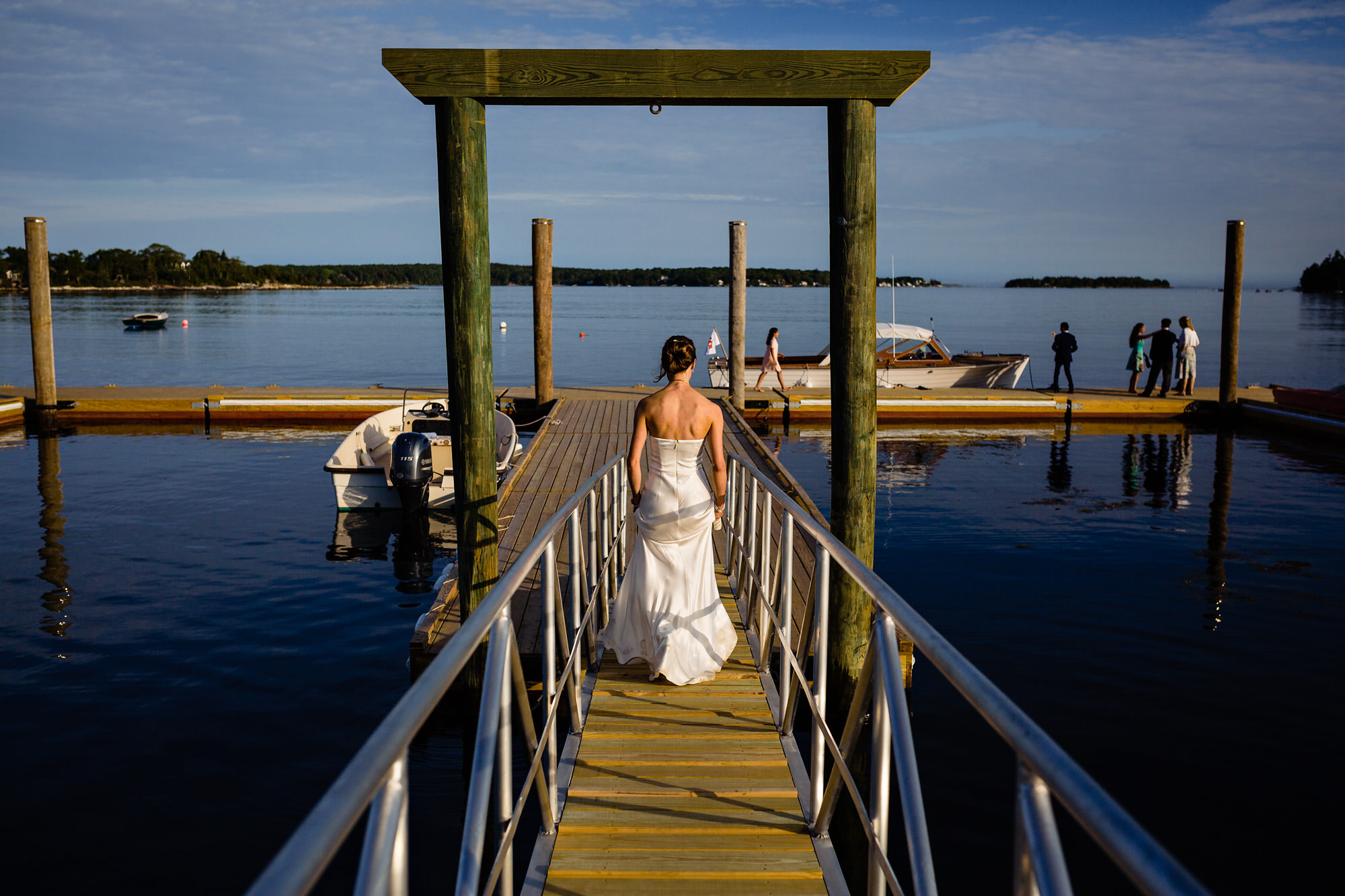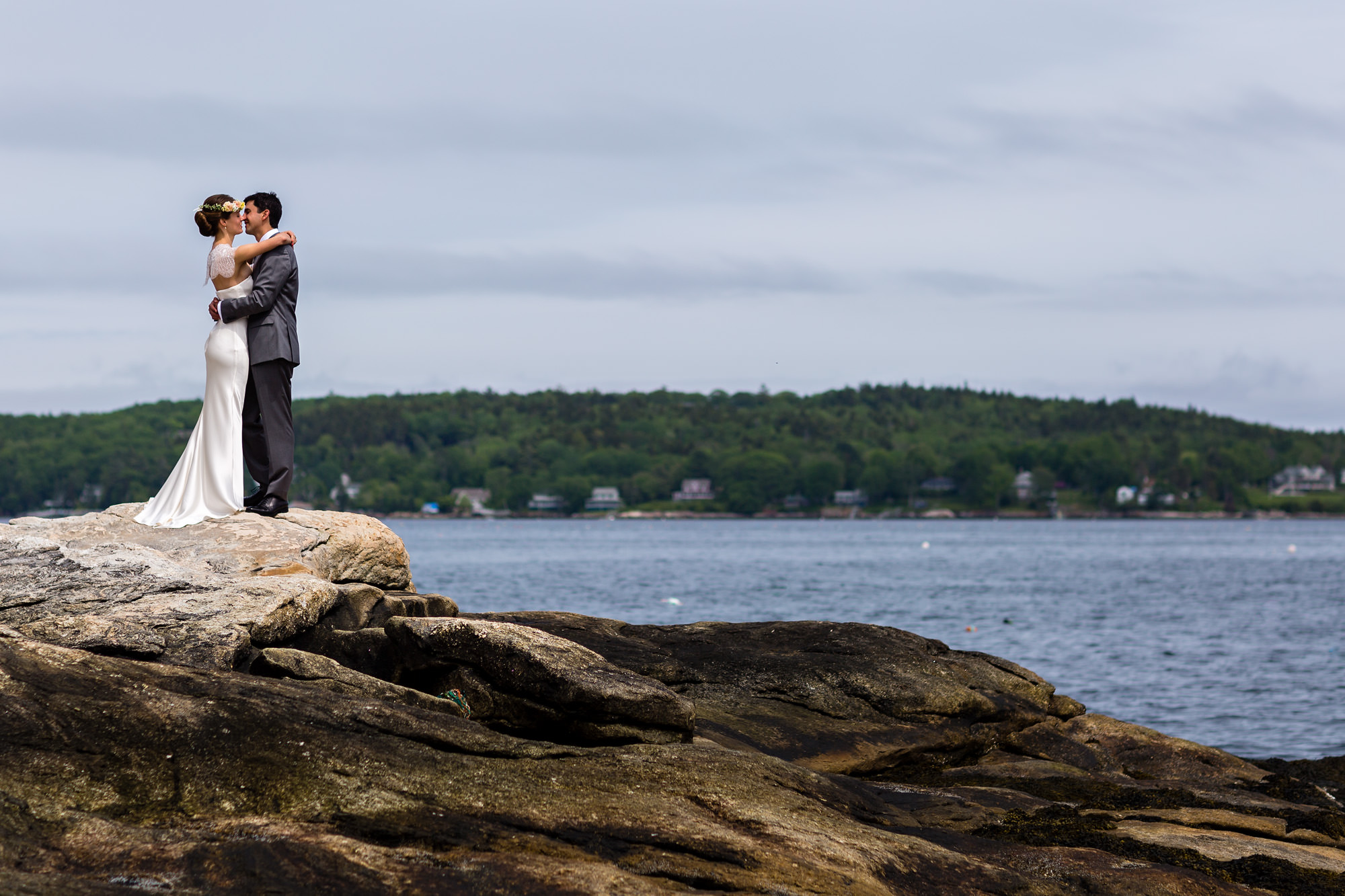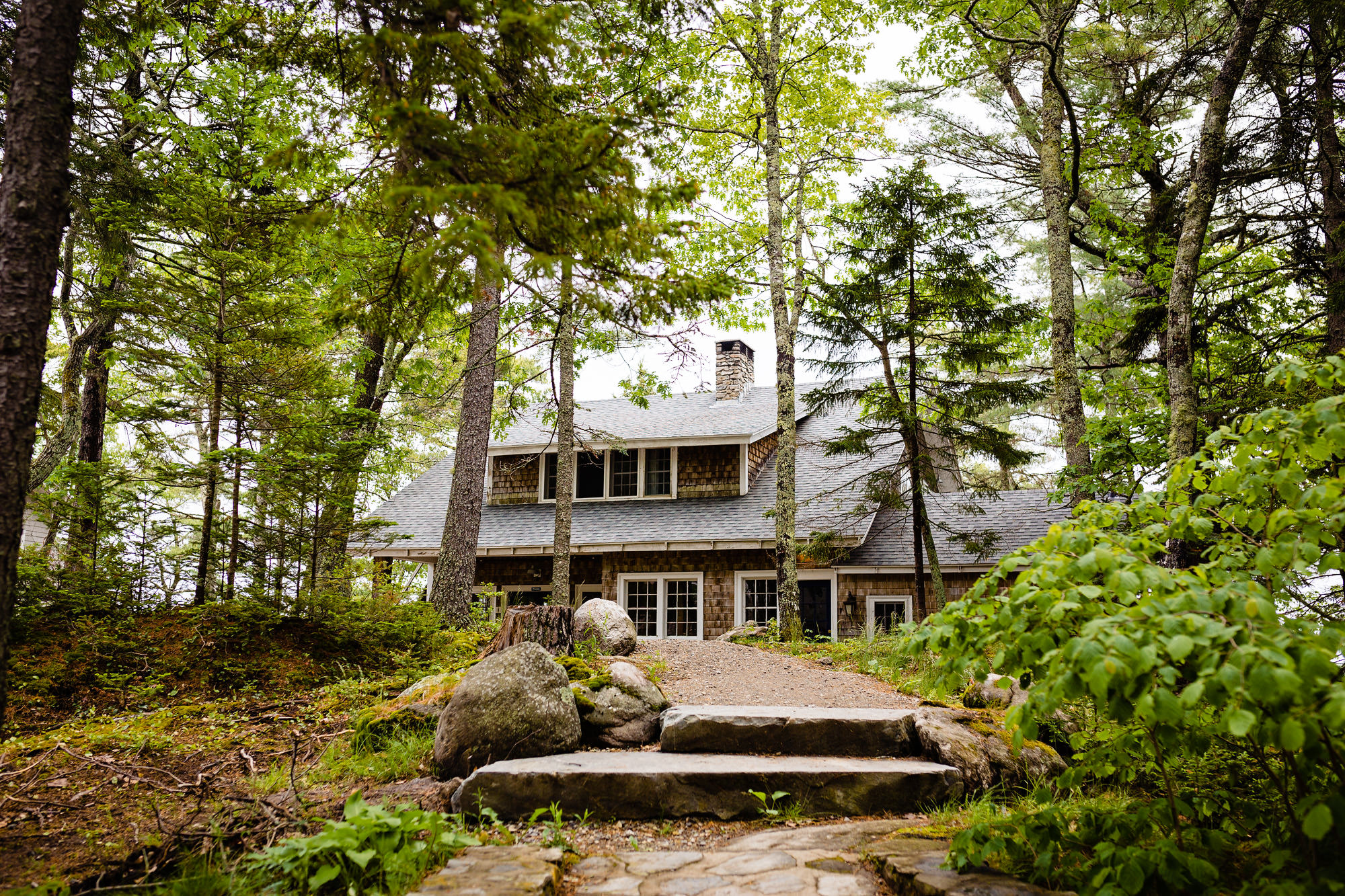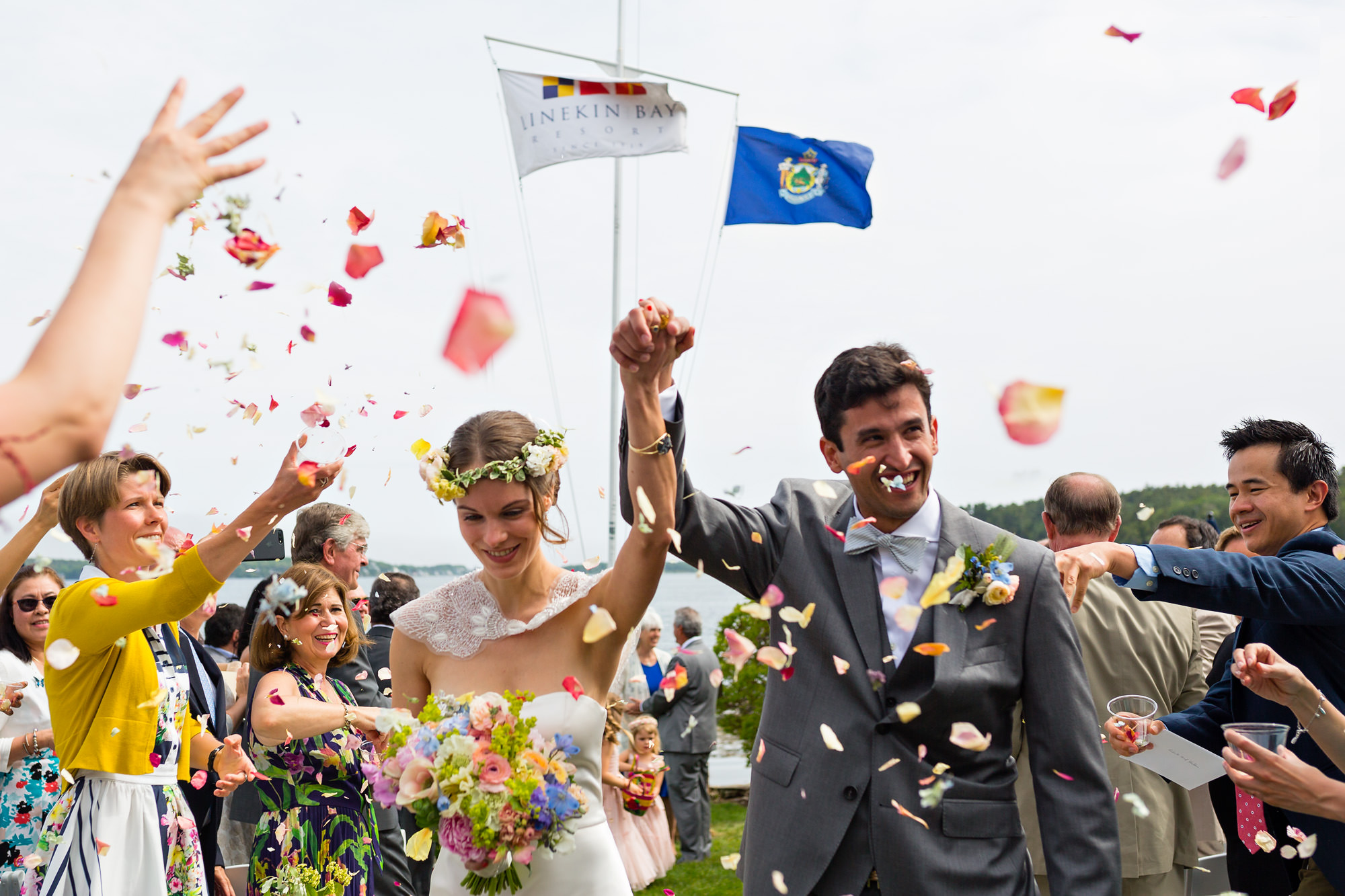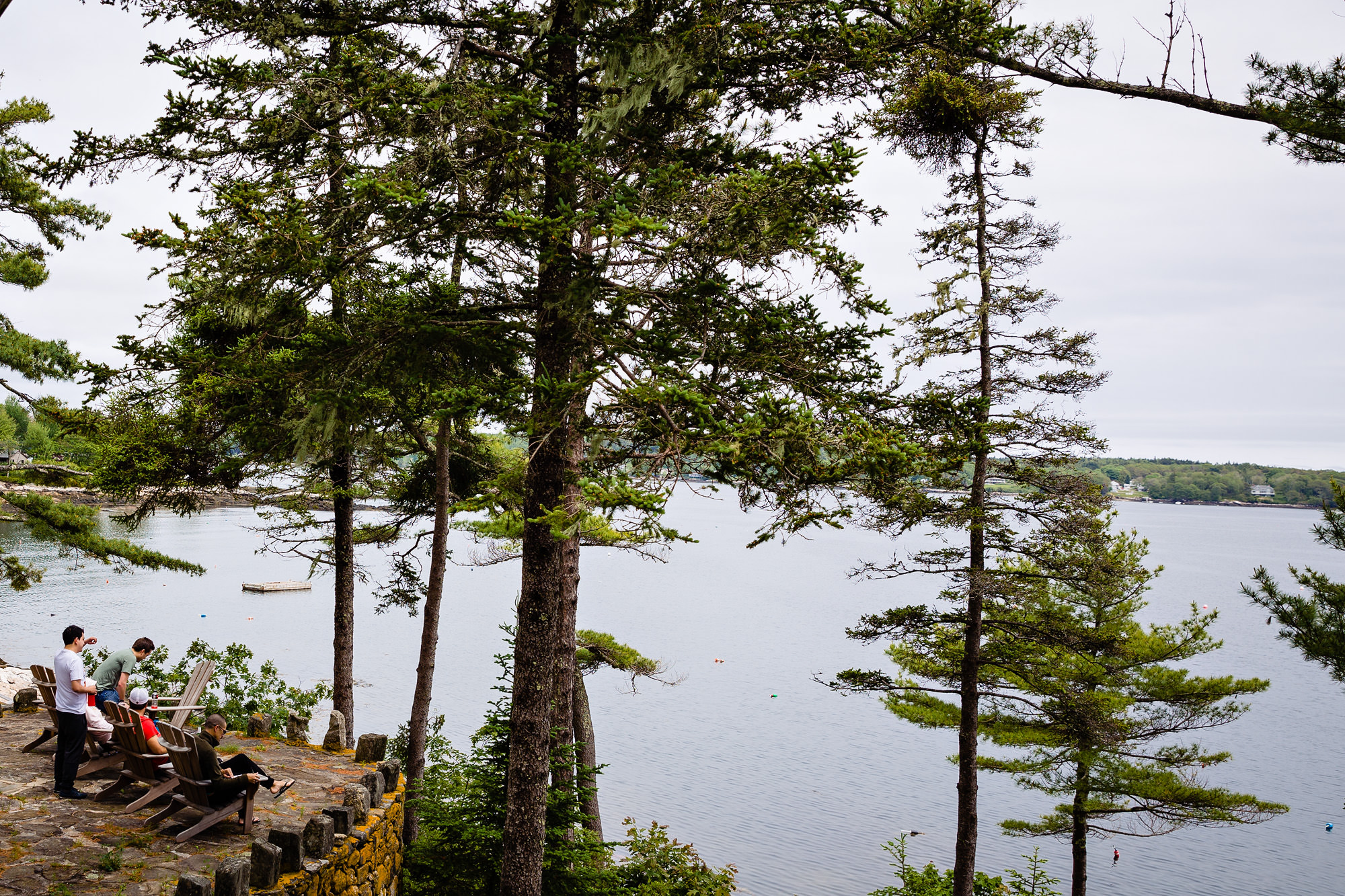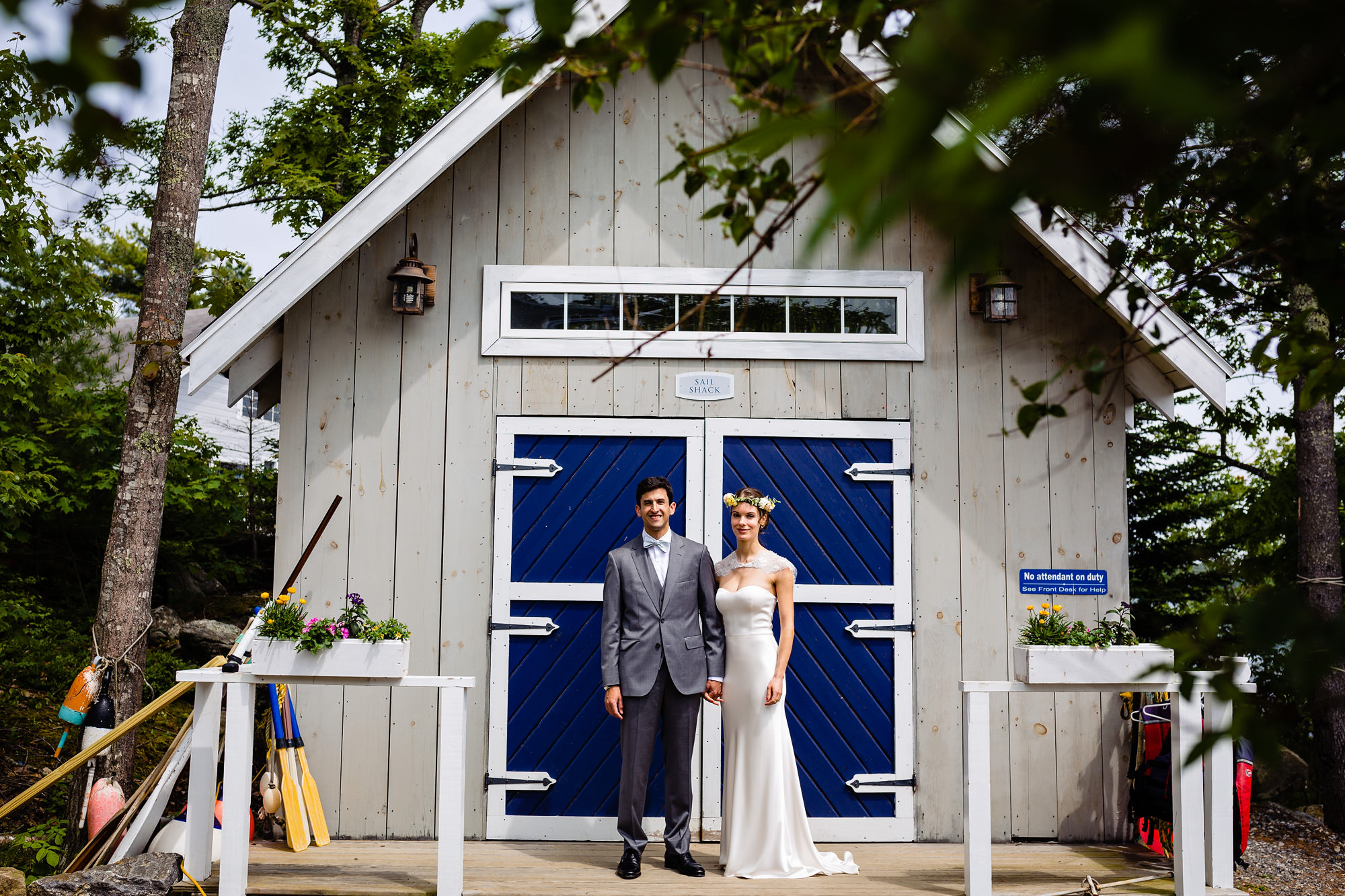 Turner Farm - North Haven, Maine
Website: https://www.turner-farm.com/
Address: 73 Turner Farm Road, North Haven, ME 04853
Can guests stay on site?: There are tents available for camping, and a guest house the couple and a few friends and family could use.
Min/max guest counts: Up to 140 guests.
Weddings hosted at Turner Farm: Ashley & Rod.
I've only photographed at Turner Farm once, earlier in my career, but to this day it remains one of my favorite spots in Maine. I love Turner Farm so much that I often attend their barn suppers, in which they host mouthwatering multi-course dinners, made from their own produce. I cannot emphasize this enough, but the view from their property is absolutely magical. If you want to provide a once in a lifetime experience for your guests, Turner Farm cannot be overlooked.
However, all that said, having a wedding on an island comes with challenges. There are limited locations for guests to stay (Nebo Lodge is a wonderful option, and there are AirBnB and Vrbo options available, but guests may struggle with finding accommodations), and you may need to charter a boat to ferry some of your guests back to the mainland at the end of the night. And, travel fees tend to increase for vendors traveling to islands.
REGARDLESS, Turner Farm is the sort of location your guests will rave about for years to come. The barn is the perfect place for a reception, and the neverending landscape is perfect for your guests to meander, drink in hand, during cocktail hour. Turner Farm does offer a guest house on property, perfect for your wedding party and/or family, and a glamping tent, so some guests will be able to join you during your wedding weekend. Even if you don't choose Turner Farm as your wedding venue, make sure to participate in one of their barn suppers to scratch your Maine island itch!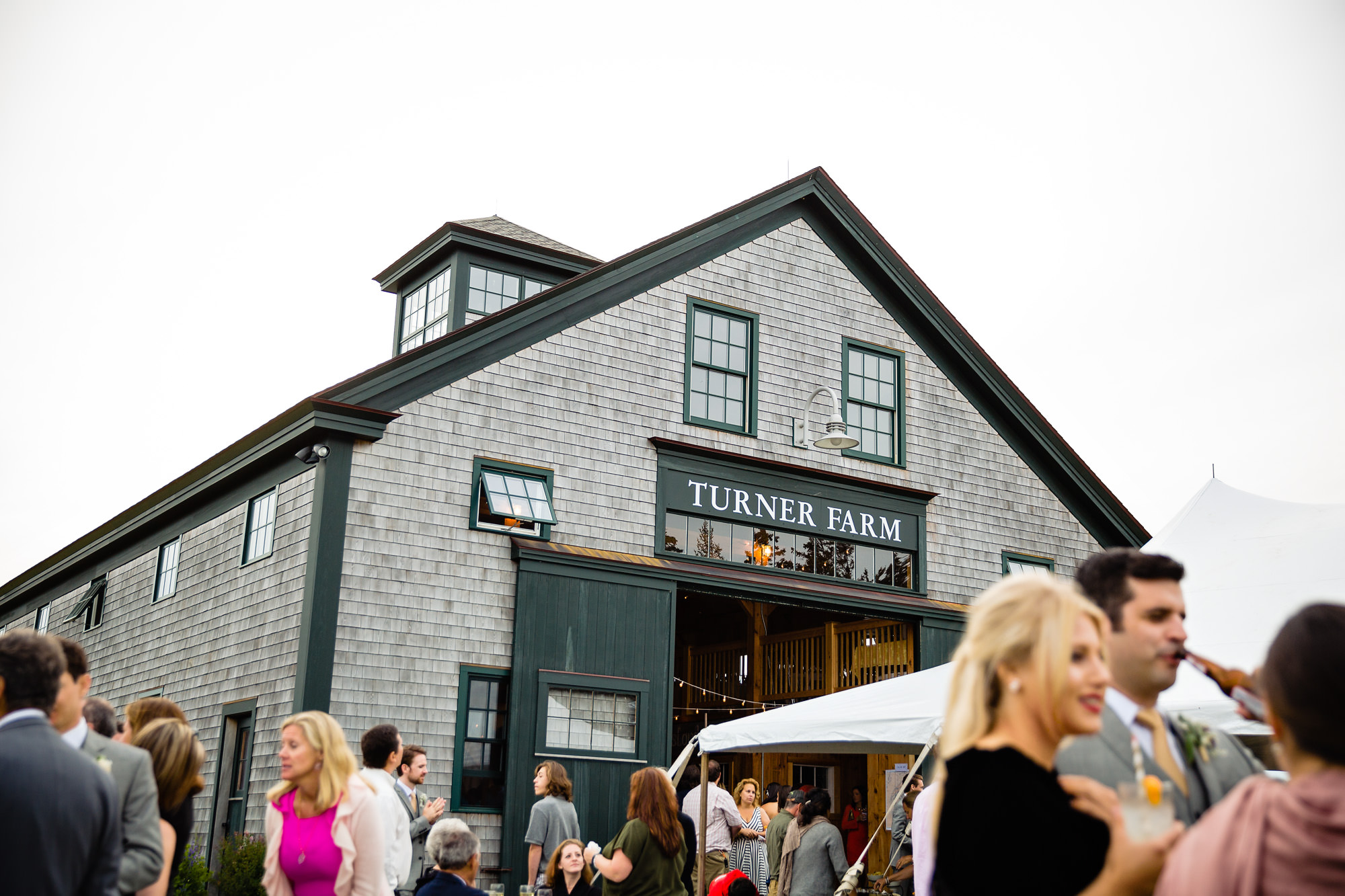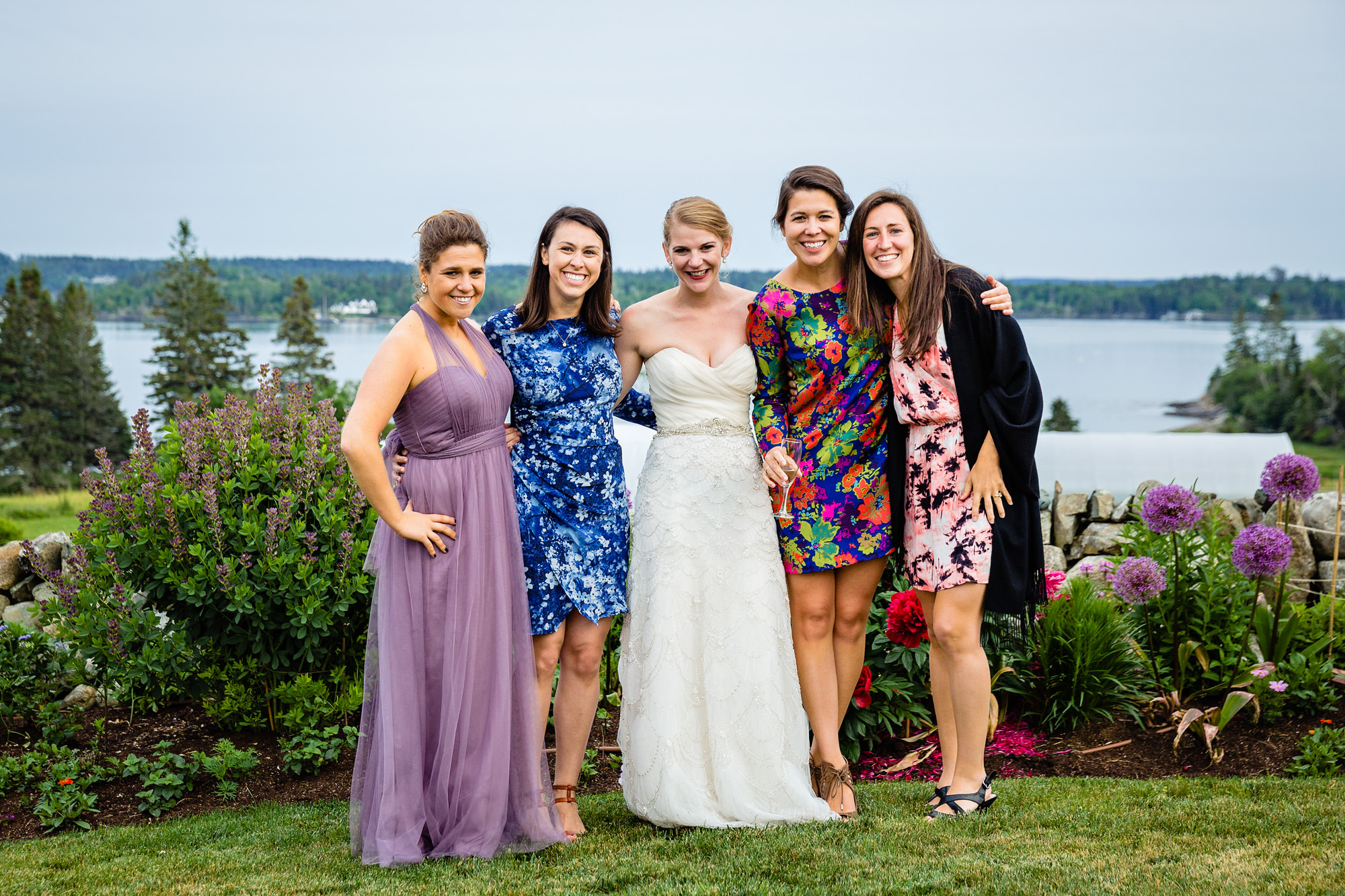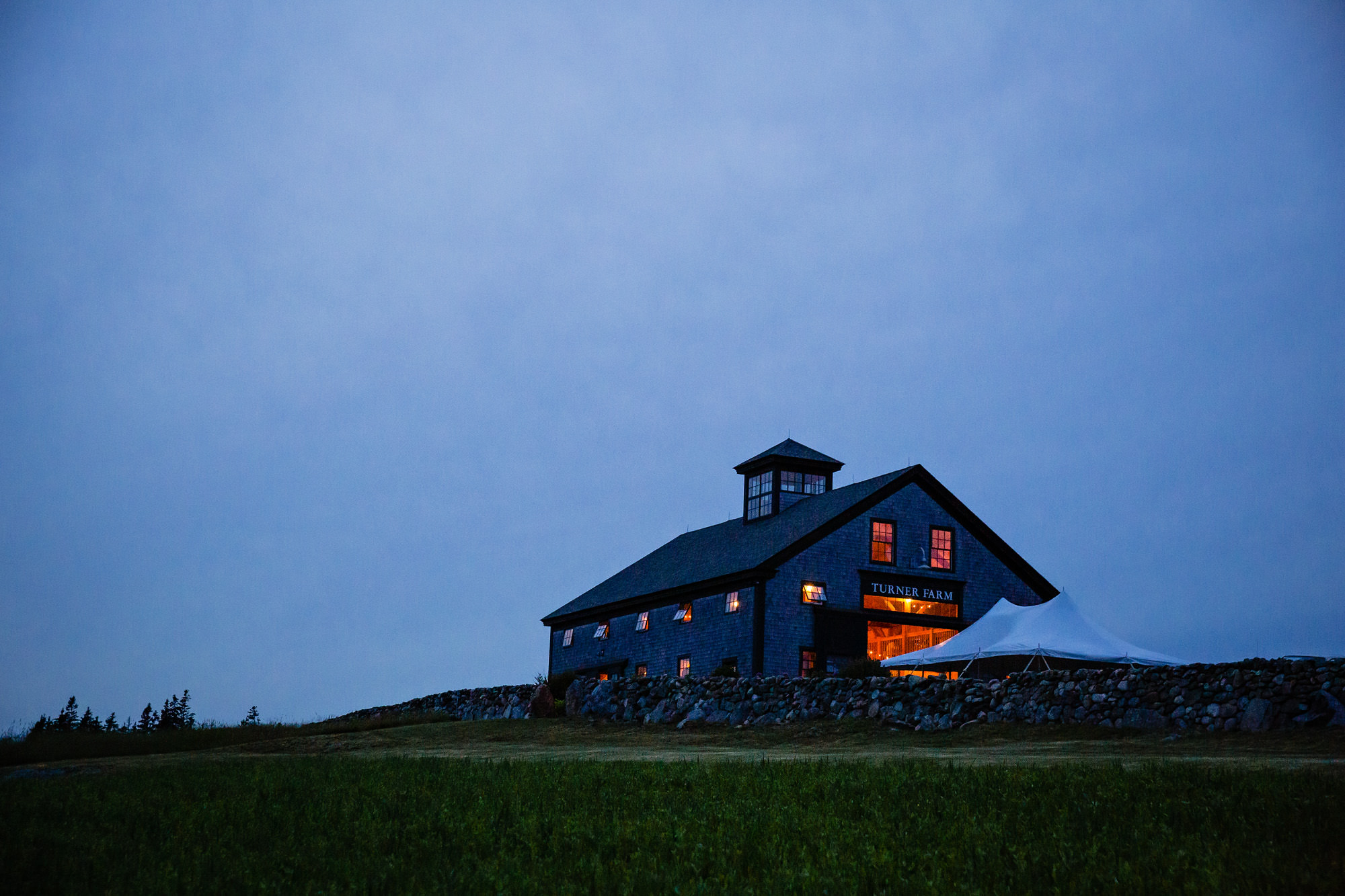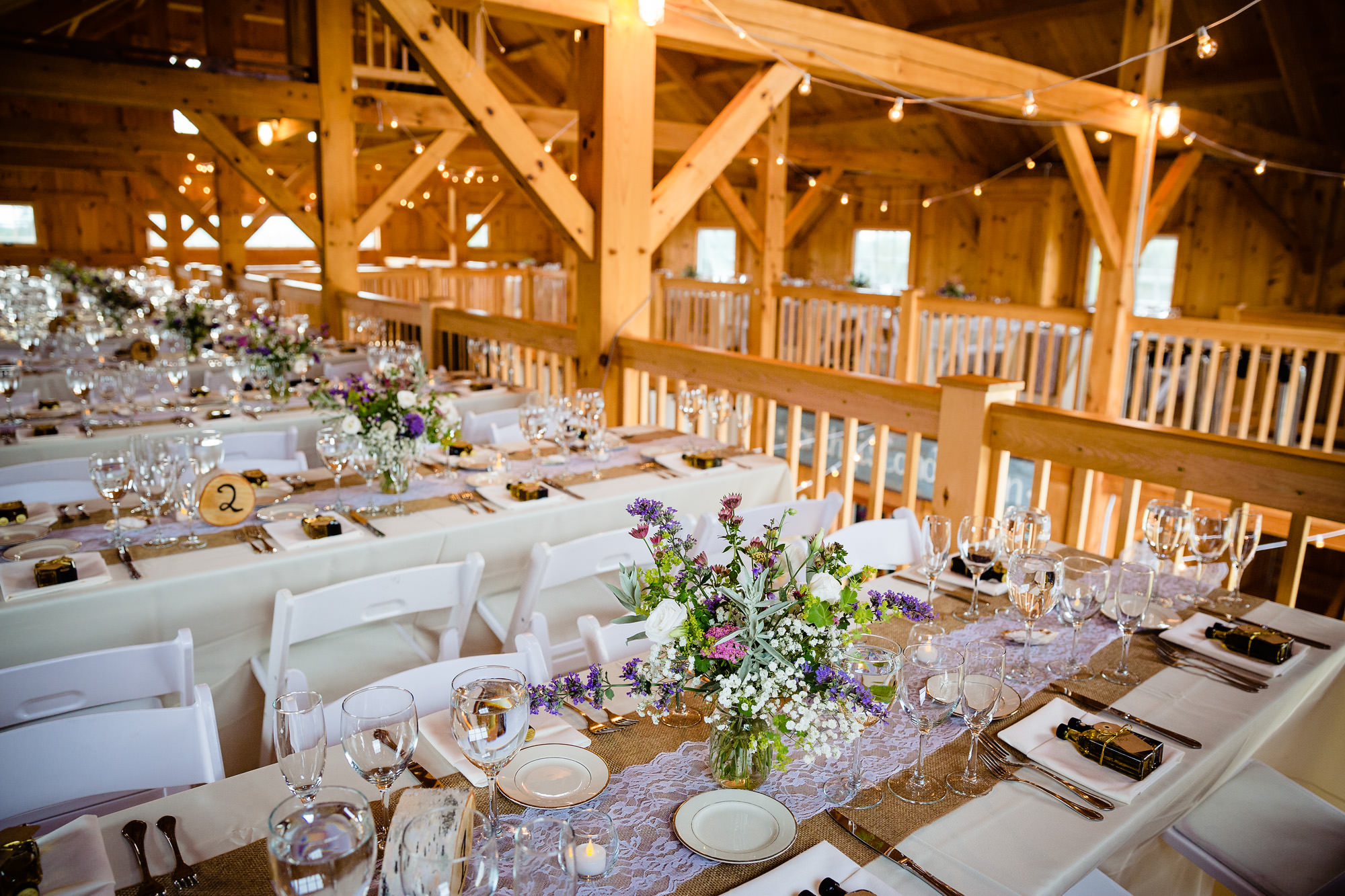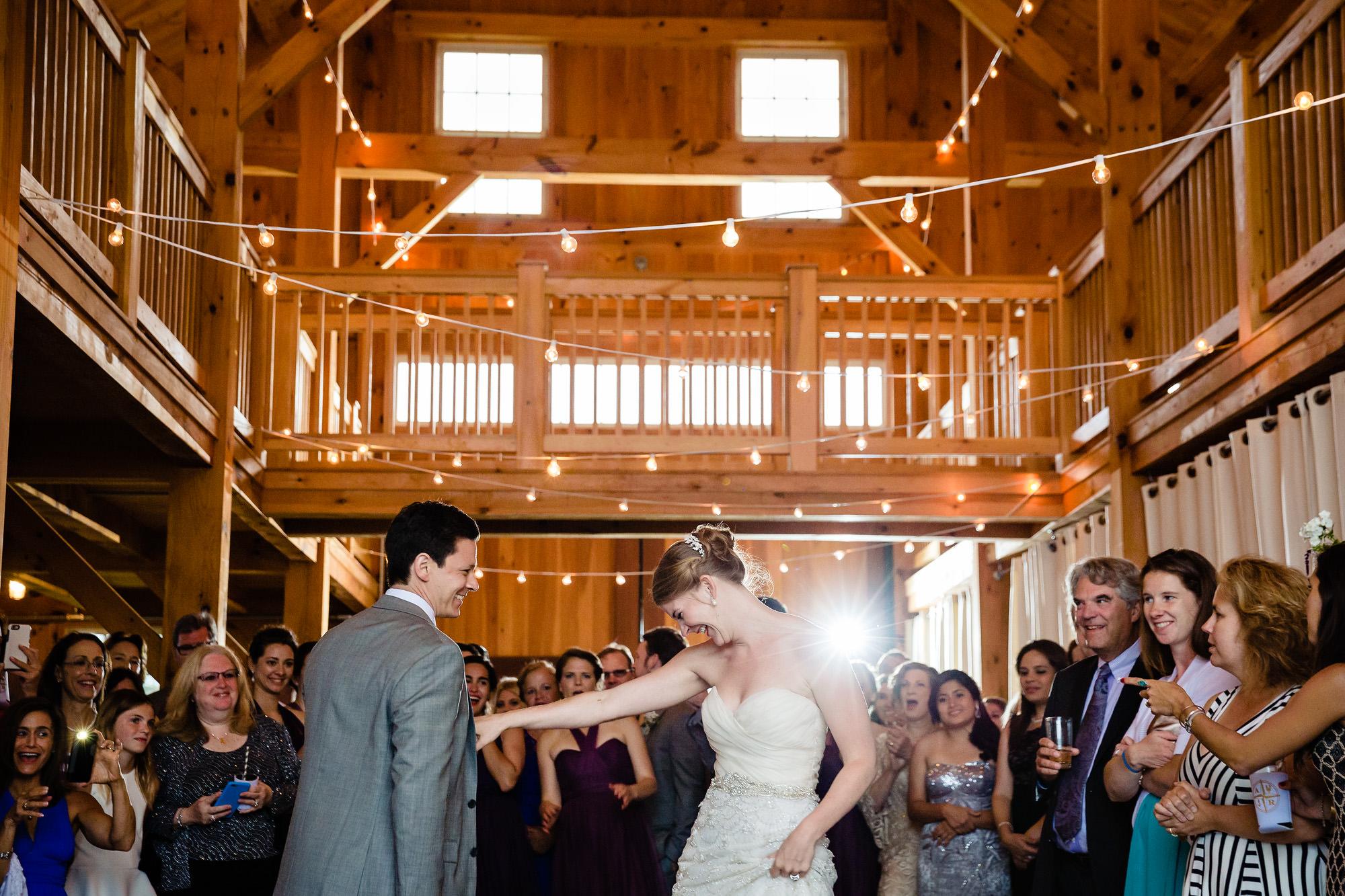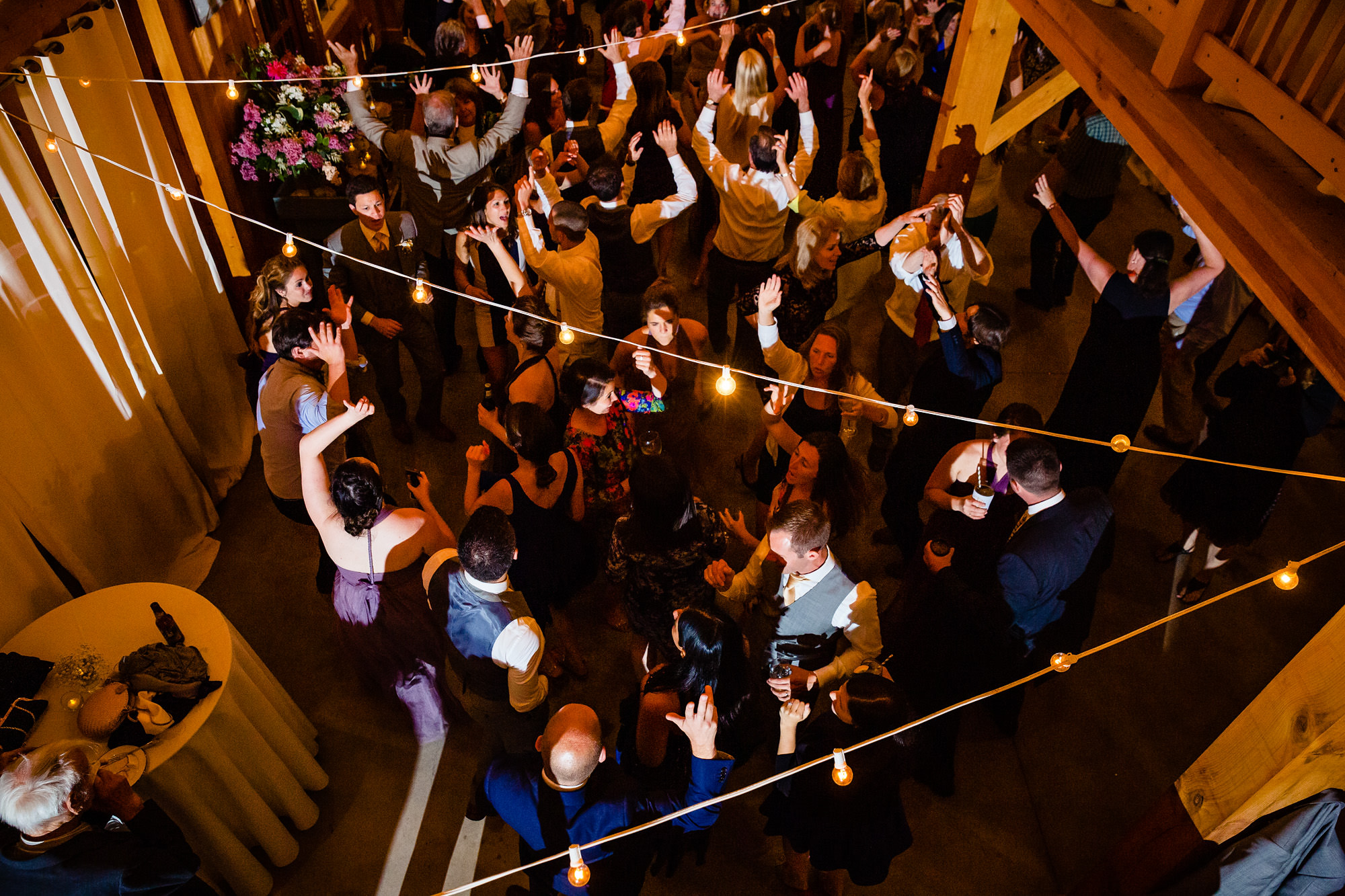 Primo Restaurant - Rockland, Maine
Website: https://www.primorestaurant.com/
Address: 2 Main Street, Rockland, ME 04841
Can guests stay on site?: No
Min/max guest counts: Up to 100 (from personal experience, I'd recommend a more intimate group of 50 or less for the barn).
Weddings hosted at Primo Restaurant: Katherine & Jose (reception), Julienne & Bill (reception)
If you're passionate about fine dining and offering your guests an exceptional culinary experience, Primo will likely be a venue you're already considering for your midcoast Maine wedding. With Primo, you're not just getting a wedding venue; you're also enjoying a world-class farm-to-table experience. Much of the produce and livestock featured on Primo's menu are grown and nurtured right on the property's sprawling 5 acres. Guests can stroll around the property and explore the gardens, greenhouses, and they'll likely spot Primo's pigs! The barn, where weddings take place, is the perfect size for more intimate weddings and overlooks the grounds. Among the unique highlights is a giant swing, sure to become a favorite spot for your guests to take photos and play on. Located in Rockland, Maine, Primo enjoys proximity to an array of midcoast attractions like Owls Head Lighthouse and Rockland Breakwater Lighthouse. Additionally, the venue's location offers easy access to shopping and restaurants in Camden and Rockport. This is a must check out spot for couples who are foodies (and having dined at many of Maine's top restaurant, Primo is a personal favorite of mine).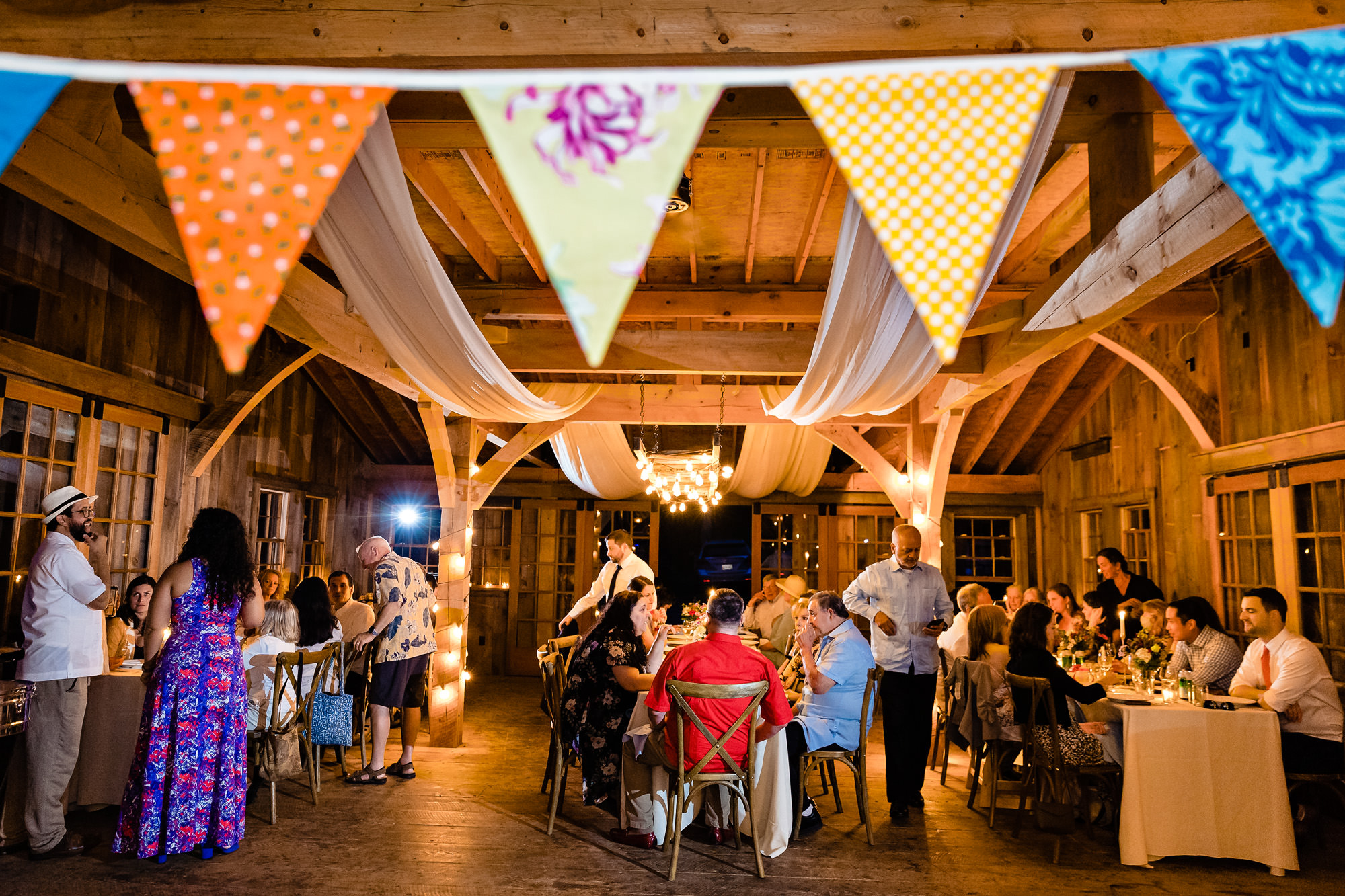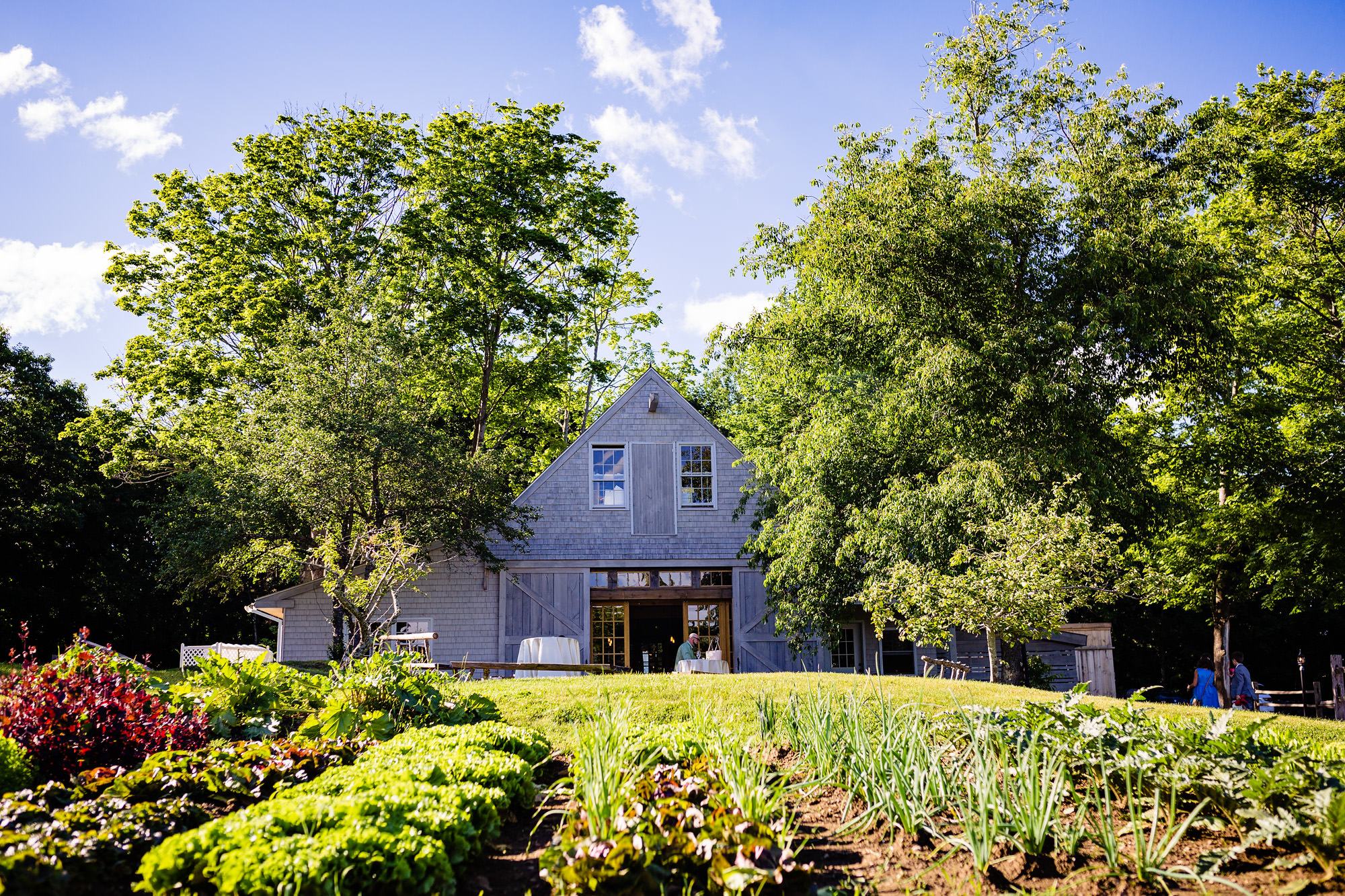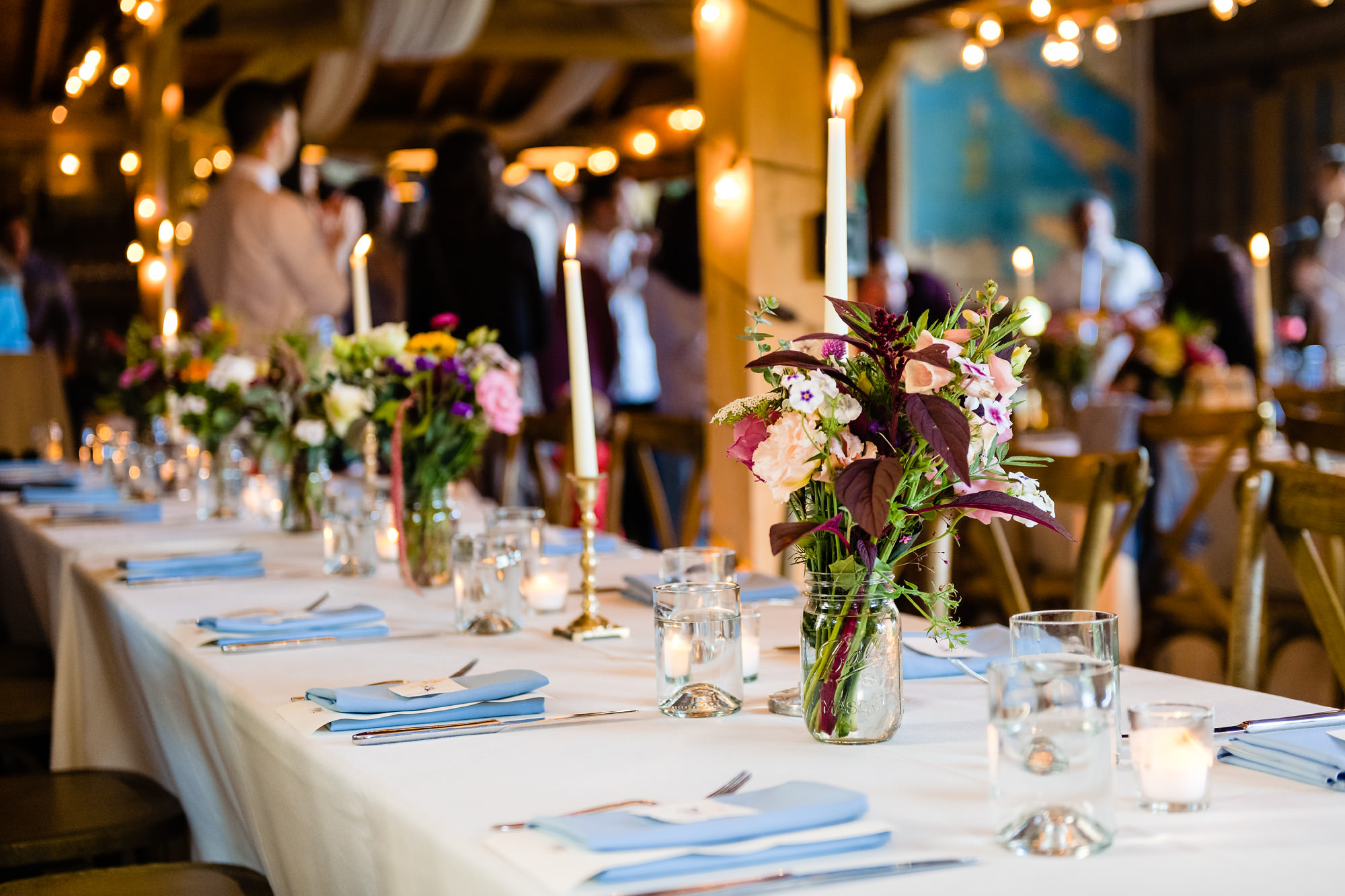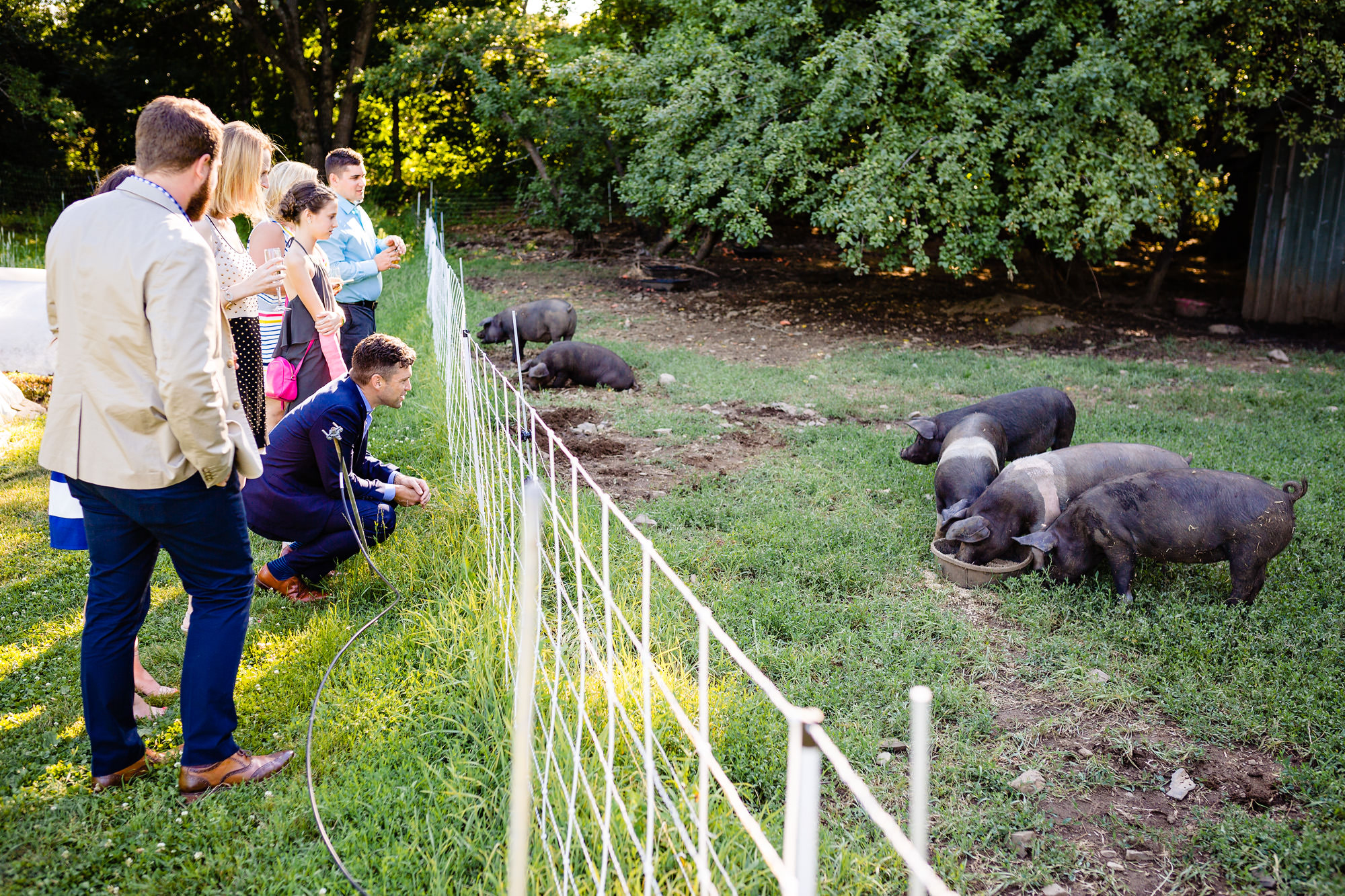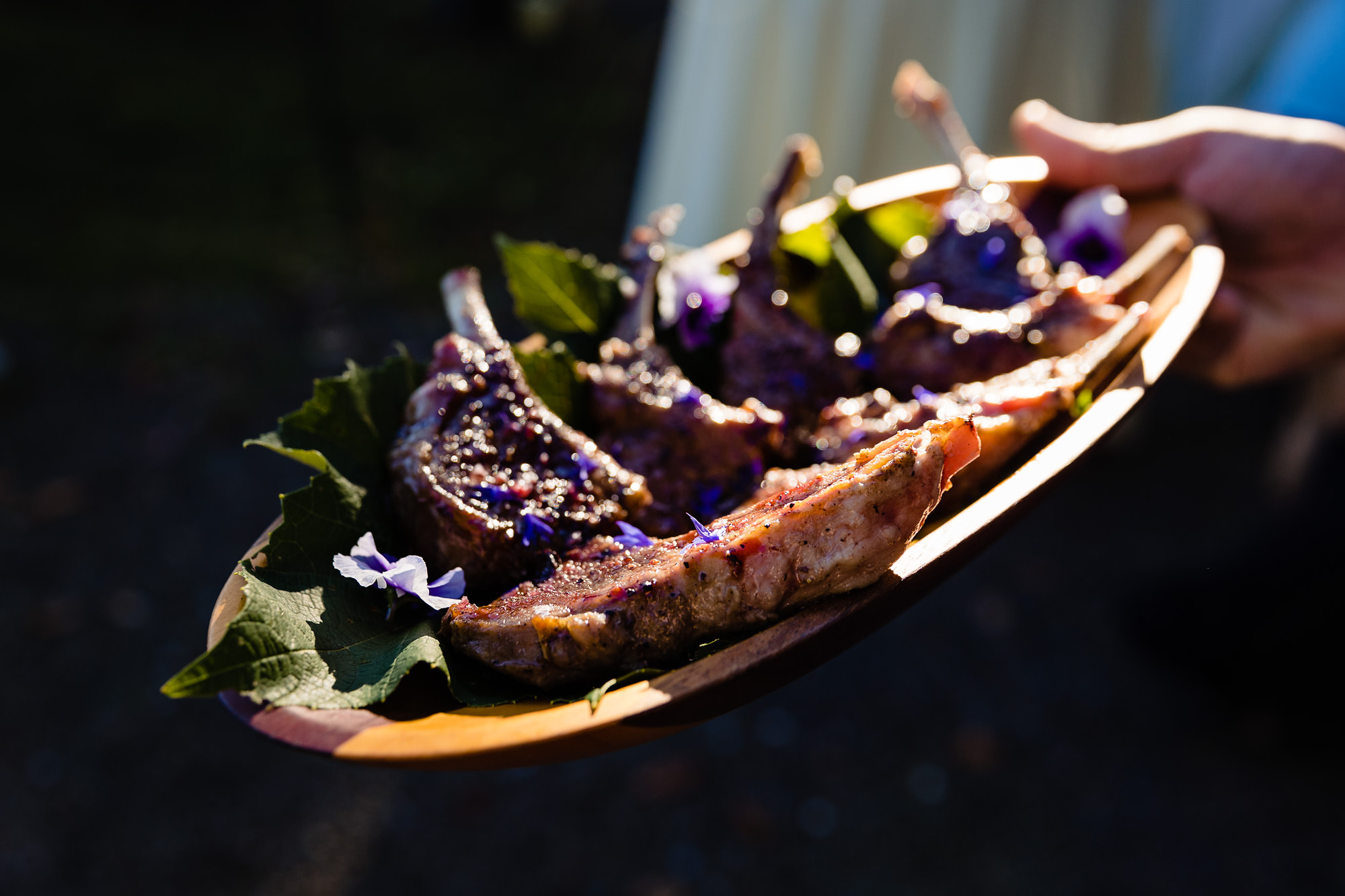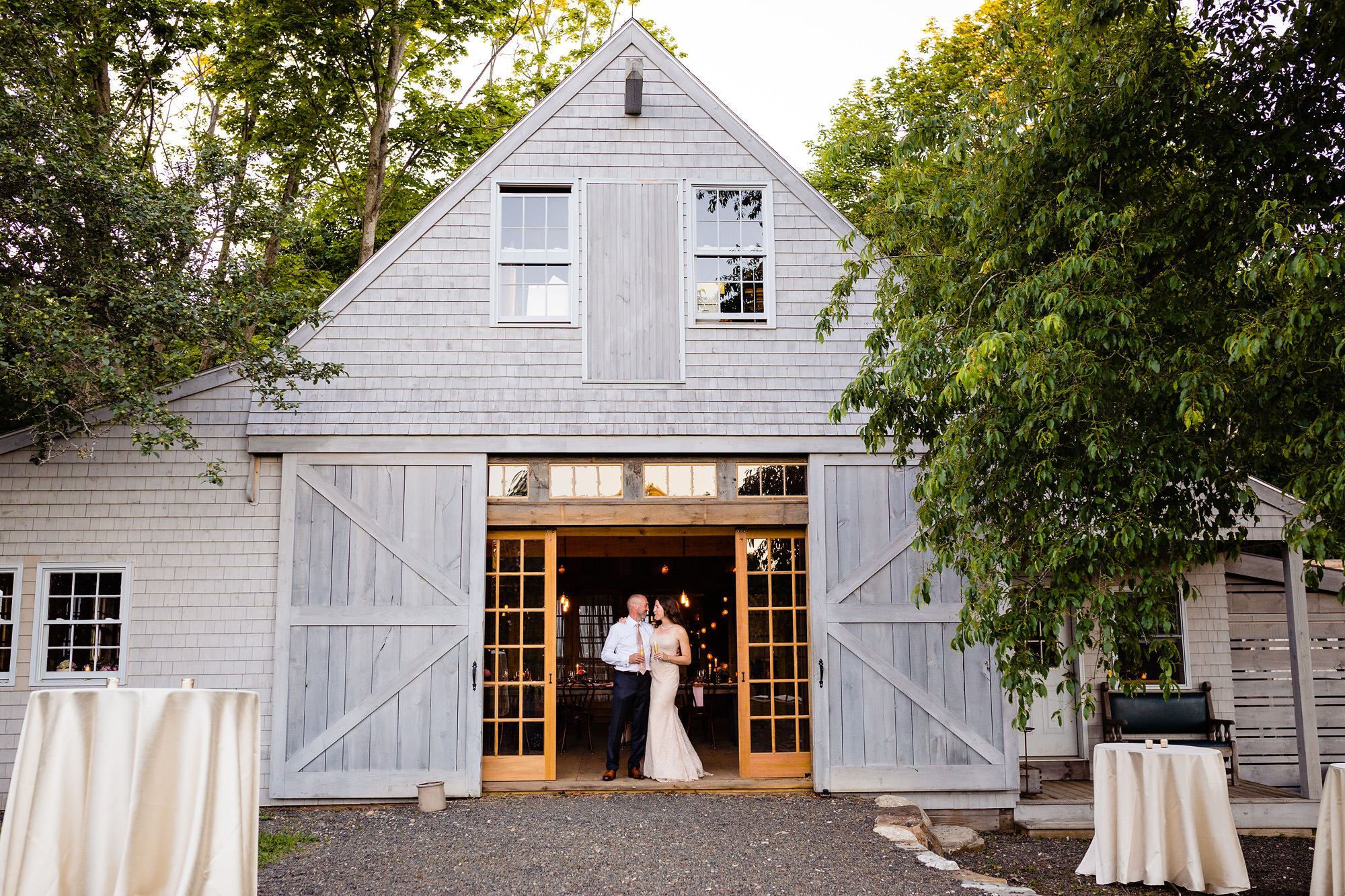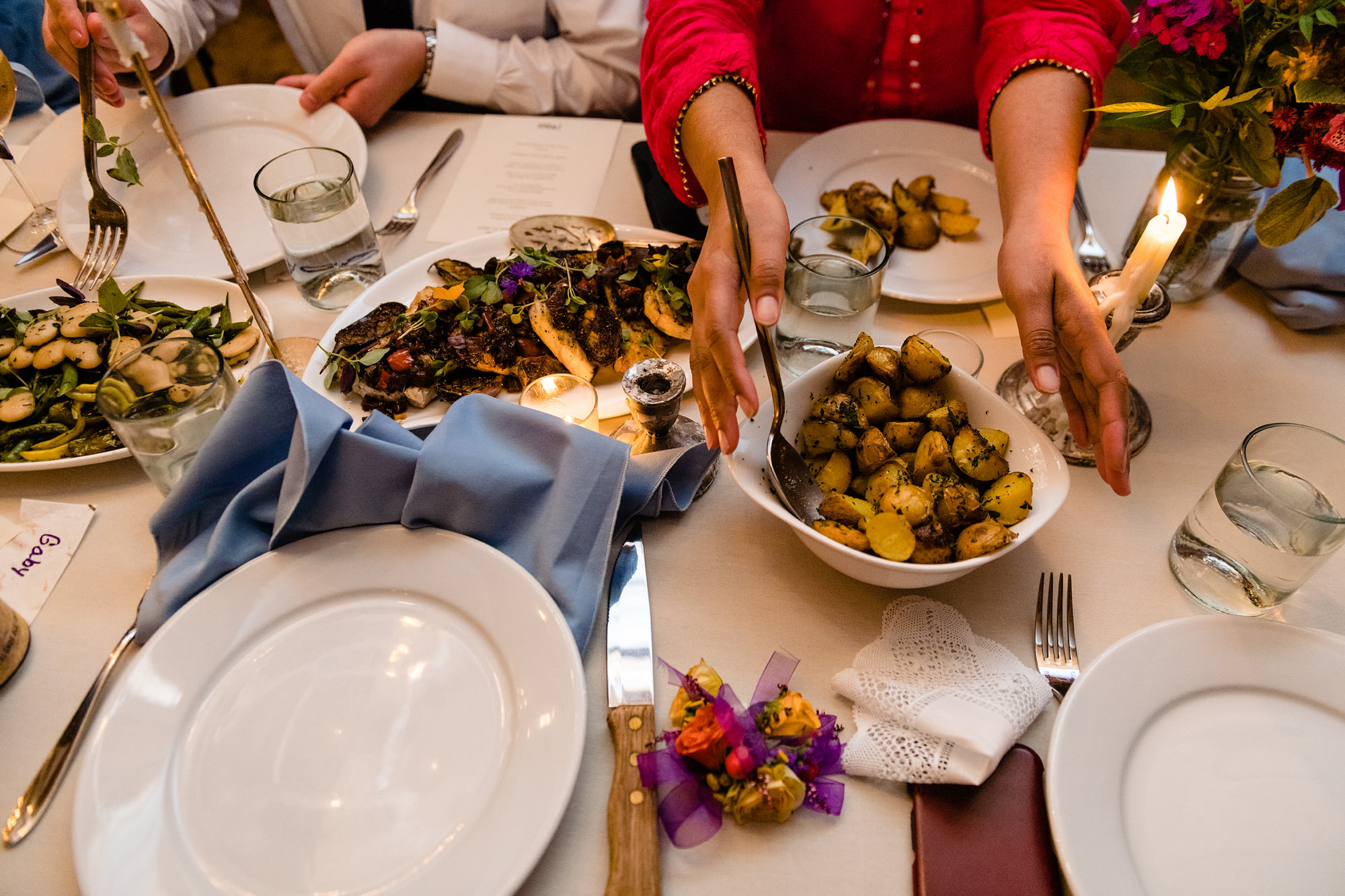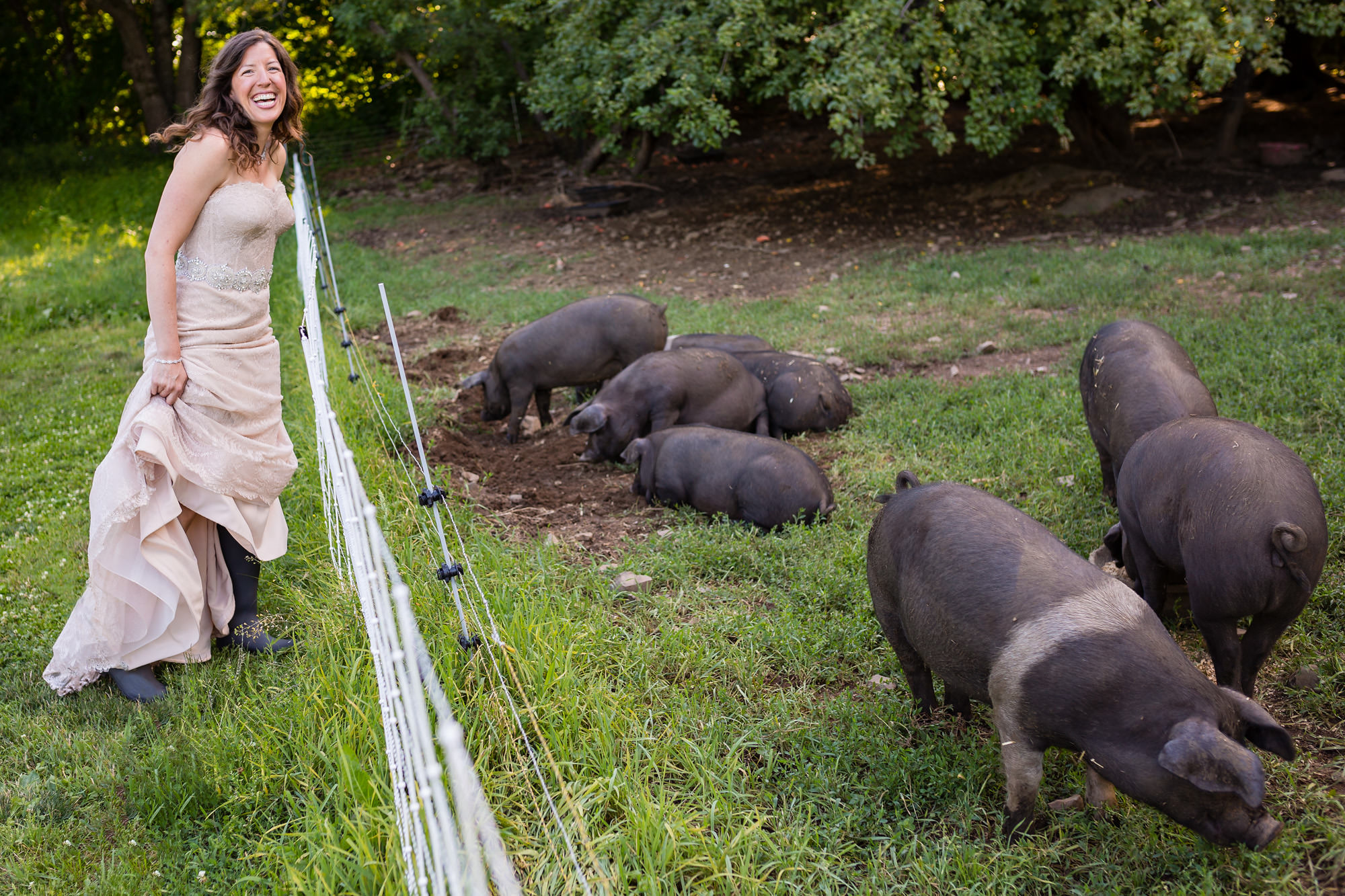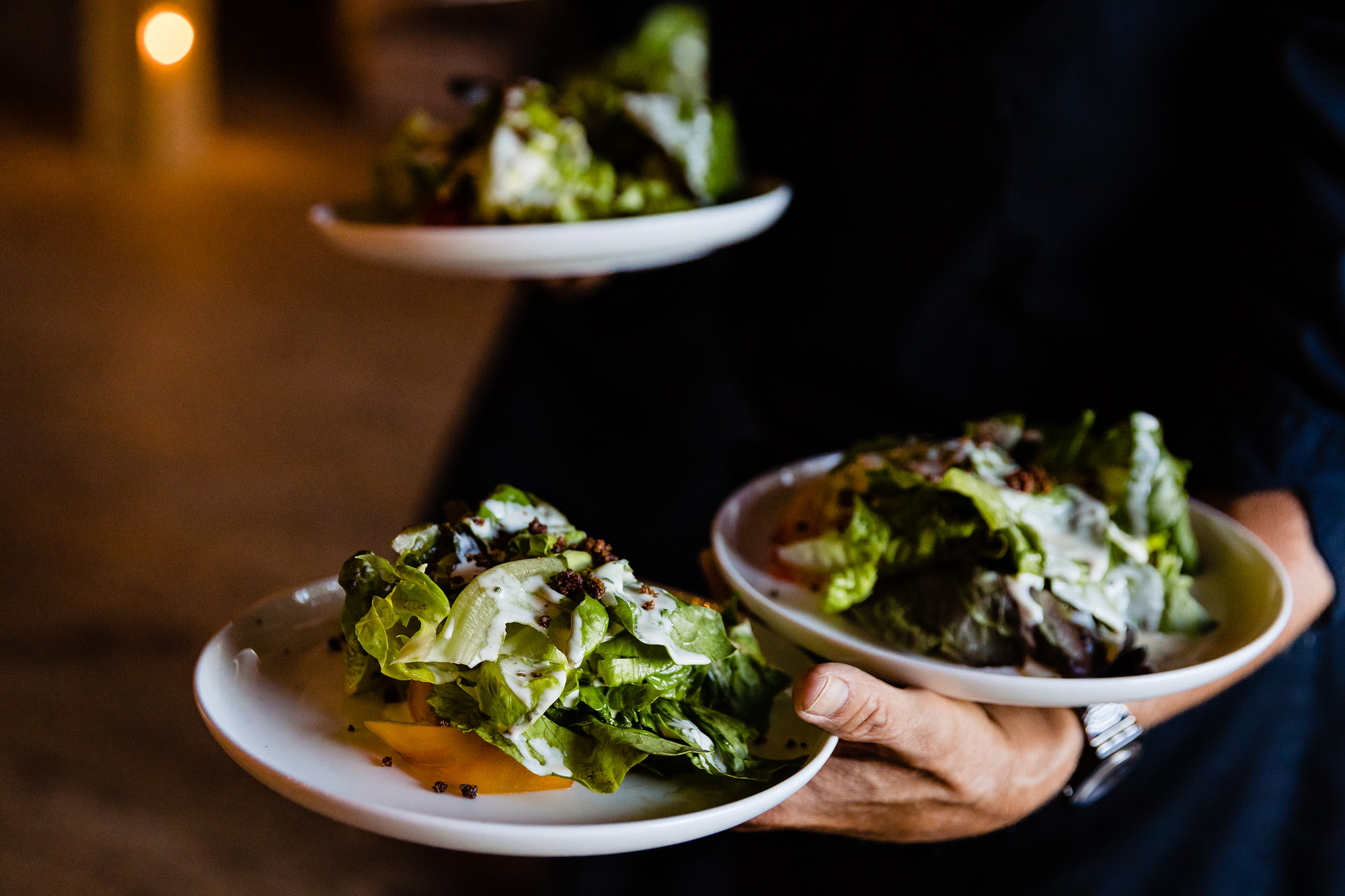 Newagen Seaside Inn, Southport, Maine
Newagen Seaside Inn, located in Southport, Maine, is one of the best midcoast Maine wedding locations for couples who want a property that is versatile and provides accomodations for all of their guests. There's a wide variety of accommodation options- rooms, suites, and cottages- which means that guests should be able to find the perfect option for their needs. And, the property is expansive and scenic (20 acres, situated right on the water!), which allows for multiple options for your ceremony and reception locations. There is a large indoor reception space, but there is space on the grounds for a tent should you opt for an outdoor reception. Many couples host al fresco lobster bakes for their rehearsal dinners, and once twilight descends, guests gather around bonfires to toast smores. Newagen is close to Boothbay Harbor, which is a wonderful Maine location for guests to explore should they want to leave the Newagen property during their stay. Newagen is perfect for couples who would like to customize their wedding day to their hearts content.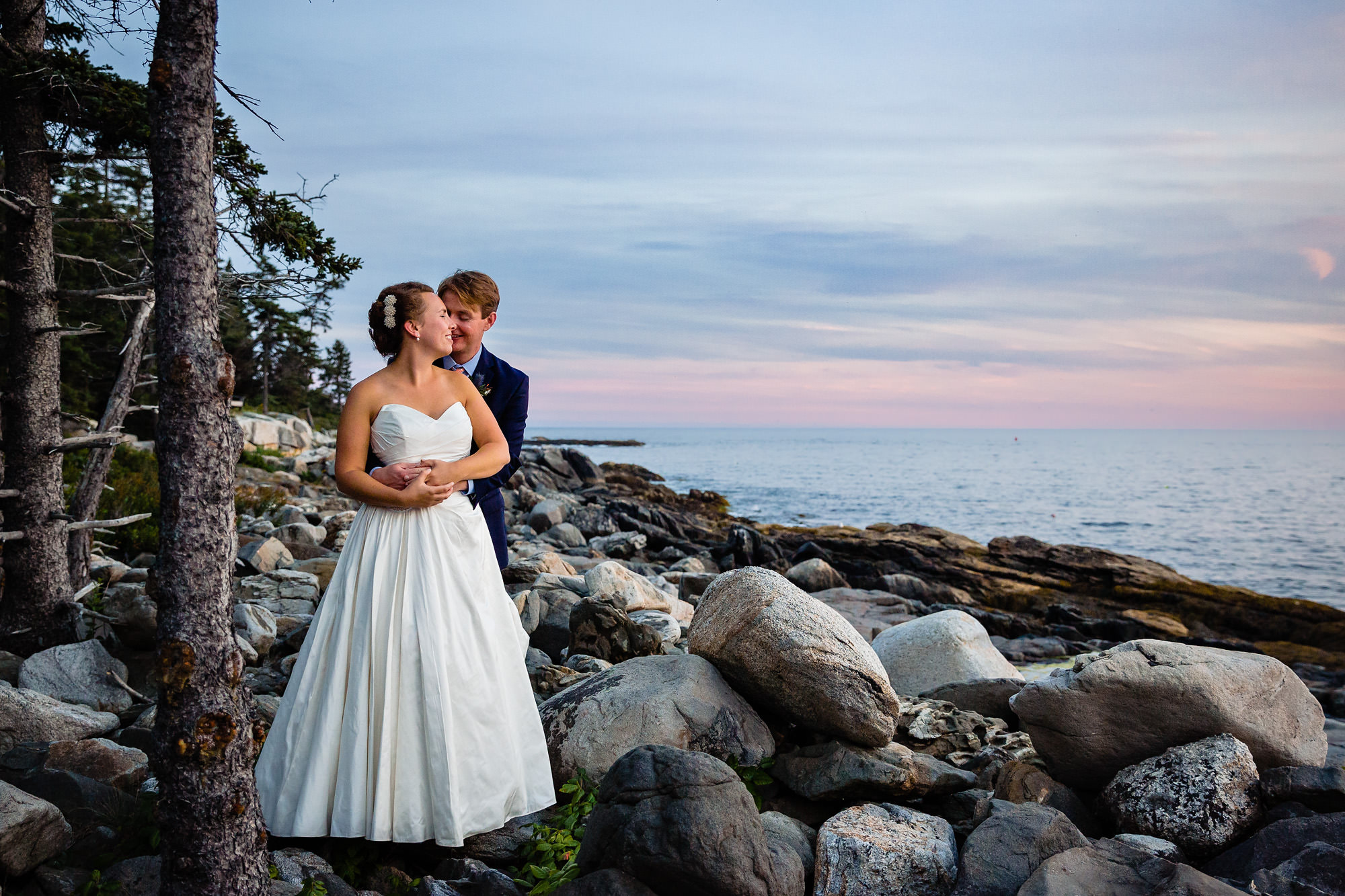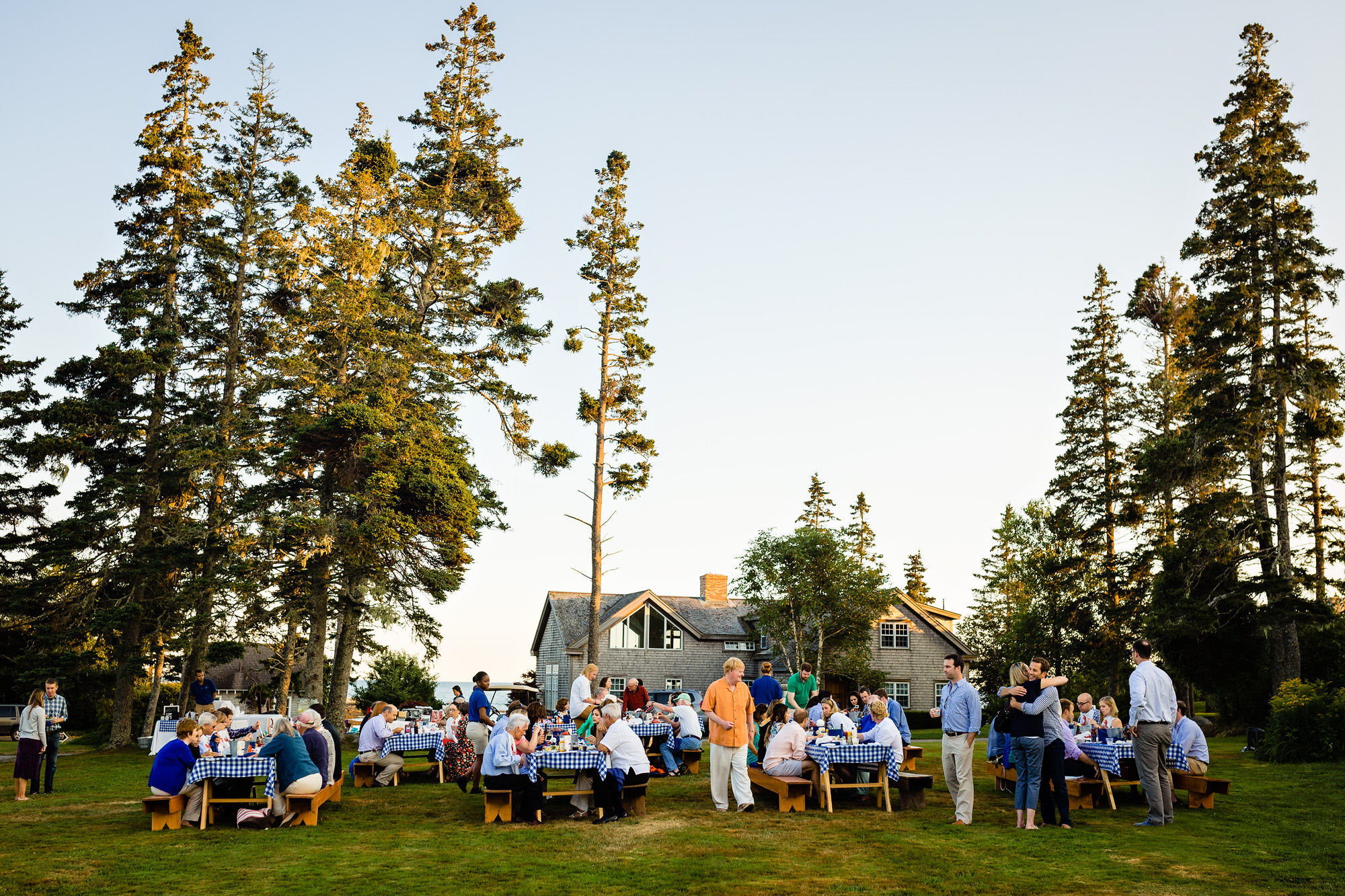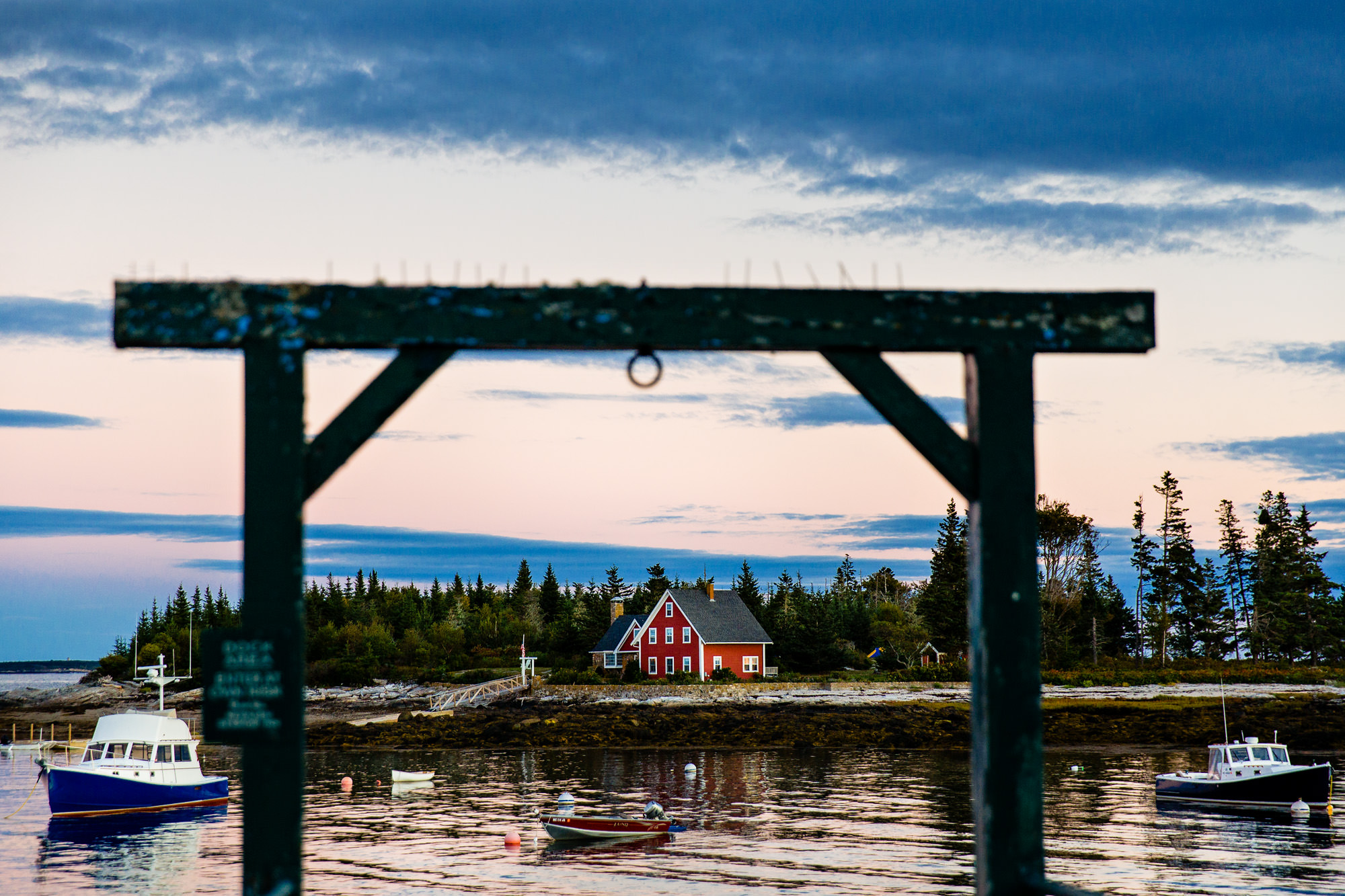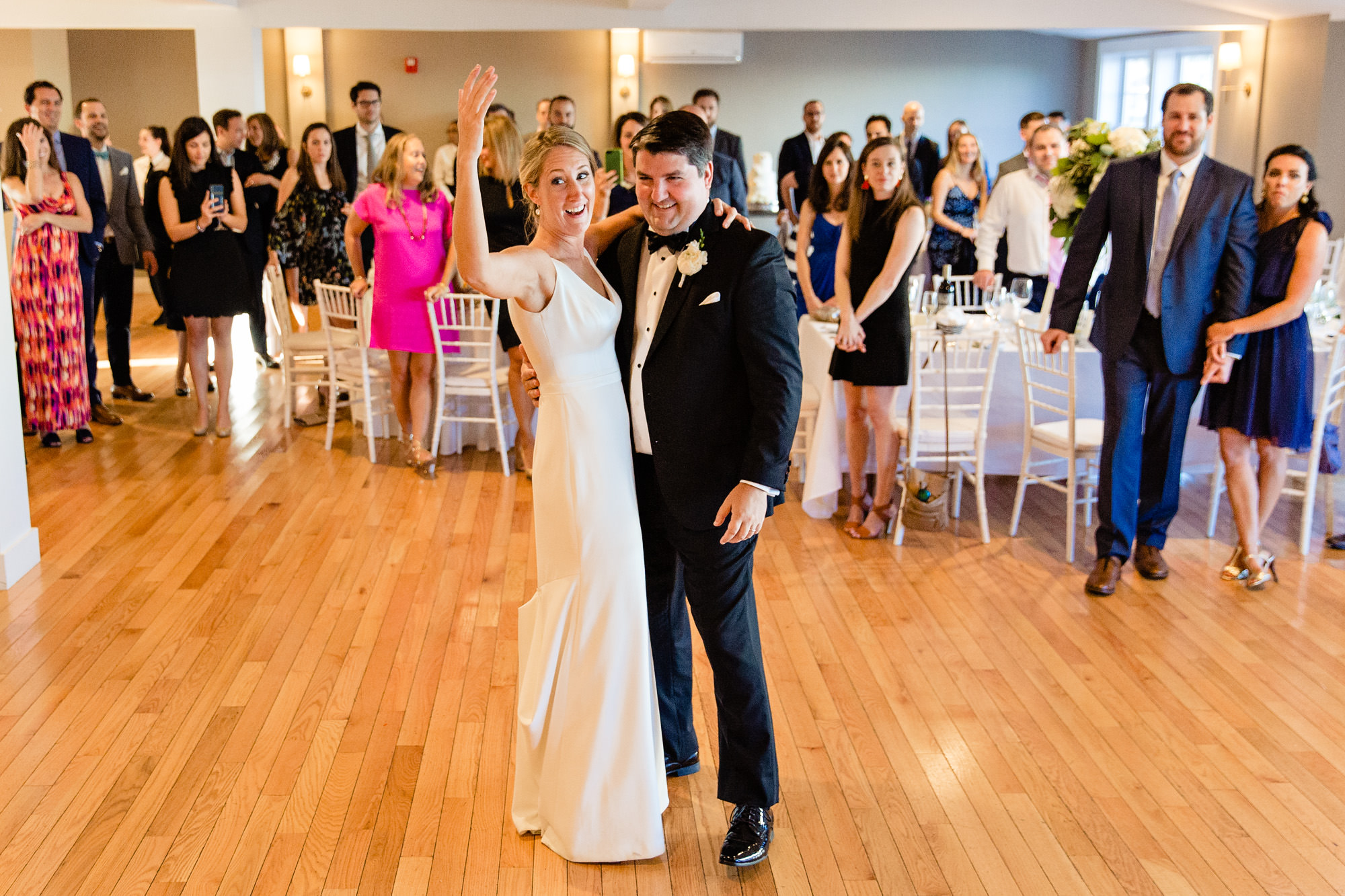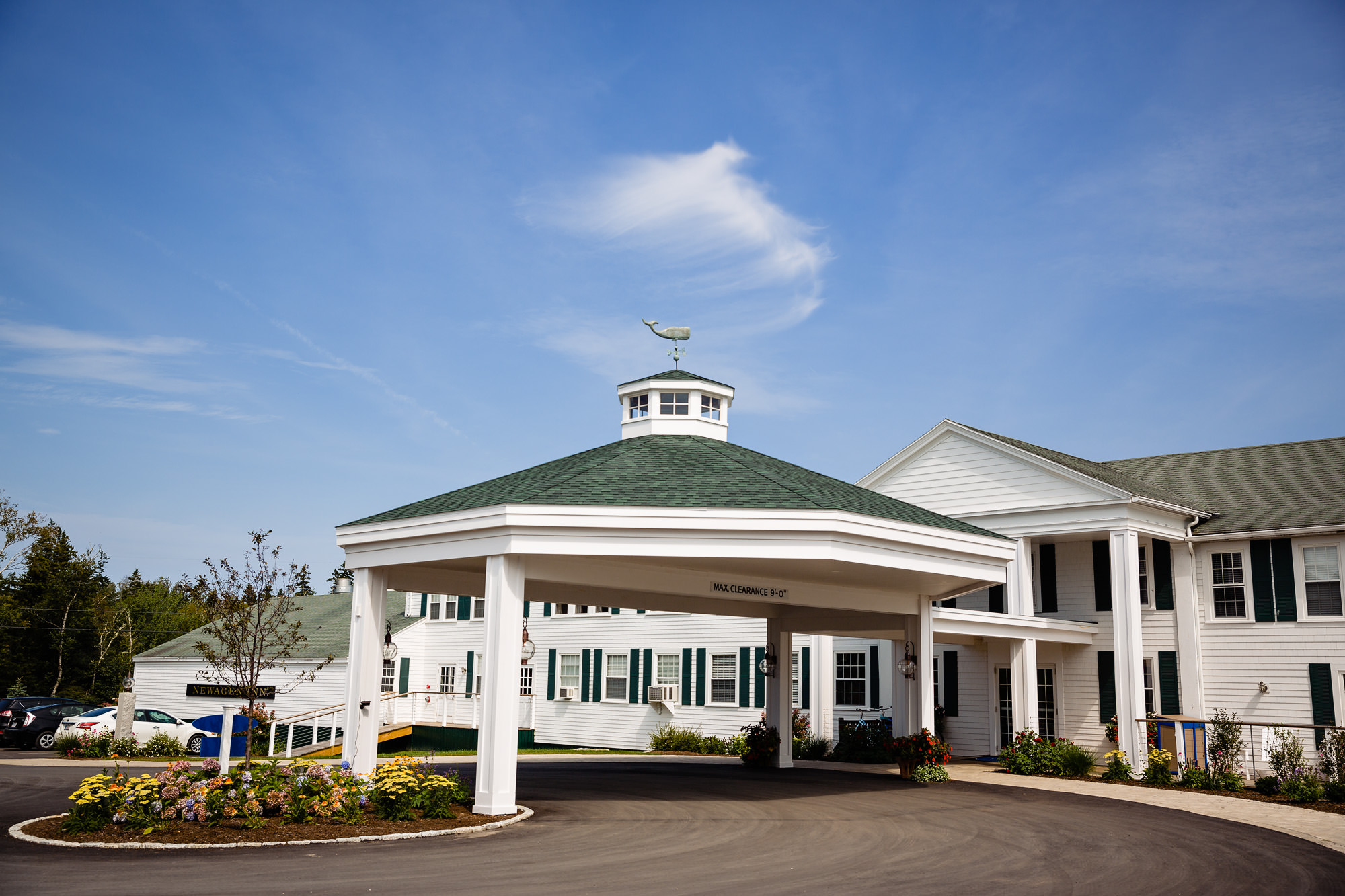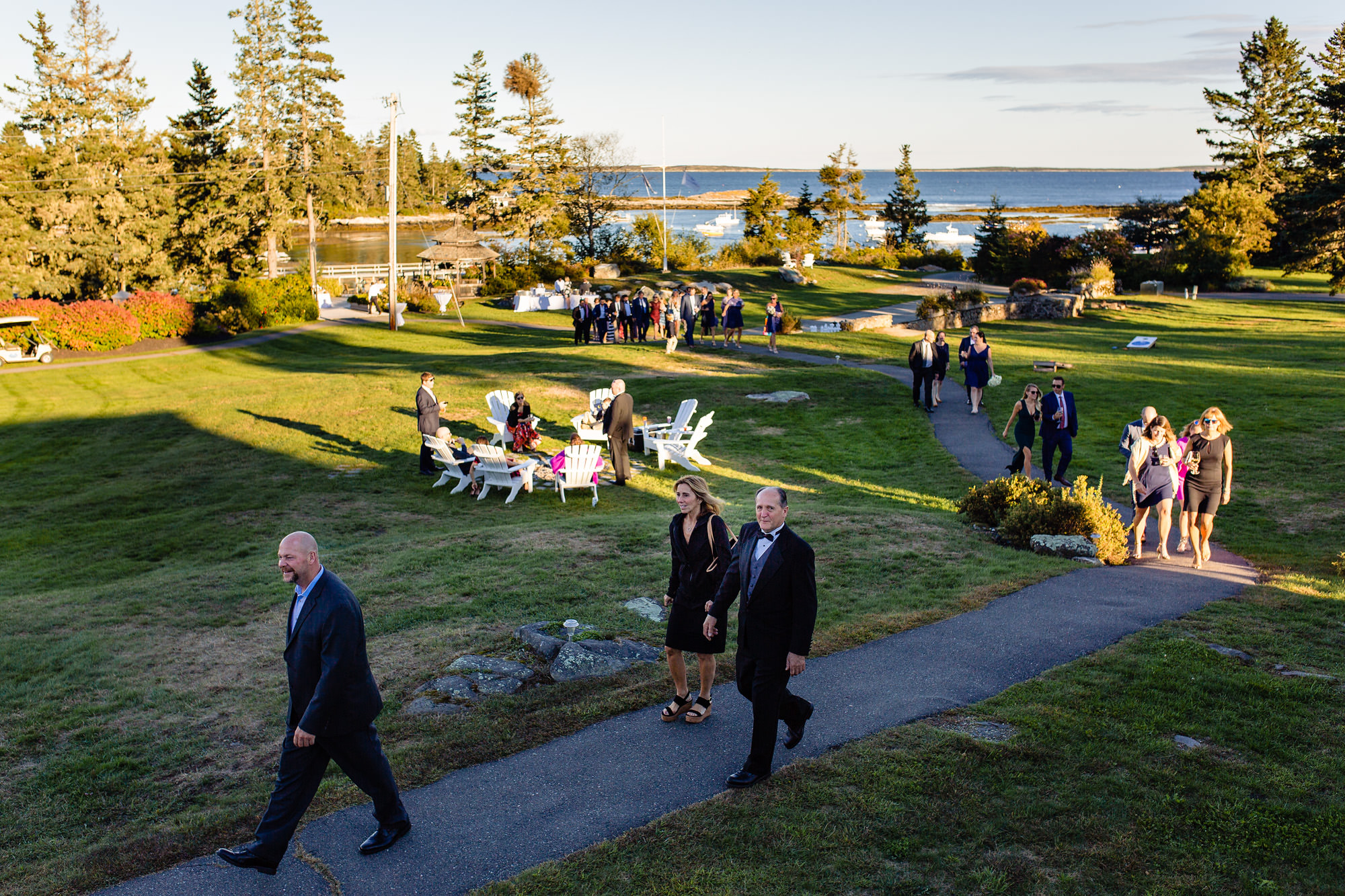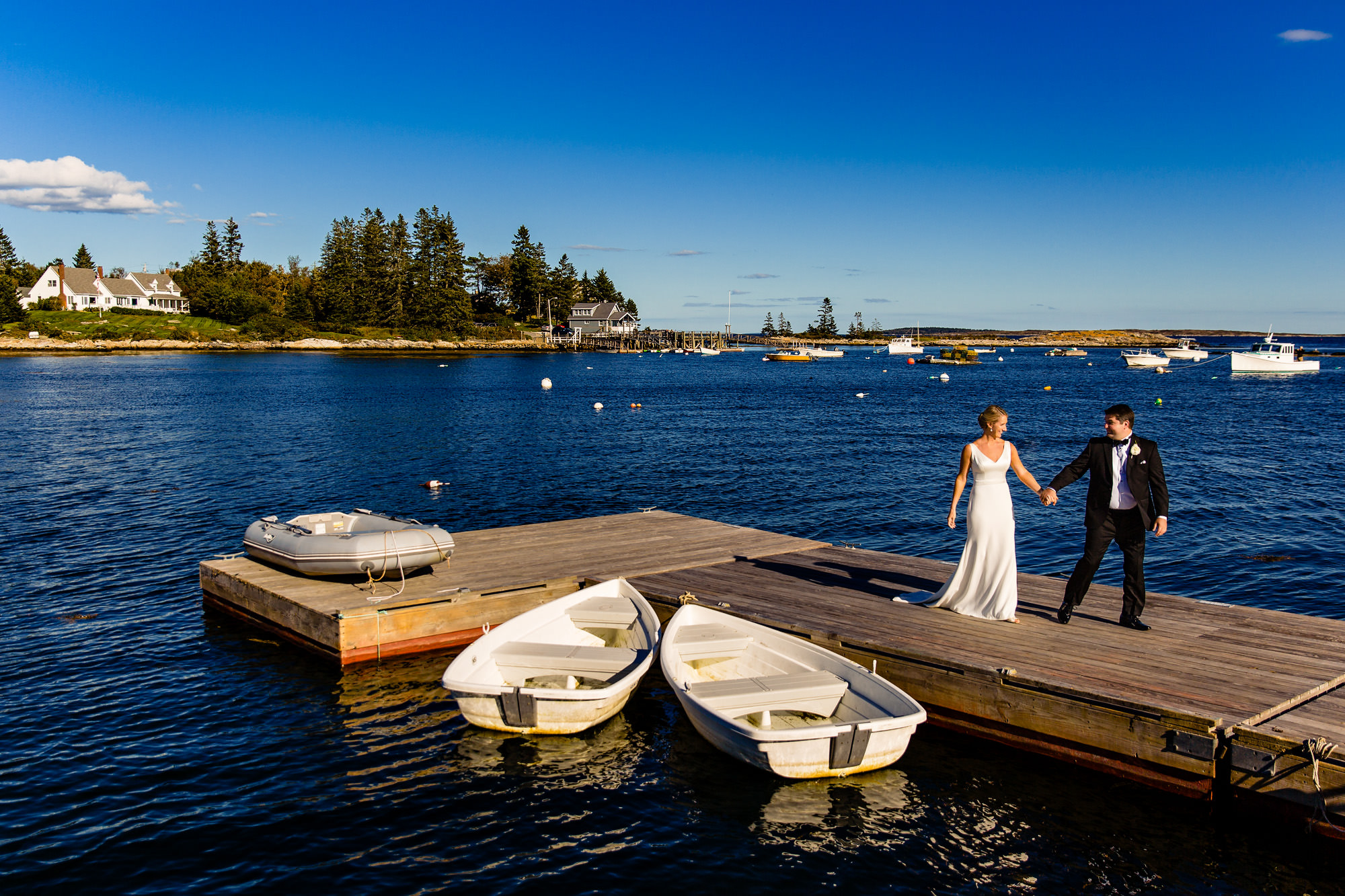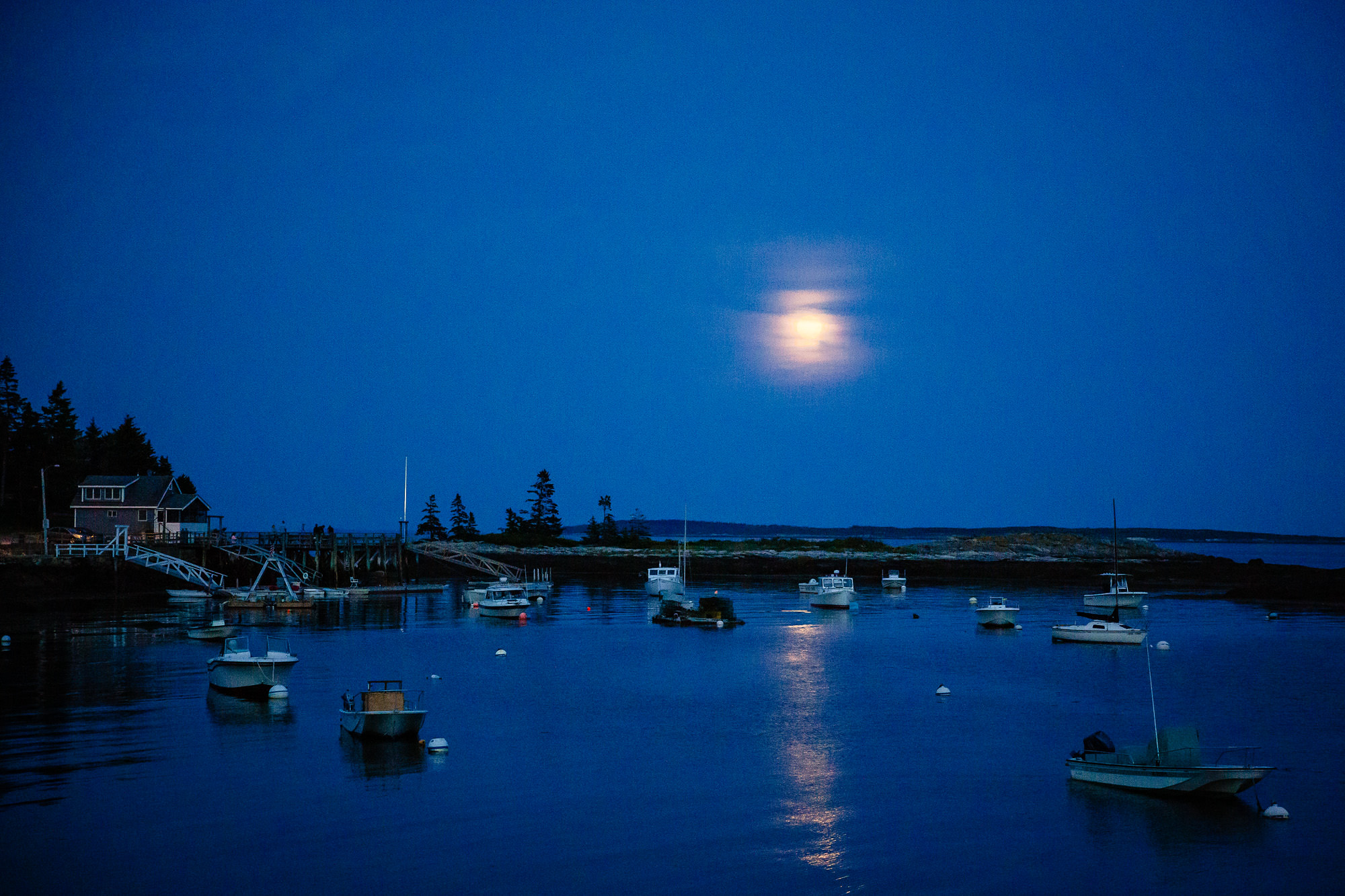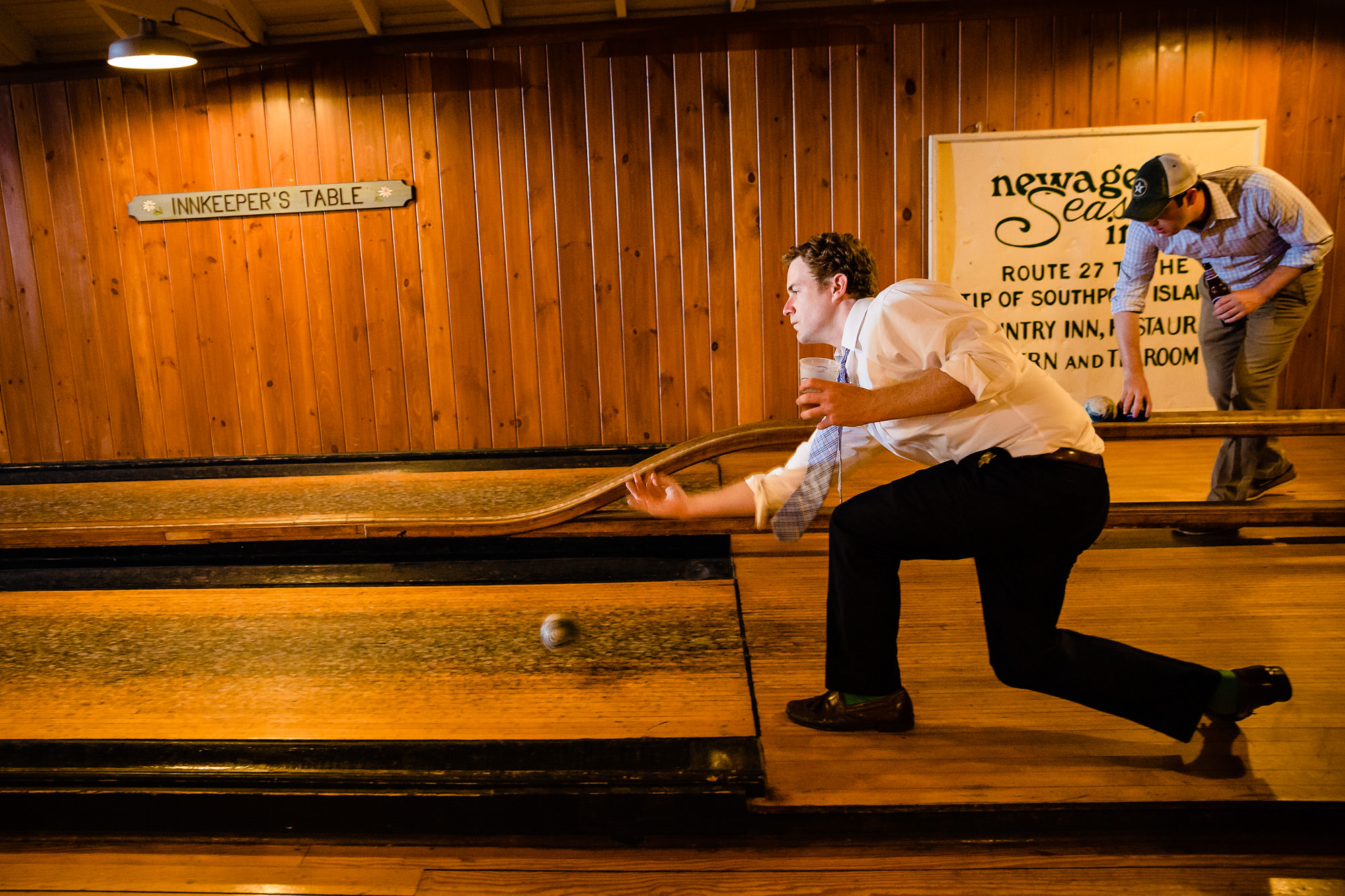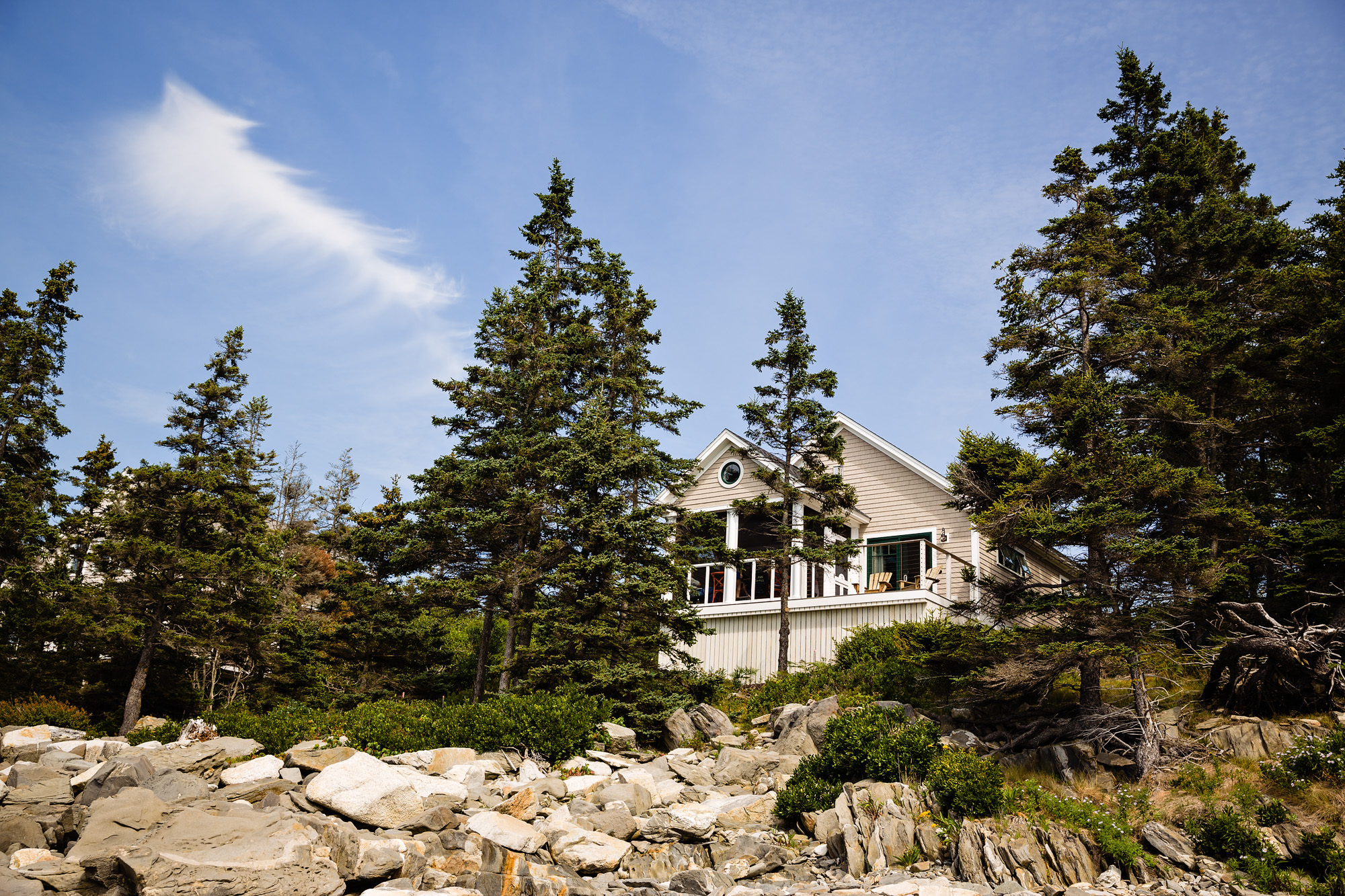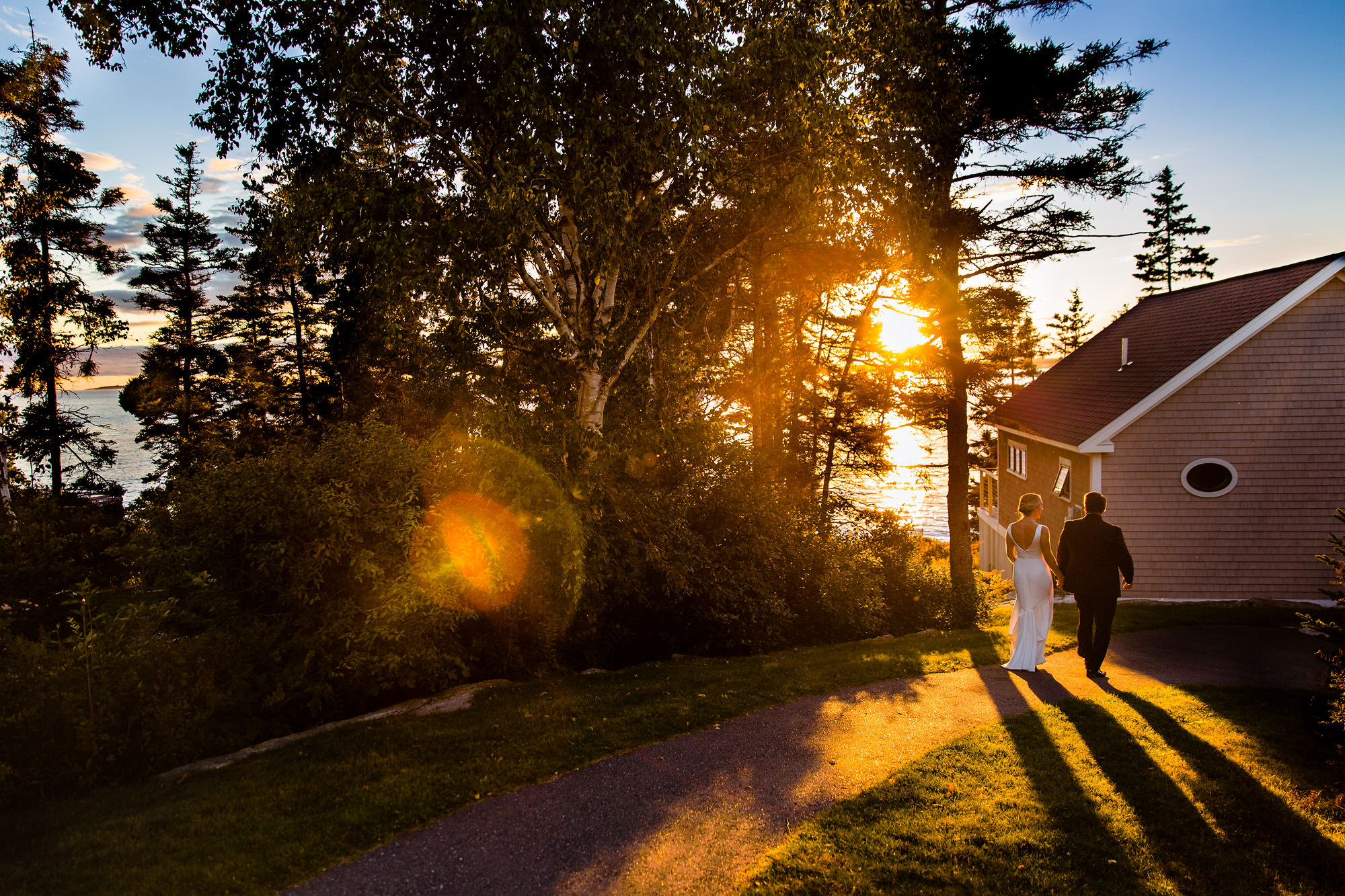 Grey Havens Inn - Georgetown, Maine
Website: https://greyhavens.com/
Address: 96 Seguinland Road, Georgetown, ME 04548
Can guests stay on site?: Yes
Min/max guest counts: Up to 60 guests indoors, up to 120 guests outdoors in the tent.
Weddings hosted at Grey Havens Inn: Andrew & Tricia
My first visit to Grey Havens Inn, located in Georgetown, Maine, left me surprised and delighted. Part of Maine's magic lies in its craggy coastline, and Grey Havens Inn, situated on a bluff overlooking the sea, provides stunning panoramic views that are quintessentially Maine. This bed and breakfast is perfect for smaller weddings- while their website notes that you can accommodate up to 120 people, I felt that this venue would be perfect for a wedding of 50-80 guests. There is an indoor space that can be used for groups of up to 60 guests, and a tent that can accommodate more guests. Catering is taken care of by Blue, the restaurant that occupies Grey Haven Inn, and I can confirm- my meal there was absolutely delicious and, in fact, it was one of our favorite wedding meals during our 2023 wedding season. And, what's better than having some or all of your guests stay with you during your wedding festivities? There are thirteen rooms and suites available so that you can keep your favorite people close by. Local attractions include Reid State Park, and Popham Beach and Pemaquid Point are short drives away, so your guests will have plenty to do and explore.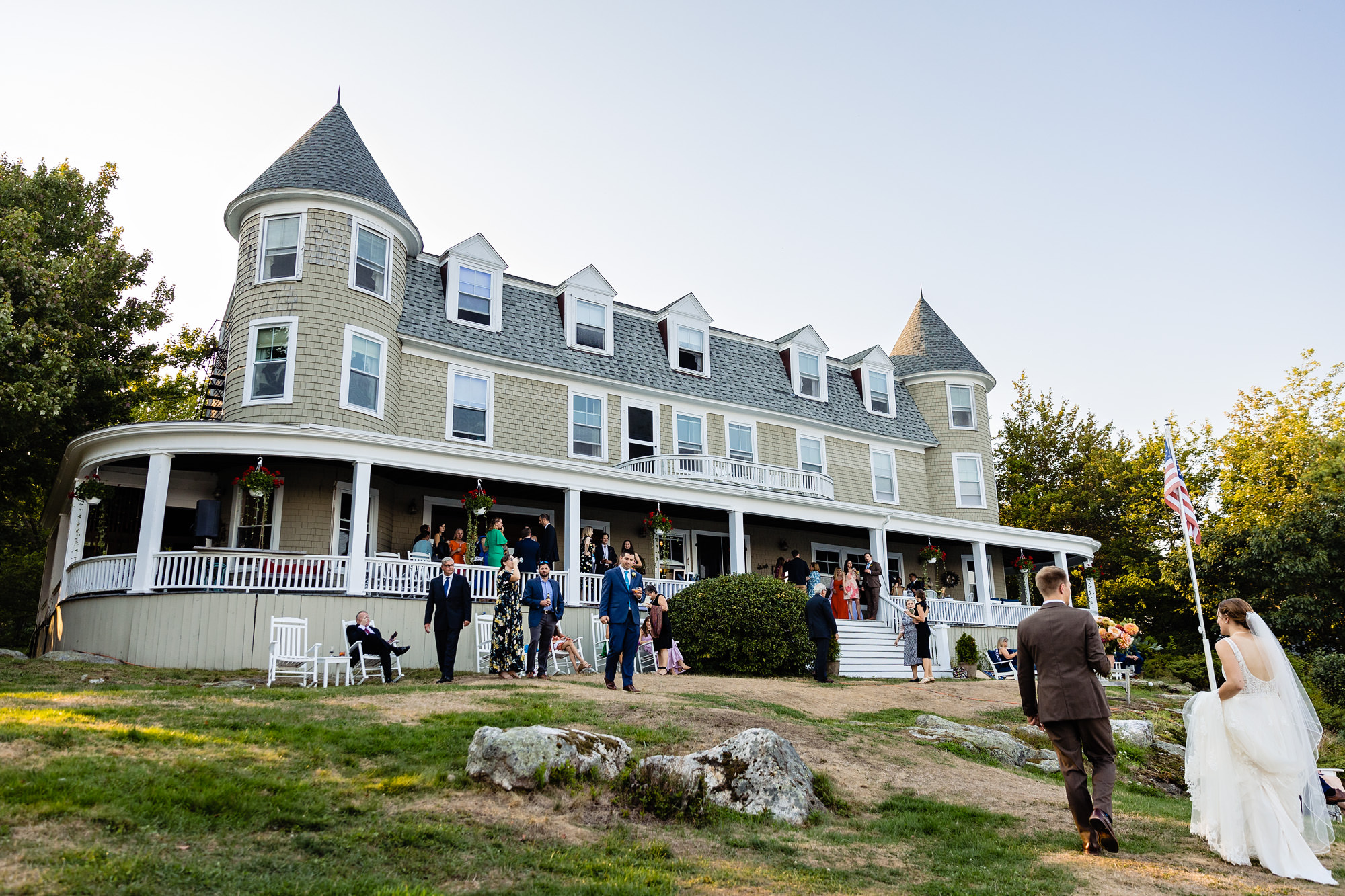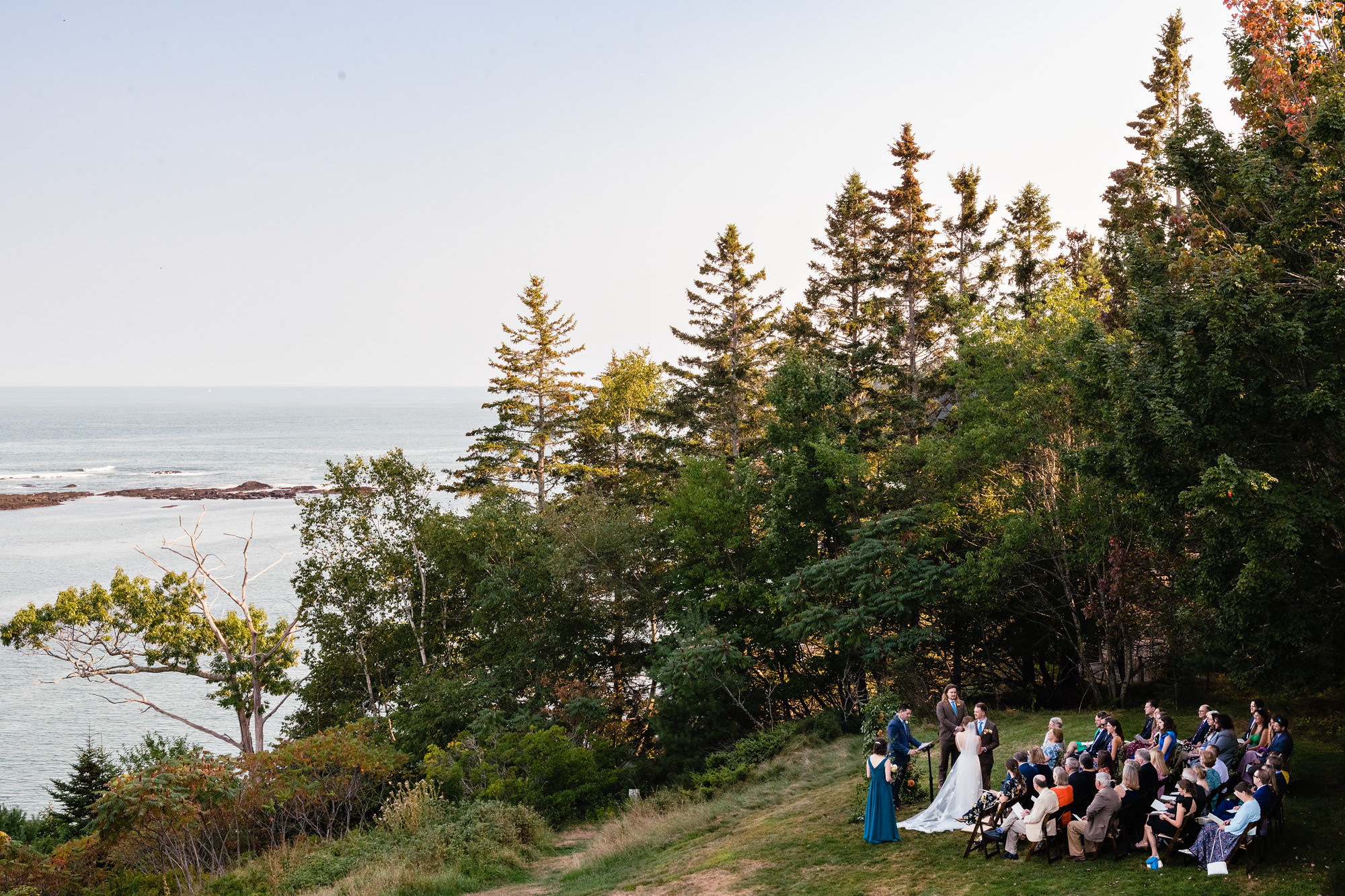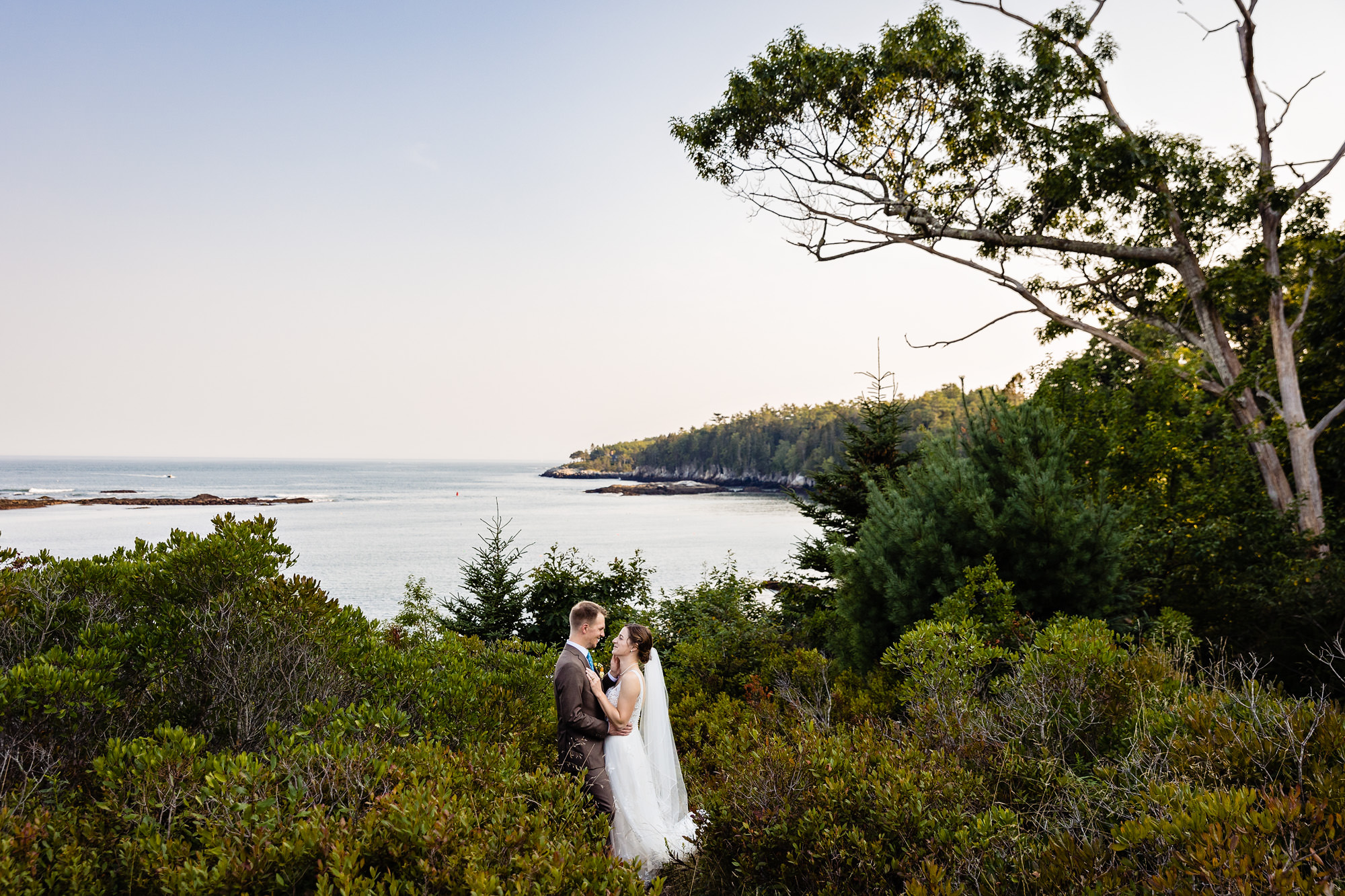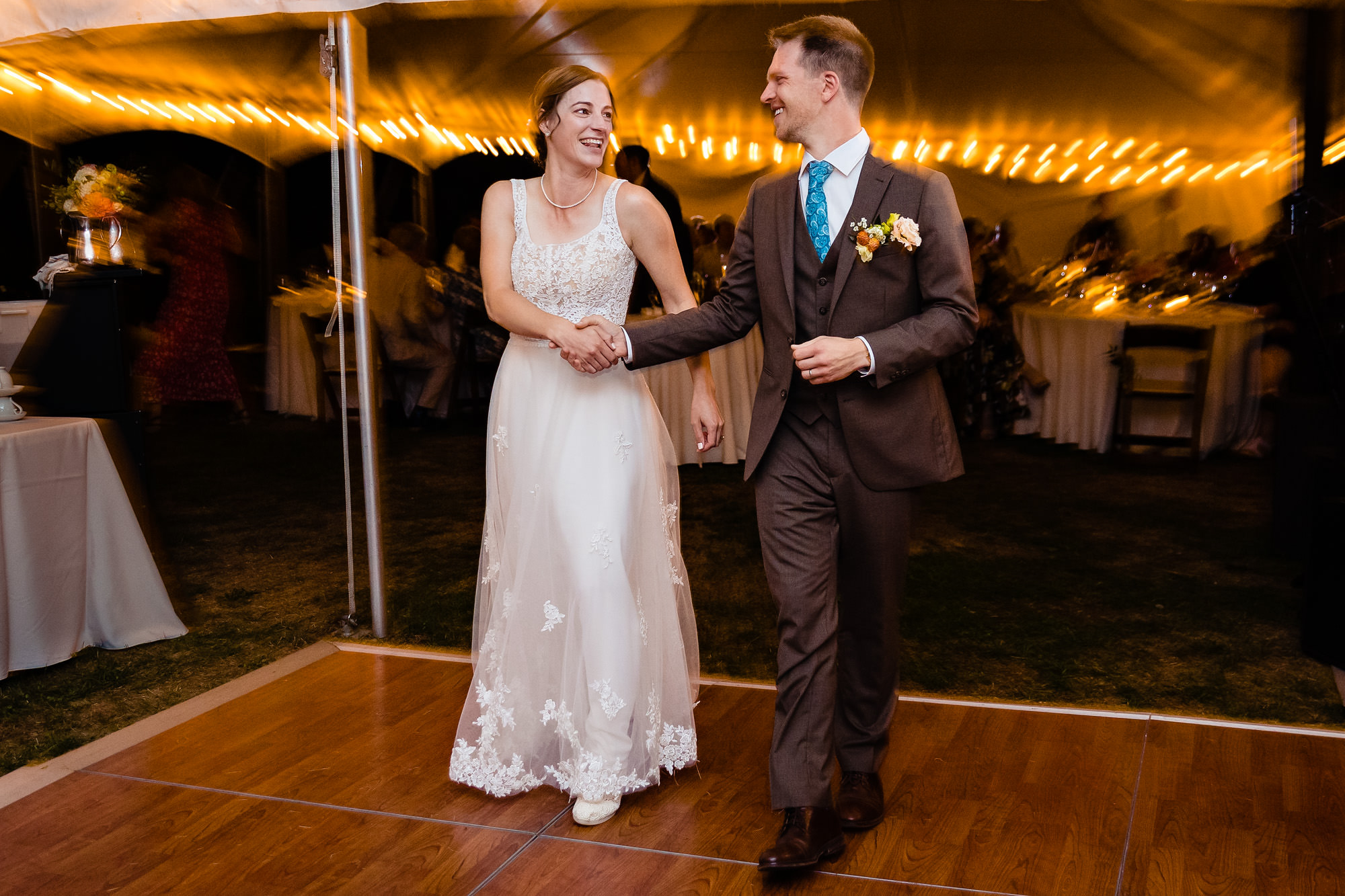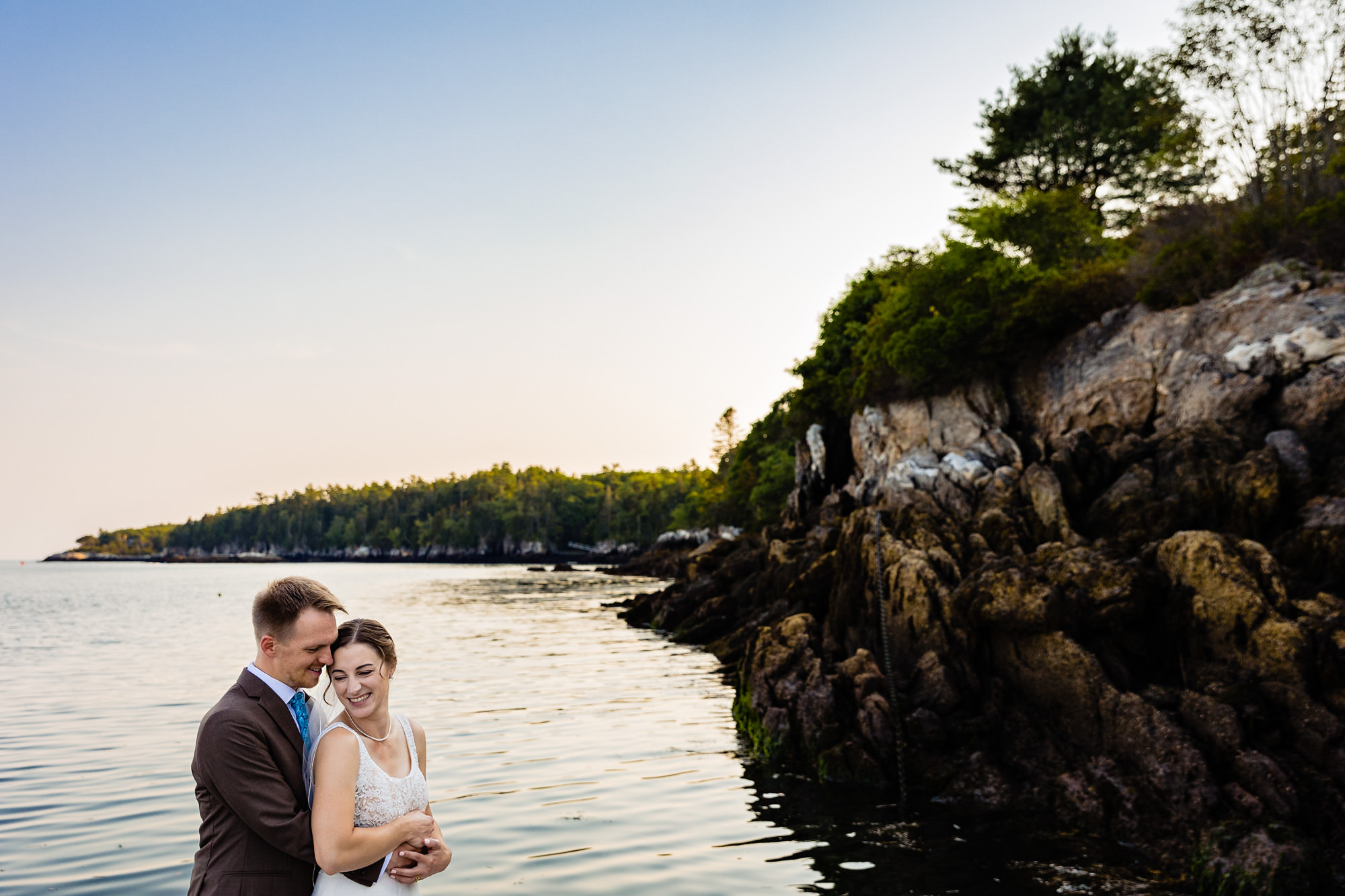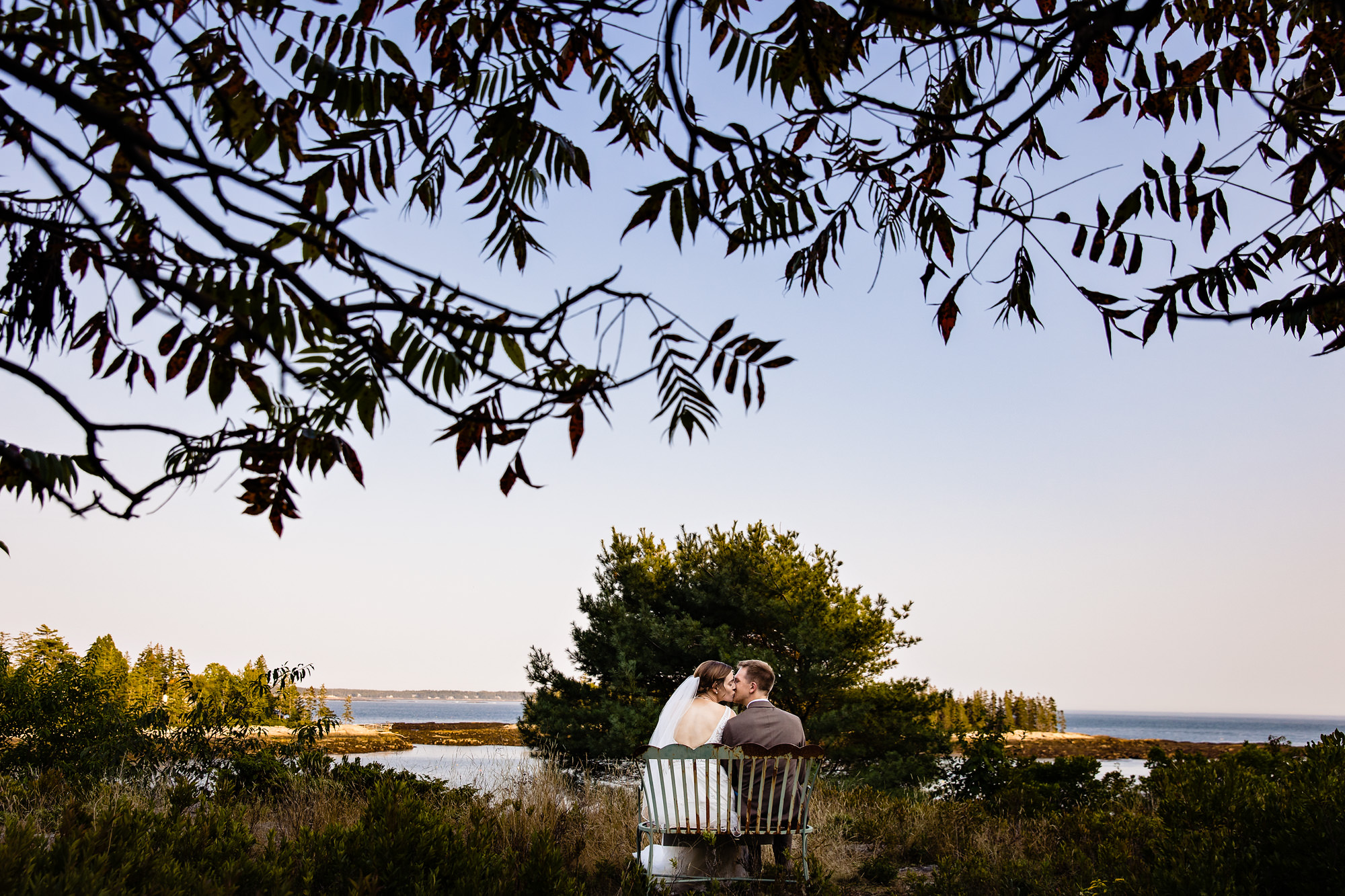 The Contented Sole - New Harbor, Maine
The Contented Sole, a restaurant located on Pemaquid Harbor, is as quintessential coastal Maine as you can get. Its dock is perfect for cocktail hour, and as a spot for guests to relax as the sun sets over the water, as The Contented Sole faces toward the west. Large windows provide beautiful views and natural light, and the rustic interior feels cozy and inviting. There isn't quite enough space here to have a wedding ceremony, but there's a few spots nearby that would fit the bill, including Fort William Henry and Pemaquid Point Lighthouse. Guests have lots to explore in the area, including the coastal towns of Damariscotta, Wiscasset, and Boothbay Harbor. If you are hoping to showcase Maine's wonderful seafood options to your guests, and hoping for a venue that provides an authentic Maine experience, The Contented Sole will definitely be appealing.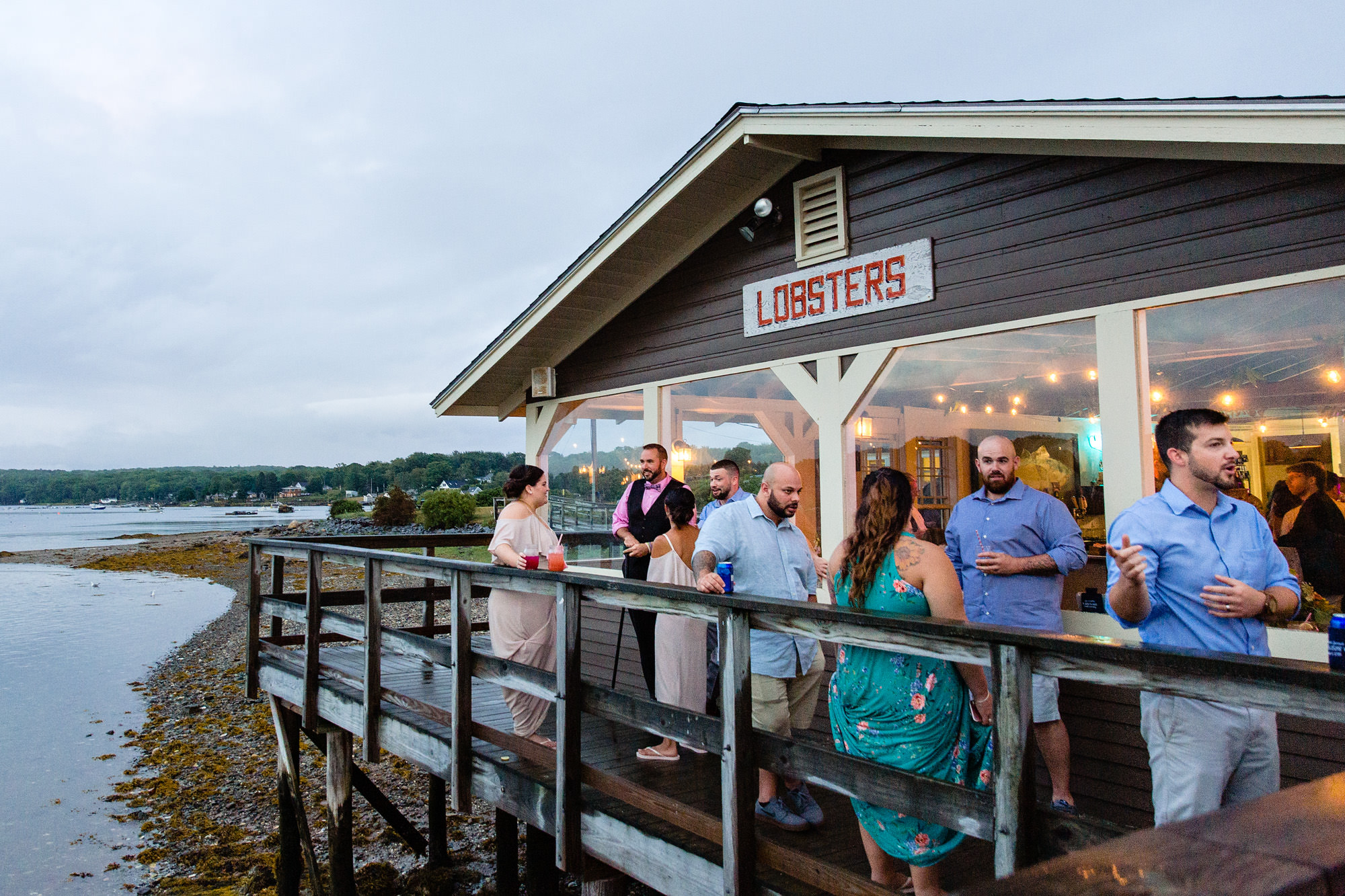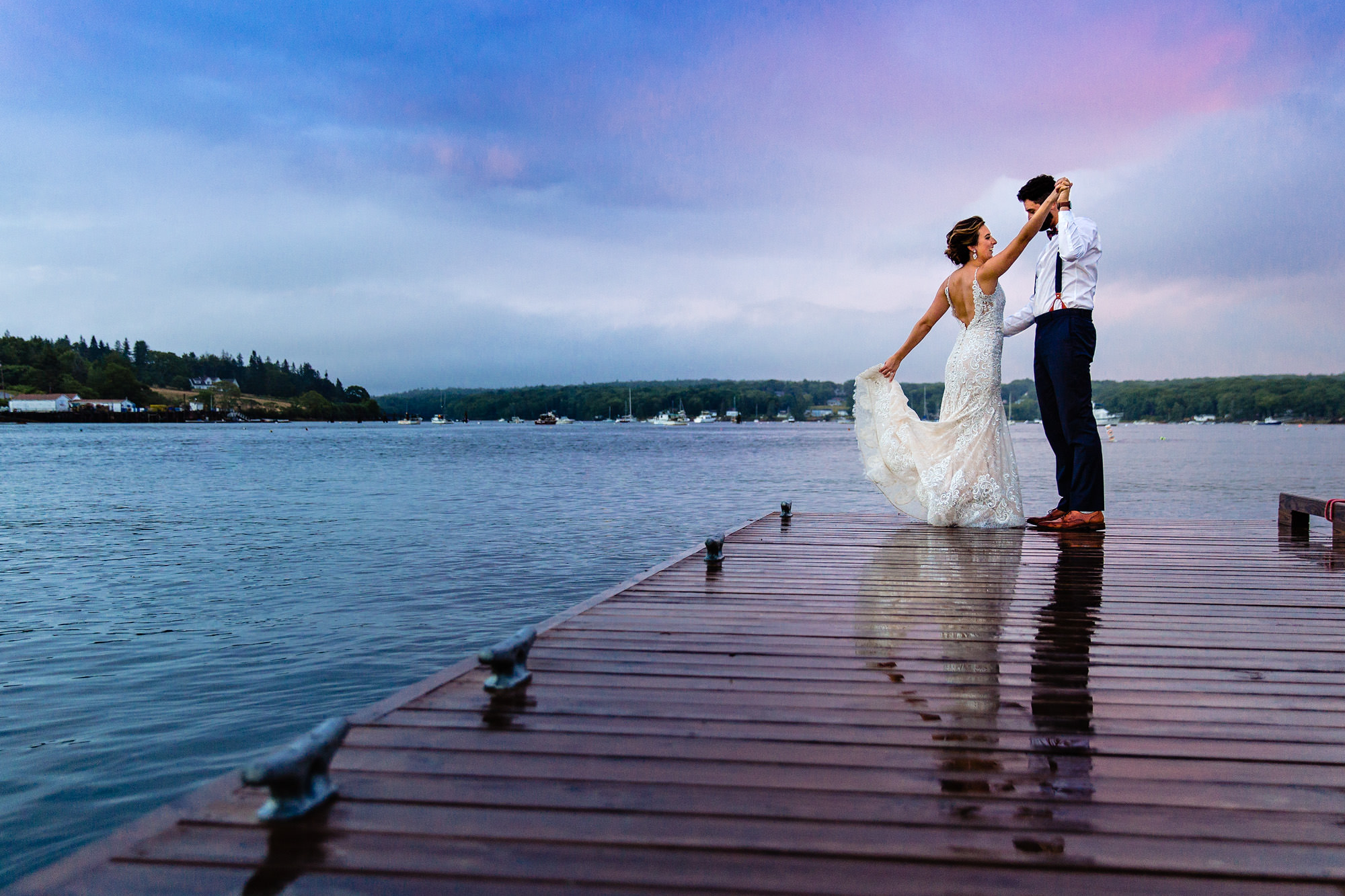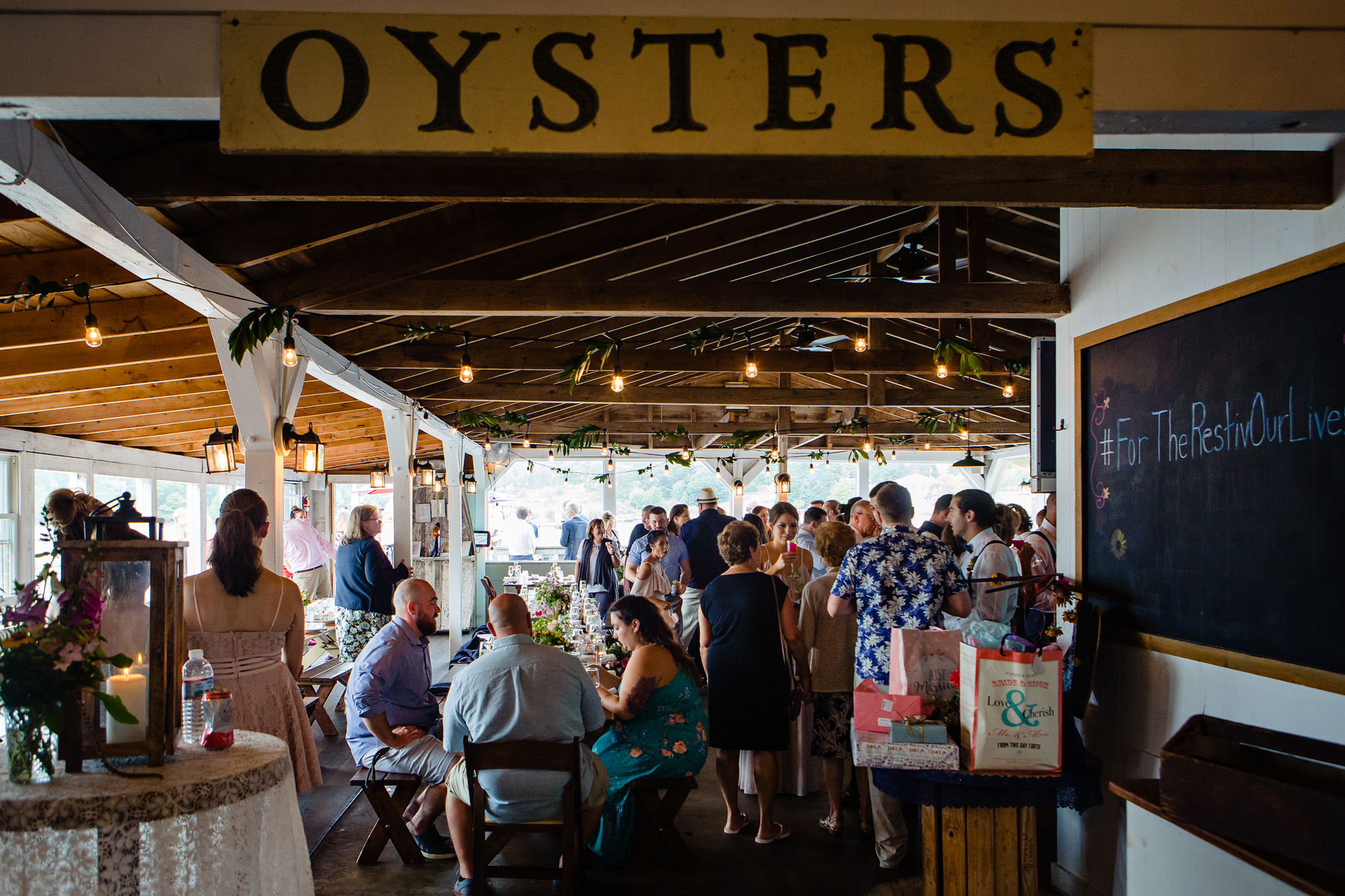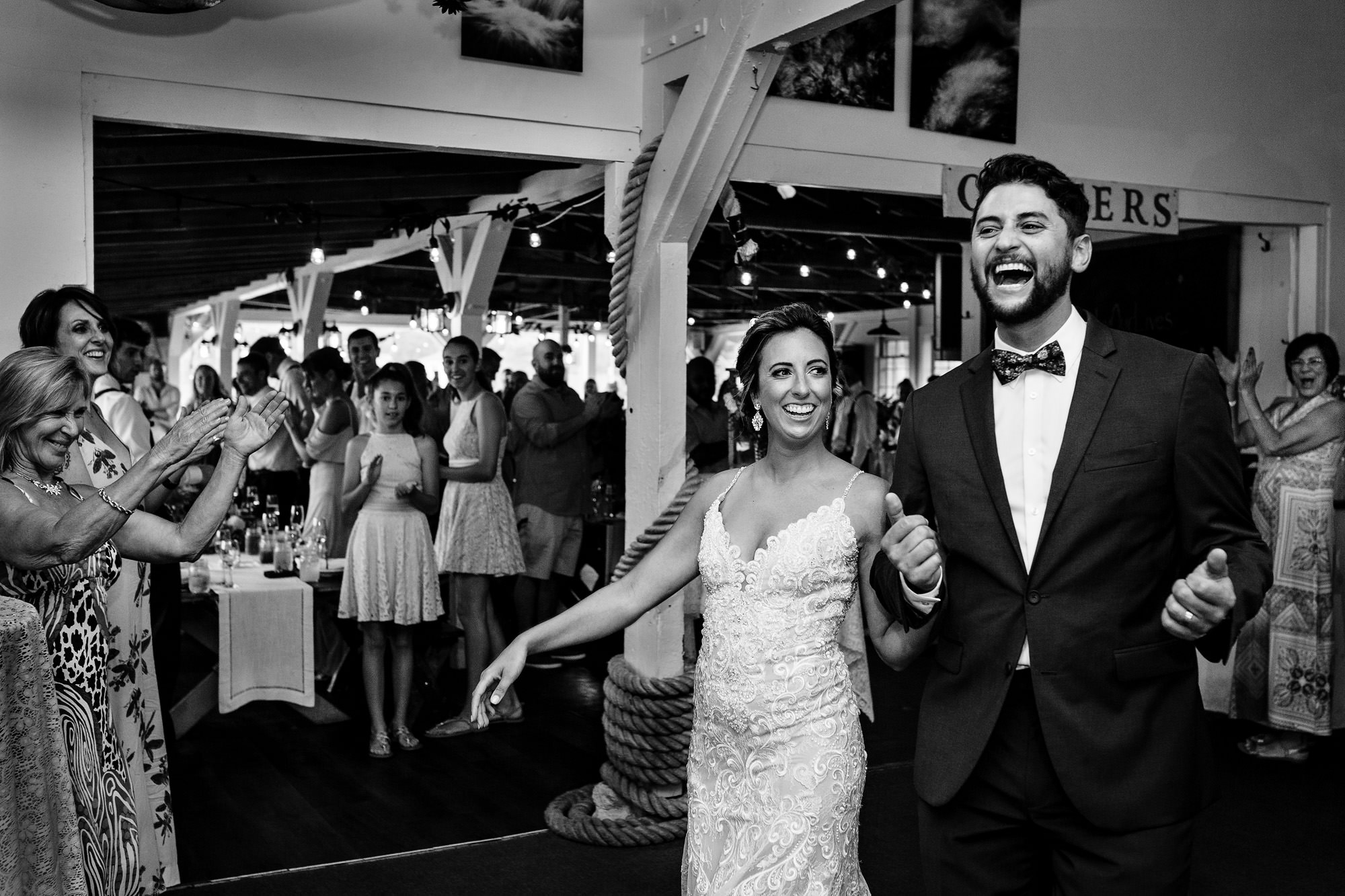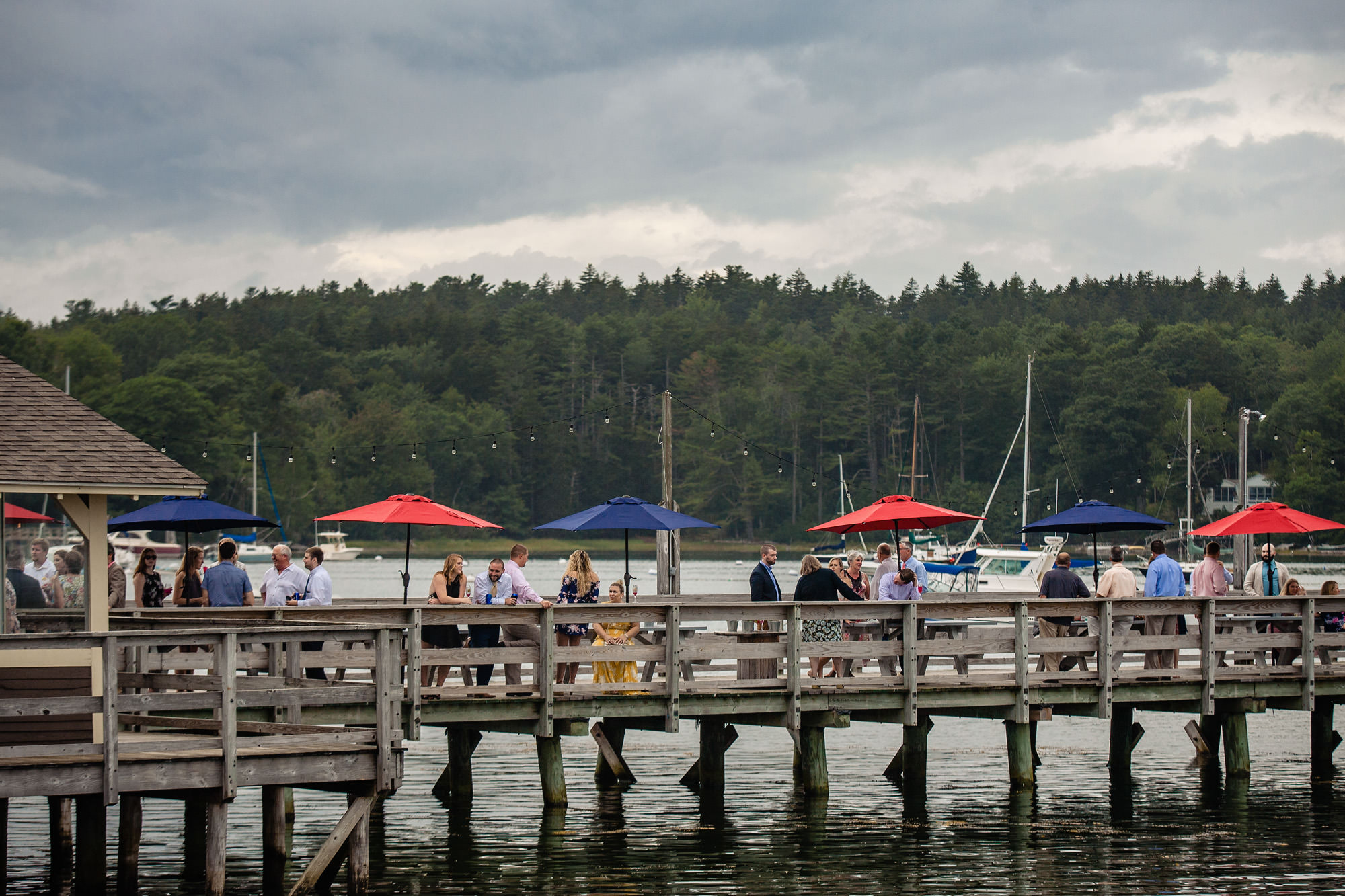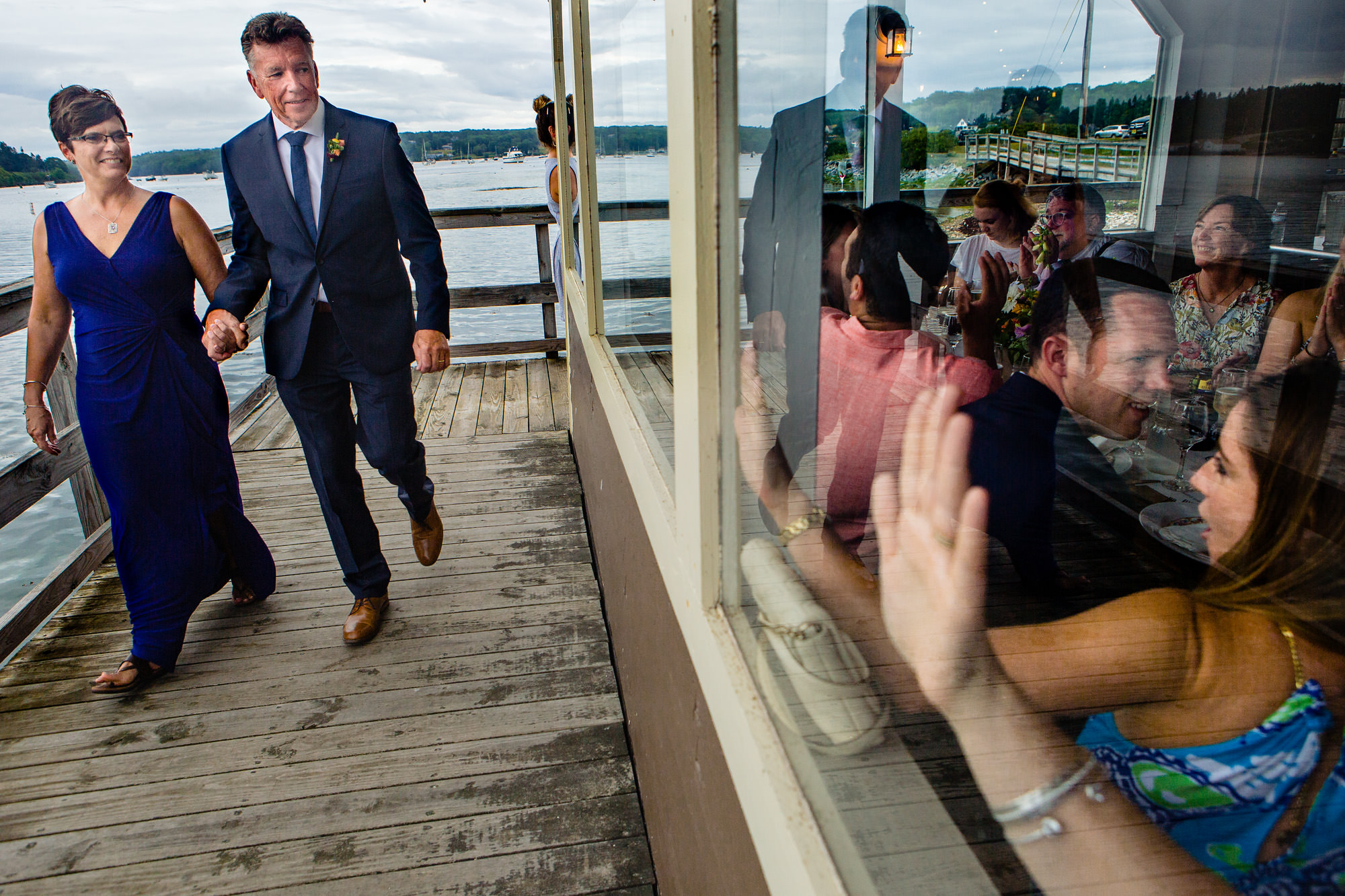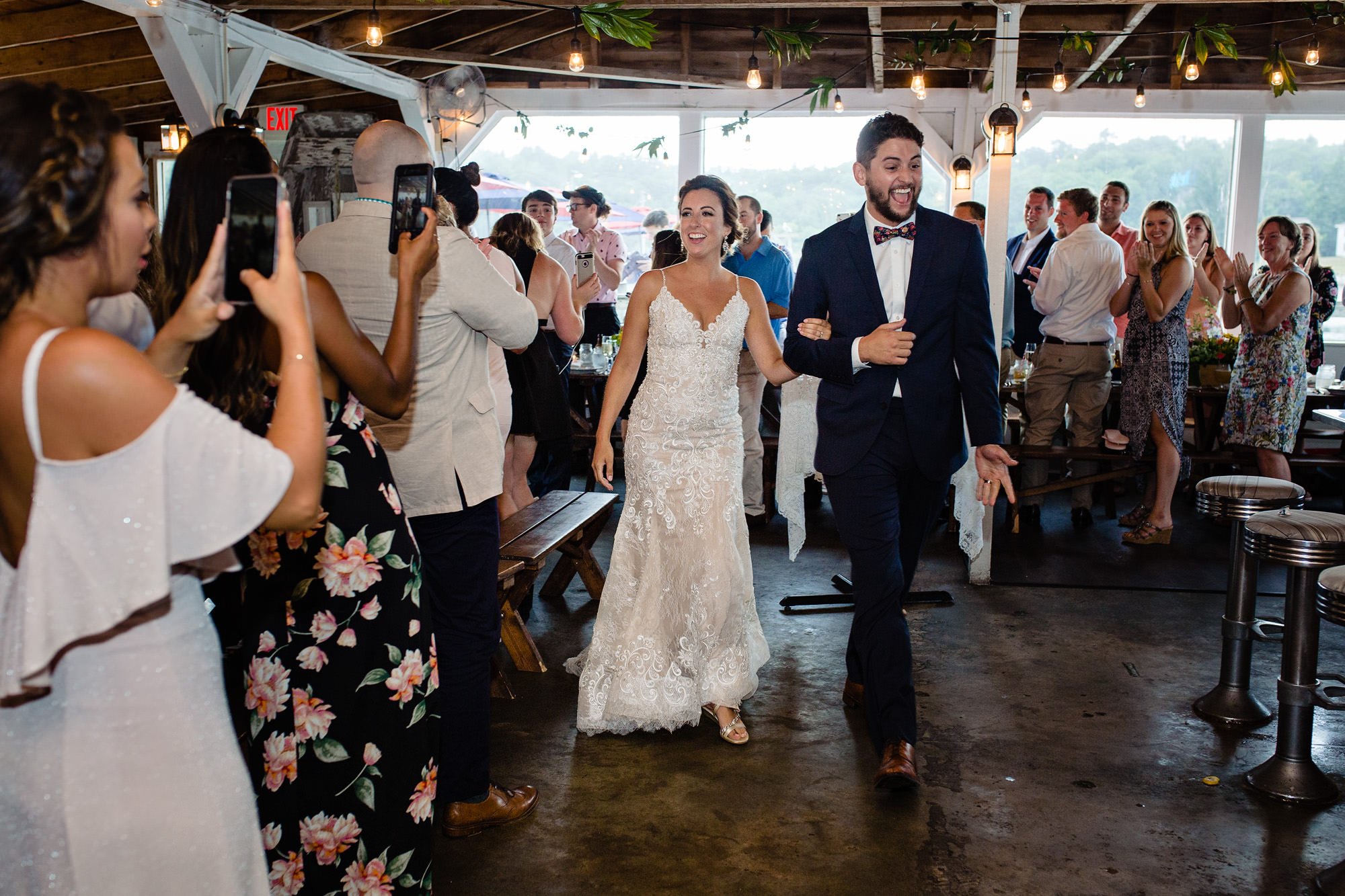 The Bradley Inn - New Harbor, Maine
Website: https://www.bradleyinn.com/
Address: 3063 Bristol Road, New Harbor, ME 04554
Can guests stay on site?: Yes, there are 15 guest rooms.
Min/max guest count: Up to 100 guests.
Weddings hosted at The Bradley Inn: Bonnie & Mike (reception), Lo & Jacob (getting ready & reception)
Like the Contented Sole, Bradley Inn is situated in New Harbor, Maine, and is an ideal reception spot if your ceremony location is Pemaquid Point Lighthouse. While The Bradley Inn is not directly on the water, it is a mere six minute walk away from the lighthouse, making it a wonderful location for dinner and dancing. Since it's an inn, your guests can stay on property- there are 15 guests rooms for your loved ones to rest and relax. And, since The Bradley Inn takes care of catering via their on-site restaurant, you would have one fewer vendor you'd need to book! While (I believe) events can take place inside their restaurant, I personally recommend renting a tent for your soiree. There's lots of charming midcoast towns within an hour away from the New Harbor/Bristol area, making it an excellent spot for friends and family to stay for a weekend (or a week) and explore.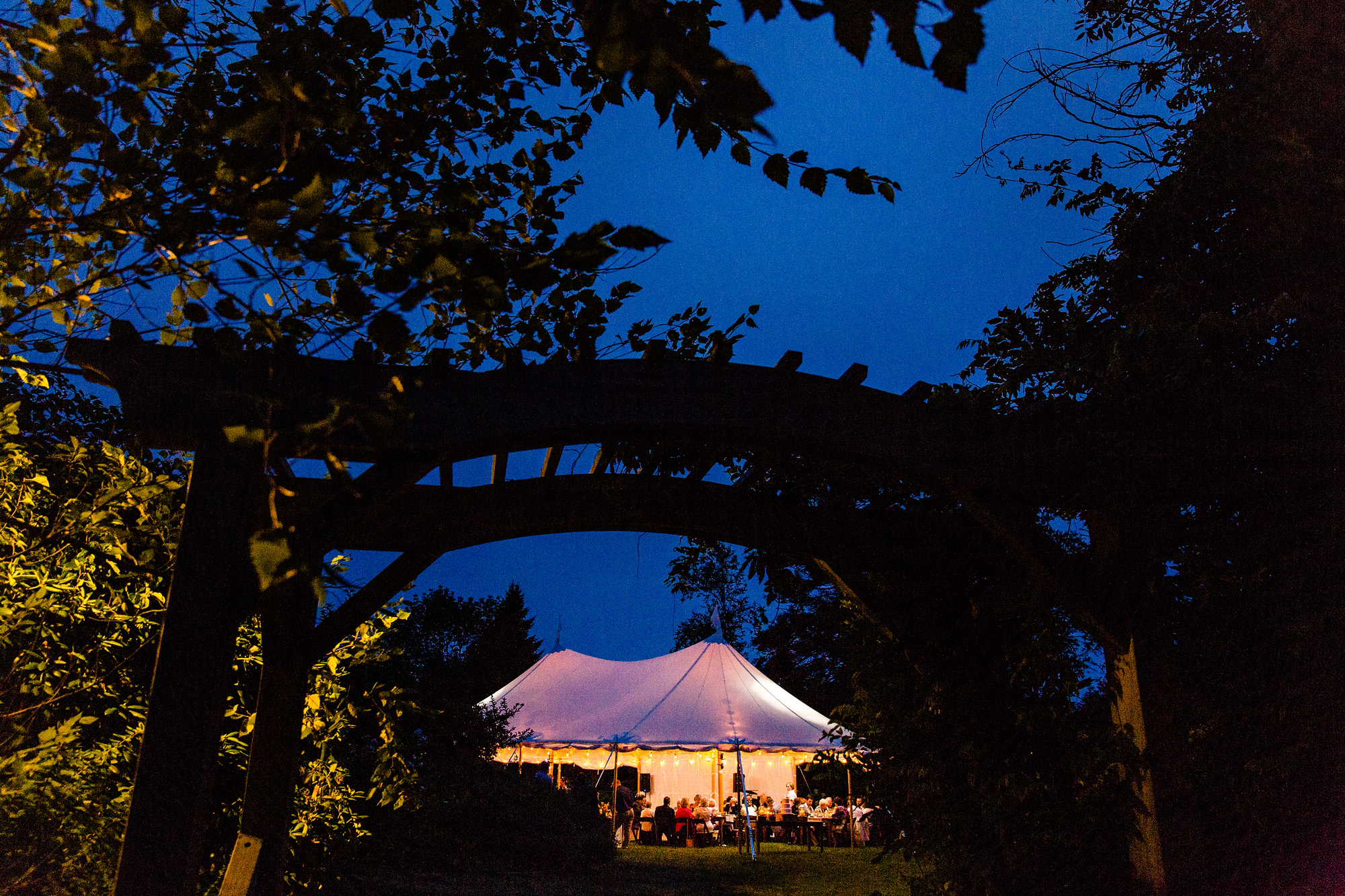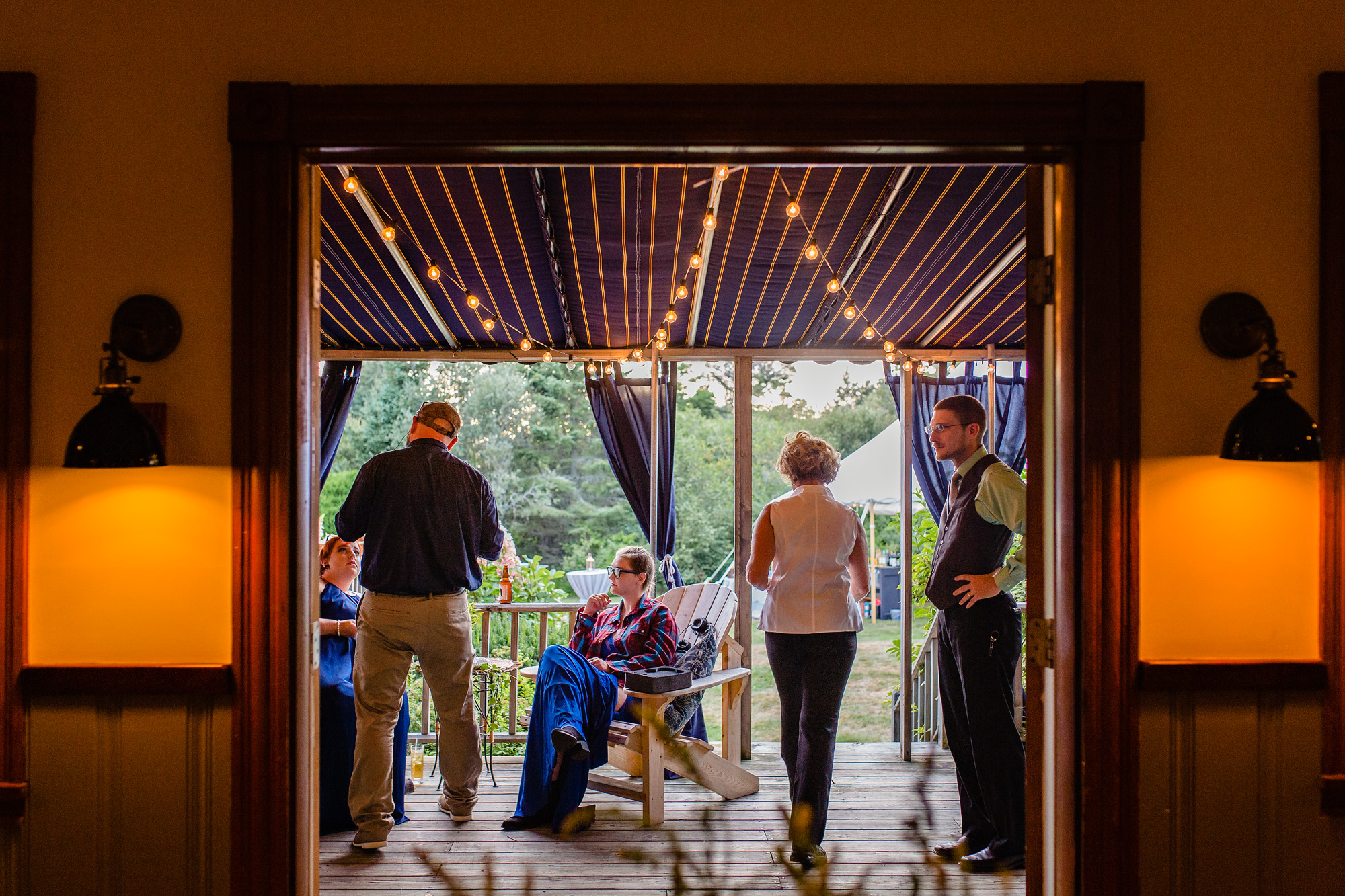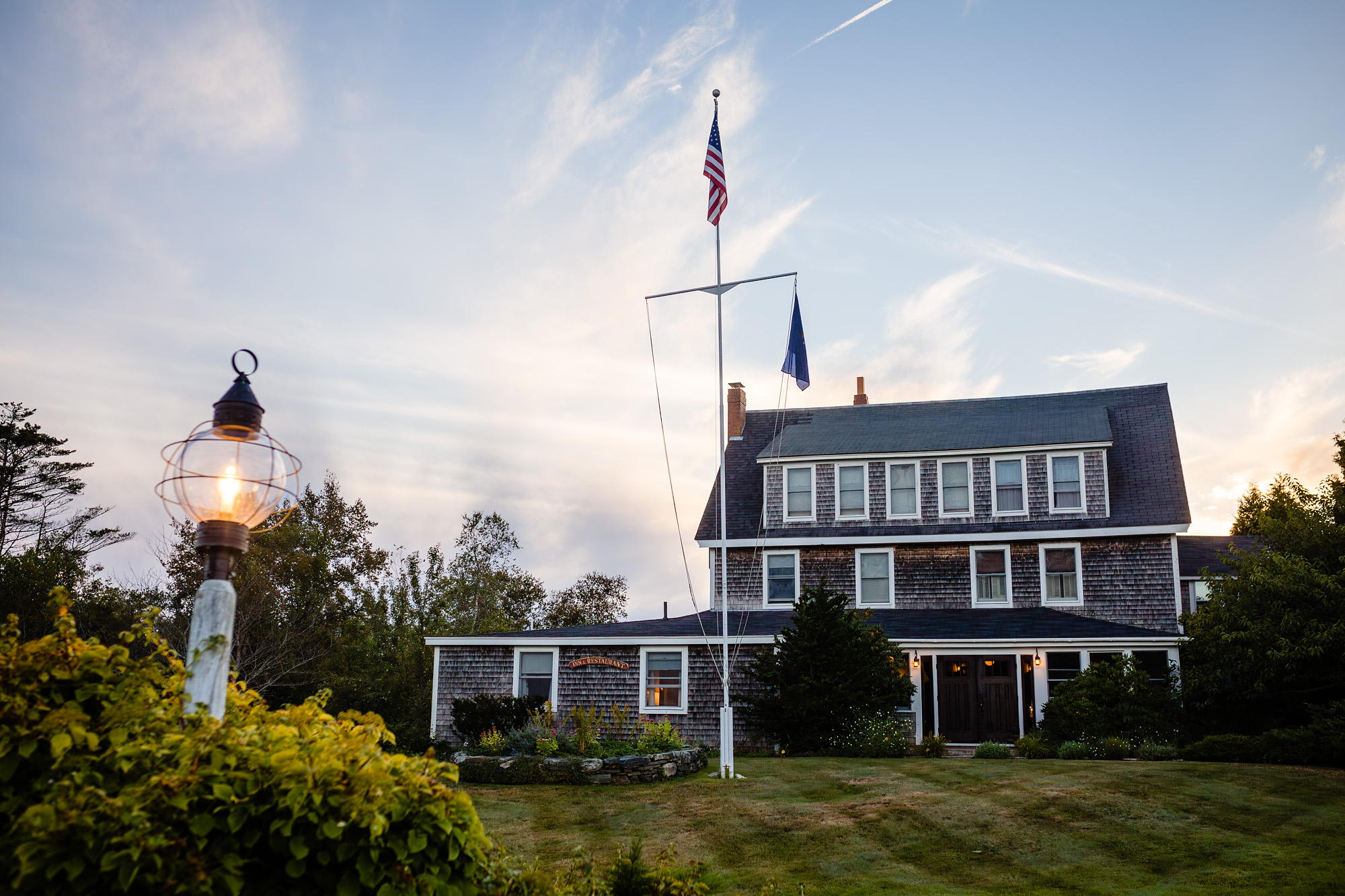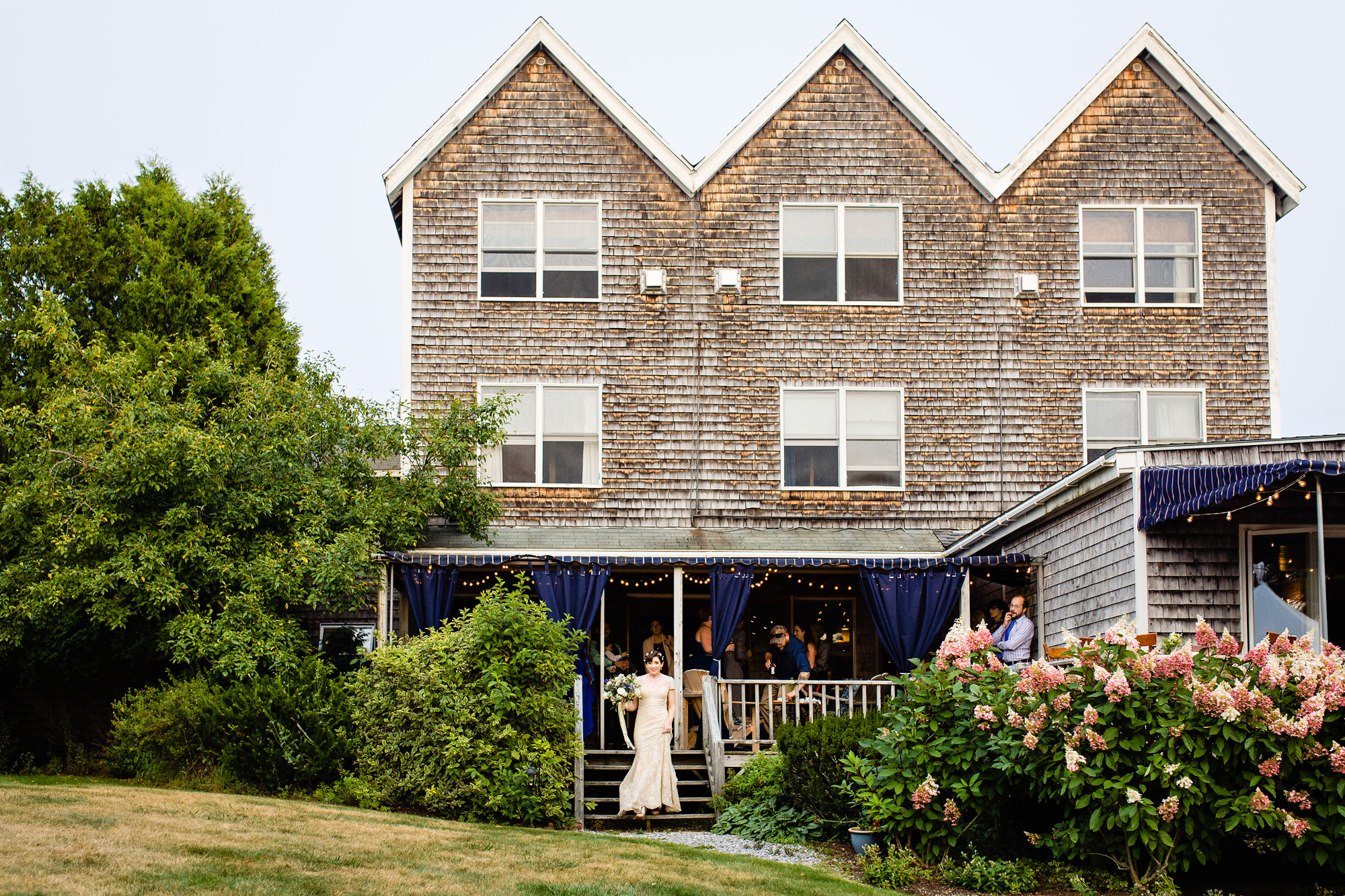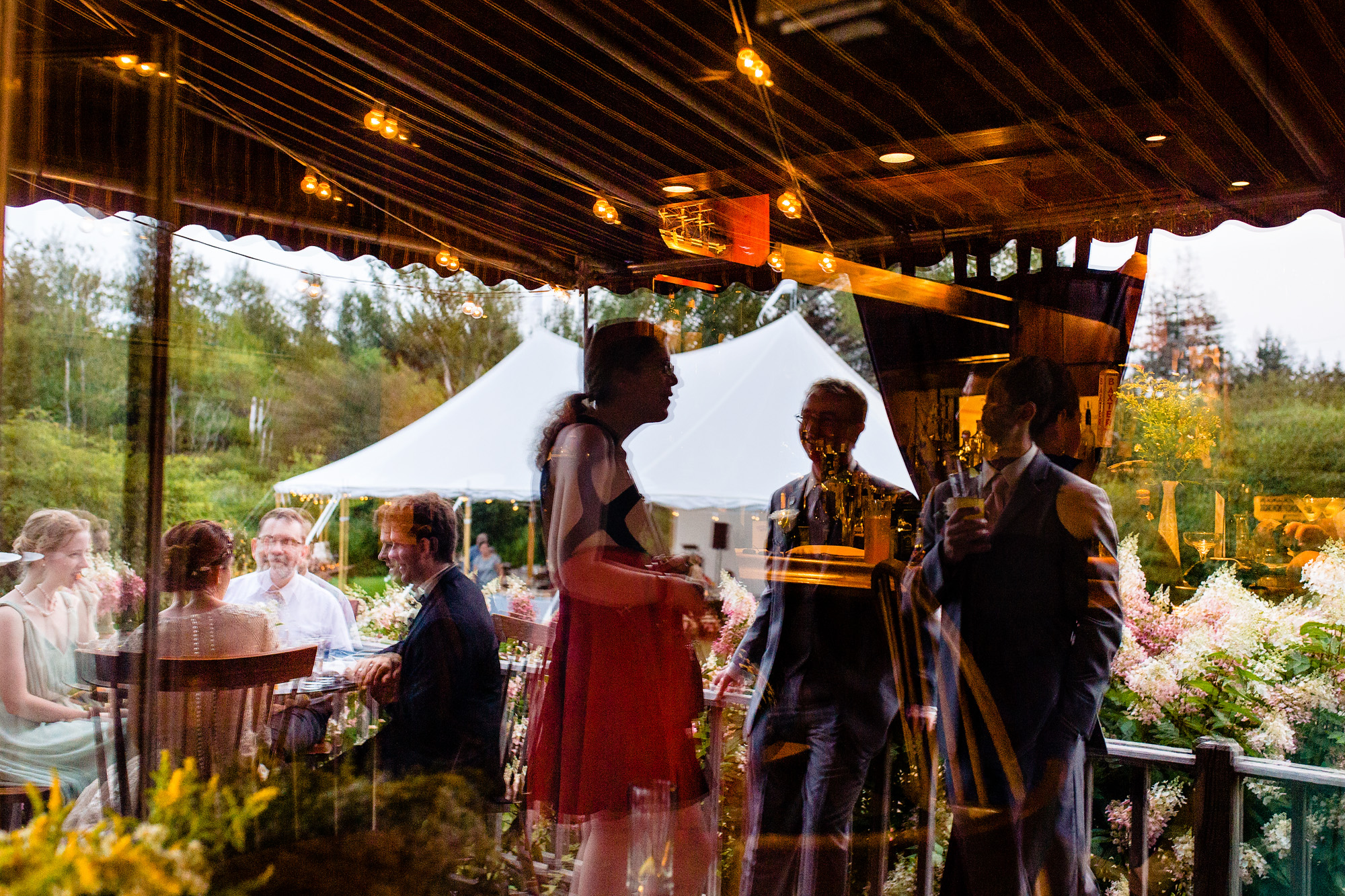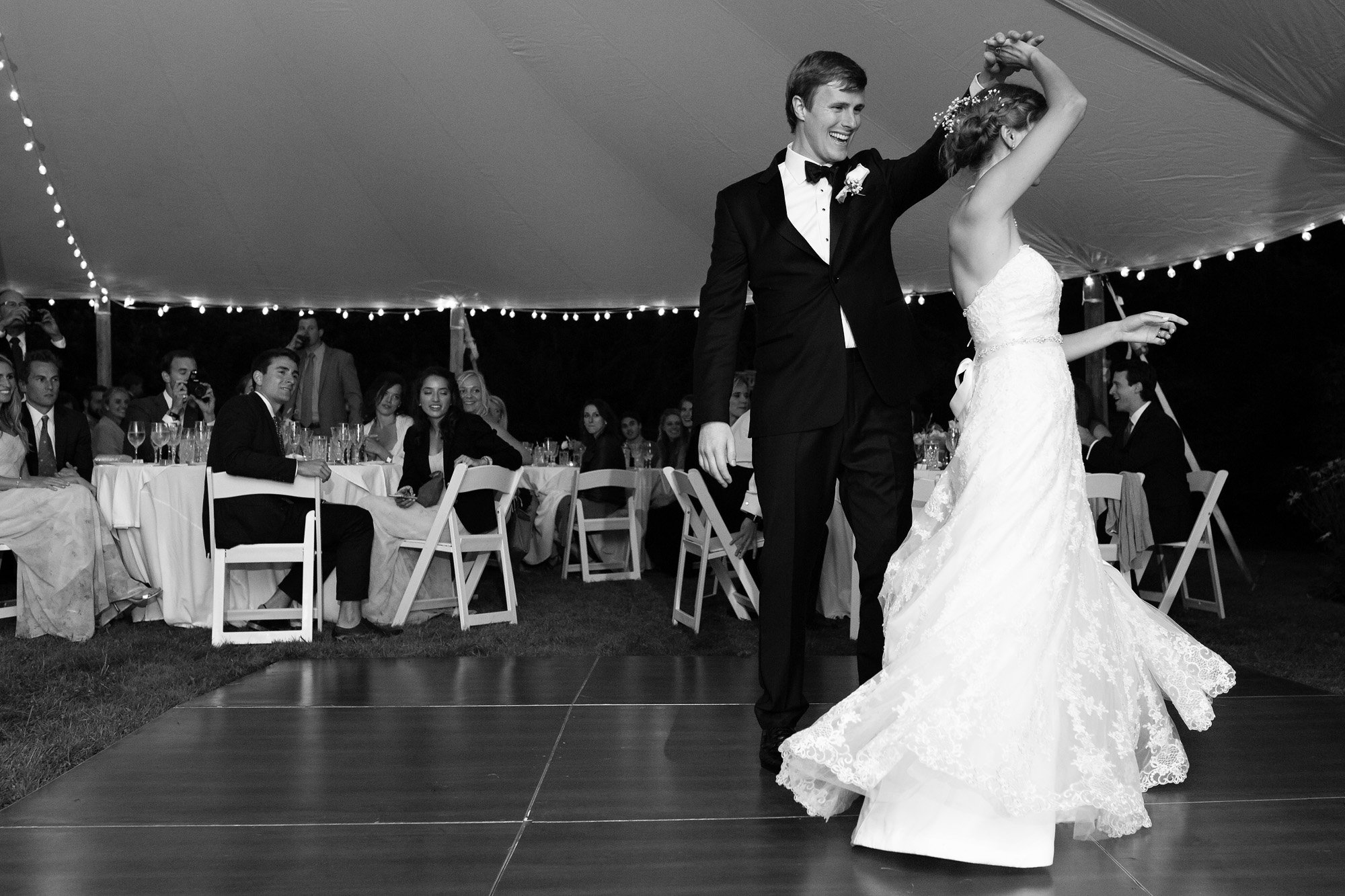 More midcoast Maine wedding venues
The following venues are ones I have yet to work at (hence having no photos to share), but have been on my radar and are worth checking out during your midcoast Maine wedding venue search!
Do you need a midcoast Maine wedding photographer?
Hey there! If you're reading this blog post, you're probably still trying to decide where to host your wedding. Once you've picked your venue and have a date, you should definitely reach out to me so I can share more information about my services as well as pricing! Click the button below to get in contact with me- can't wait to find out more about your wedding plans!
Pin this guide!