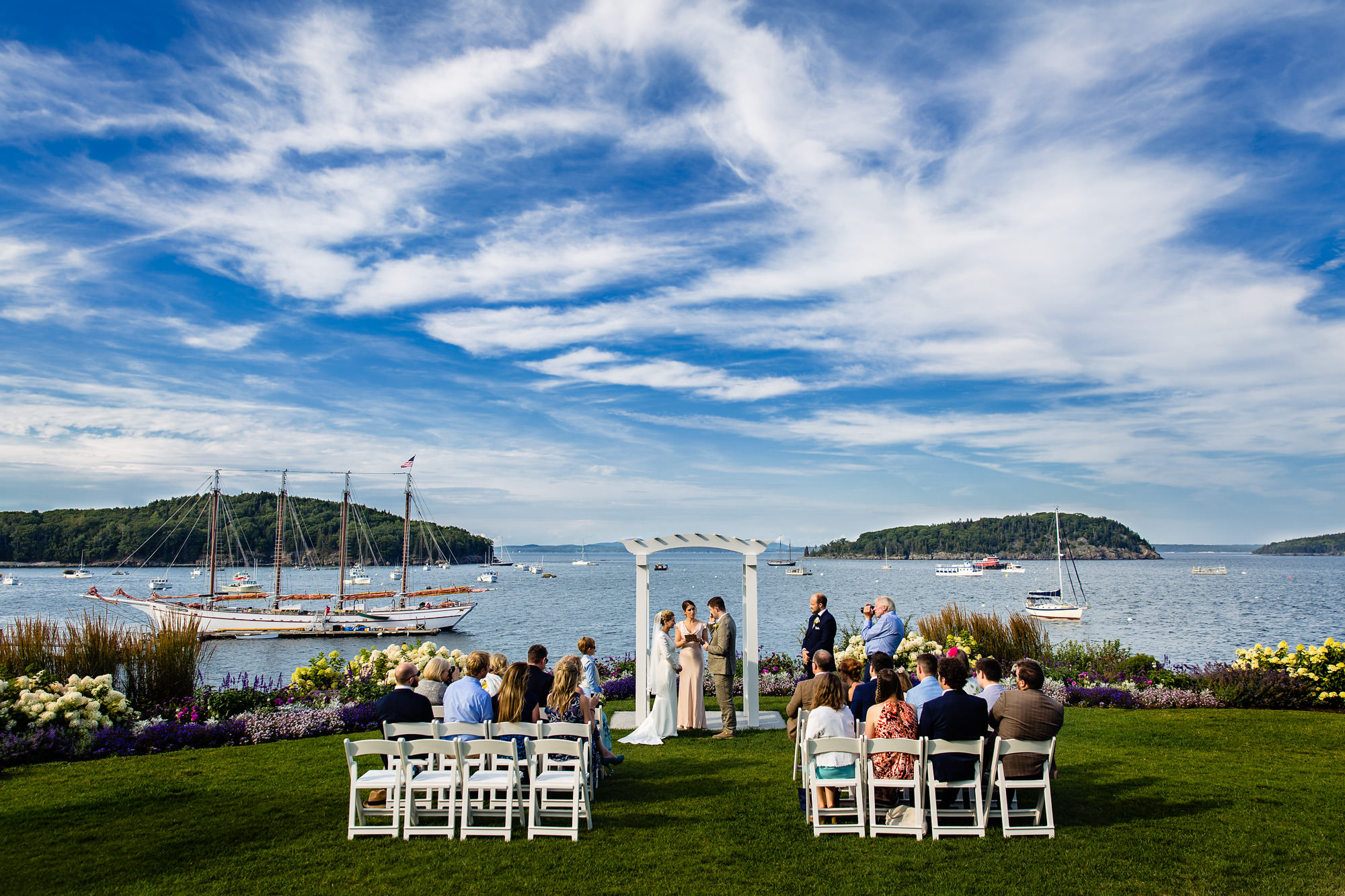 Are you planning a Bar Harbor wedding and searching for the ideal venue to host your big day? With 12 years of experience capturing stunning wedding and elopement photos on Mount Desert Island, in Bar Harbor, and within Acadia National Park, I have the insider knowledge to guide you to the best Bar Harbor wedding venues. The options are endless and varied- you'll be able to choose from oceanfront inns, barns, estates, ballrooms, summer camps, intimate restaurants, and even glamping. Allow me to take you on a tour of my top venue picks, in which I'll showcase photos I've taken at each venue, along with links to full weddings that took place at these Bar Harbor wedding venues.
Bar Harbor Wedding Venues
Bar Harbor Inn - Bar Harbor, Maine
Website: https://barharborinn.com/
Address: 1 Newport Drive, Bar Harbor, ME 04609
Can guests stay on site?: Yes
Min/max guest counts: Porcupine Room allows for 20-48 guests, Reading Room is up to 125 guests
Weddings hosted at Bar Harbor Inn: Beck & Alan, Rachel & Taky (both Porcupine Room), Matt & Maddy (Reading Room)
Weddings at the Bar Harbor Inn, a breathtaking venue nestled on the edge of Frenchman Bay in the heart of Bar Harbor, are both beautiful and easy. With its prime location at the start of the shore path, guests can easily enjoy water views, access downtown's wealth of restaurants and shops, and are only a short drive away from Acadia National Park. The well-manicured oceanfront lawn provides a stunning backdrop for ceremonies, while the Porcupine and Reading Rooms offer options for both intimate and larger wedding celebrations. I particularly enjoy the balcony in the Porcupine Room, where many couples opt to share their first dance as the sun sets. In short, if you're searching for a venue that includes lodging, provides prime views, and is close to everything Bar Harbor has to offer, the Bar Harbor Inn is a great choice.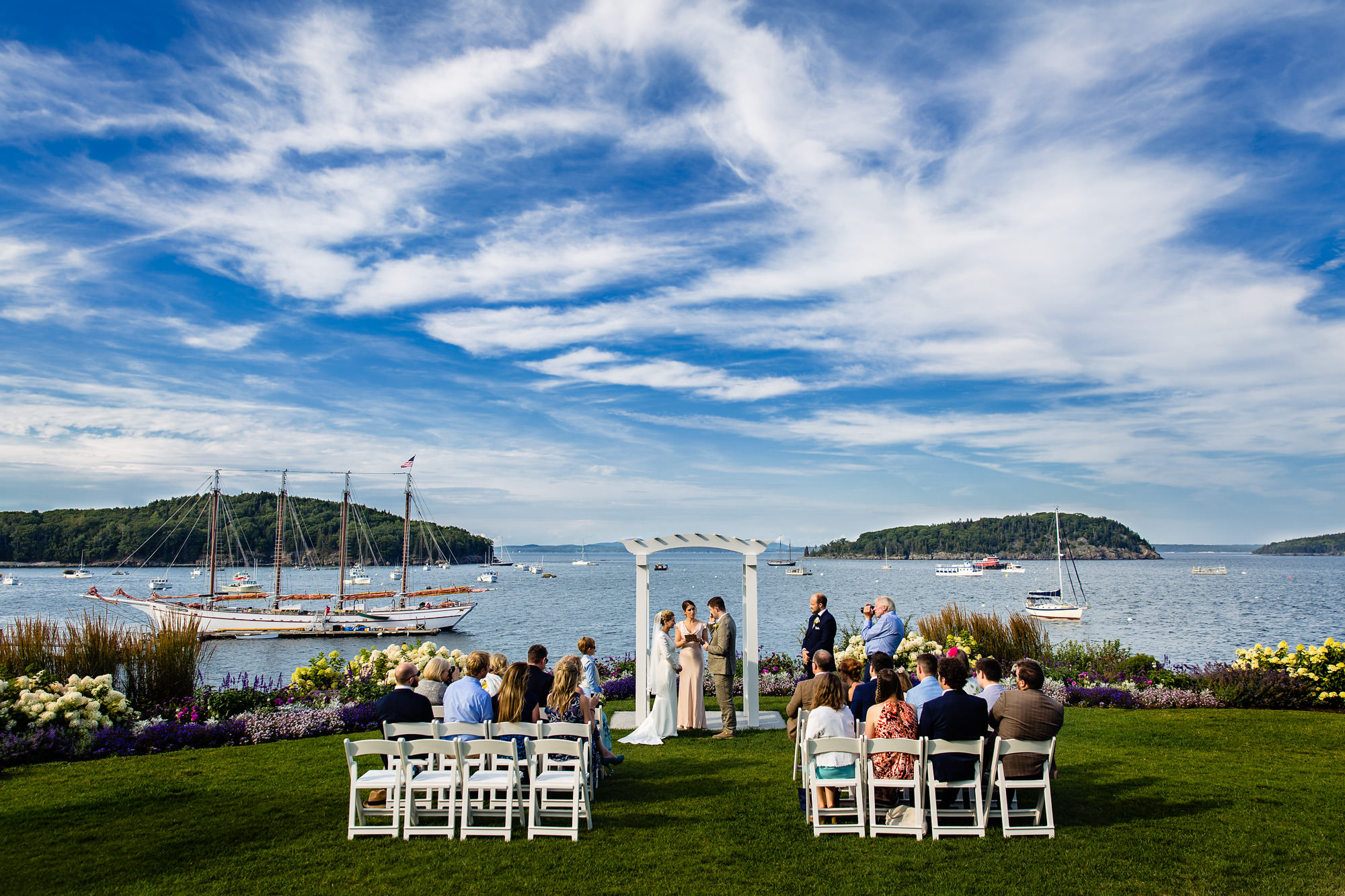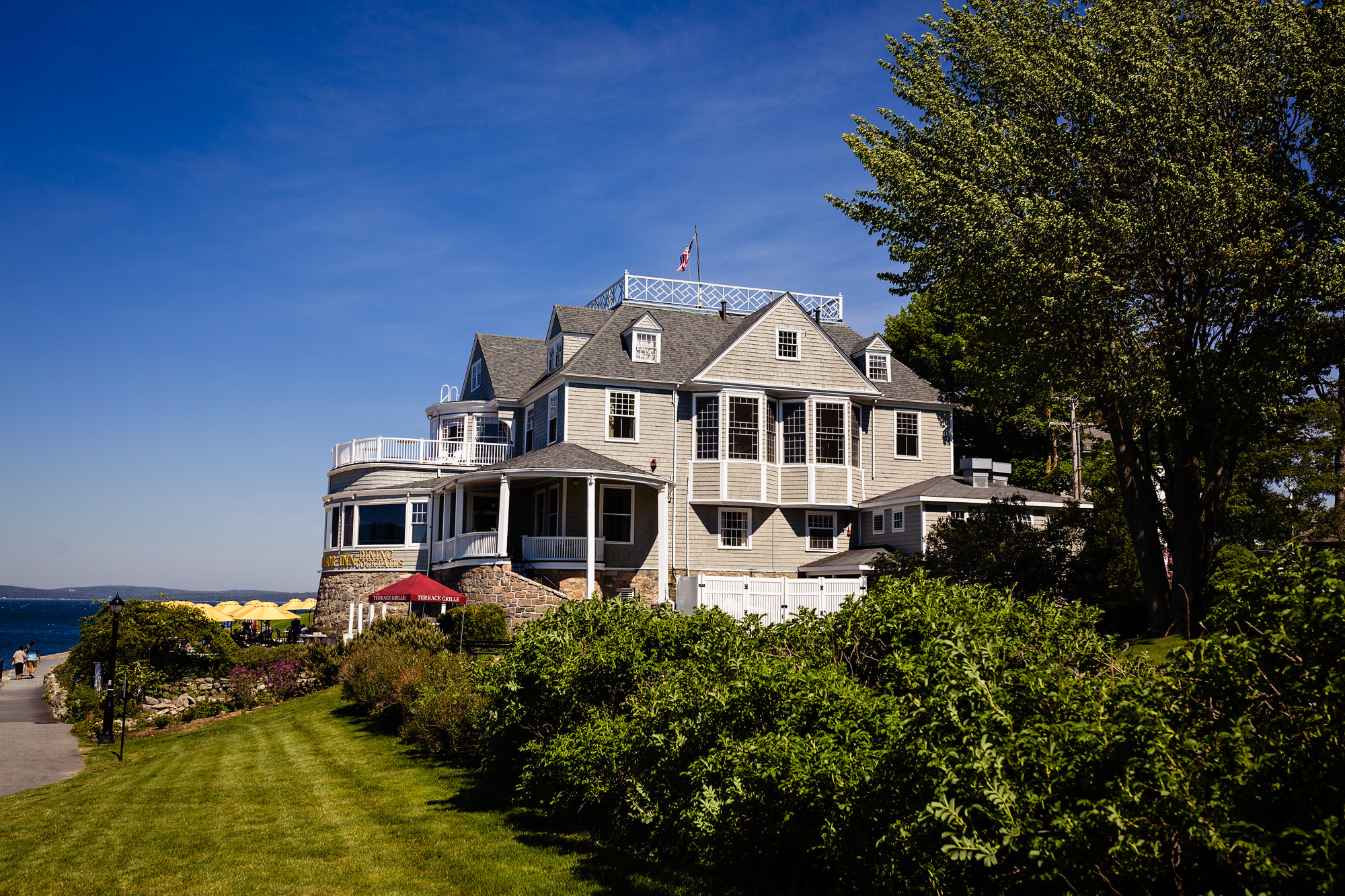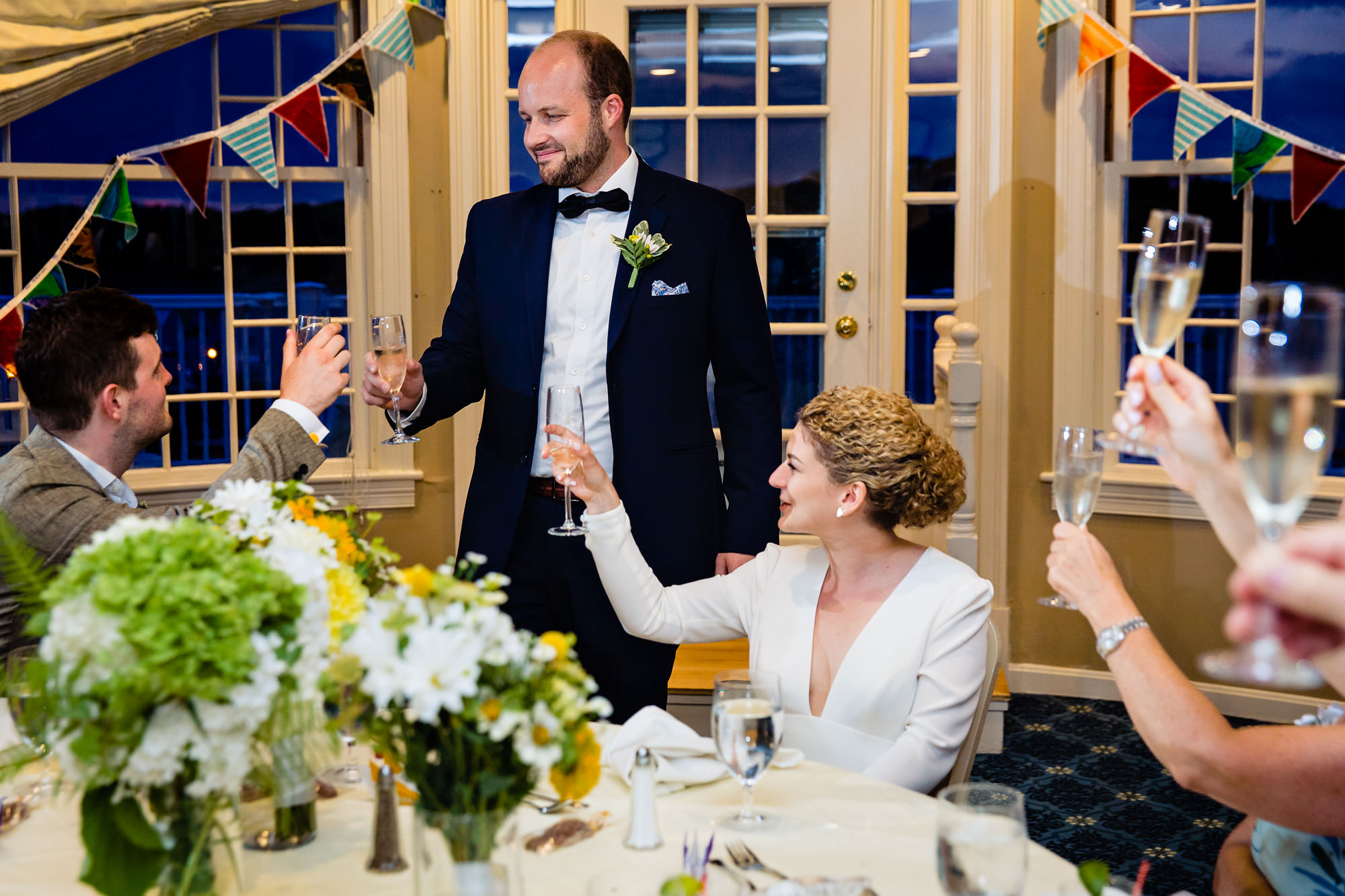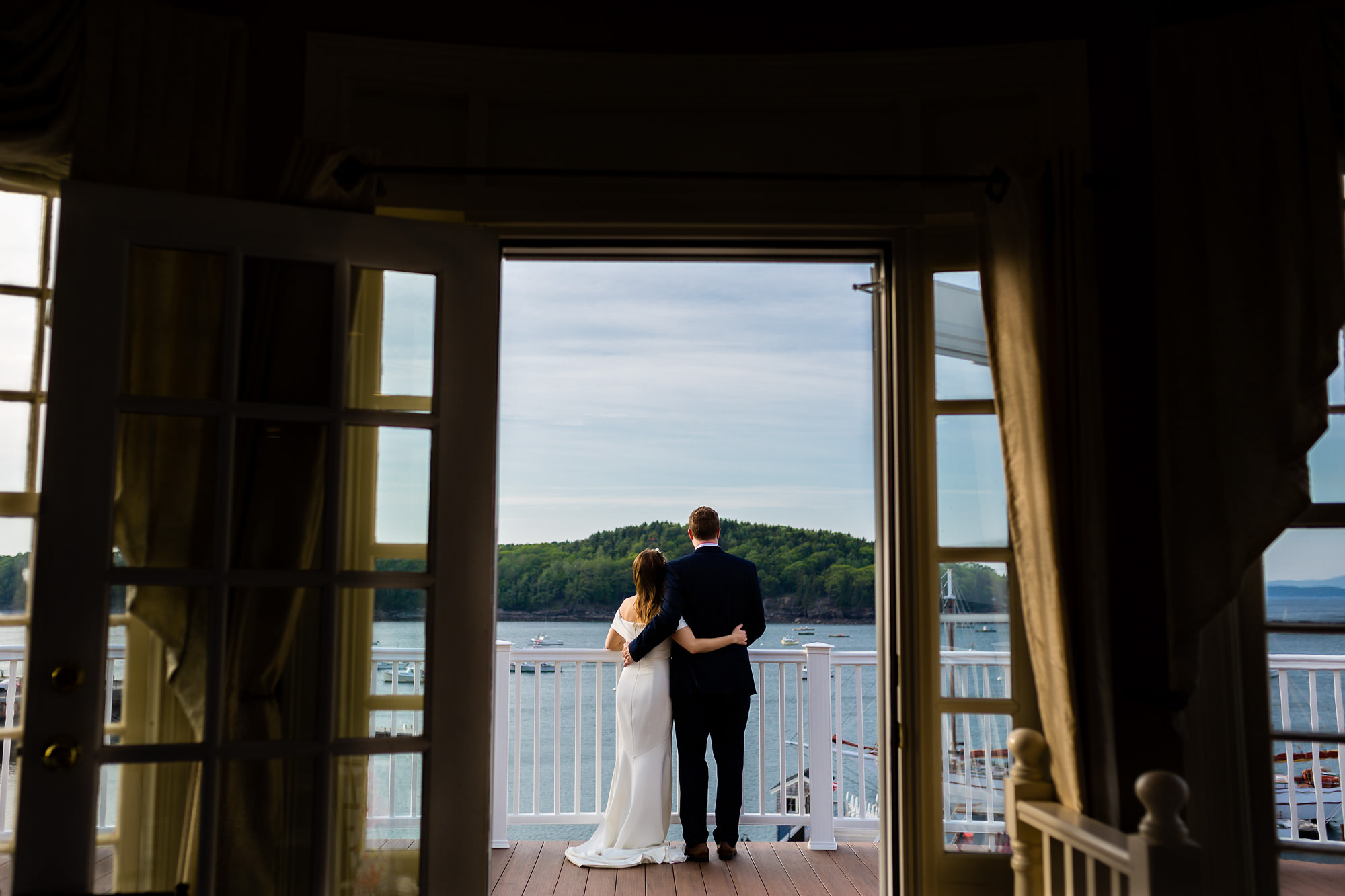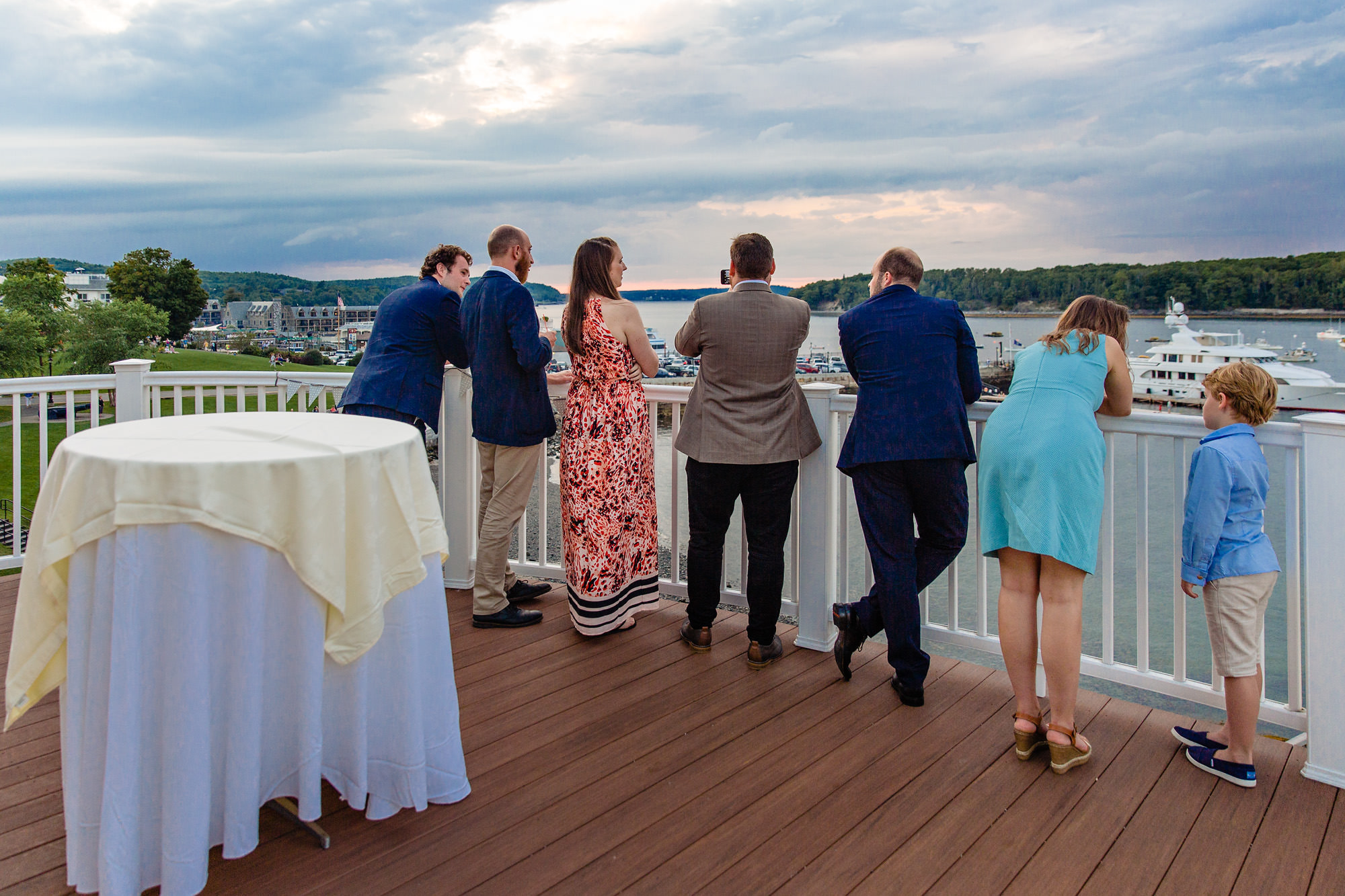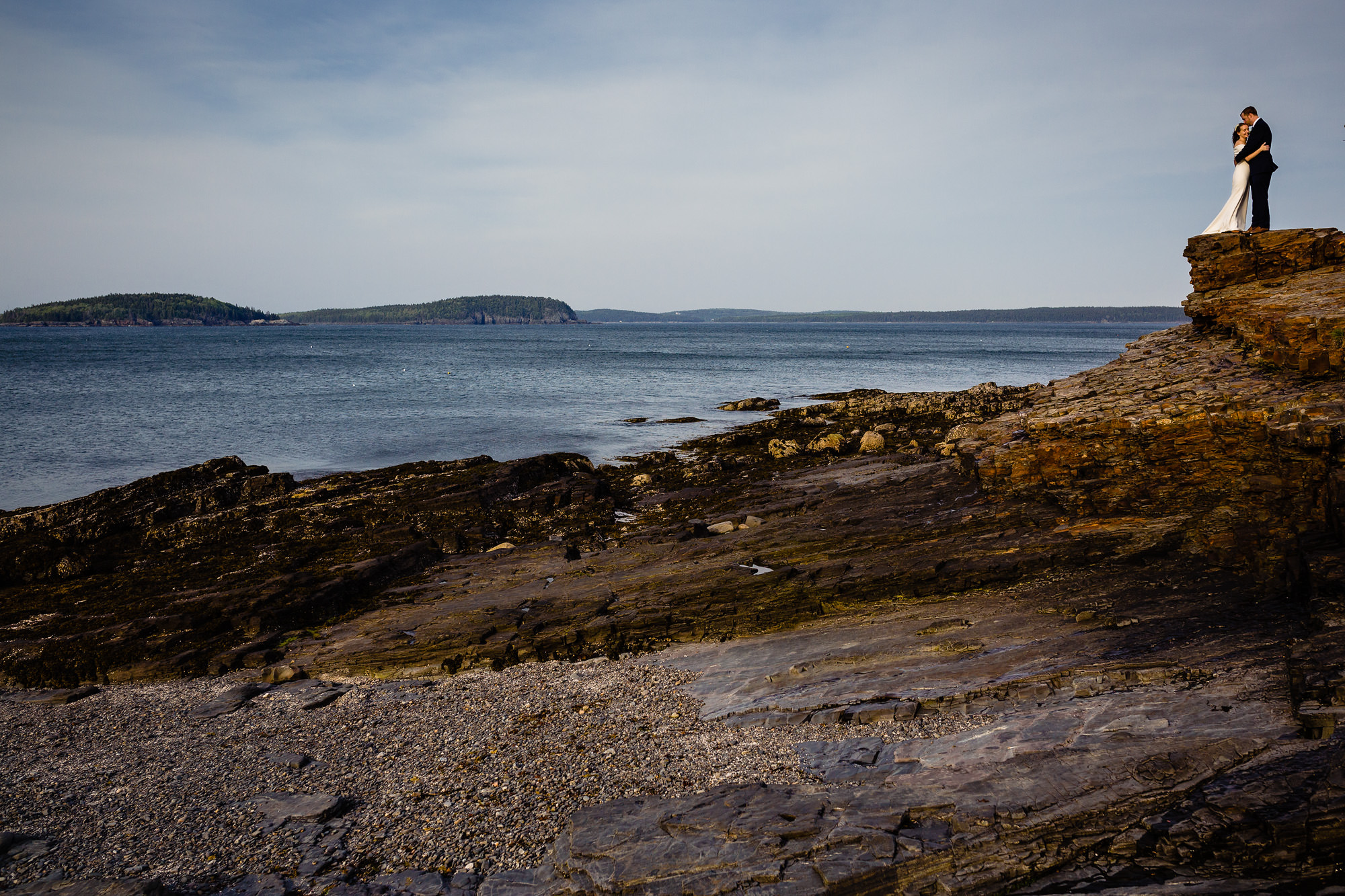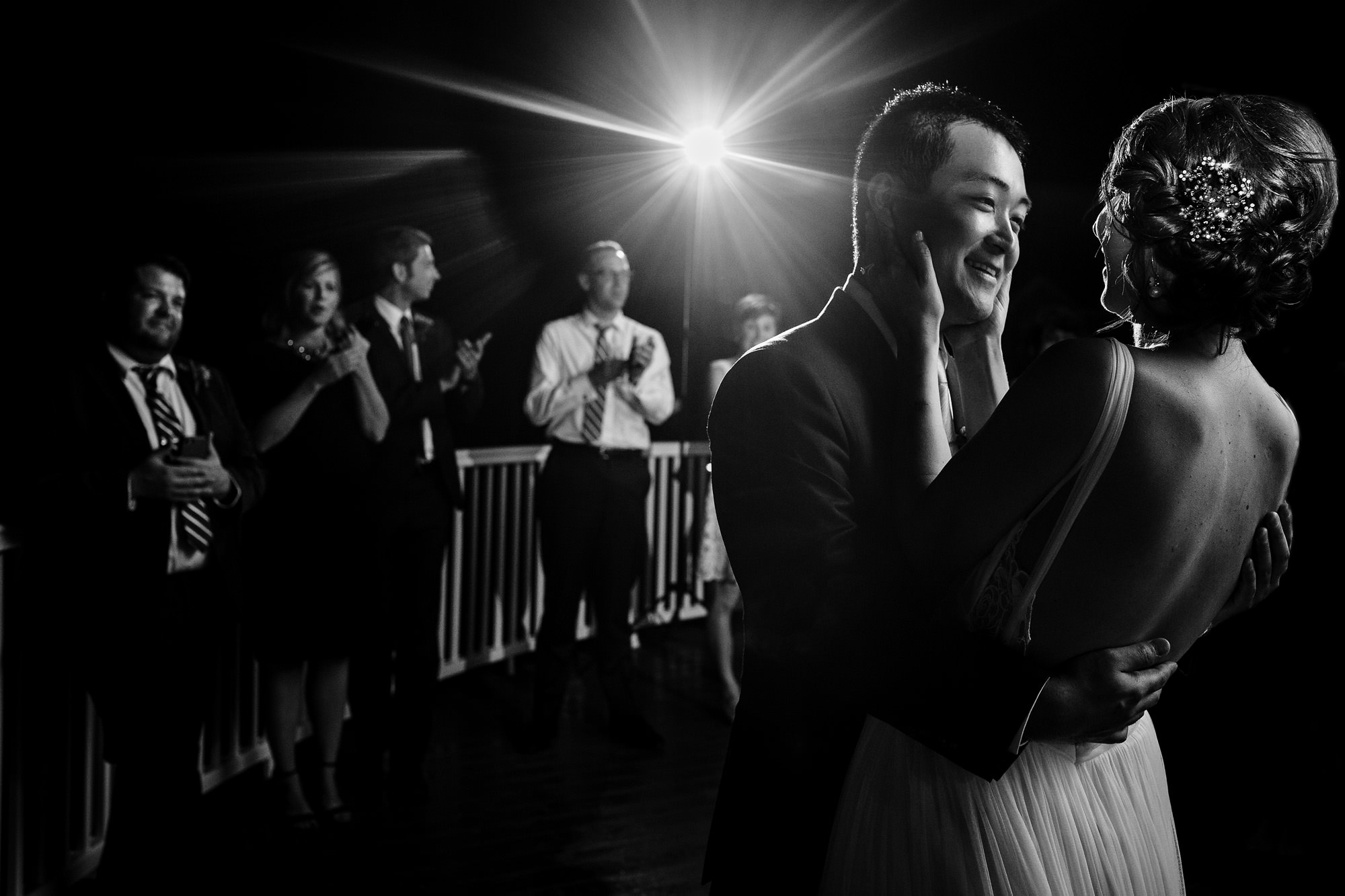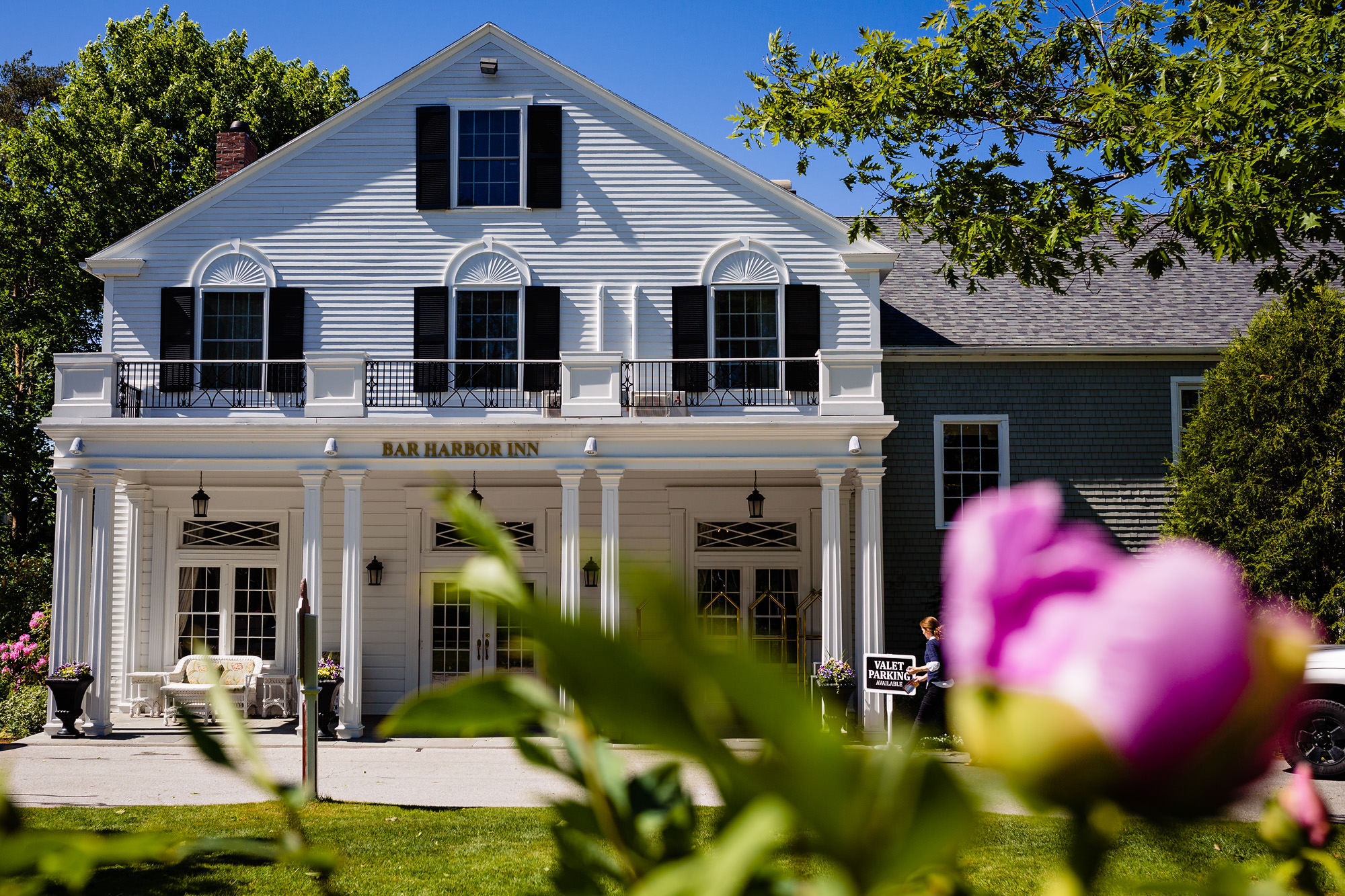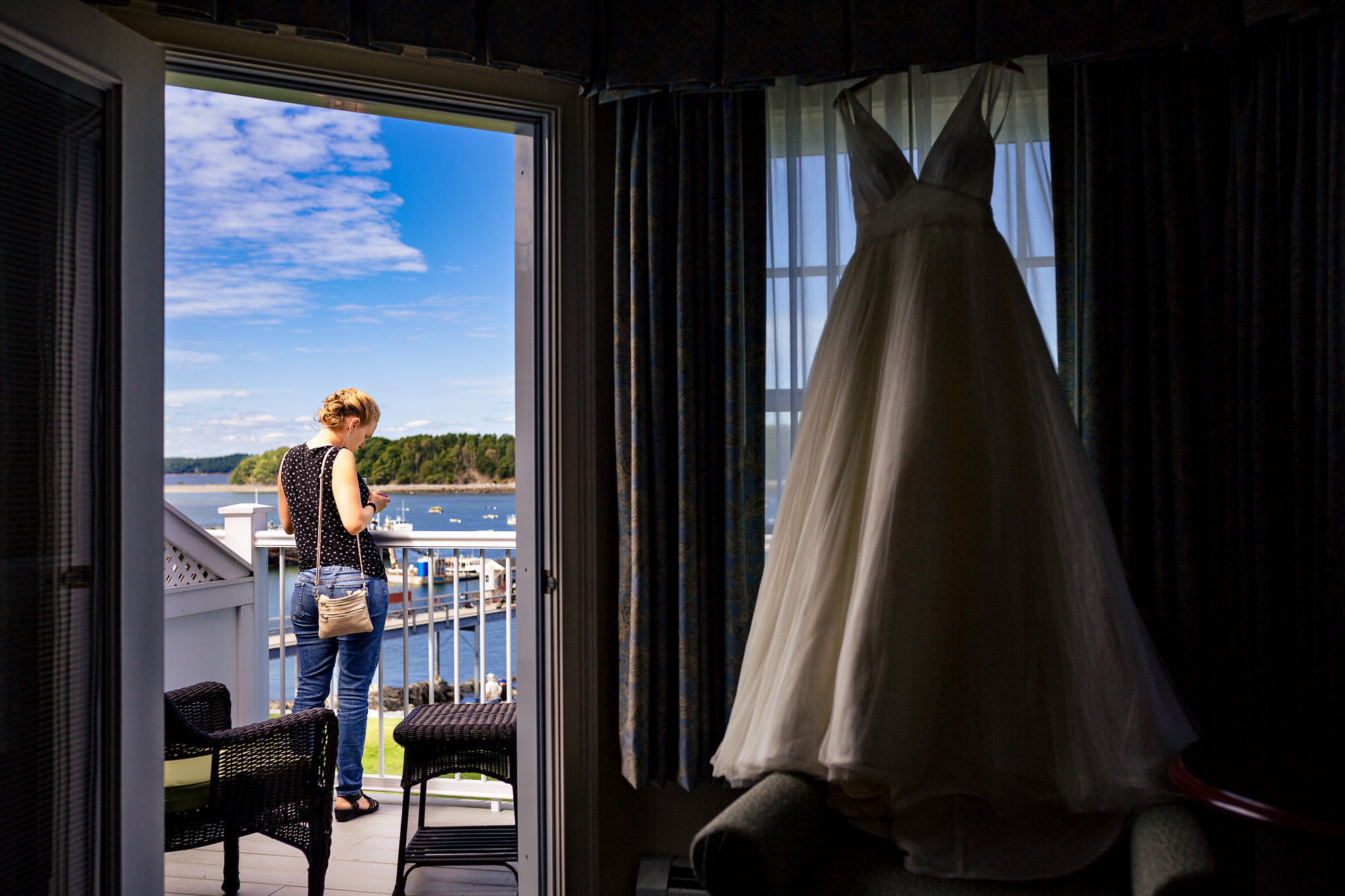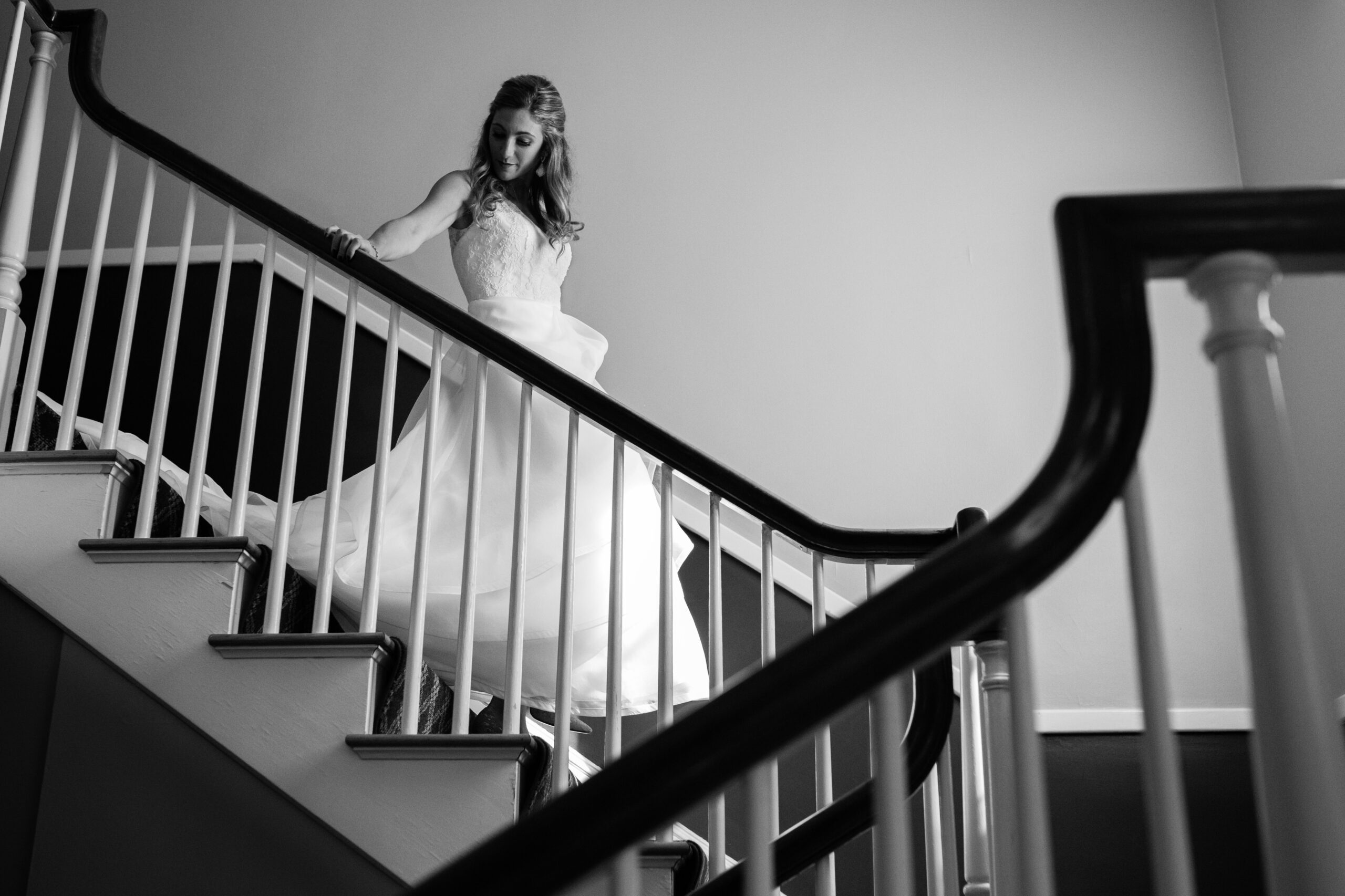 The Causeway Club - Southwest Harbor, Maine
Website: https://thecausewayclub.org/
Address: 10 Fernald Point Road, Southwest Harbor, ME 04679
Can guests stay on site?: No
Min/max guest counts: 120 in the barn, 225 if a tent is placed on the lawn
Weddings hosted at the Causeway Club: Toni & Nick, Krista & Dave (reception)
Do you love the idea of having your wedding at a barn? Consider hosting your wedding at the Causeway Club, a stunning golf course, set upon Norwood Cove, that offers the perfect blend of coastal beauty and customizable charm. The Causeway Club's red barn and whitewashed interior serves as an excellent blank canvas for couples who want the freedom to bring their wedding vision to life. The deck provides for ample cocktail hour space, but if you were hoping for more room for your favorite friends and family, you can always set up a tent on the lawn. Although the Causeway Club is a 20 minute drive from Bar Harbor (it's located in Southwest Harbor, on MDI's "quiet side"), its serene and scenic setting is perfect for a private event. Don't sleep on this Southwest Harbor wedding venue and its many possibilities!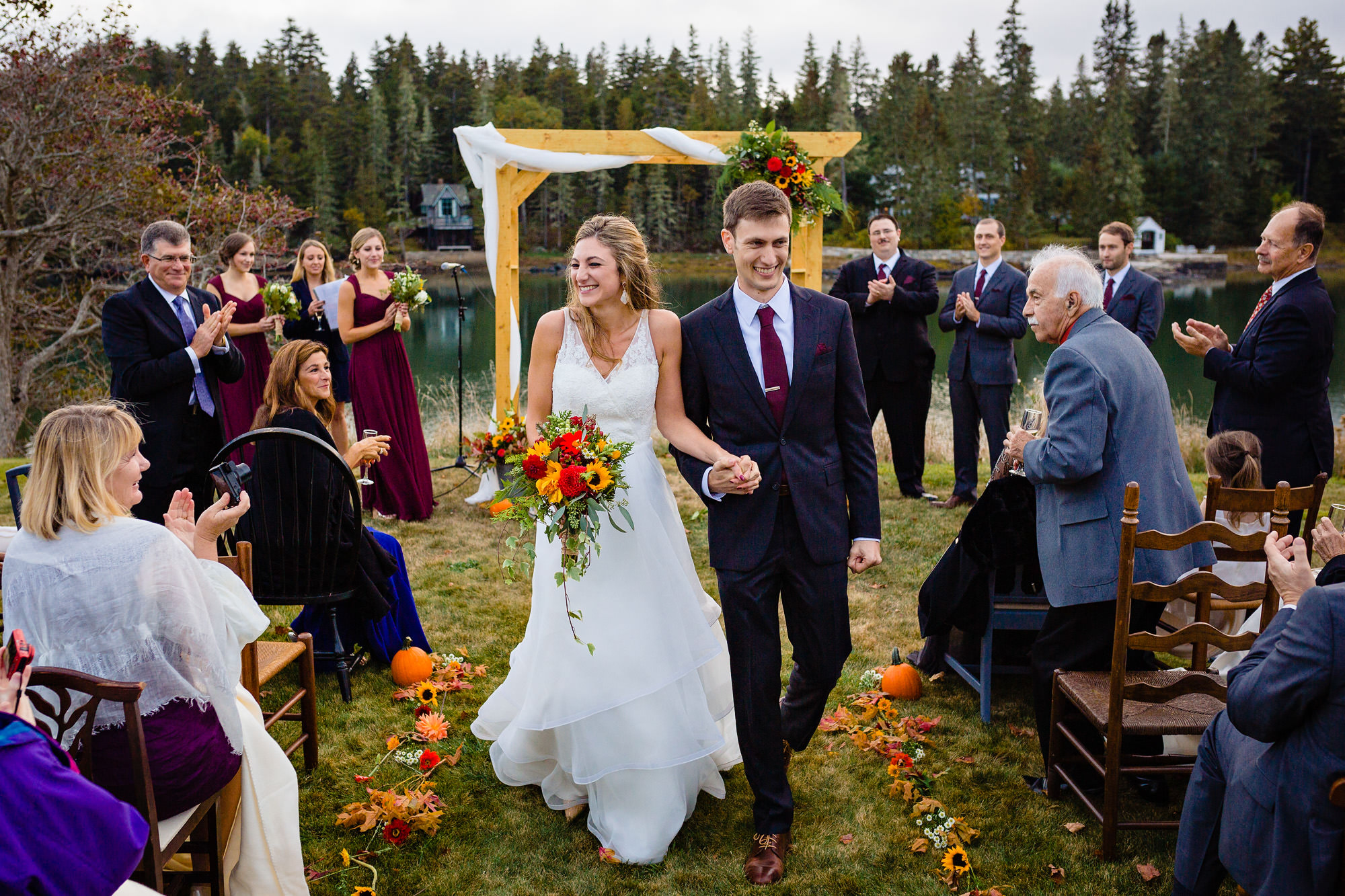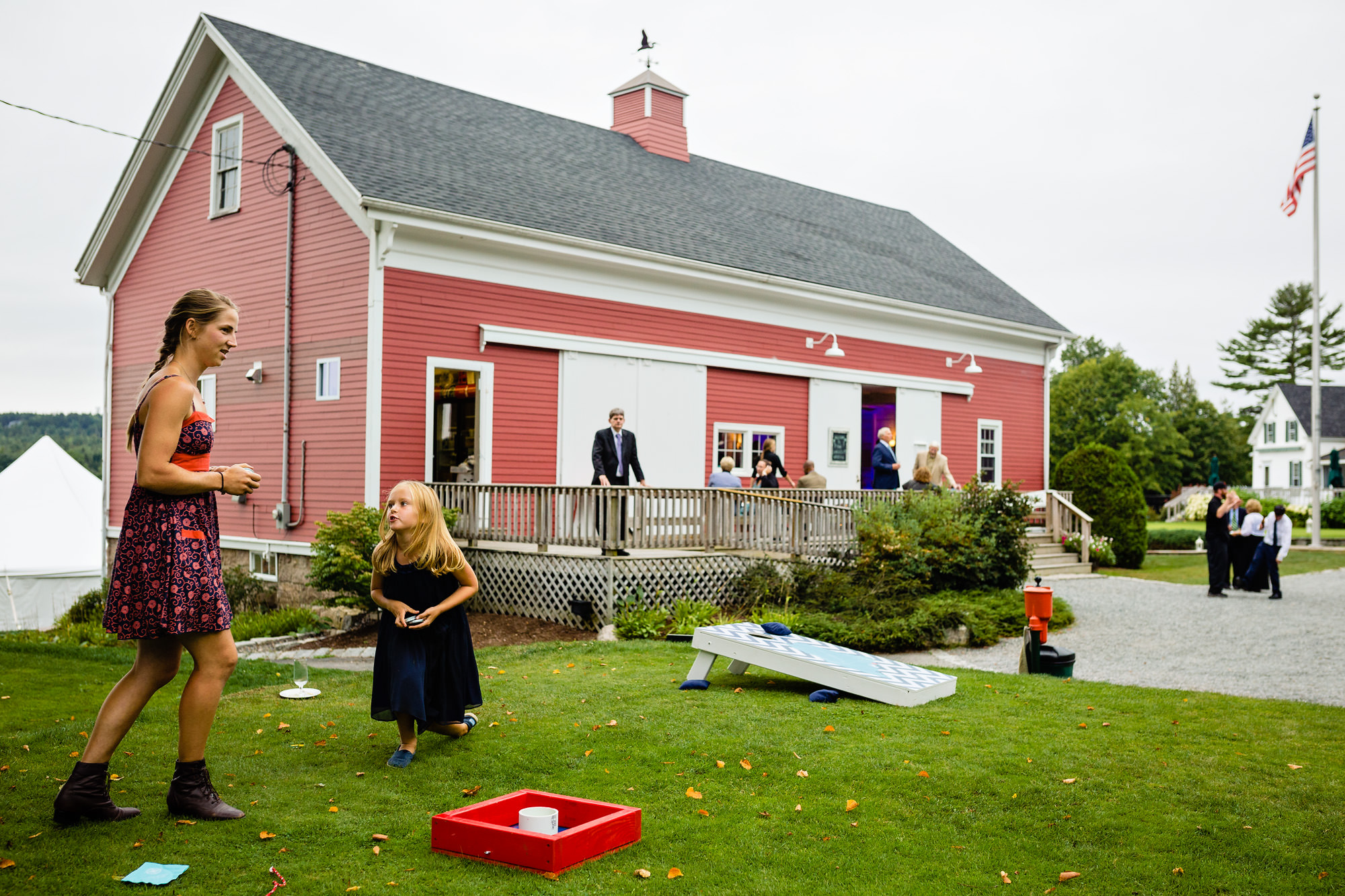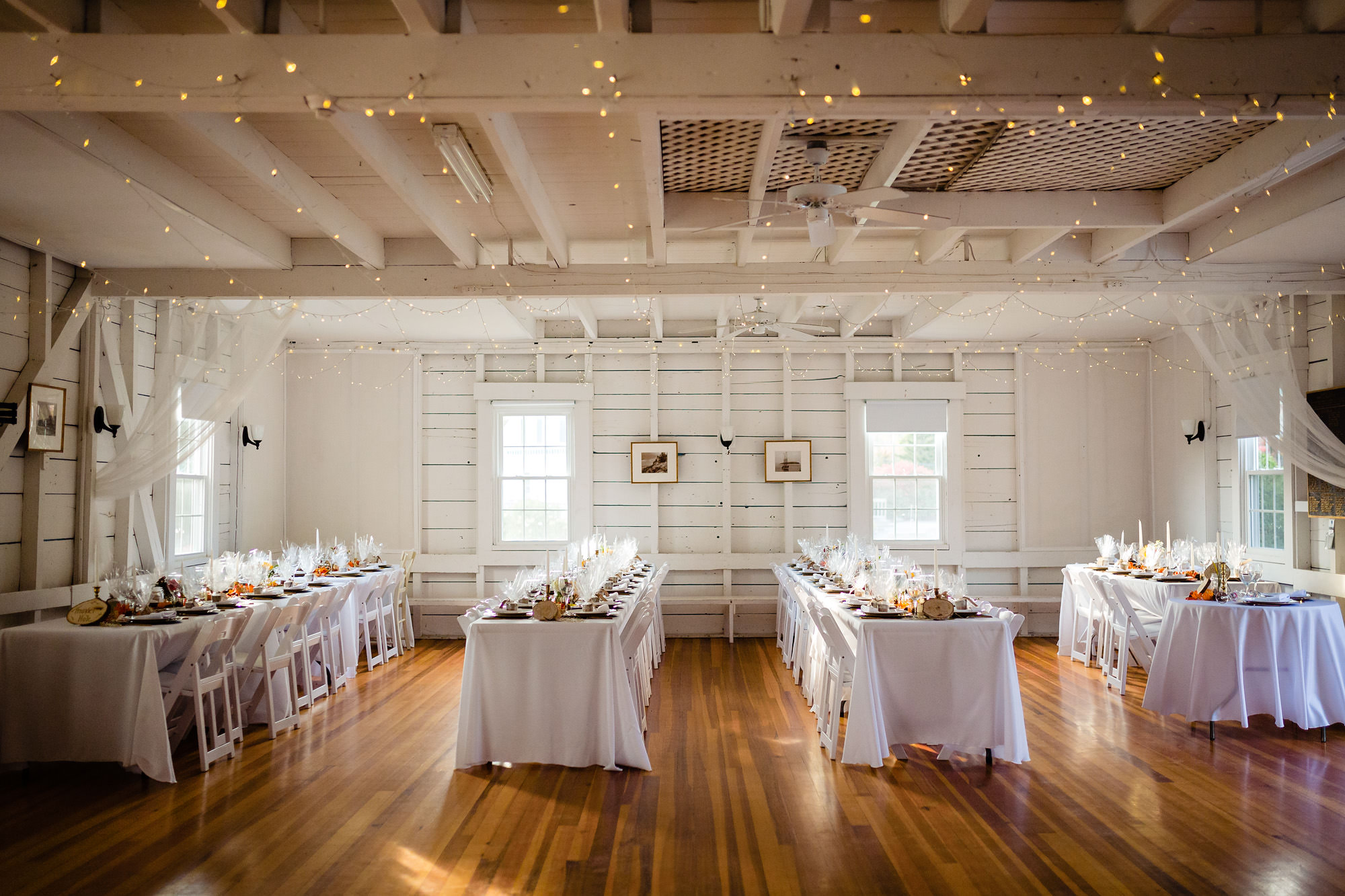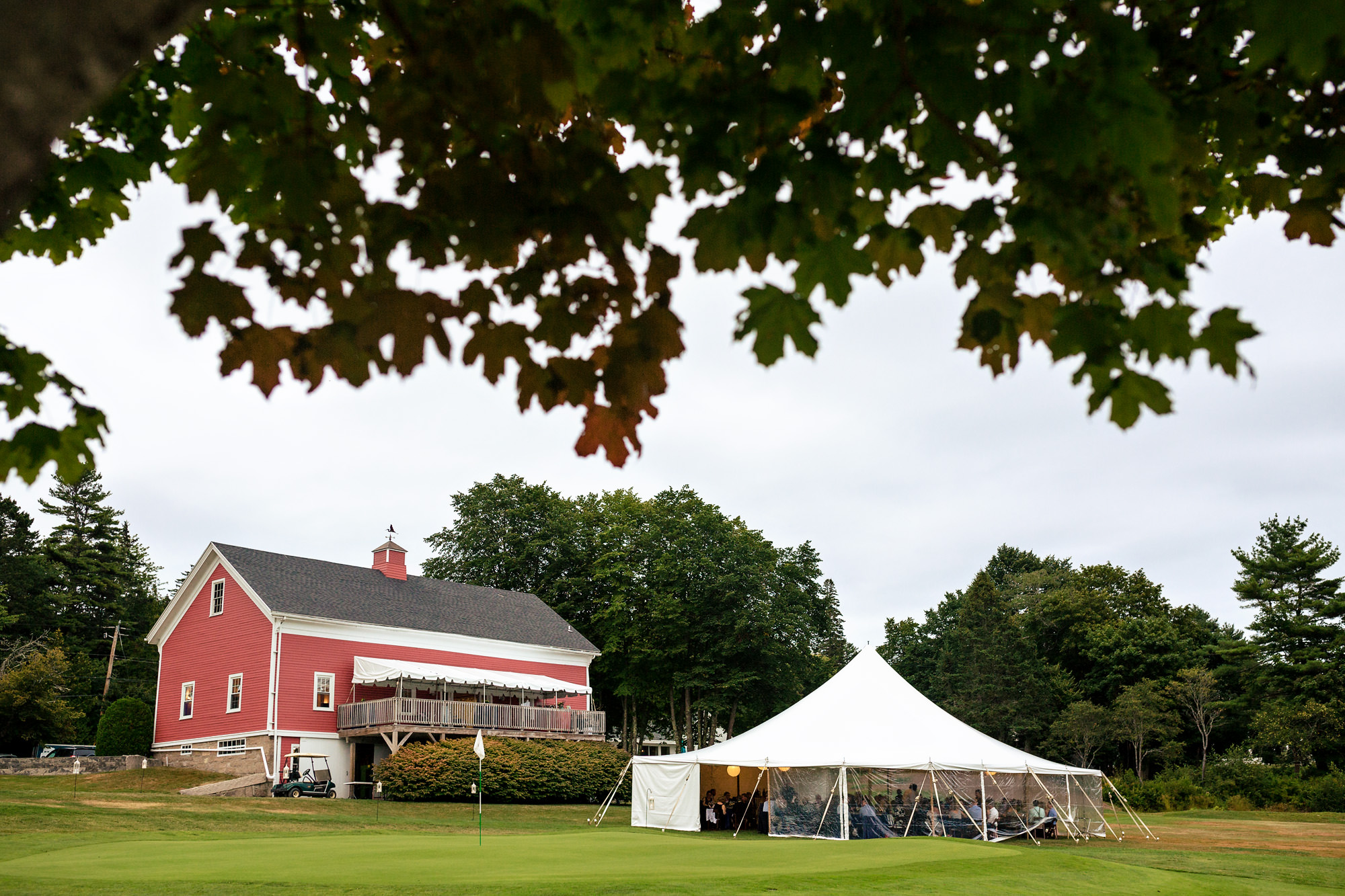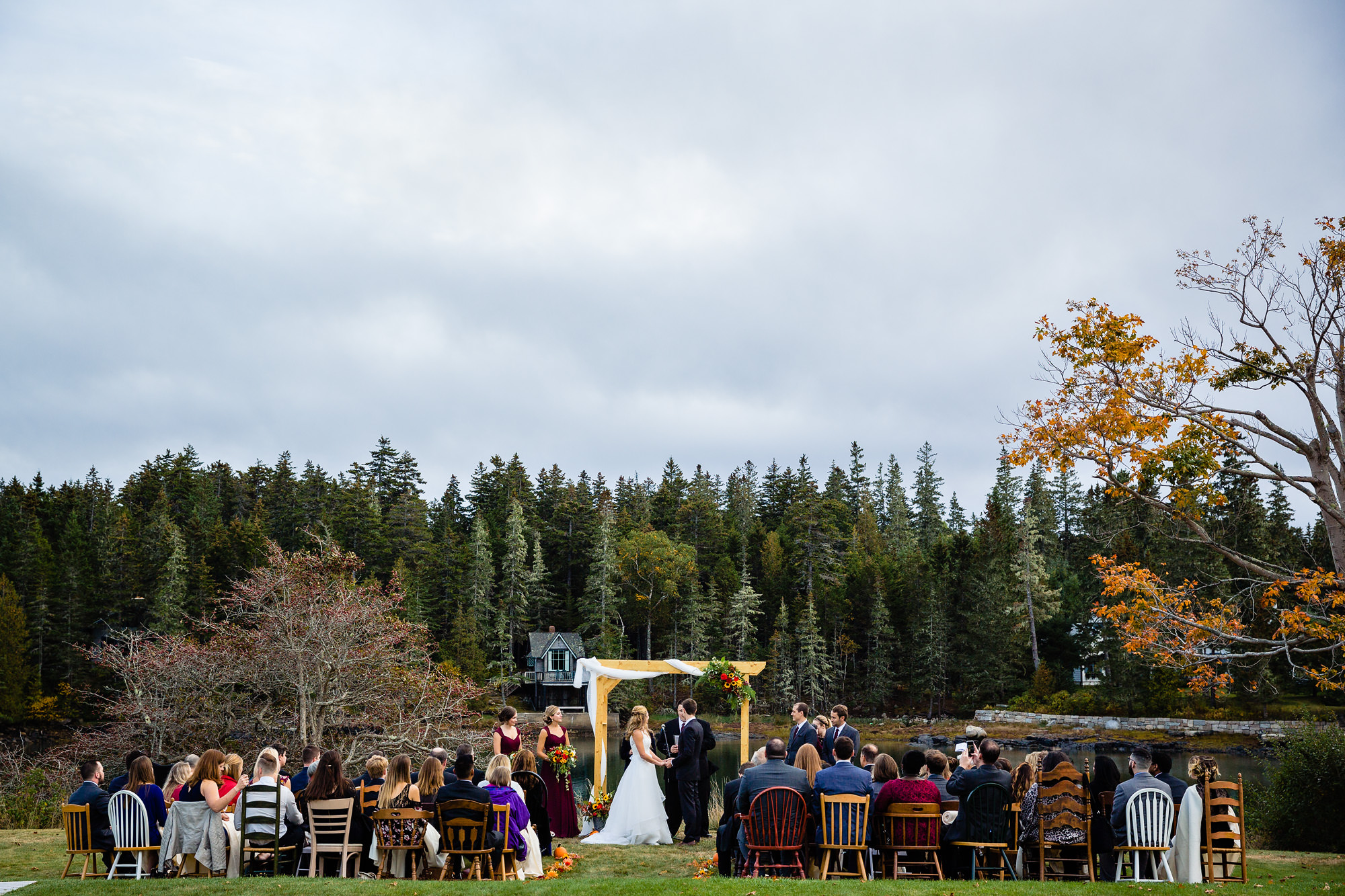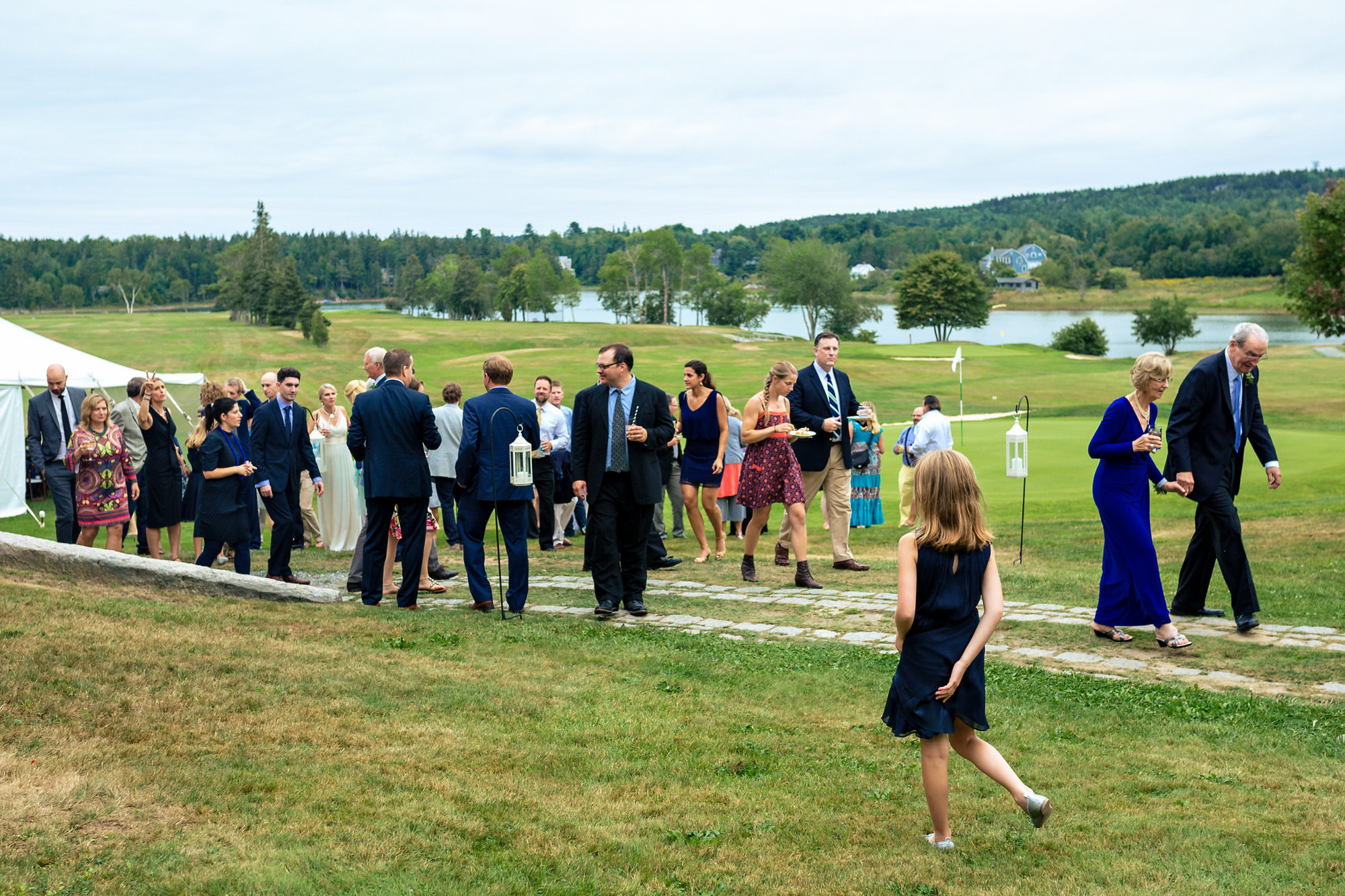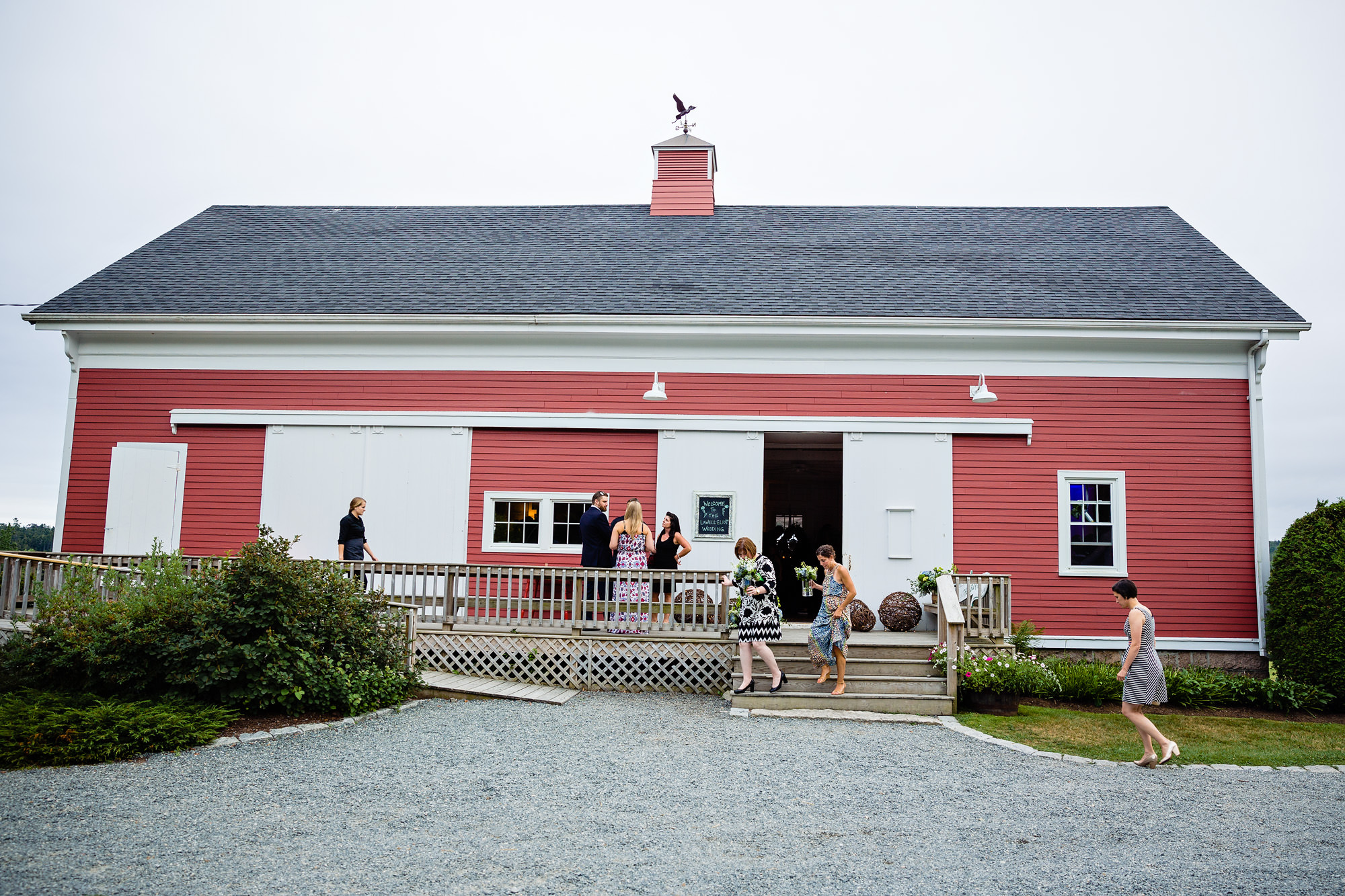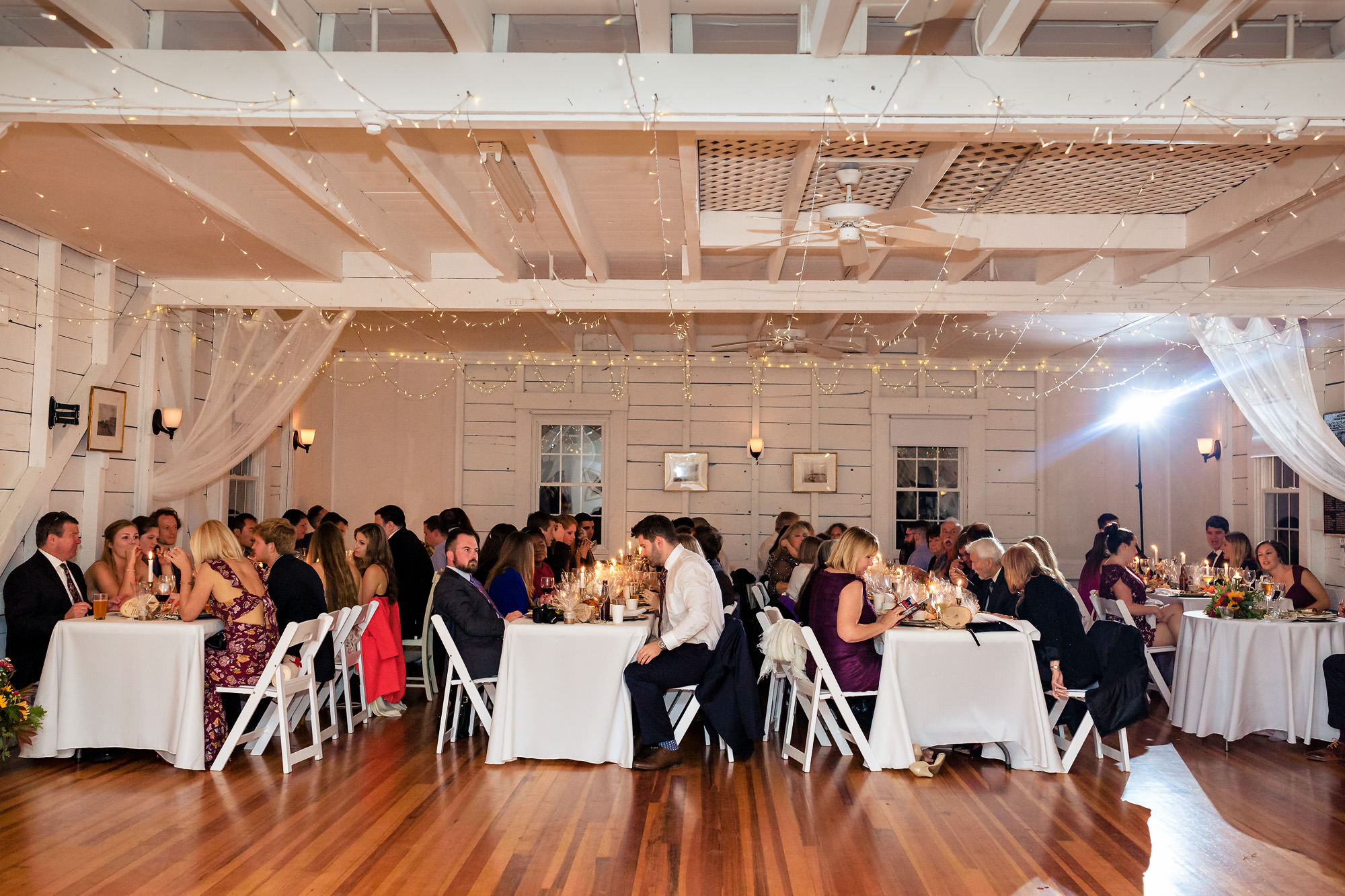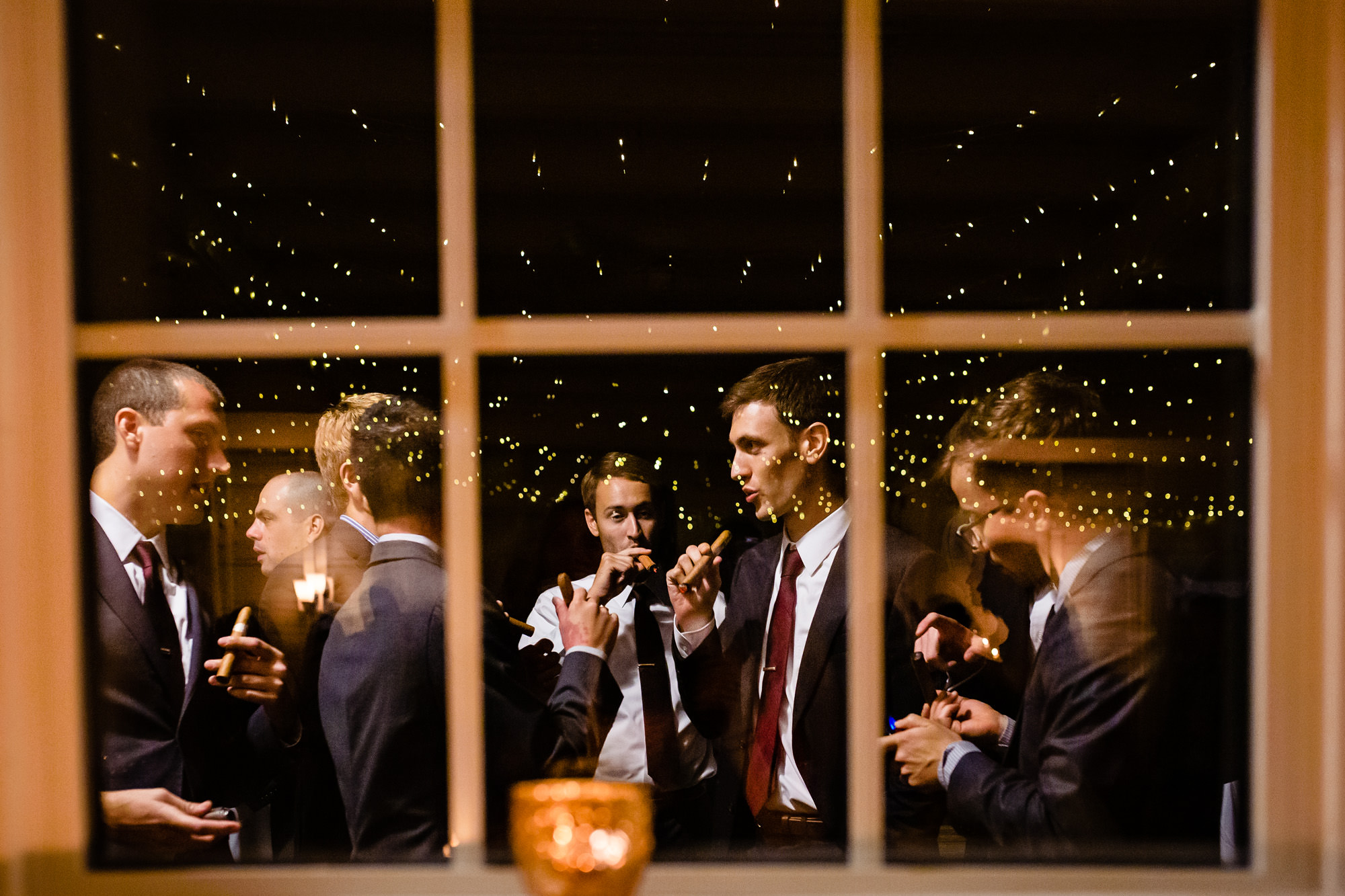 Asticou Inn - Northeast Harbor, Maine
Website: https://www.asticou.com/
Address: 15 Peabody Drive, Northeast Harbor, ME 04662
Can guests stay on site?: Yes
Min/max guest counts: Up to 120 (possibly more with the use of a tent), and several smaller rooms/areas of the inn and property that are perfect for more intimate celebrations.
Weddings hosted at the Asticou Inn: Mike & Aldo, Jess & Alan
Say "I do" at the historic Asticou Inn, a stunning oceanside inn (and wedding venue) located in Northeast Harbor that offers scenic views, delicious food, and excellent service. Your guests will love the convenience of staying on property while being in close proximity to the lush Asticou Azalea Garden, Thuya Garden, and Little Long Pond, while only being a 15 minute drive away from downtown Bar Harbor. The Asticou Inn boasts a grand lawn overlooking the harbor, making it an ideal location for outdoor ceremonies. With a variety of rooms and outdoor spaces, as well as the option to have a tent set up on the lawn, you'll have endless options for a personalized and memorable celebration.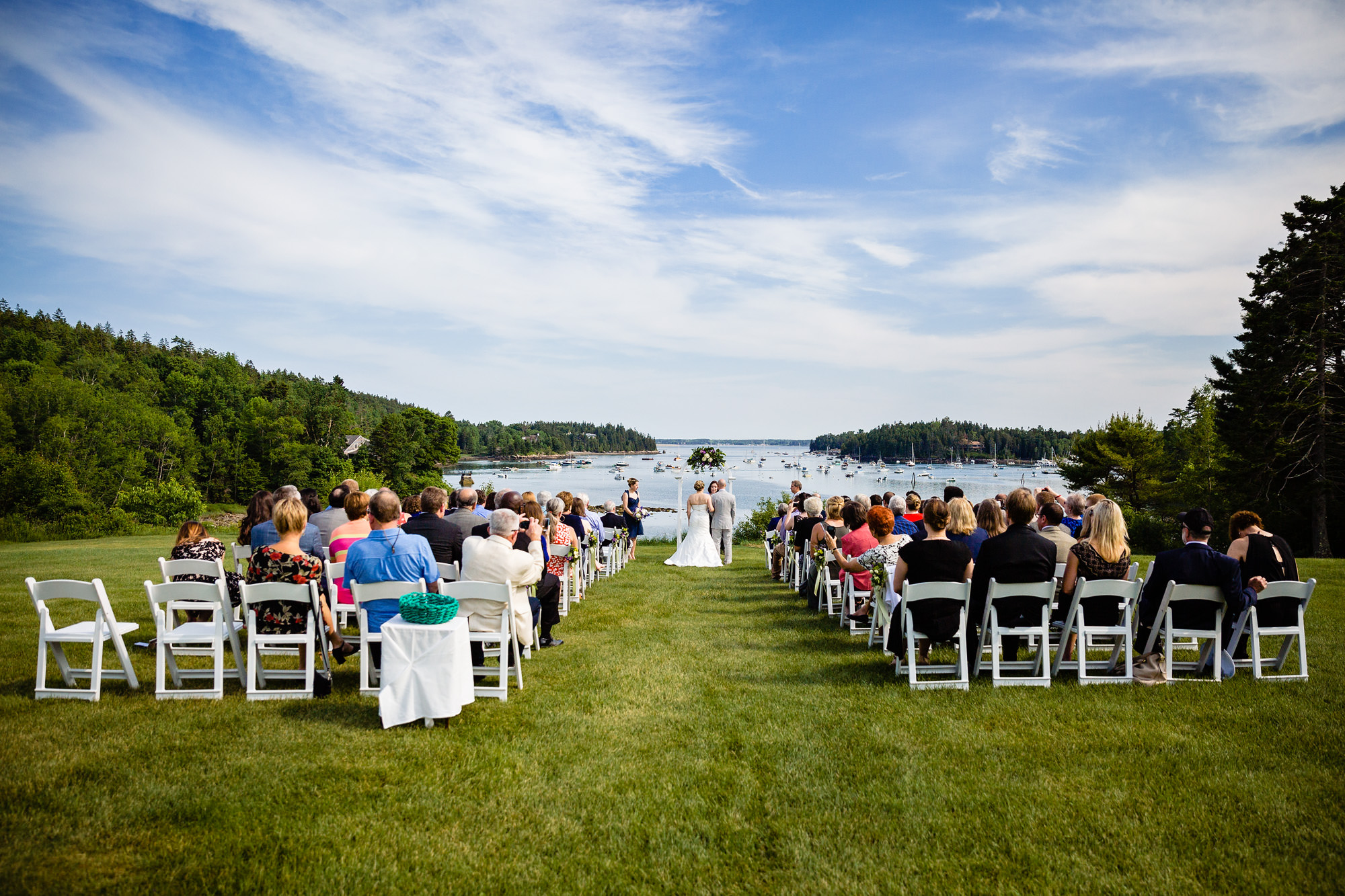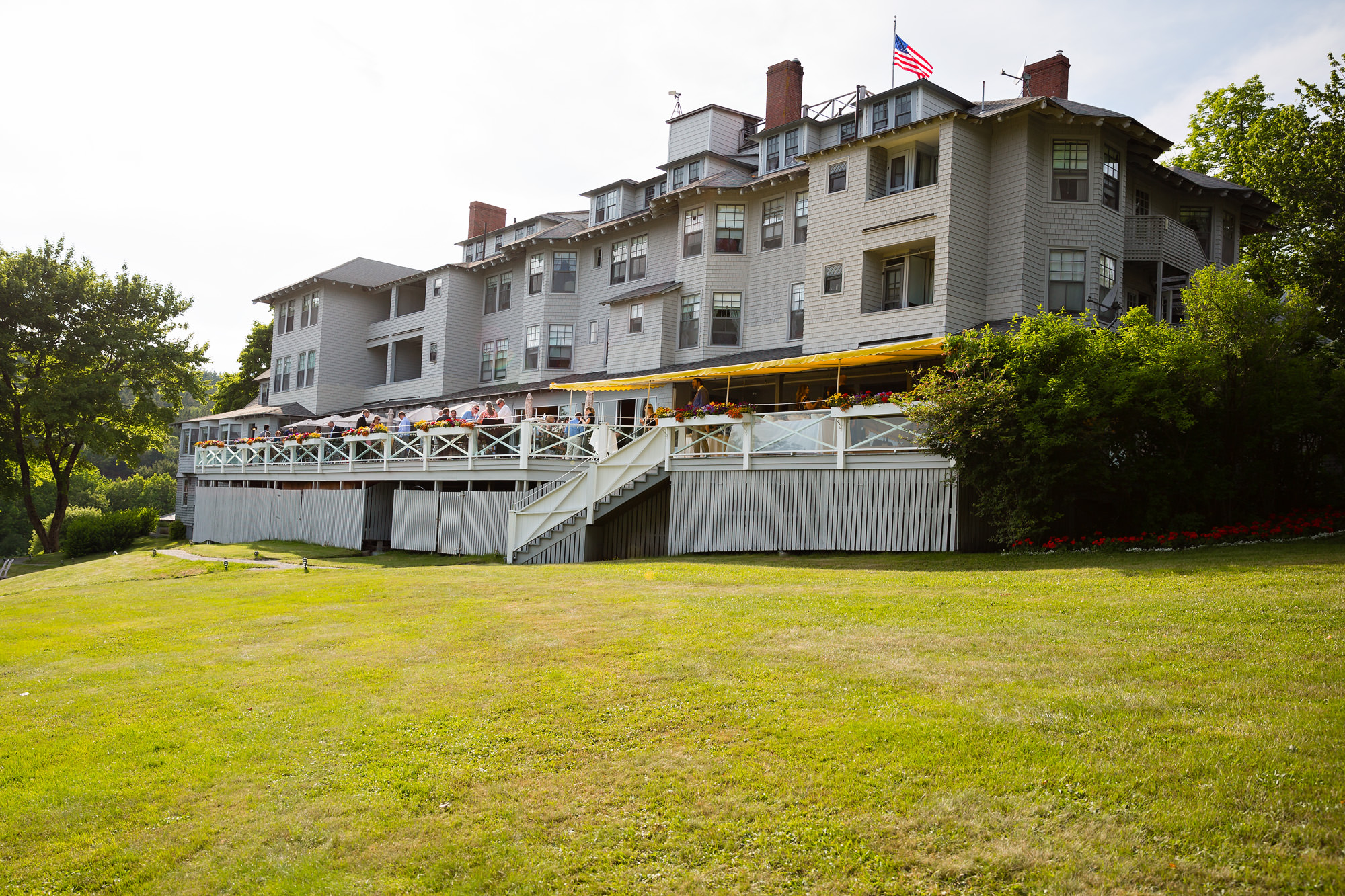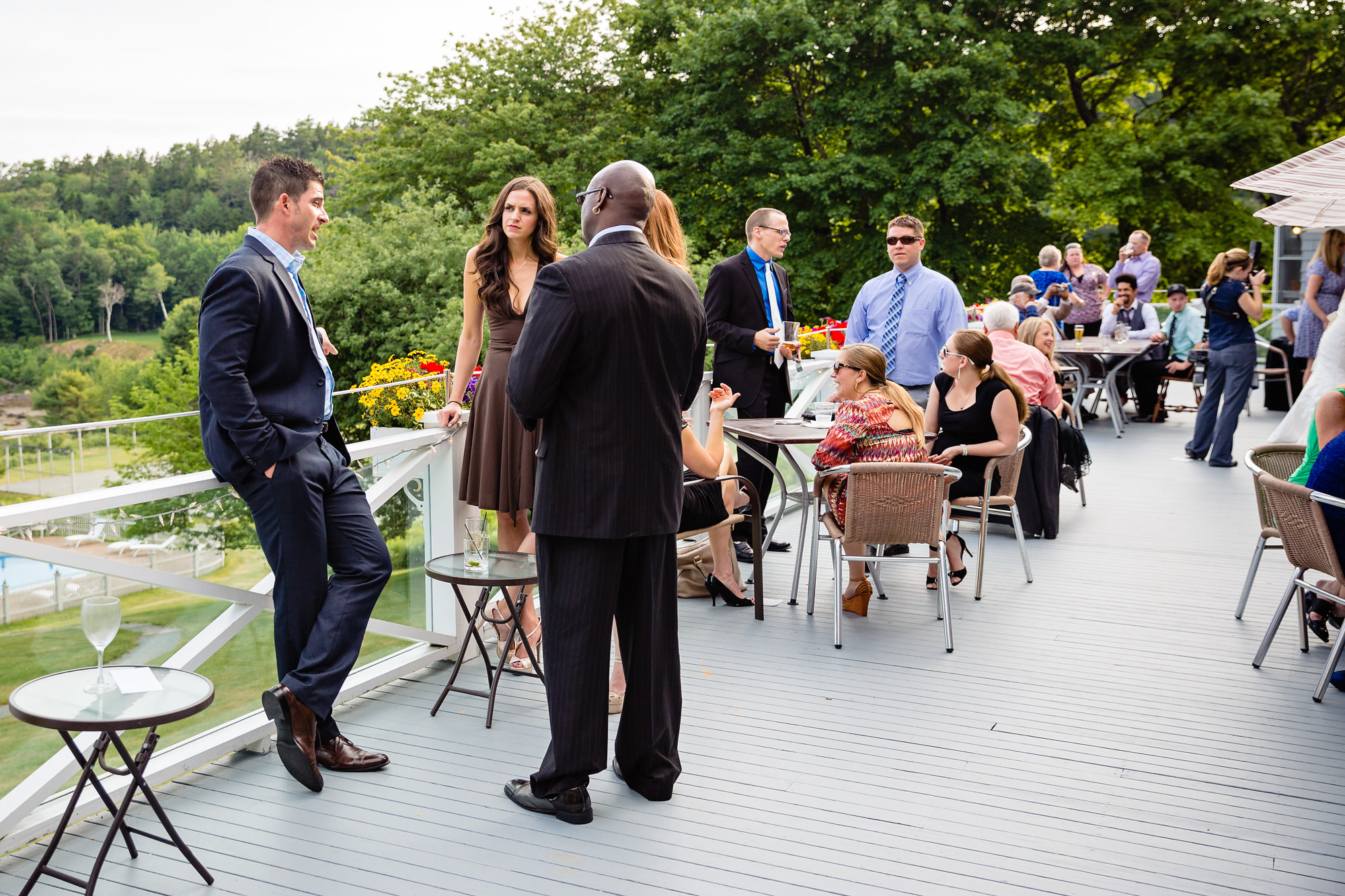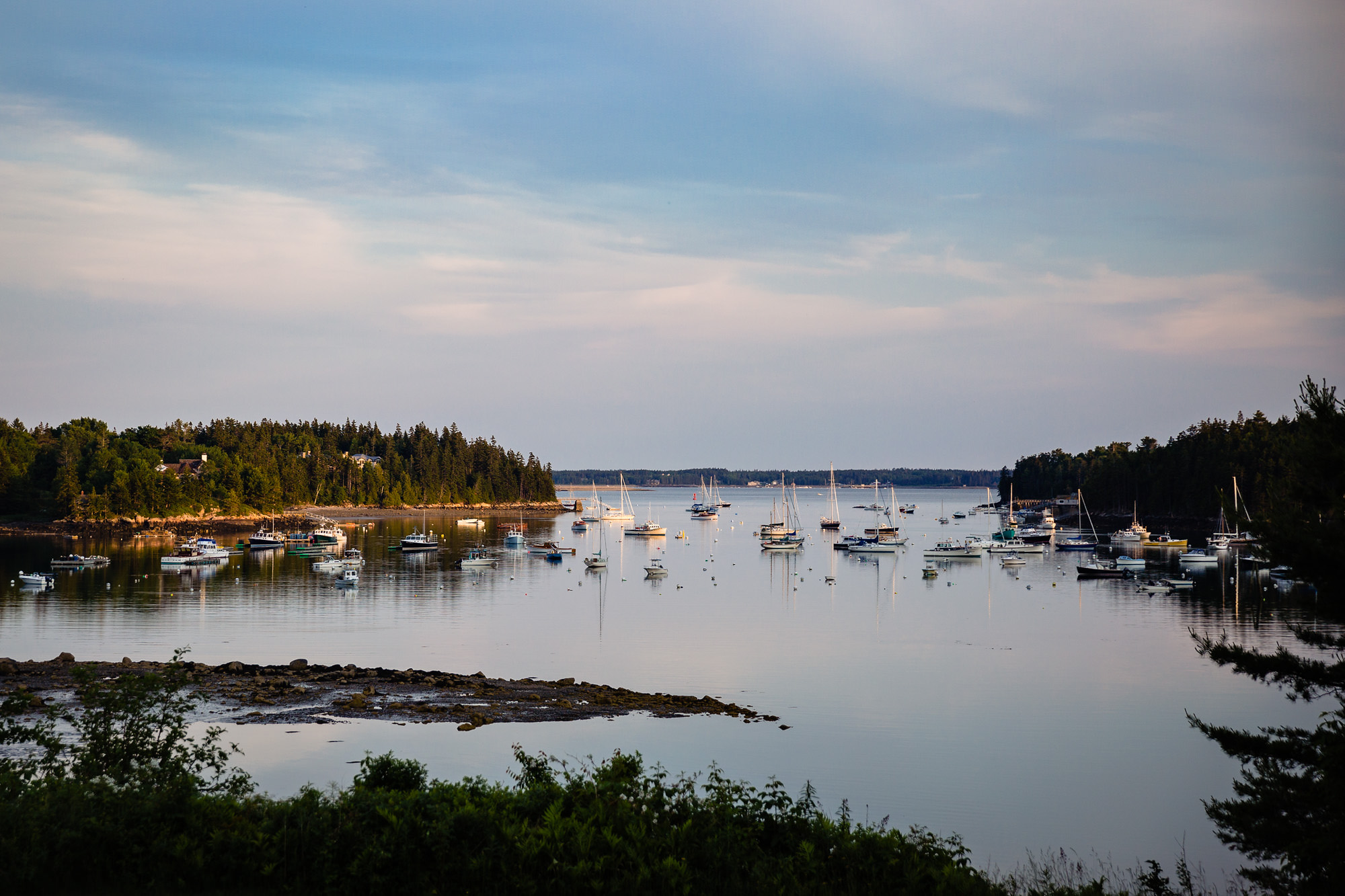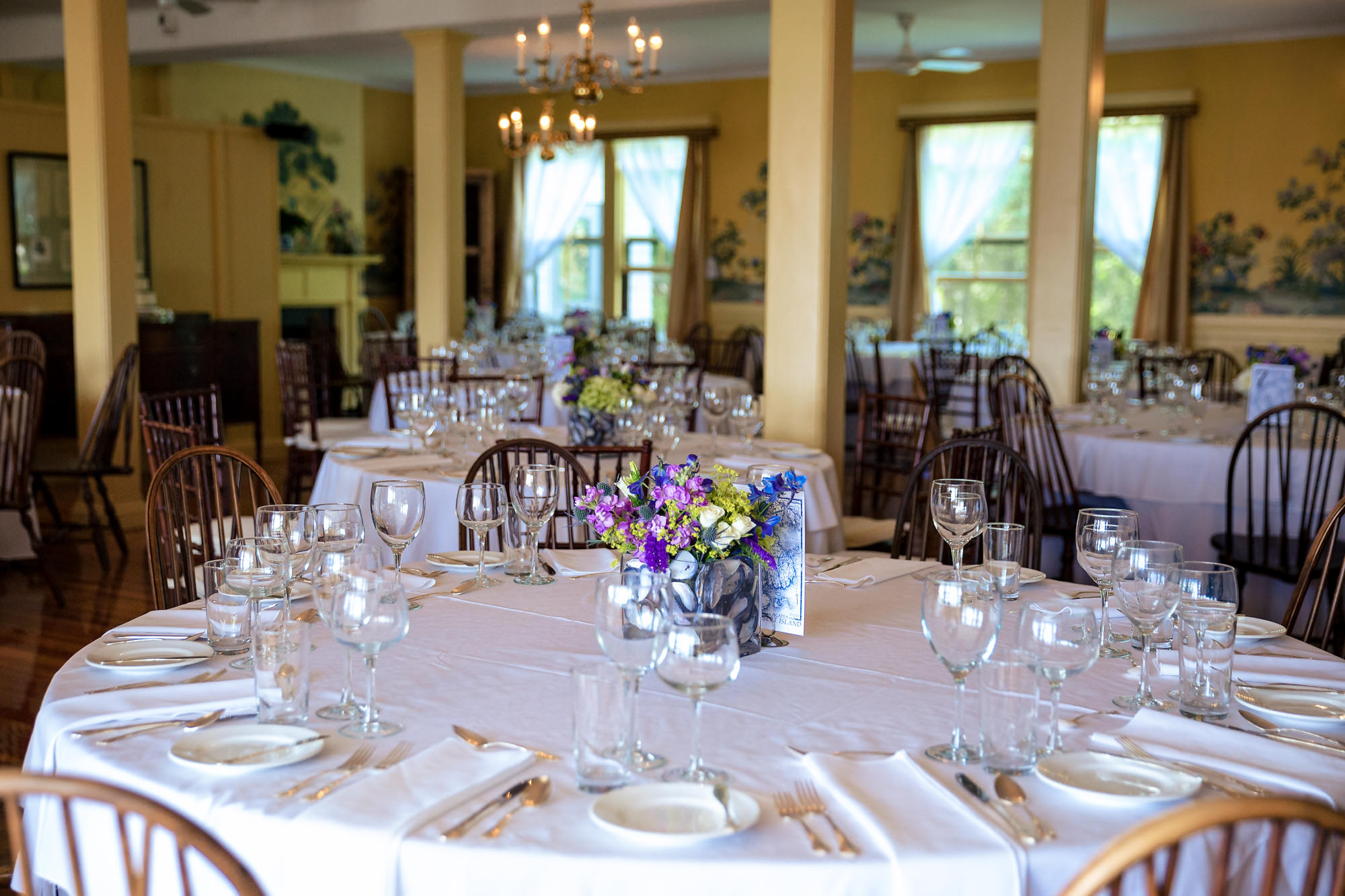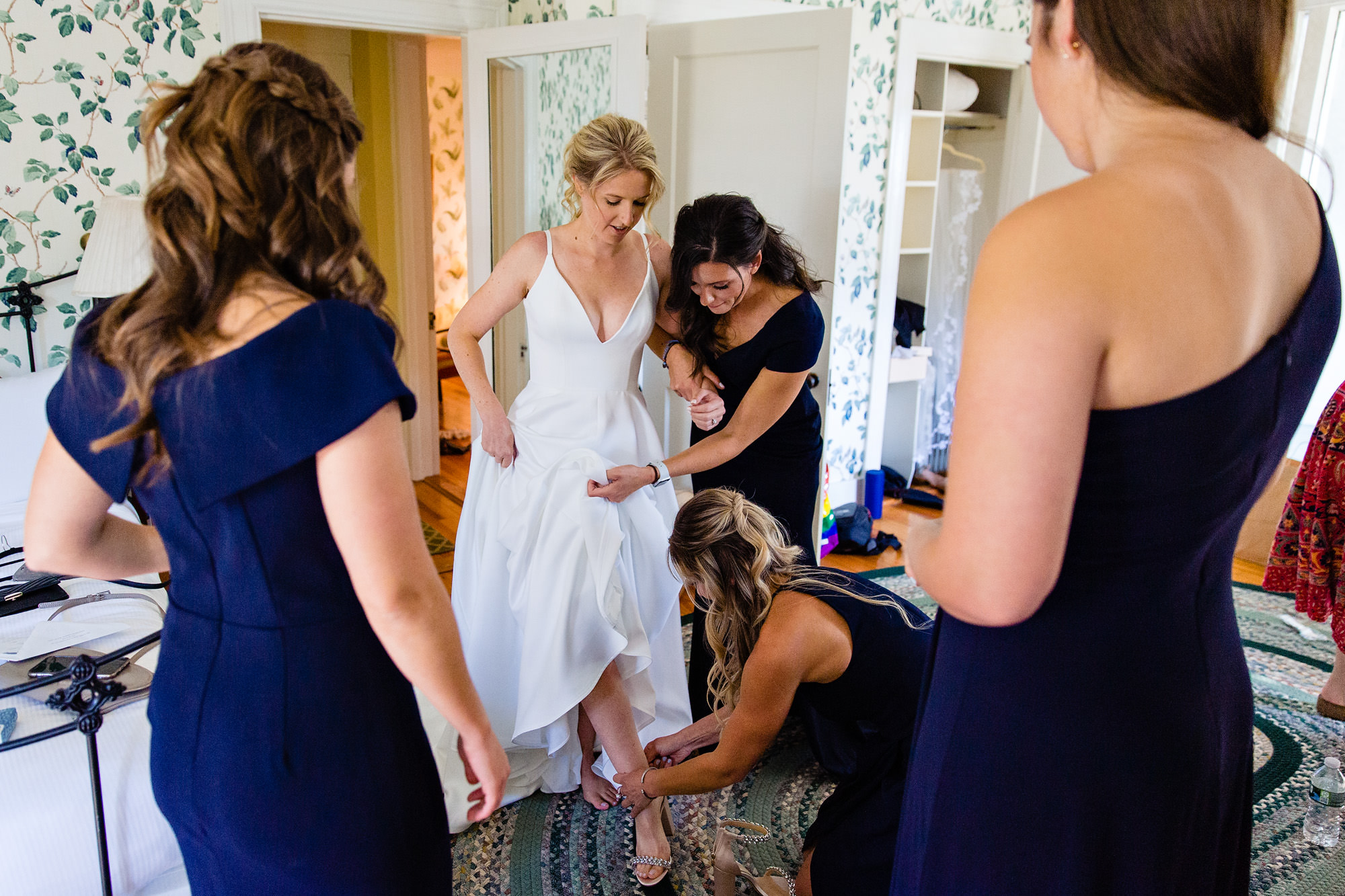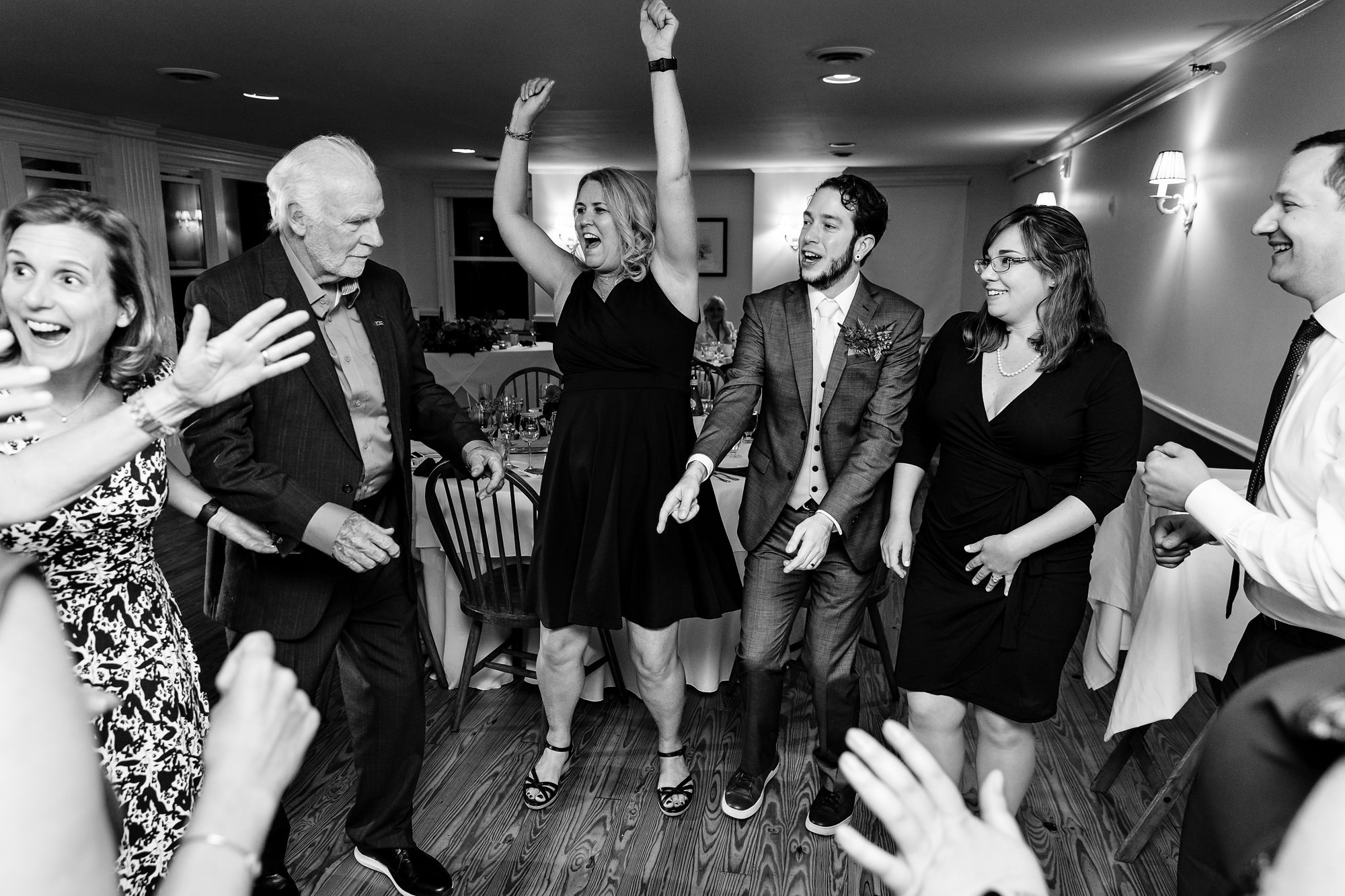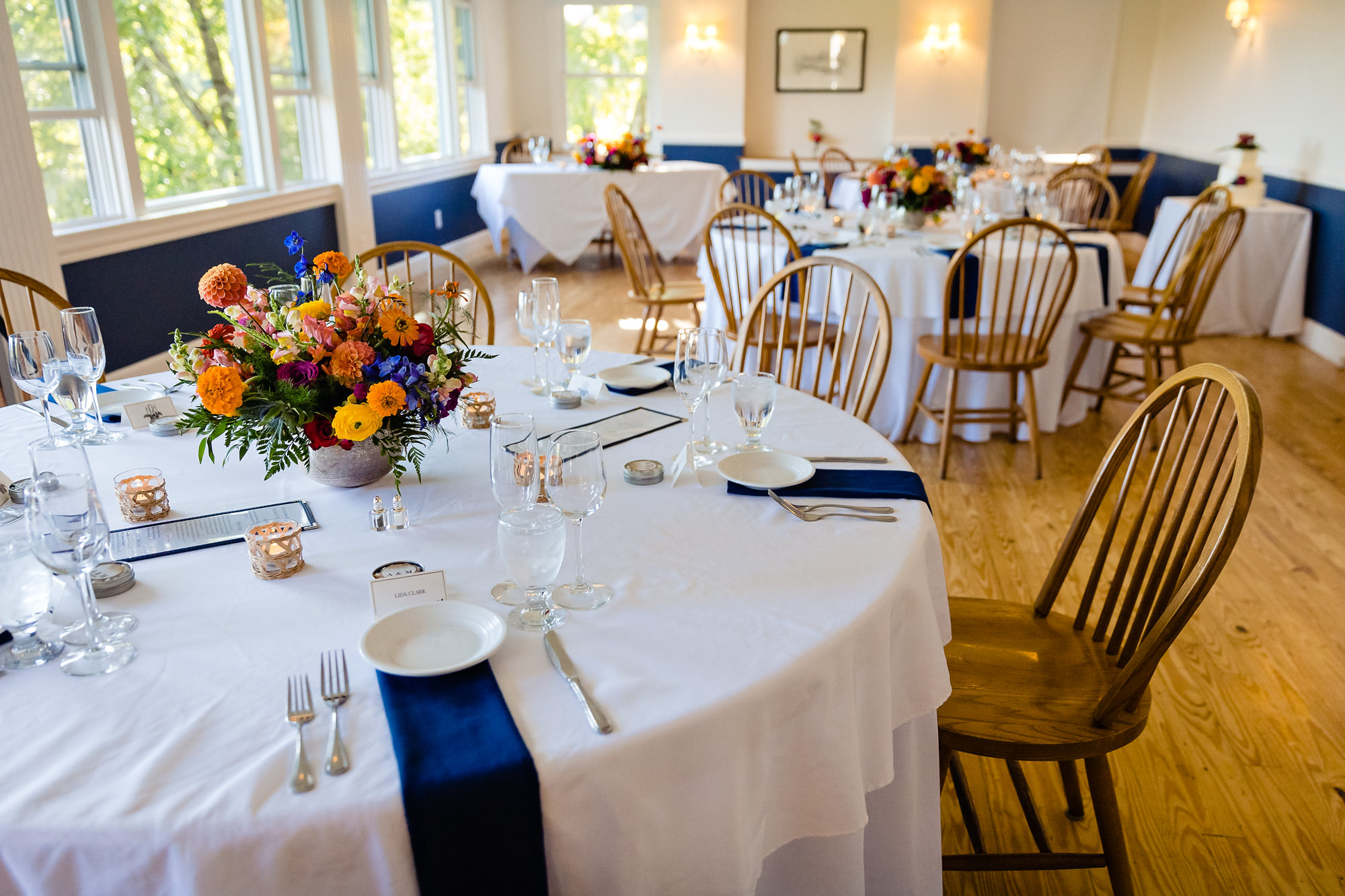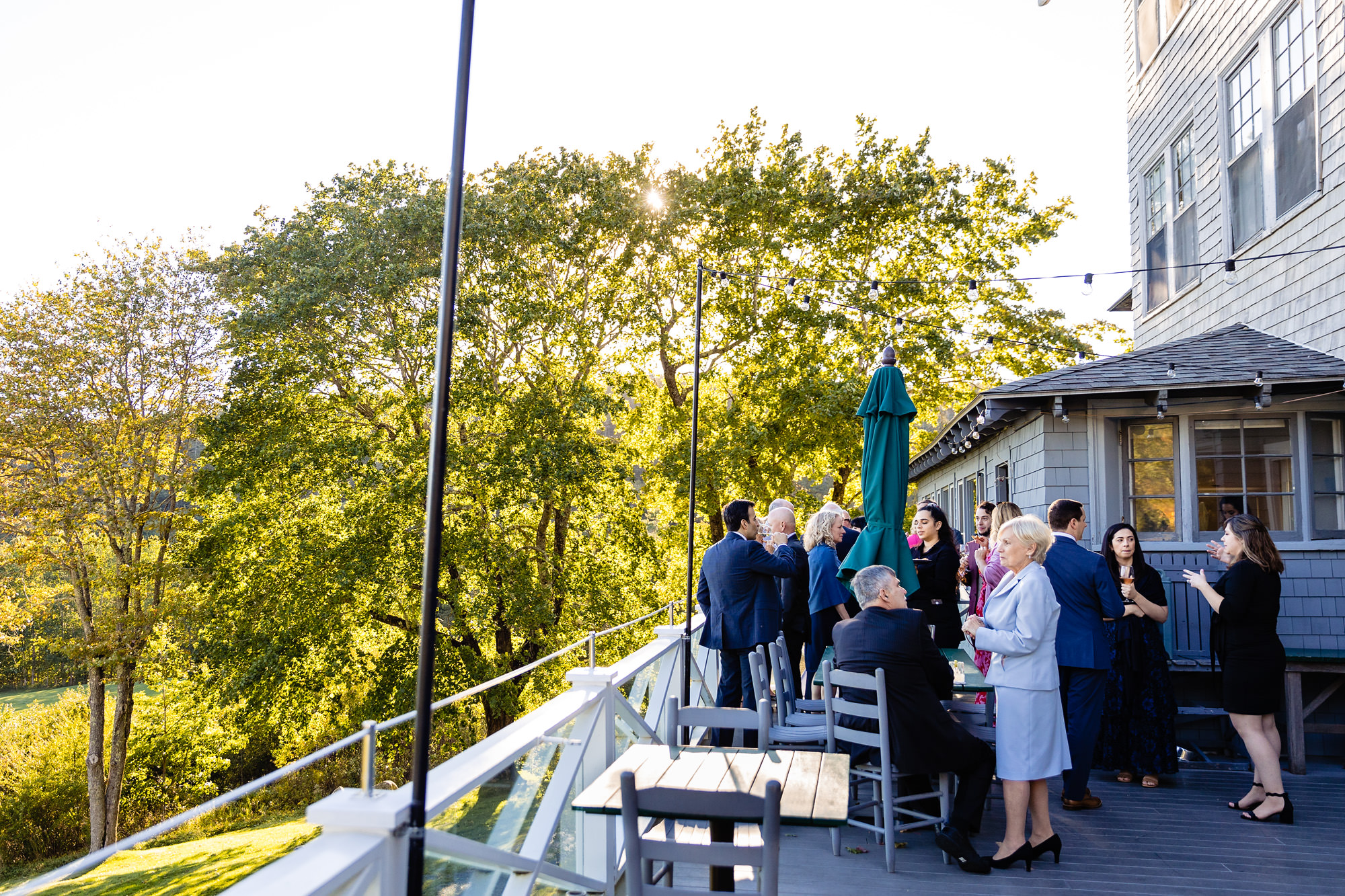 Islesford Dock Restaurant - Islesford, Maine (on Little Cranberry Island)
Website: https://www.islesforddock.com/
Address: 1 Main Street, Islesford, ME 04646
Can guests stay on site?: No
Min/max guest counts: 30-200 guests (I personally recommend 70 or fewer guests for a comfortable experience).
Weddings hosted at the Islesford Dock Restaurant: Jenna & Andy, Ames & Lance
Are you seeking a unique and unforgettable Maine wedding venue that combines iconic Maine landscapes, delicious cuisine, and a touch of adventure? Then, the Islesford Dock Restaurant may be the perfect venue for your wedding! Located on Little Cranberry Island, this Islesford Maine restaurant offers breathtaking views of the fishing harbor and of Mount Desert Islands through its large windows and on its dock. To get to the restaurant, your guests will need to take a private charter, embarking on a short but memorable boat ride to Little Cranberry Island. There is a lawn to the left of the restaurant that (I believe) can be used for a ceremony. If you're hoping for an indoor ceremony location (or for a backup location, in case of rain), Islesford Congregational Church is a five minute walk away and has beautiful light. If your idea of a perfect wedding is having an unconventional day that showcases parts of the Mount Desert Island area that few people visit, the Islesford Dock Restaurant may be the perfect fit.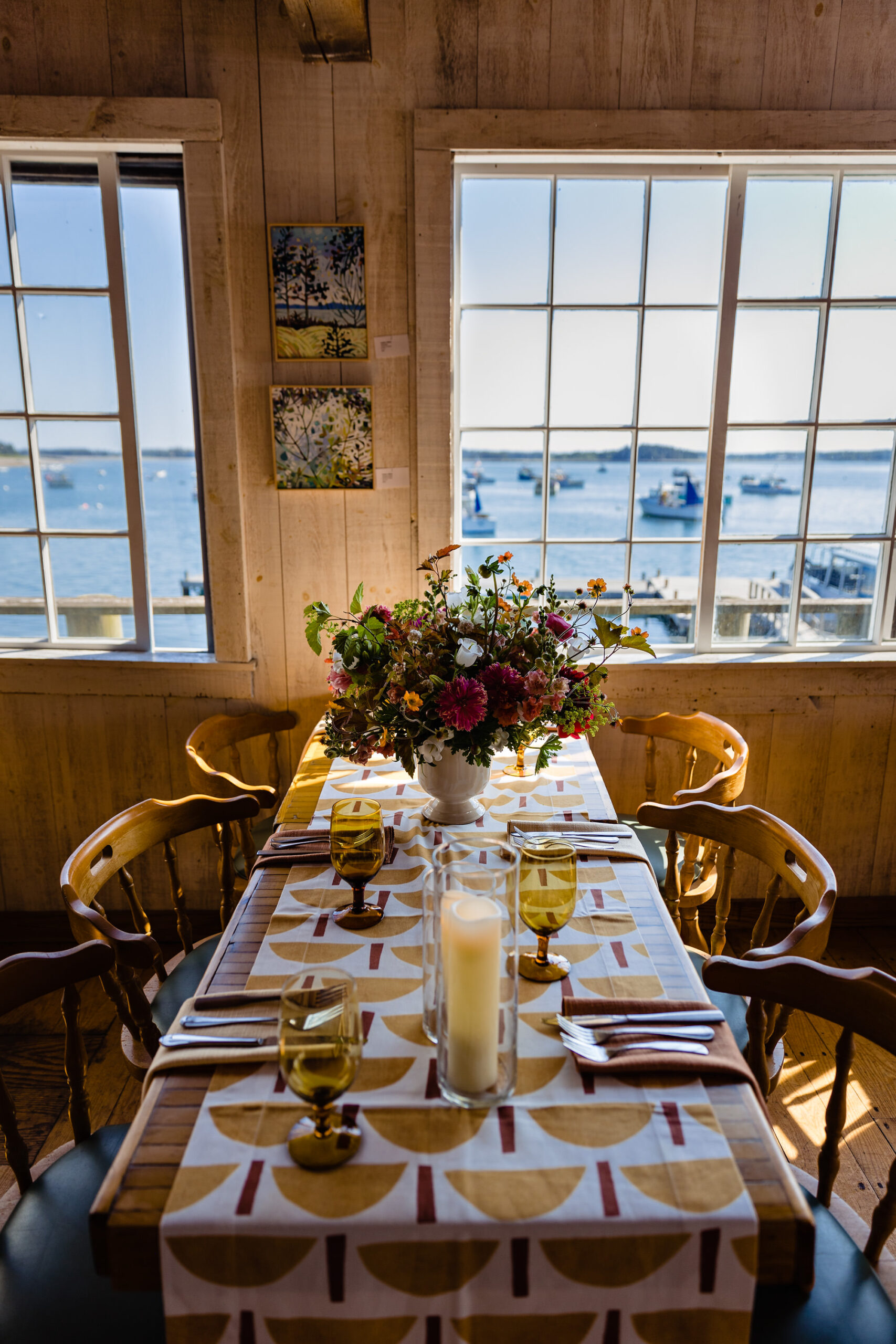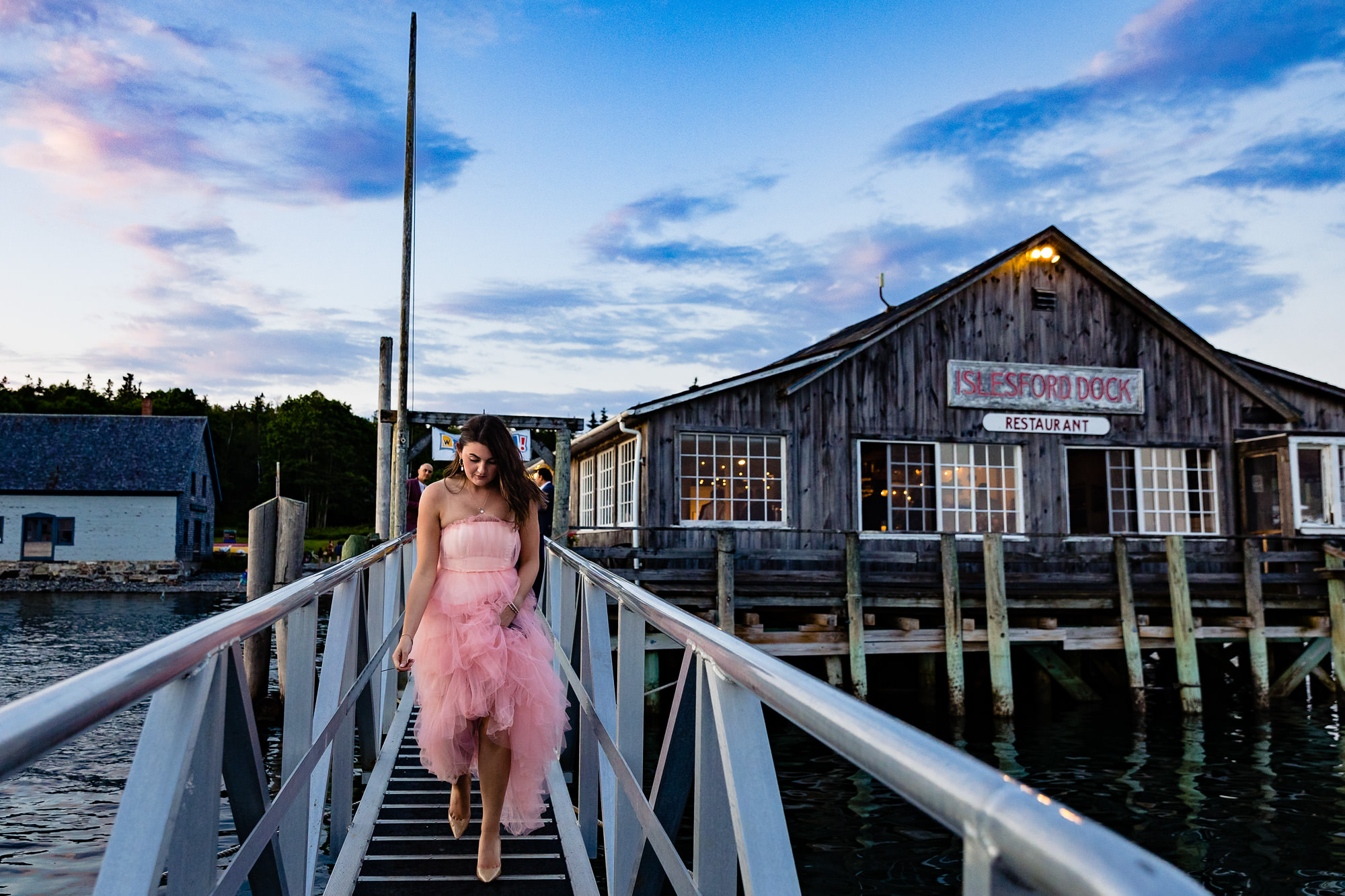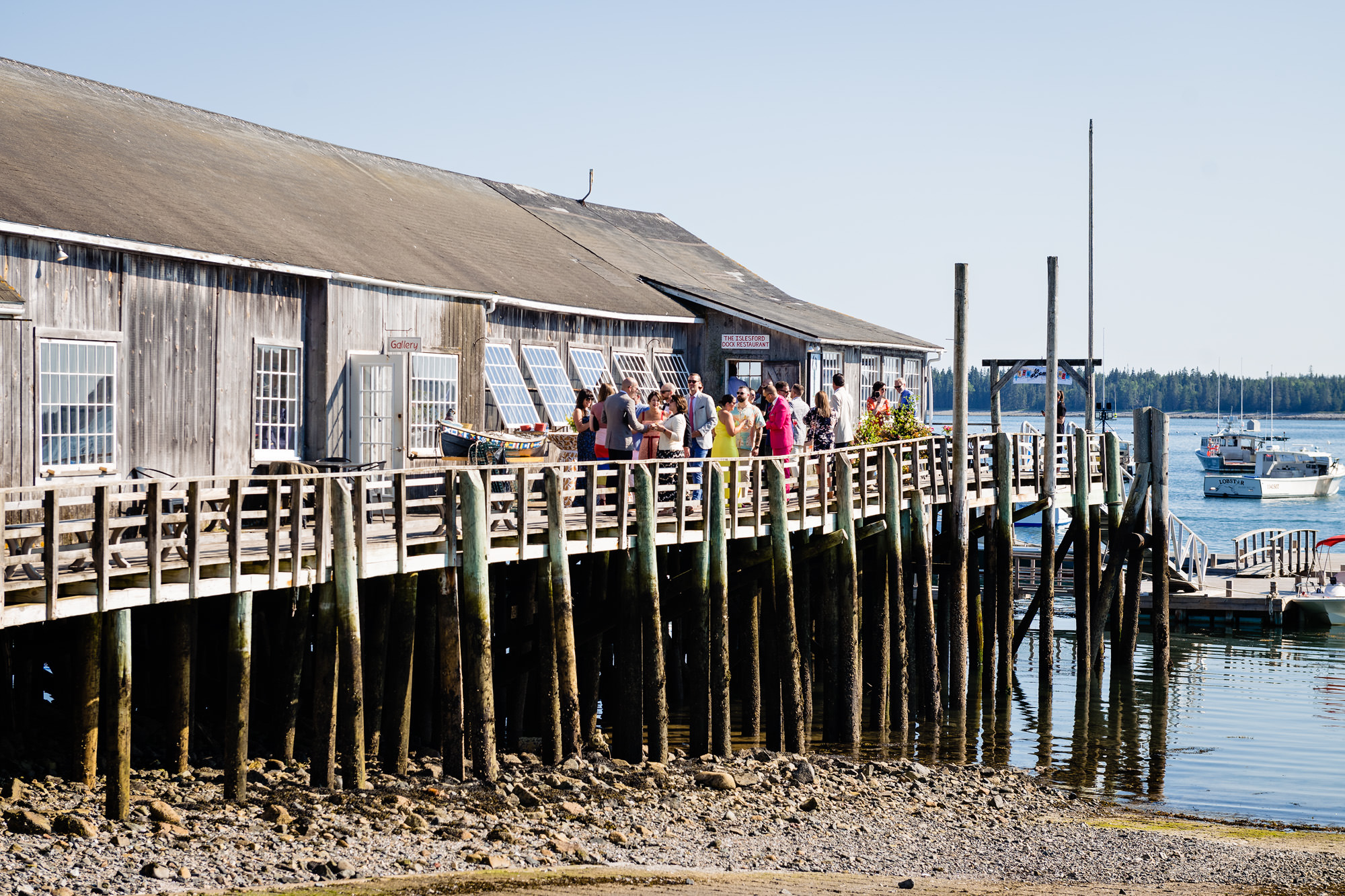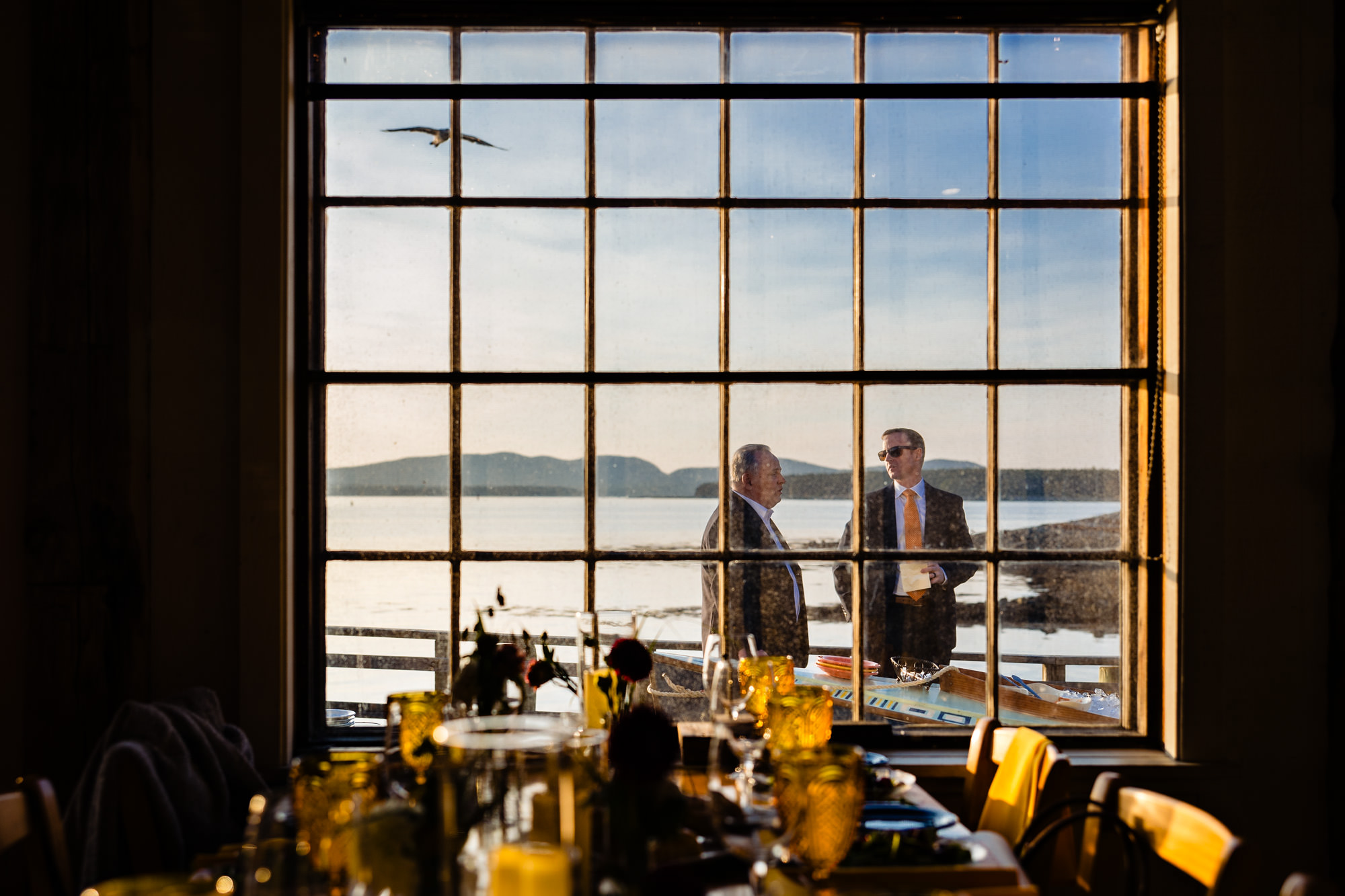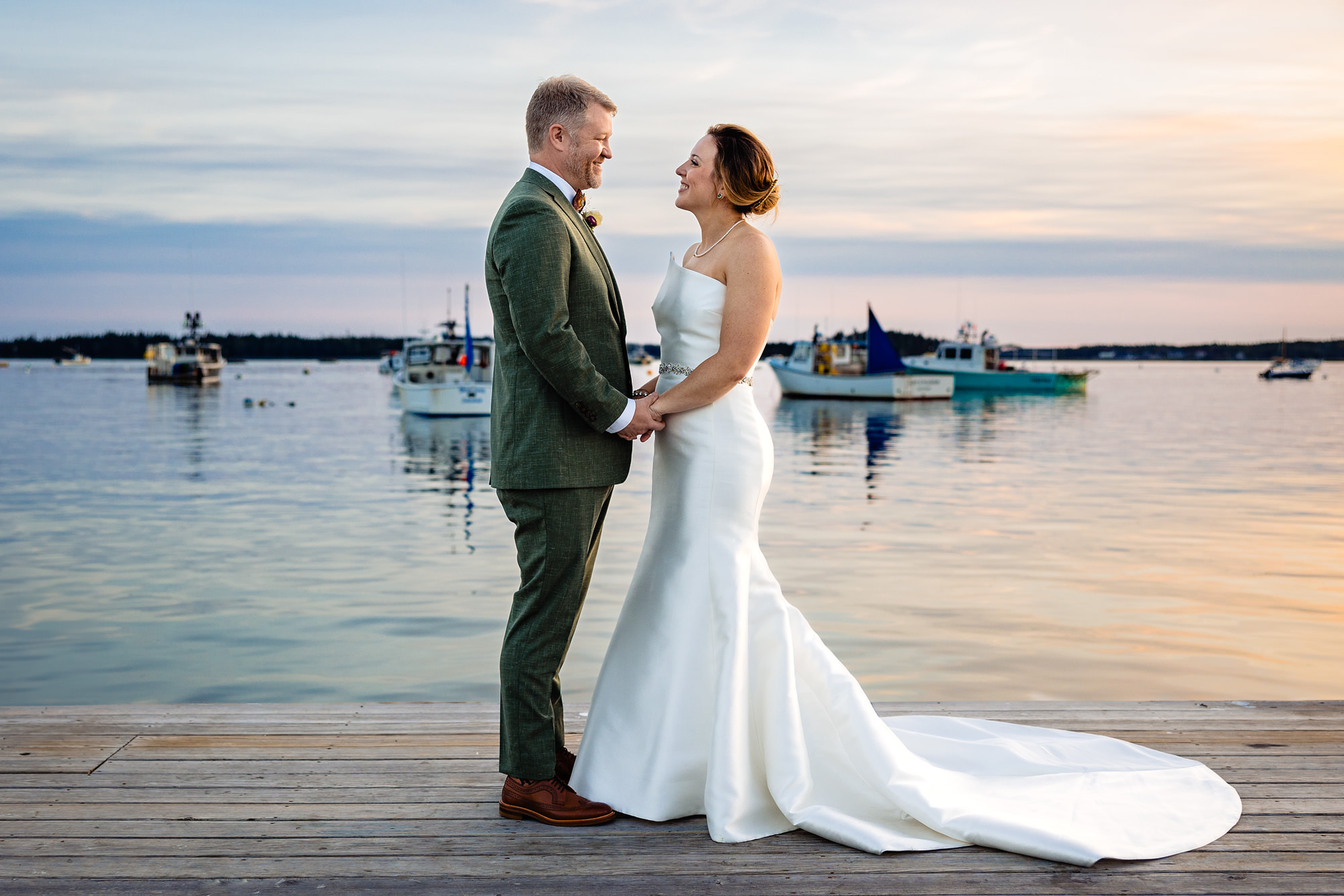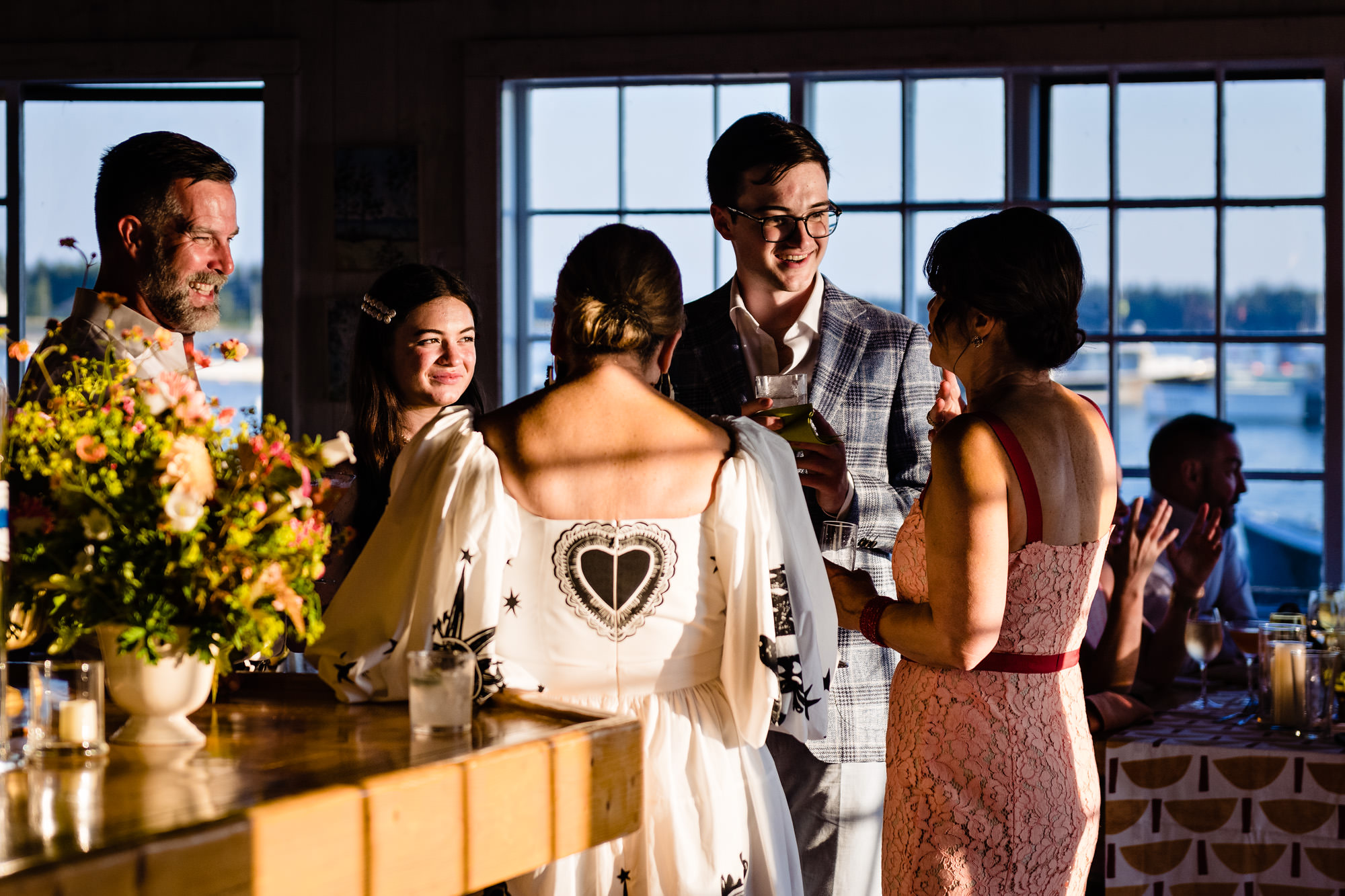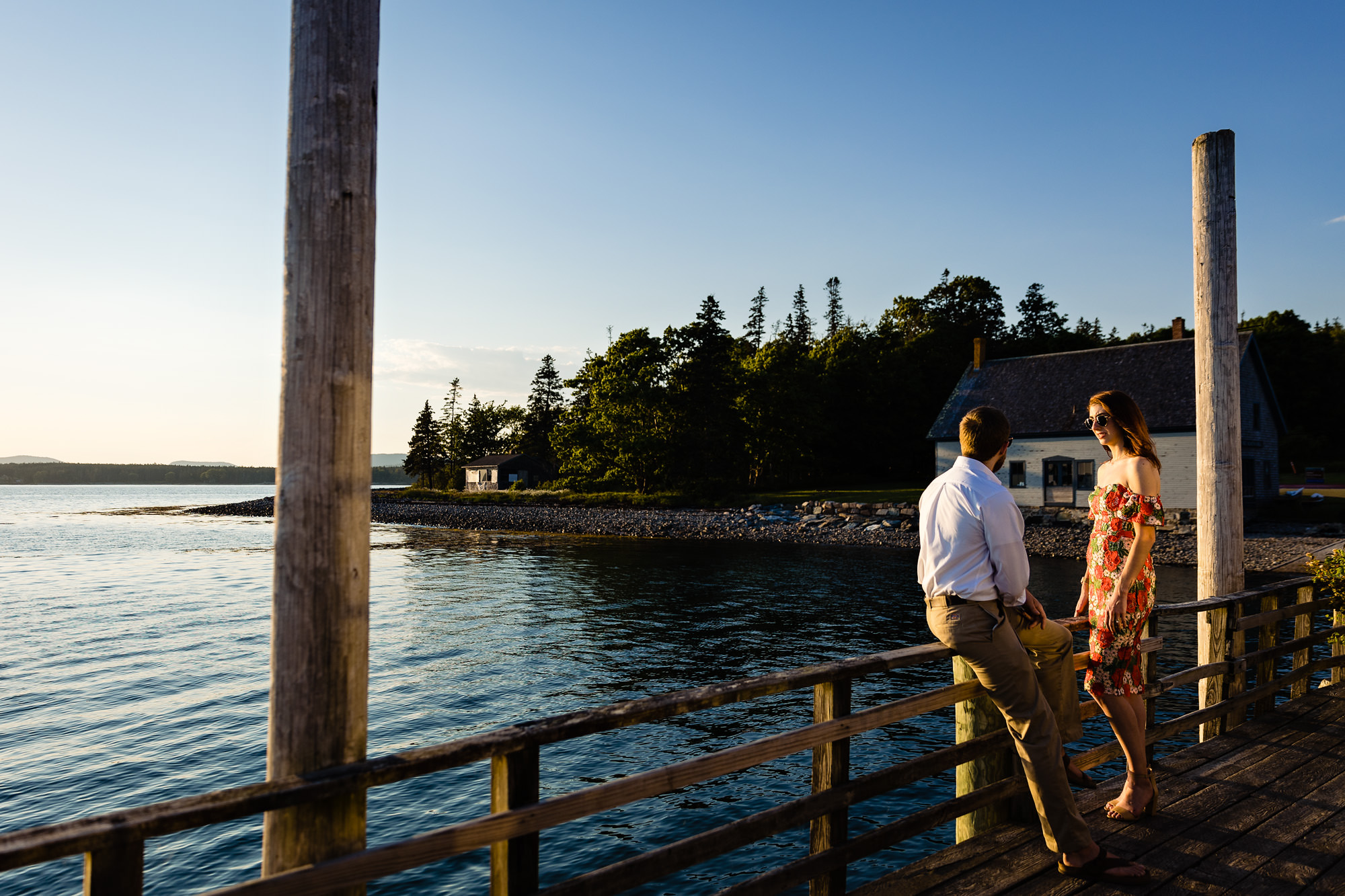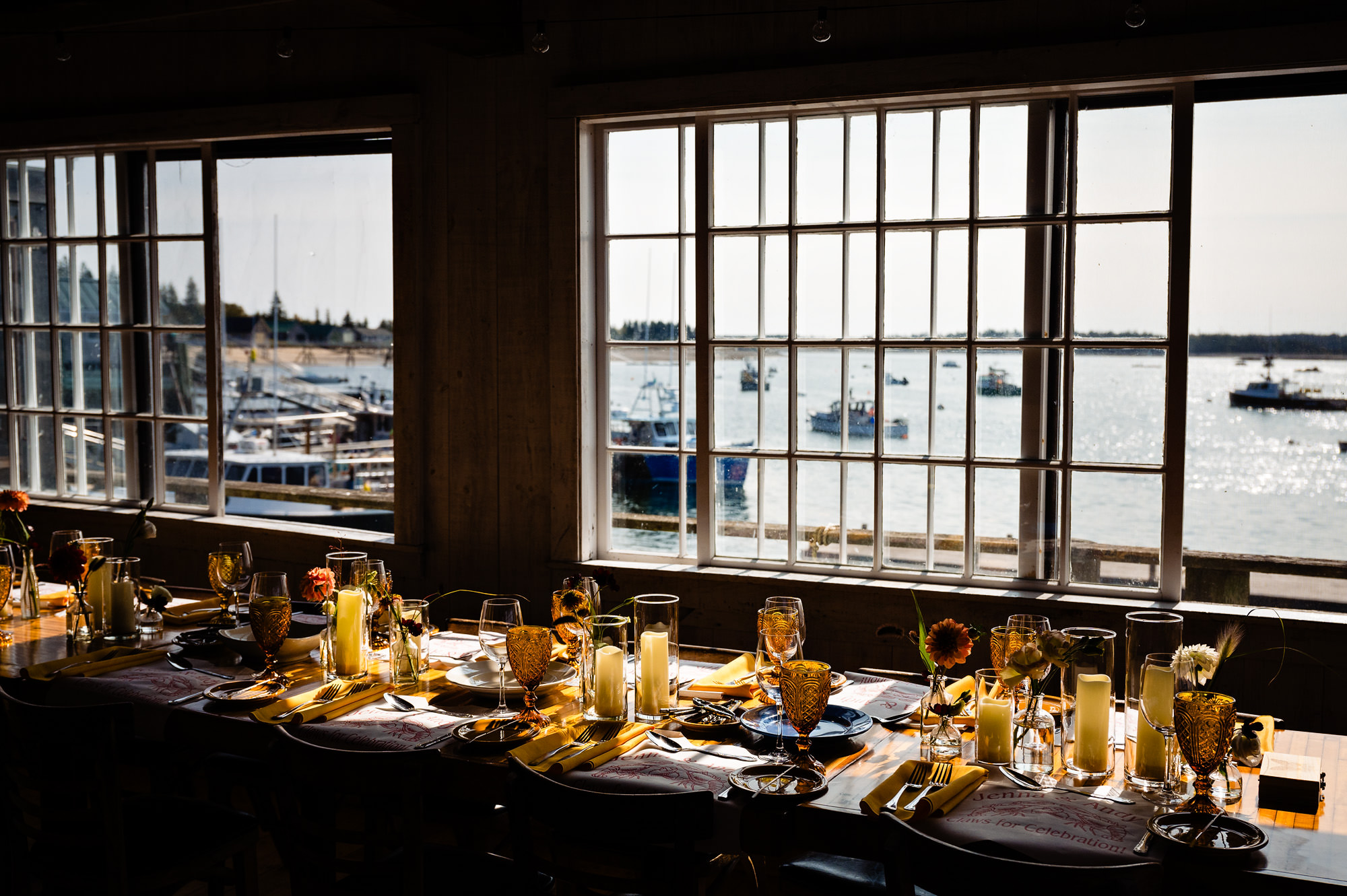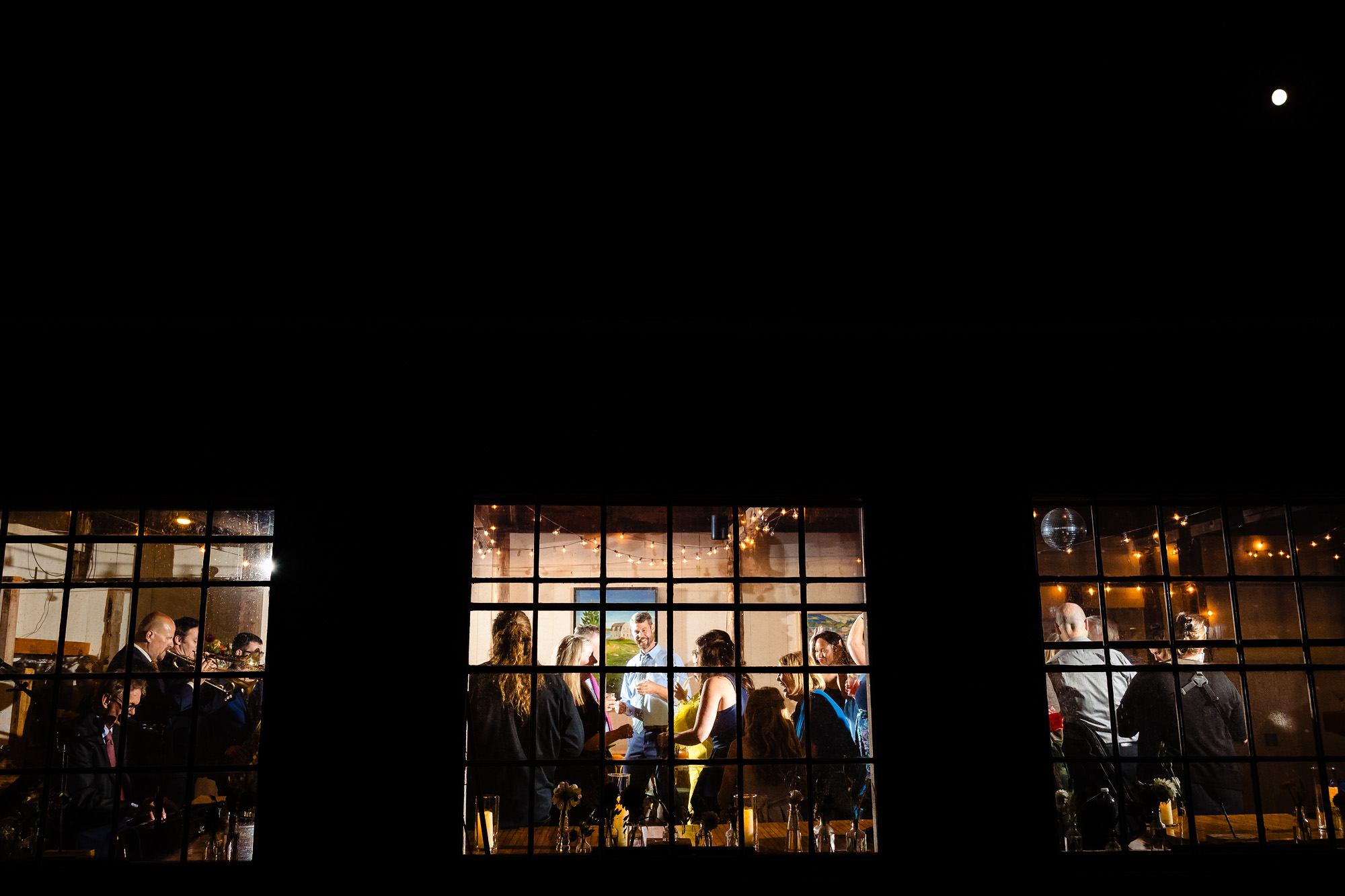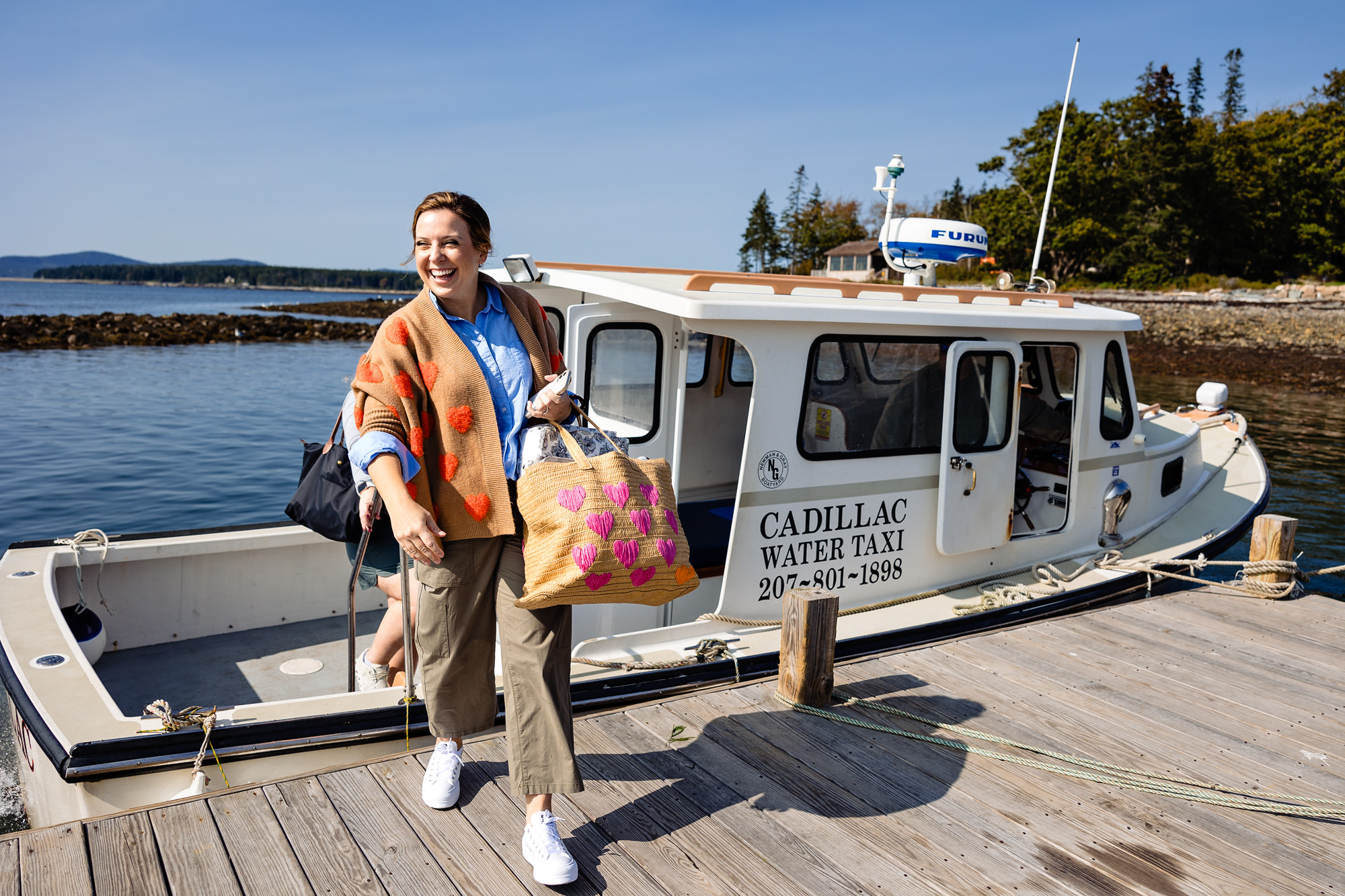 La Rochelle Mansion, Bar Harbor, Maine
Address: 127 West Street, Bar Harbor ME 04609
Can guests stay on site?: No
Min/max guest counts: Unknown
Weddings hosted at The La Rochelle Mansion: Krista & Dave (getting ready and ceremony)
La Rochelle is an estate wedding venue in Bar Harbor, Maine that will leave a lasting impression on you and your guests. The historic mansion, built in 1903, features beautiful architectural work and well-manicured grounds that are perfect for hosting a ceremony and a tented reception. As an added bonus, the covered back porch provides flexibility for cocktail hour in case of sprinkles. While guests are unable to stay on property, this Bar Harbor wedding venue is a quick walk from downtown, so guests have the flexibility of staying in an inn, rental house, hotel, or AirBnb. If you're seeking an elegant venue that is mere steps away from convenience, La Rochelle is a solid pick.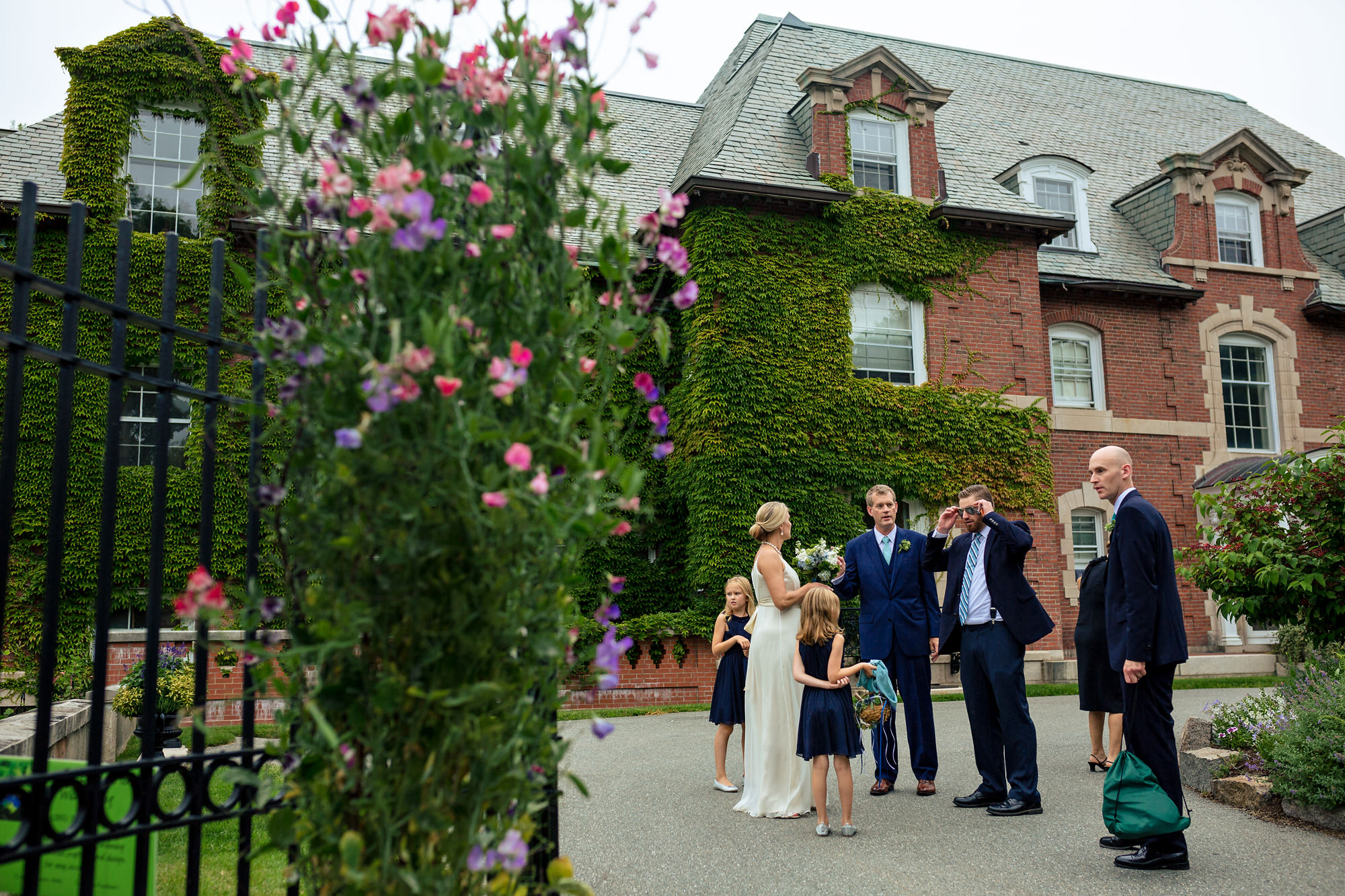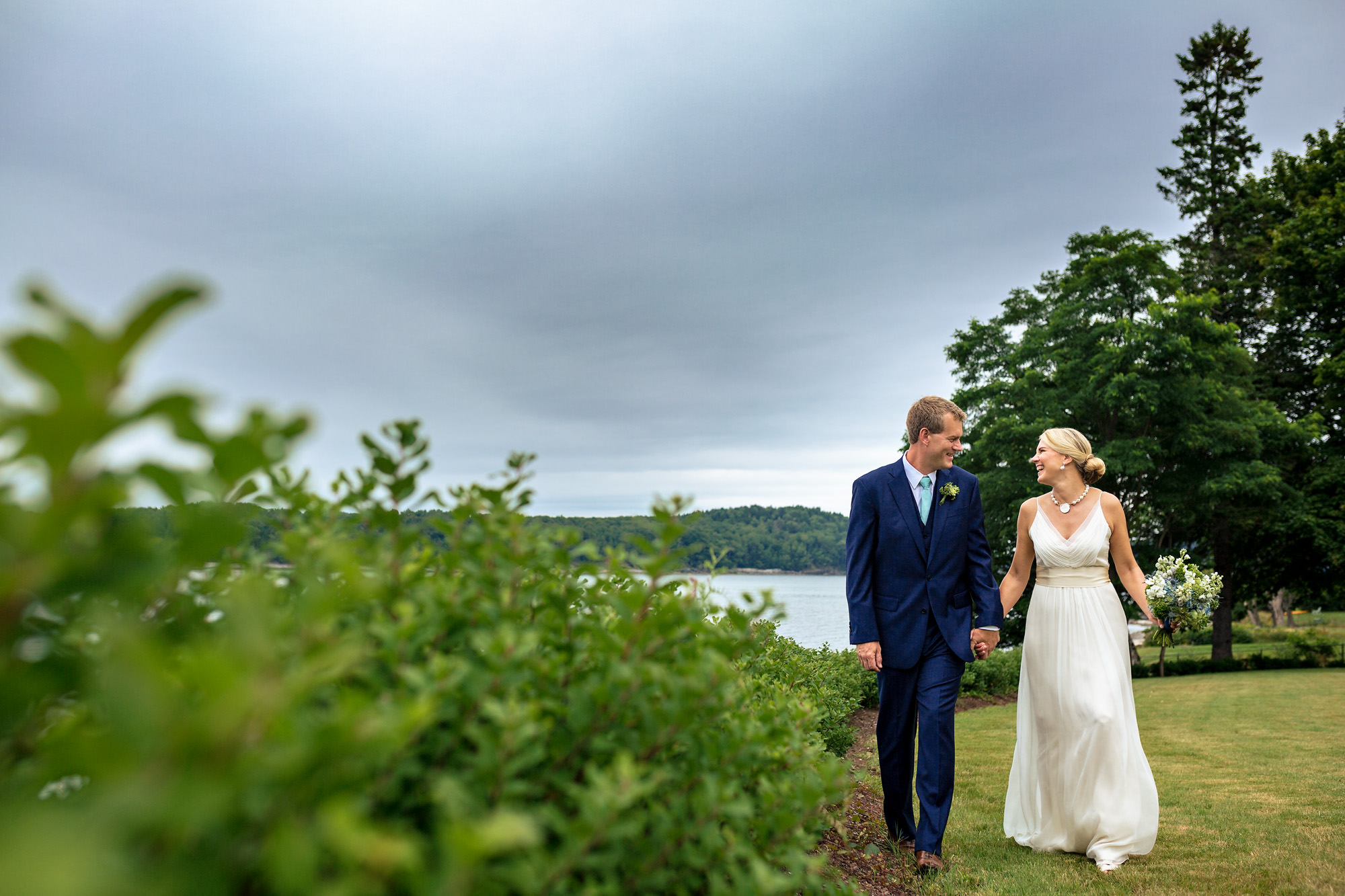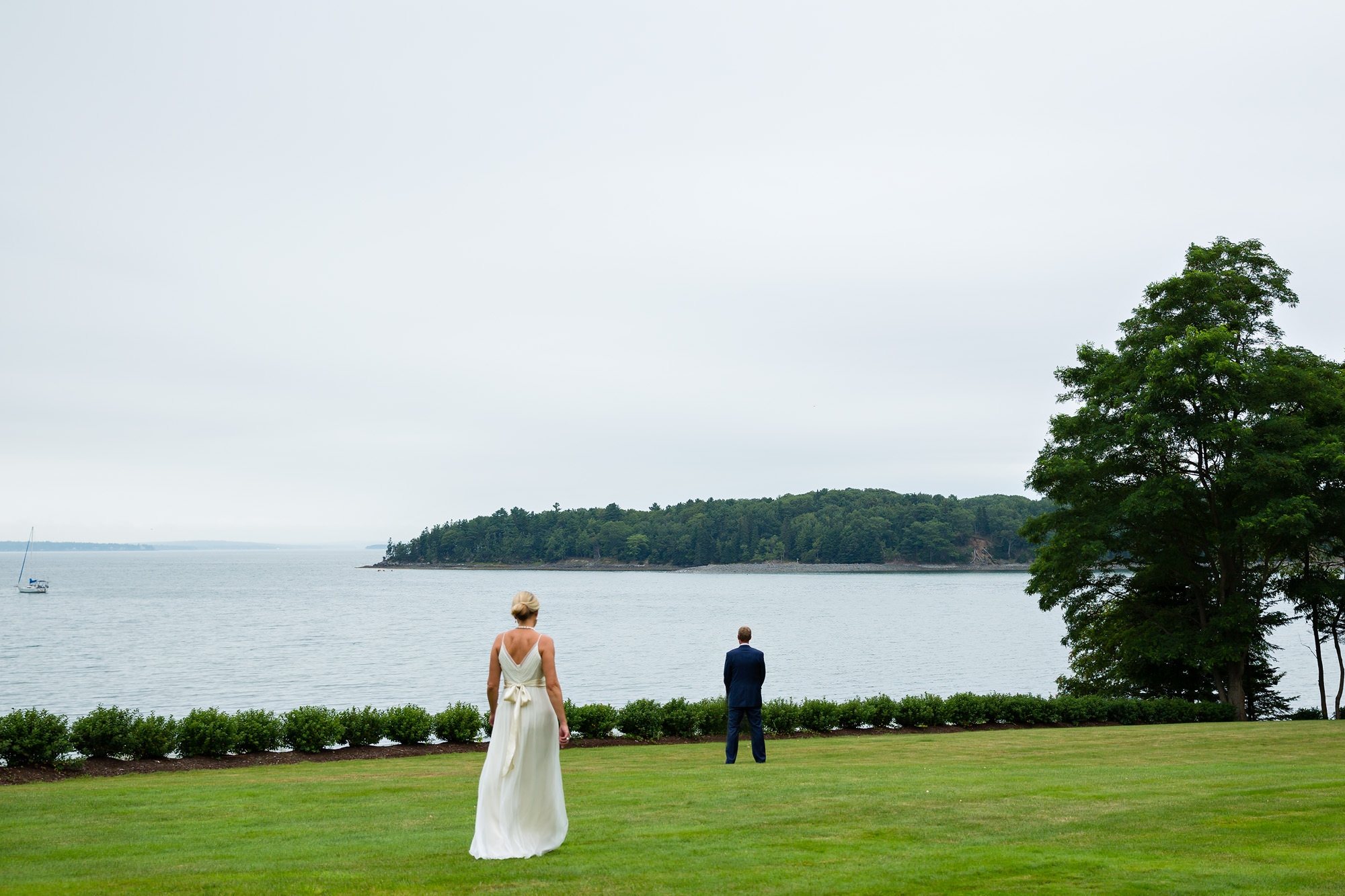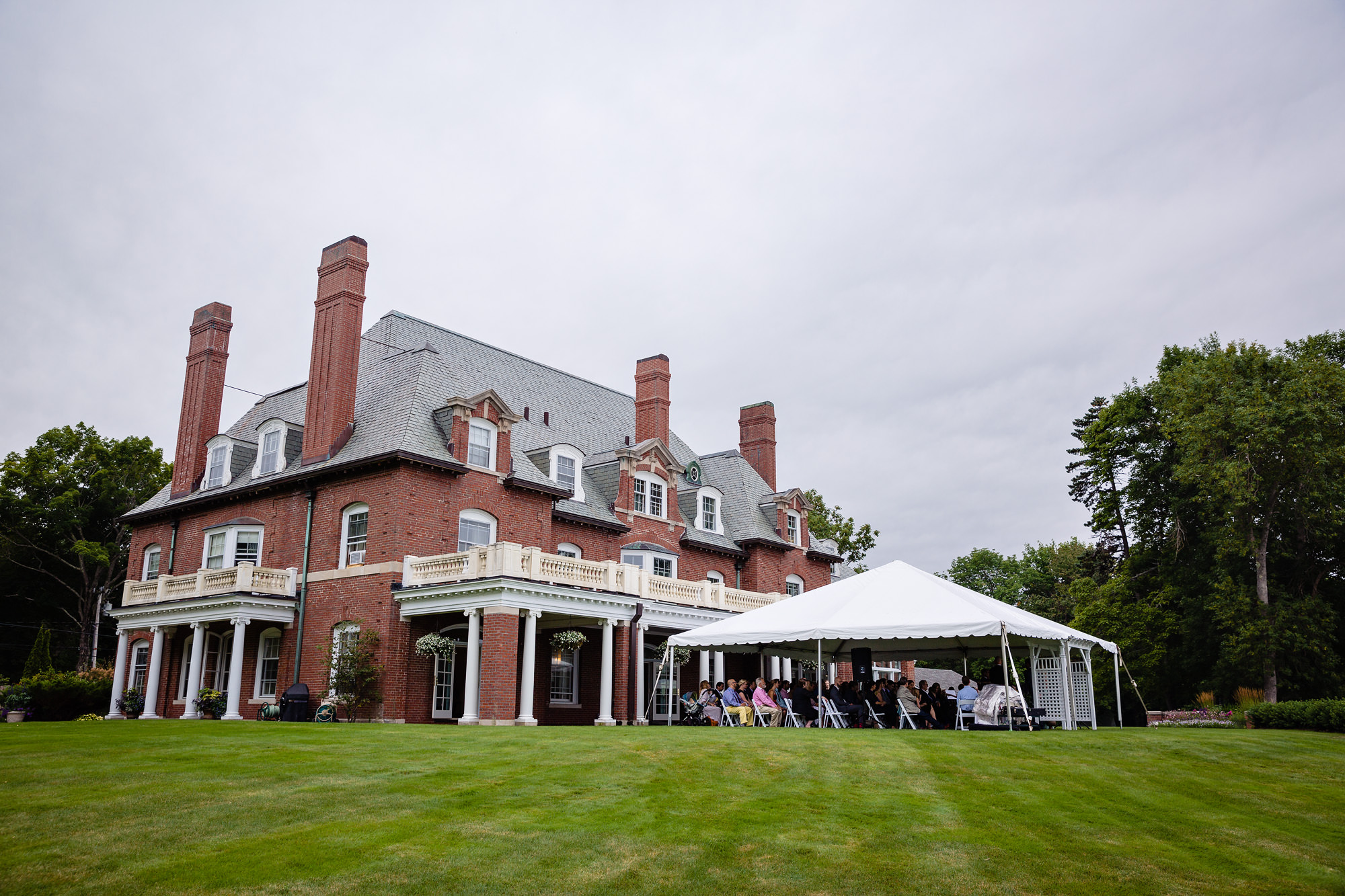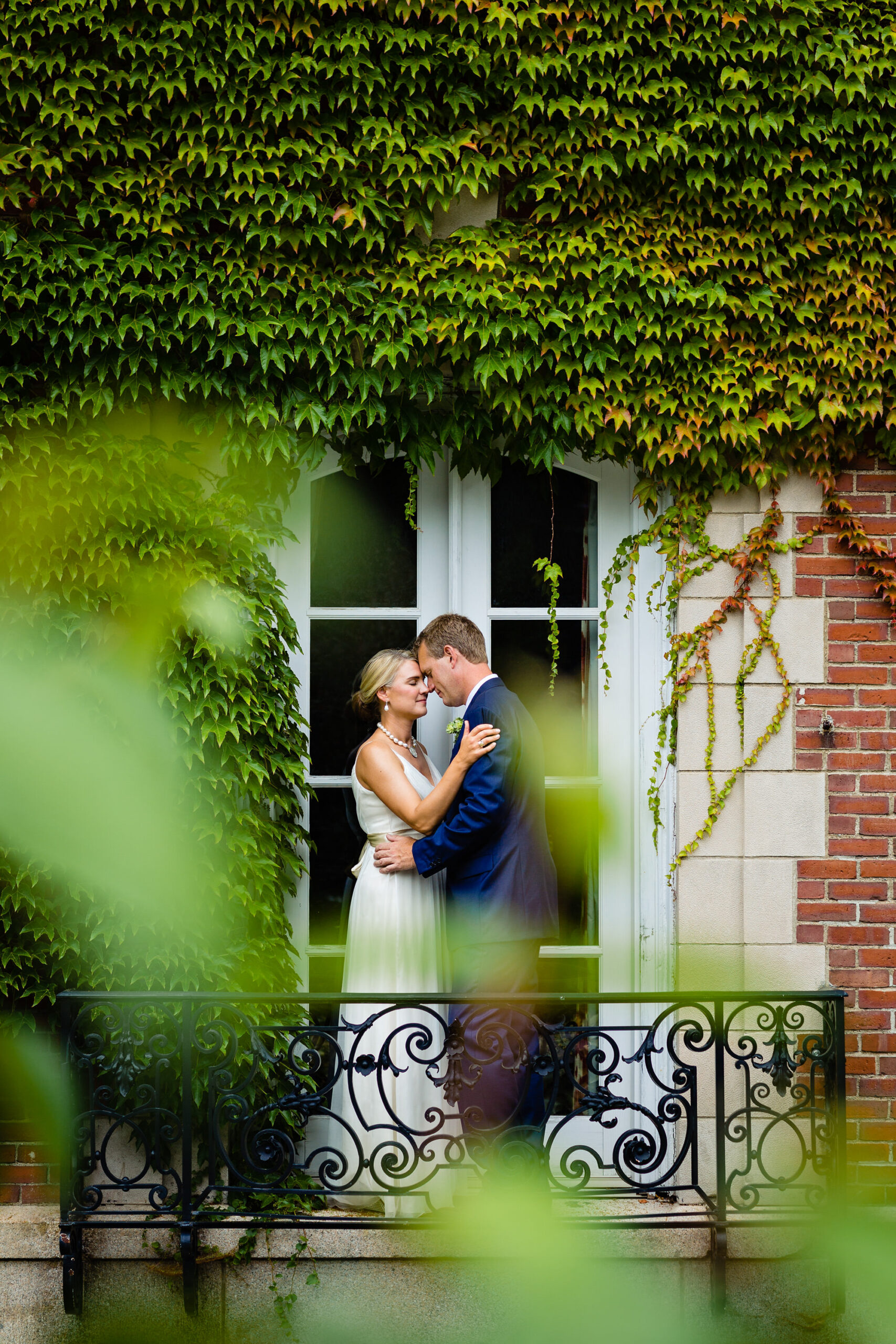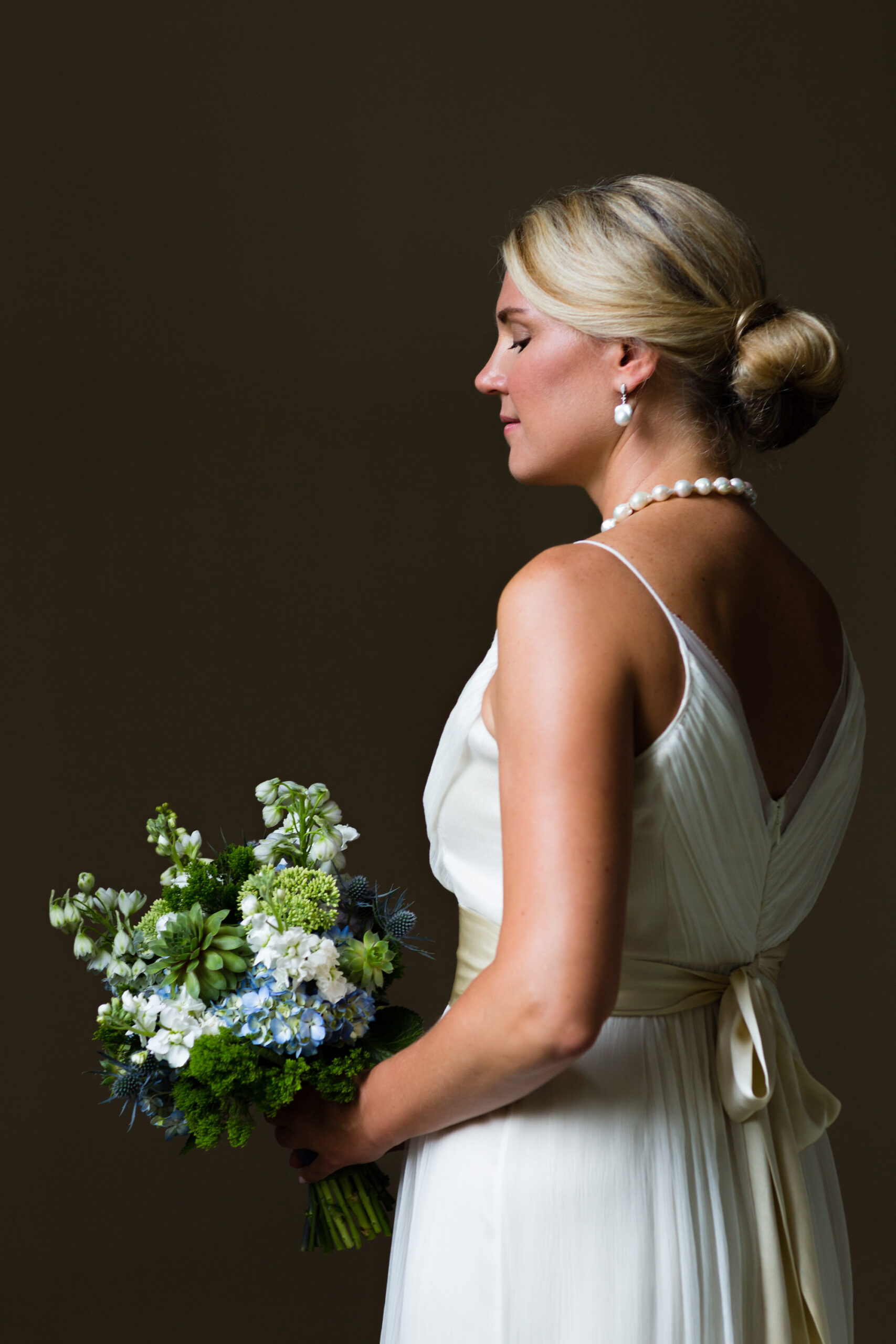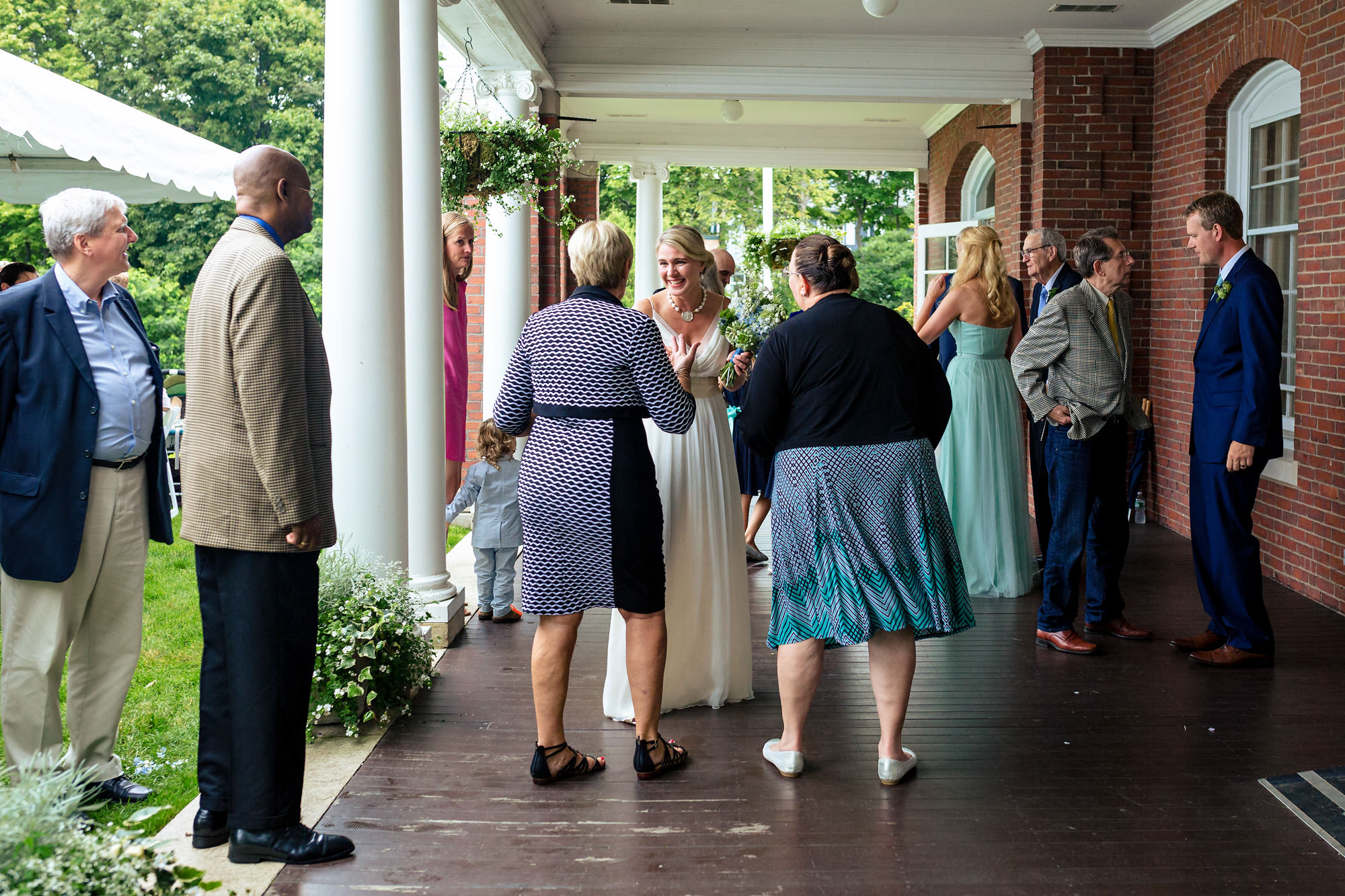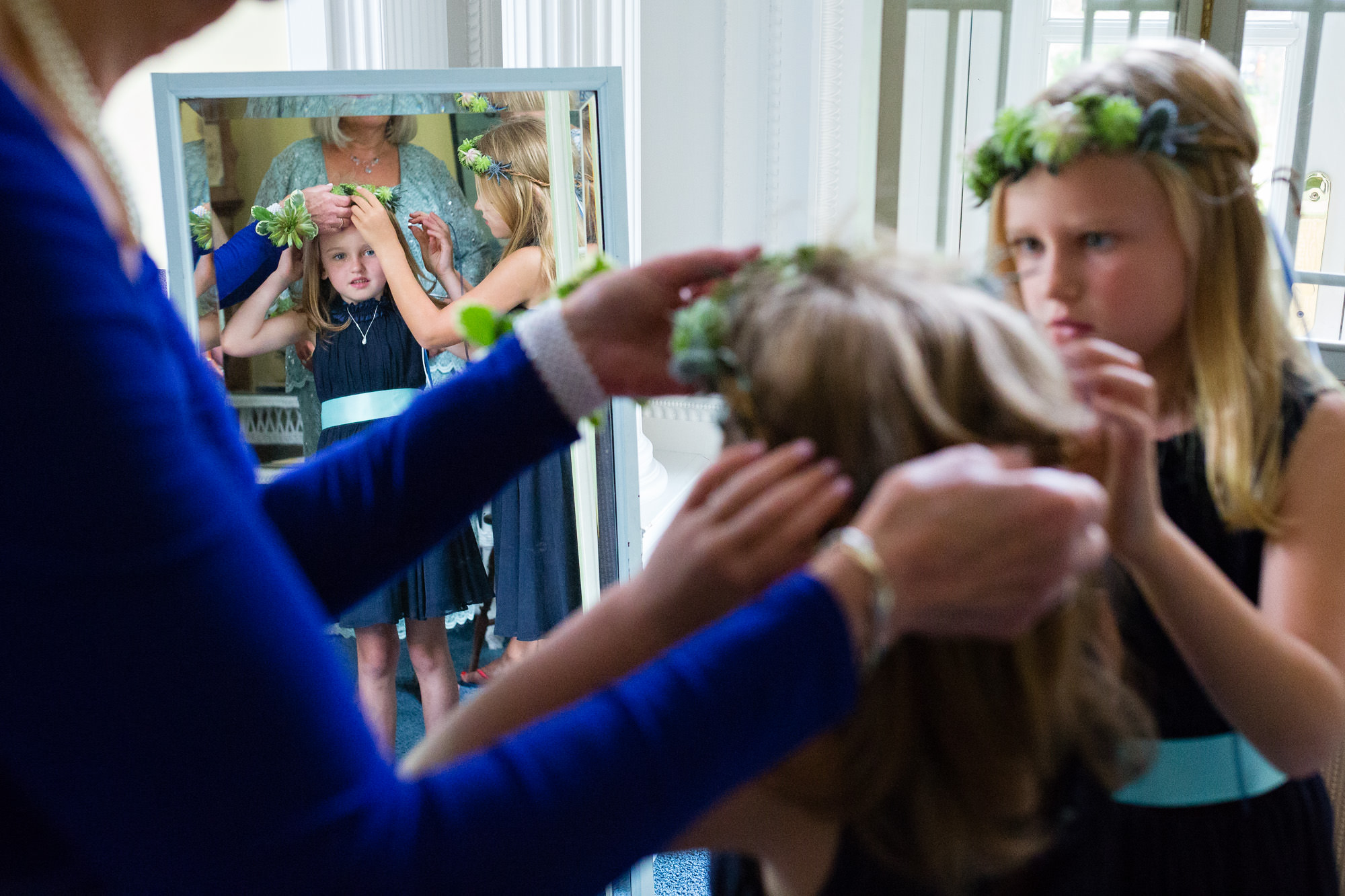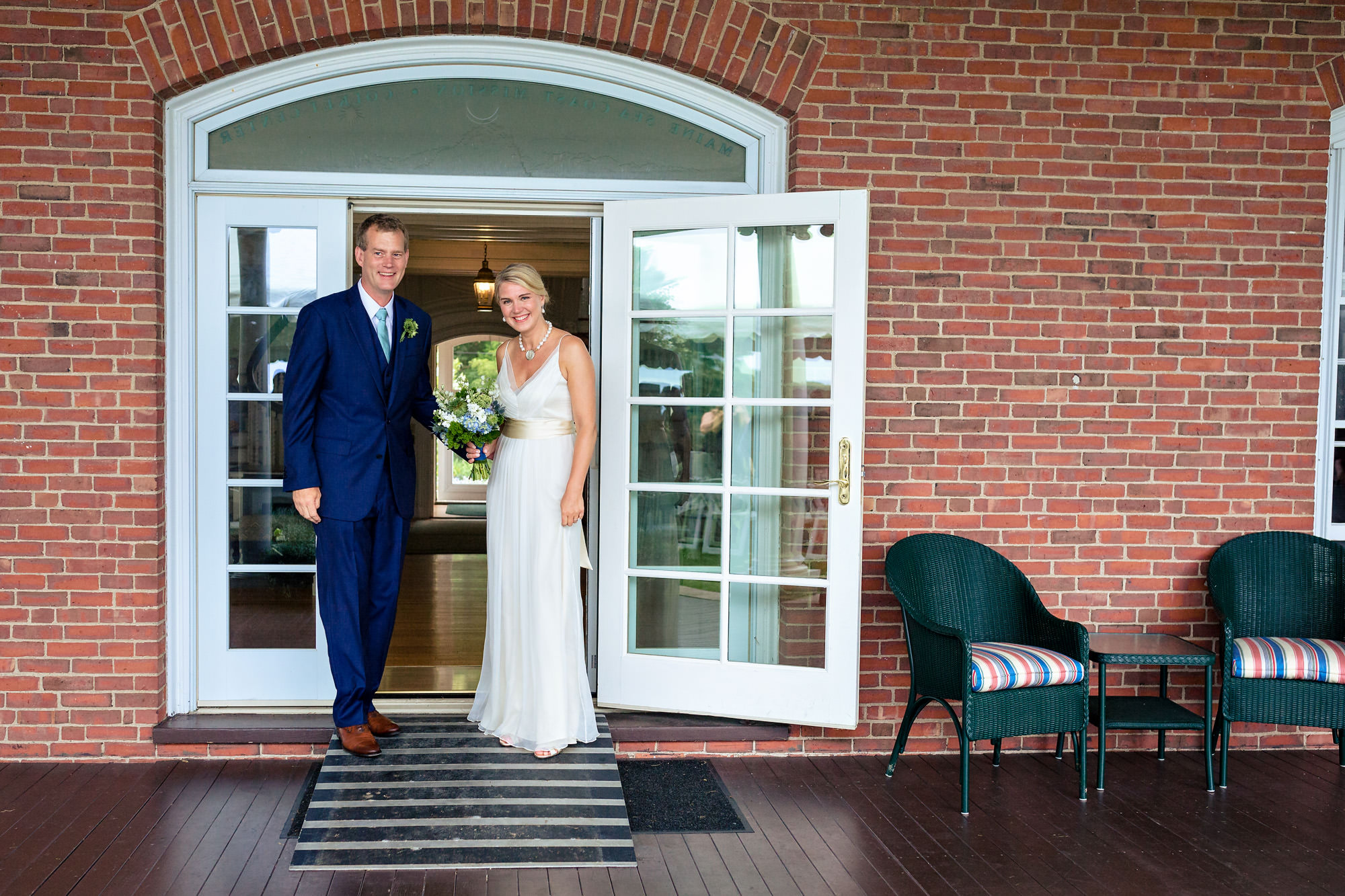 Harborside Hotel (aka Bar Harbor Club) - Bar Harbor, Maine
Are you hoping for a wedding venue close to everything that downtown Bar Harbor has to offer? The Harborside Hotel (also known as Bar Harbor Club) may be up your alley. This Bar Harbor wedding venue is situated right on the water and a short walk to Main Street, where many of Bar Harbor's best restaurants and shops reside. For more adventurous guests, the Bar Island trail, which is available only at low tide, is a must visit, and an Acadia National Park entrance is a couple of miles away. Guests can stay on-property for maximum convenience and enjoy scenic views of Frenchman Bay from their windows. The hotel offers multiple indoor and outdoor spaces that are perfect for multi-day celebrations, including the lawn overlooking the water (where a tent can be set up), the patio, and the Stotesbury Ballroom. If you're looking for convenience, the Bar Harbor Club offers guests a luxurious space where they can choose their own adventure, whether it's adventure, relaxation, or delicious dining.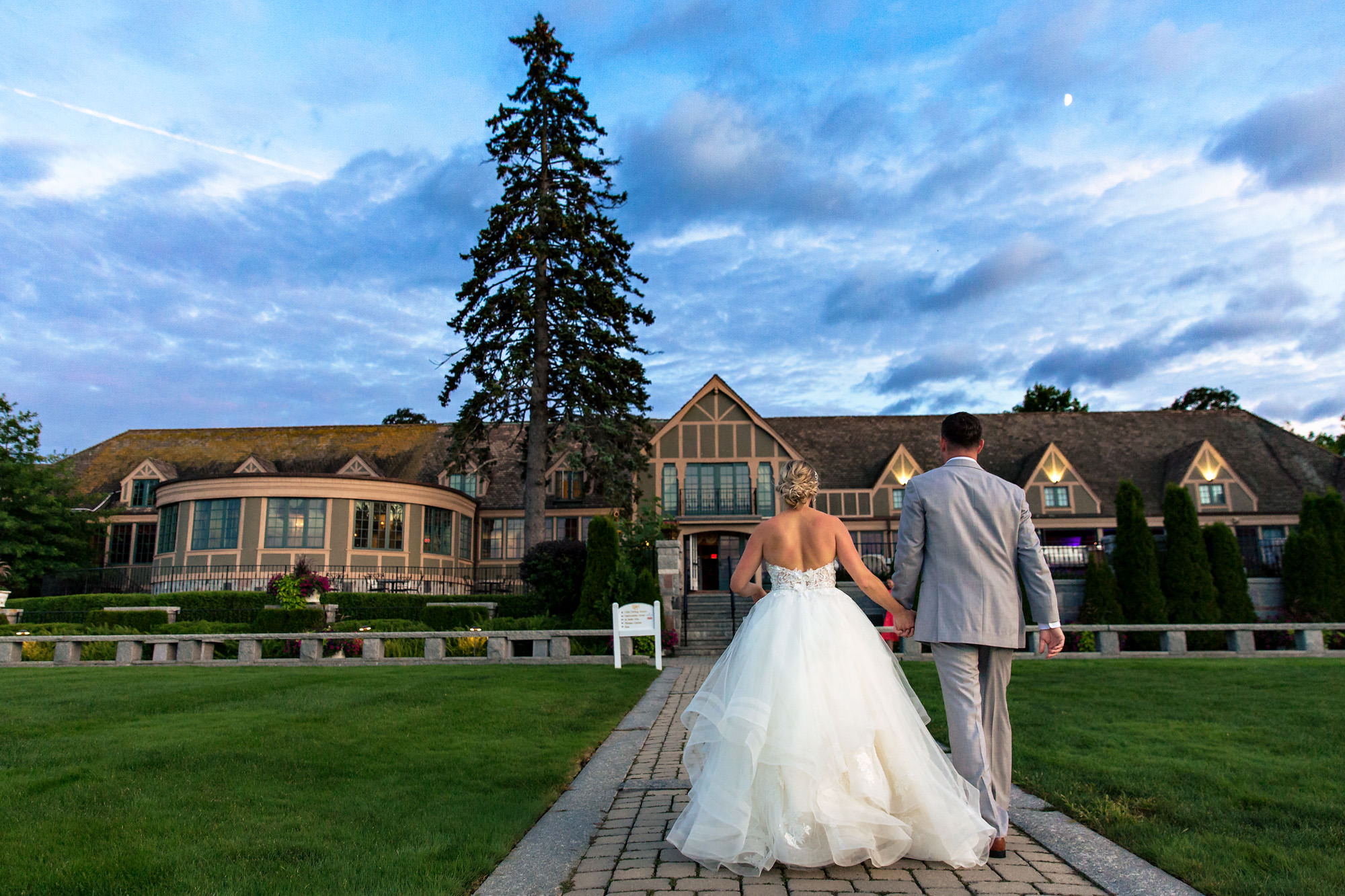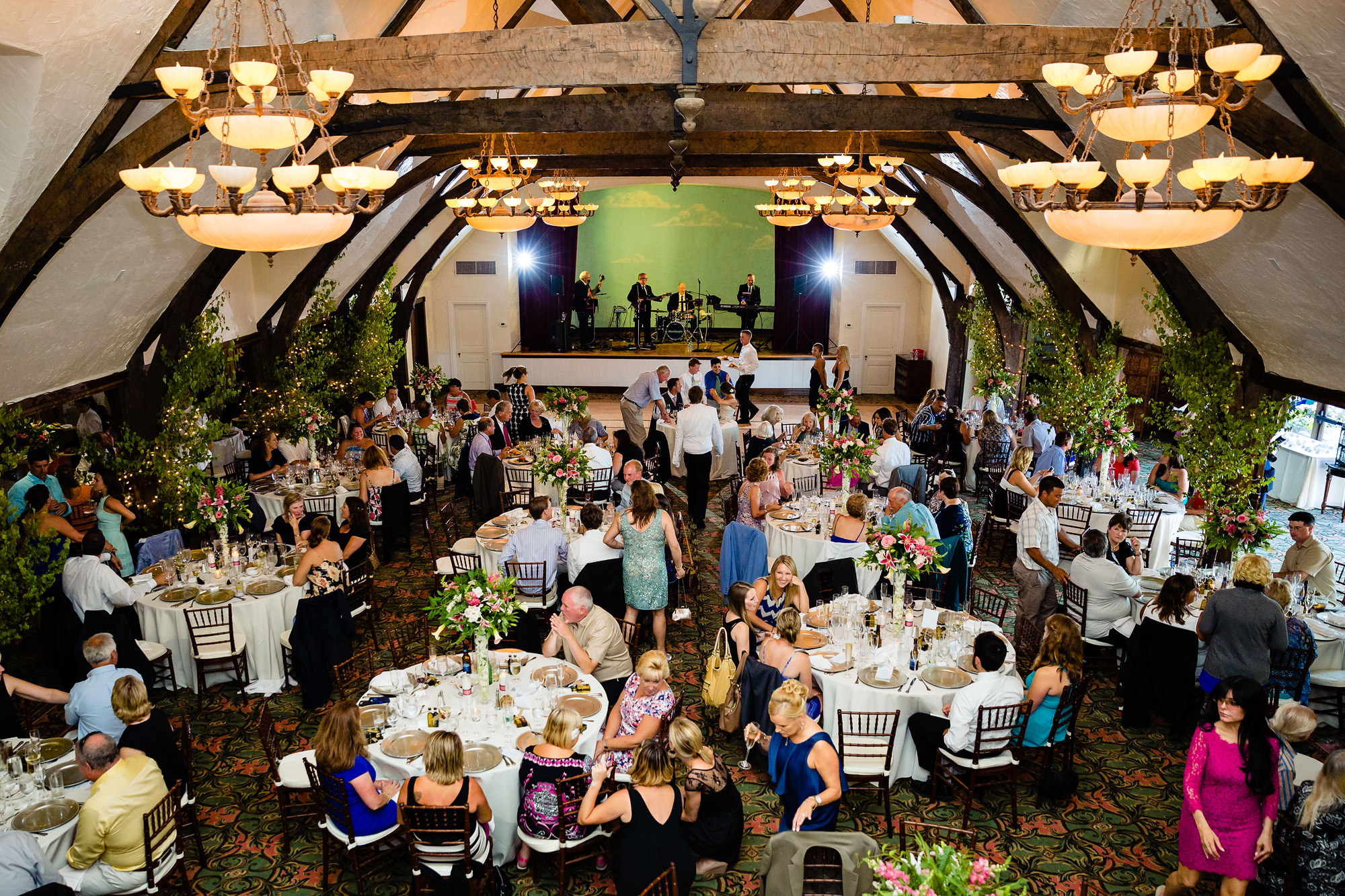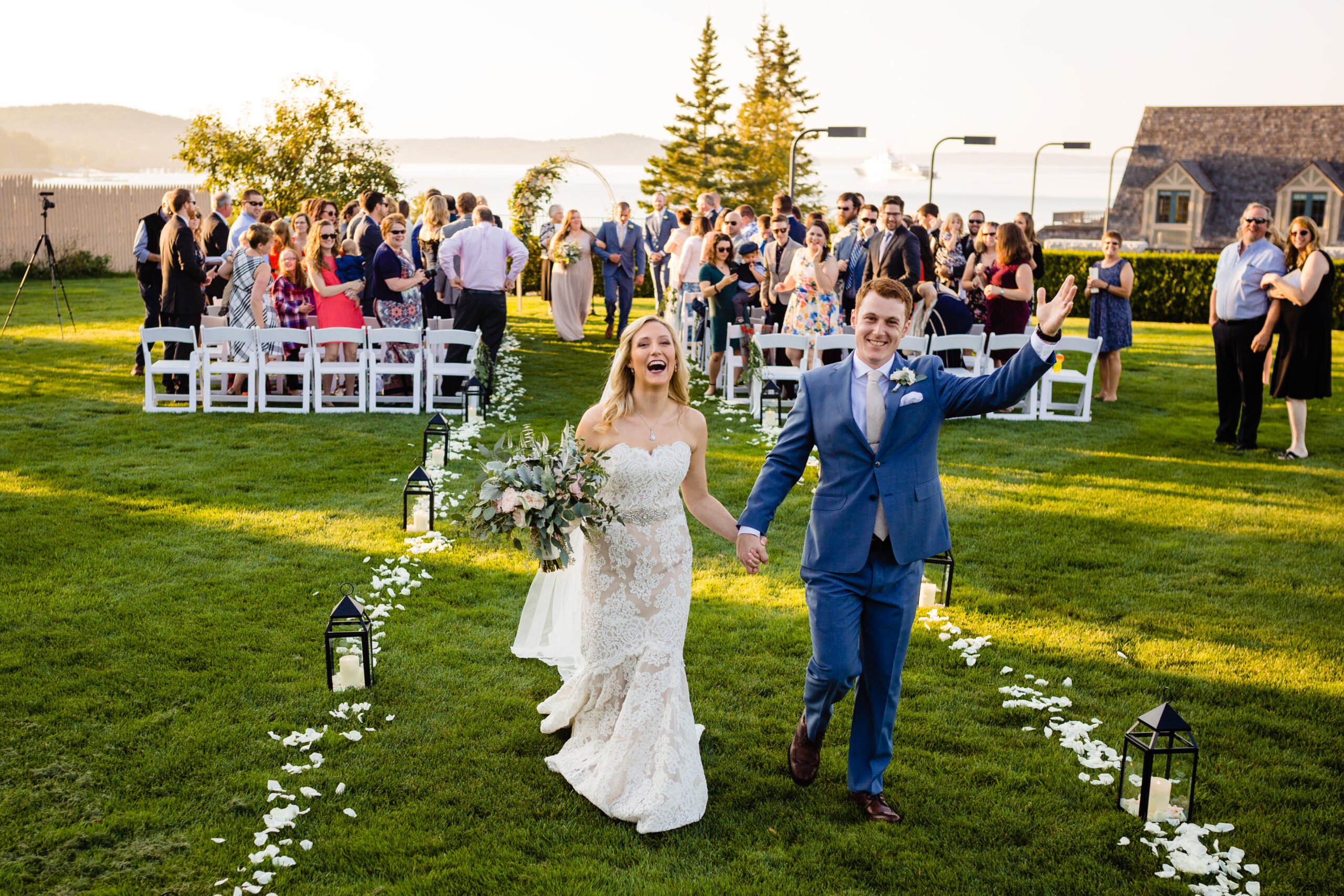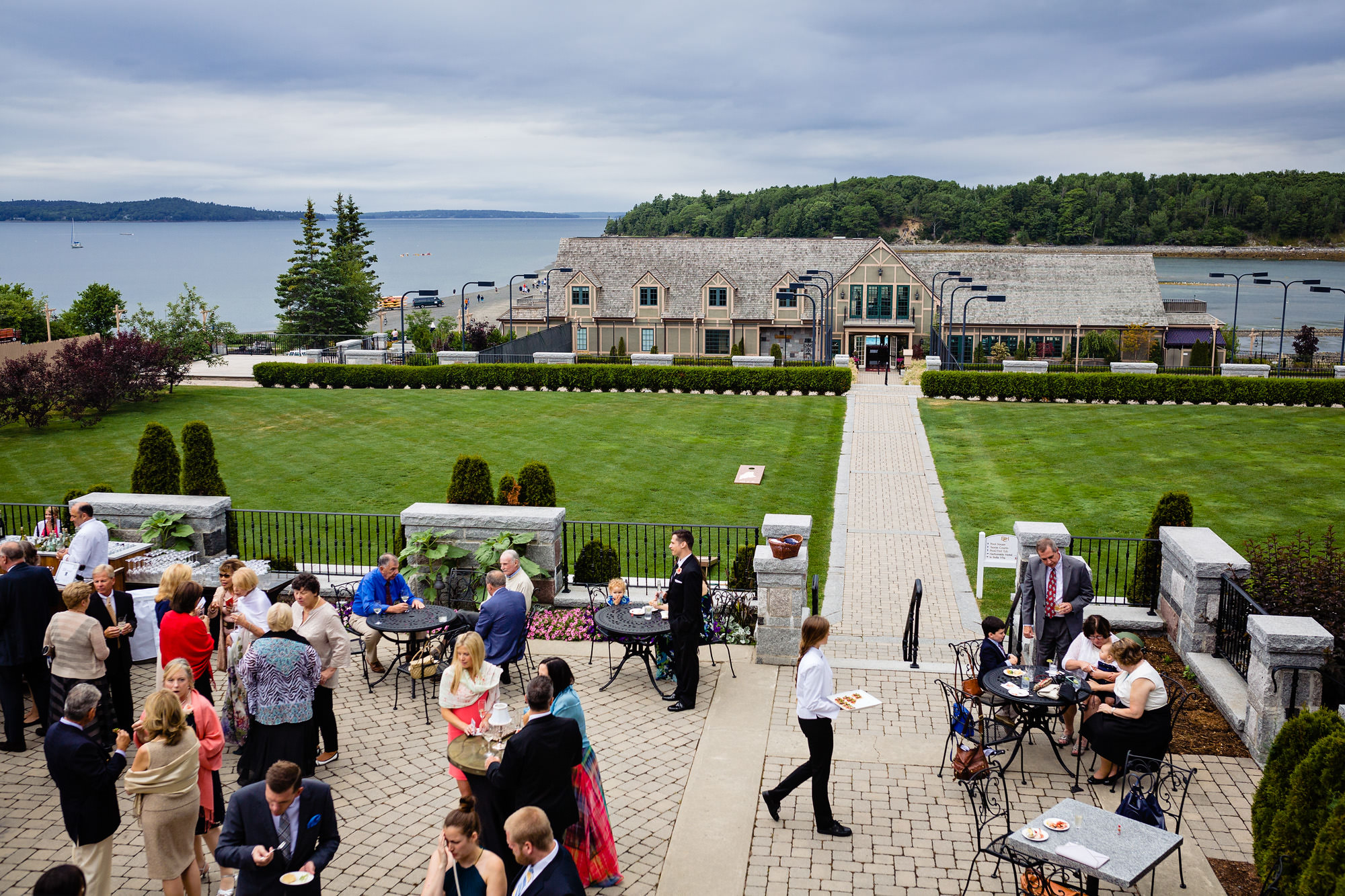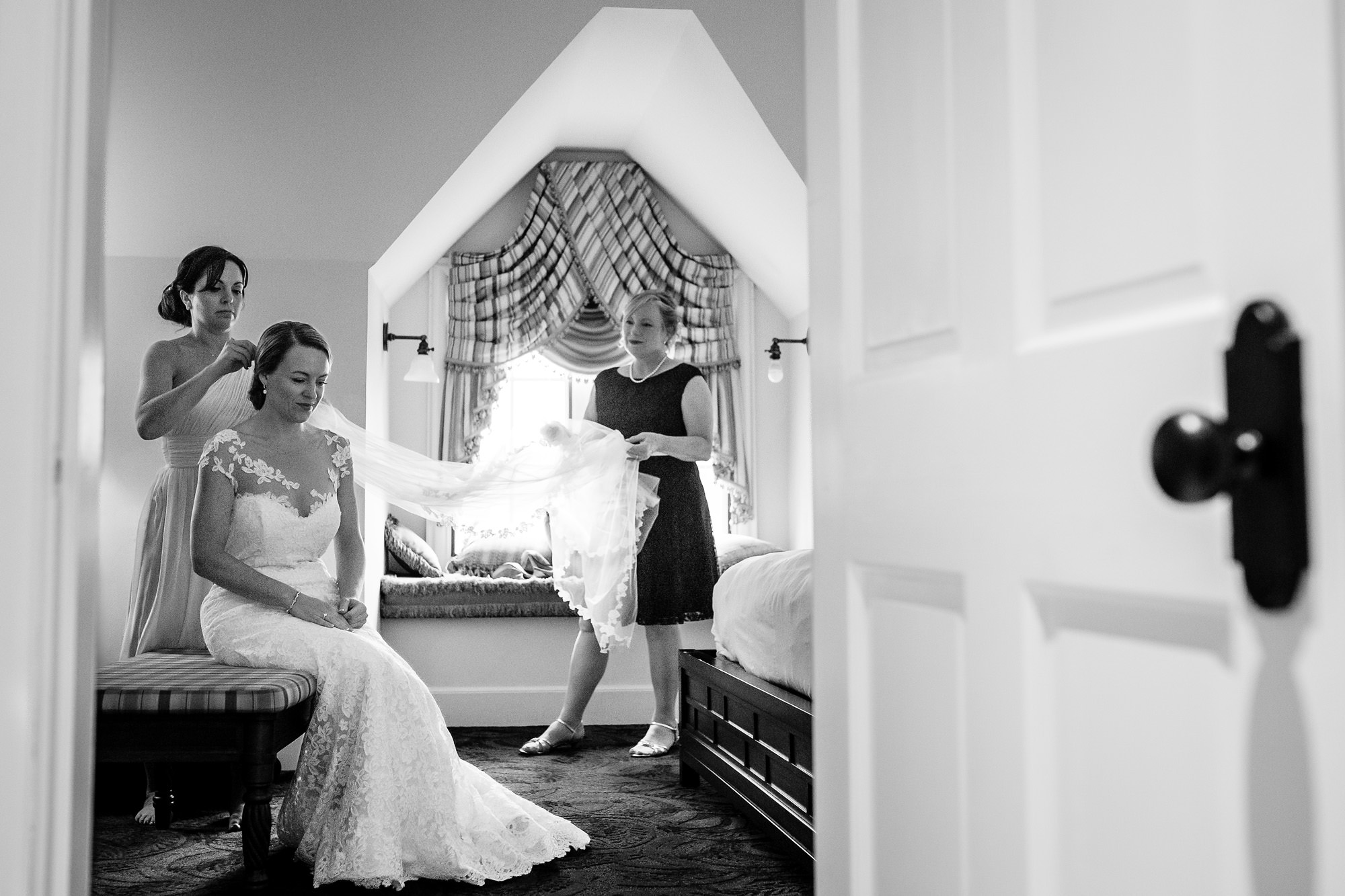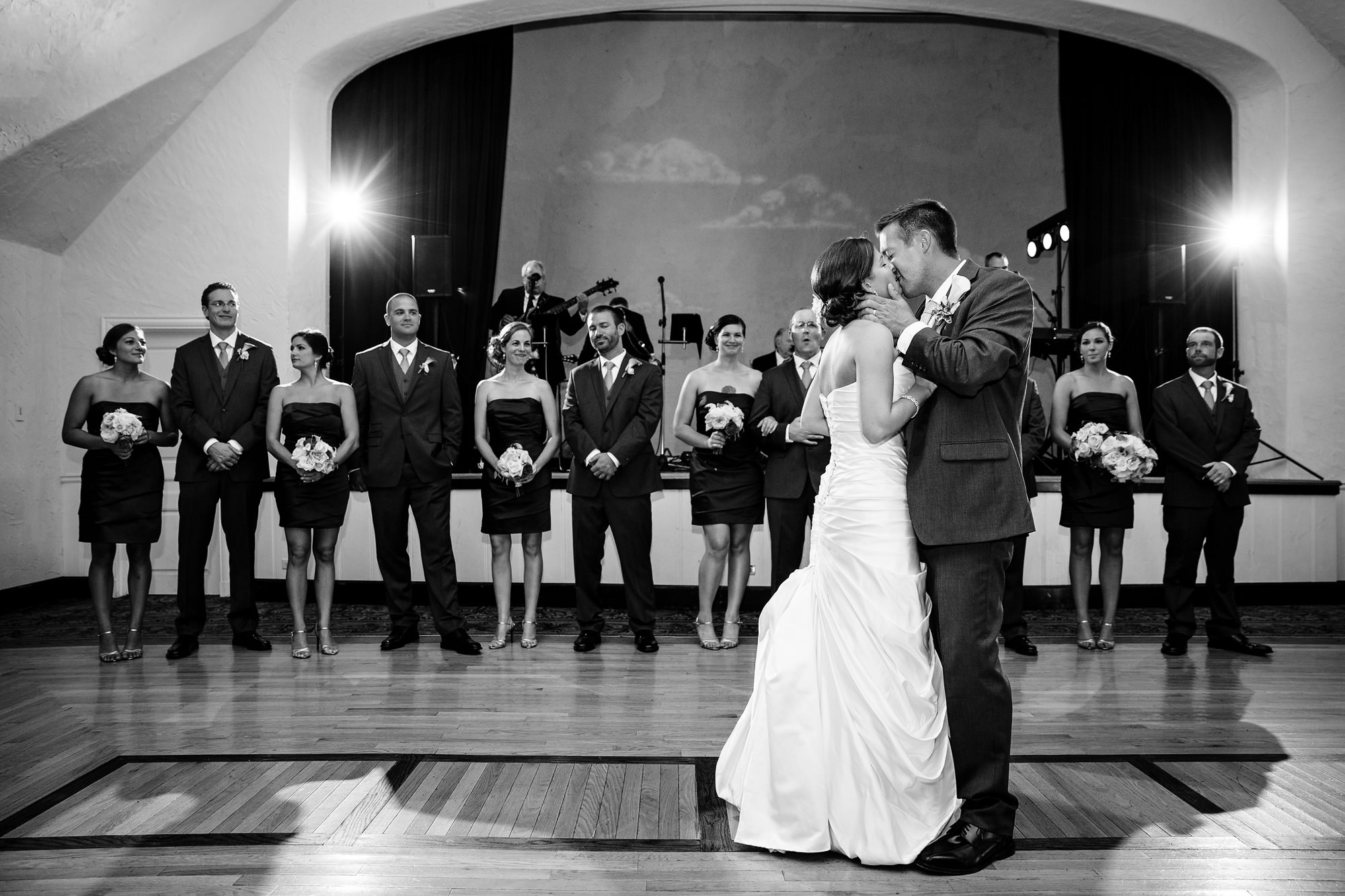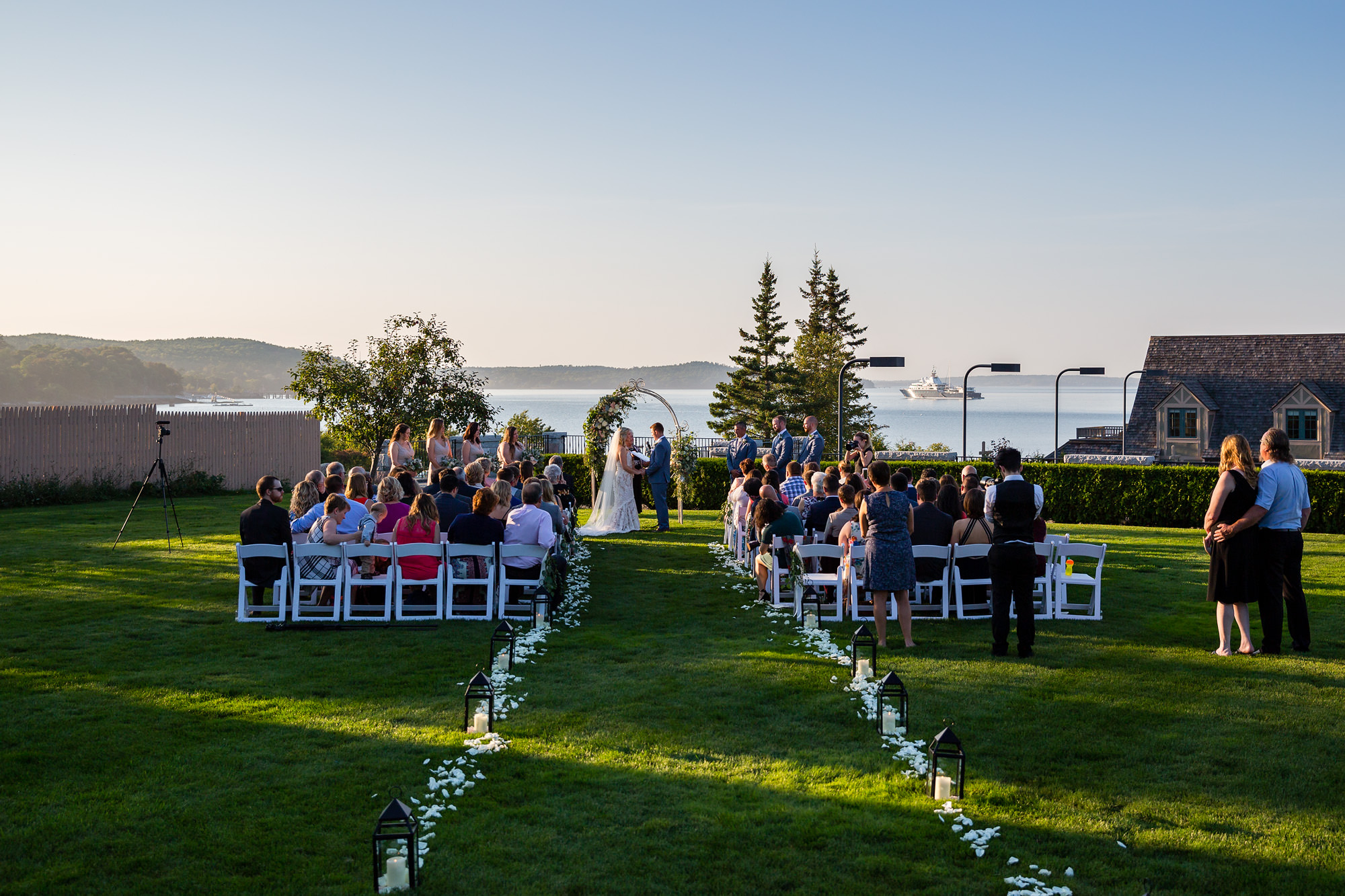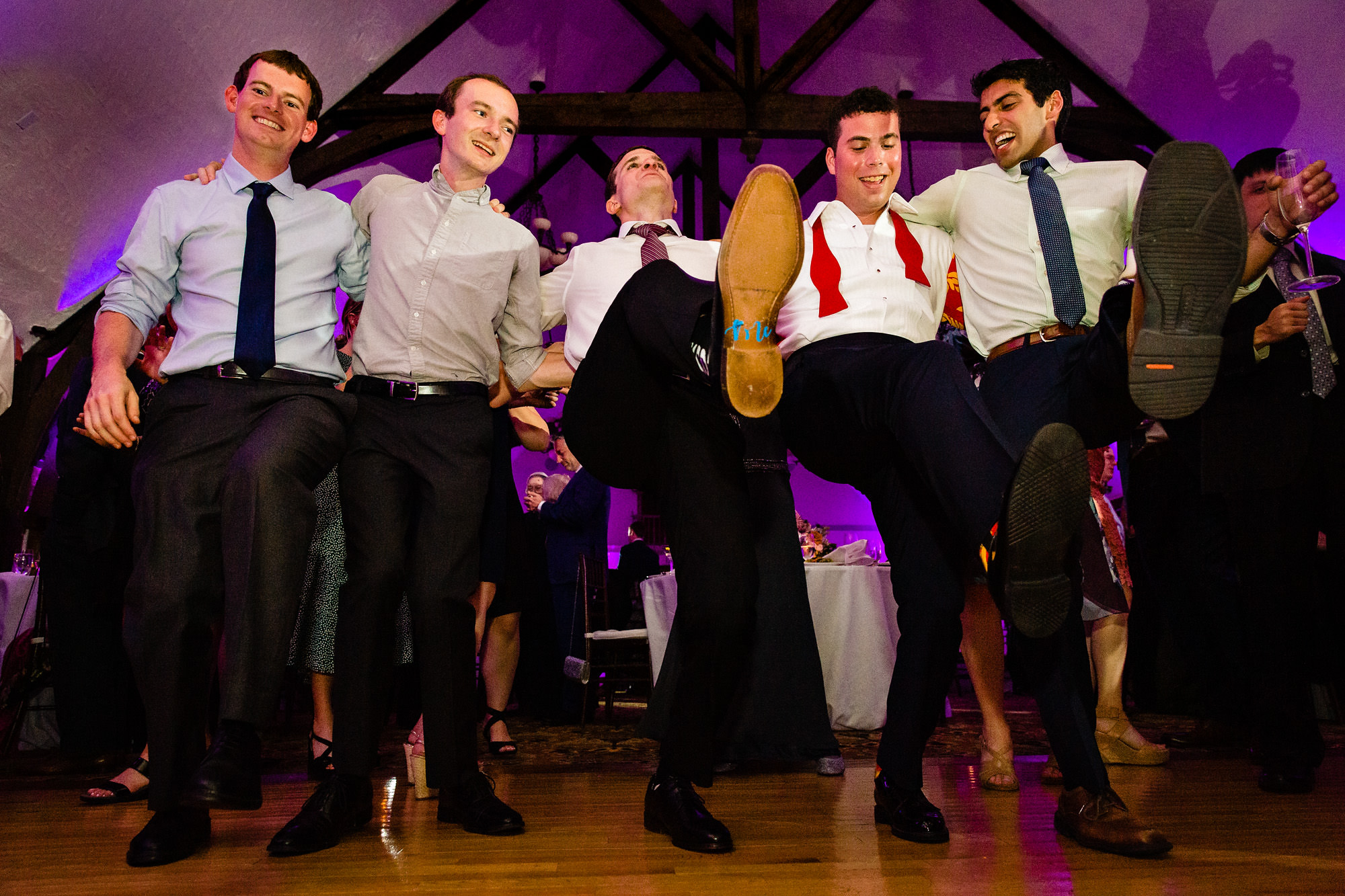 Acadia National Park
For couples who want a simple wedding or elopement day amongst one-of-a-kind landscapes, Acadia National Park may be the optimal choice. The magic of Acadia National Park lies in its wide variety of differing and equally beautiful landscapes- from the ocean to clifs, woods, mountaintops, trails, bridges, ponds, and fields, Acadia has something for every couple. While it is possible to host ceremonies with up to 50 guests, it's best to keep your guest list small (I personally recommend no more than 20). If you opt for 10 or fewer guests, you'll have the freedom to exchange your vows at any location in the park. If you're looking to host a reception, consider renting a room at a Bar Harbor restaurant, booking one of these Bar Harbor wedding venues, or having a caterer create a feast at your rental property.
Planning a wedding or elopement in Acadia National Park is an easy process, and I've written a guide to help! Find out more by clicking the button.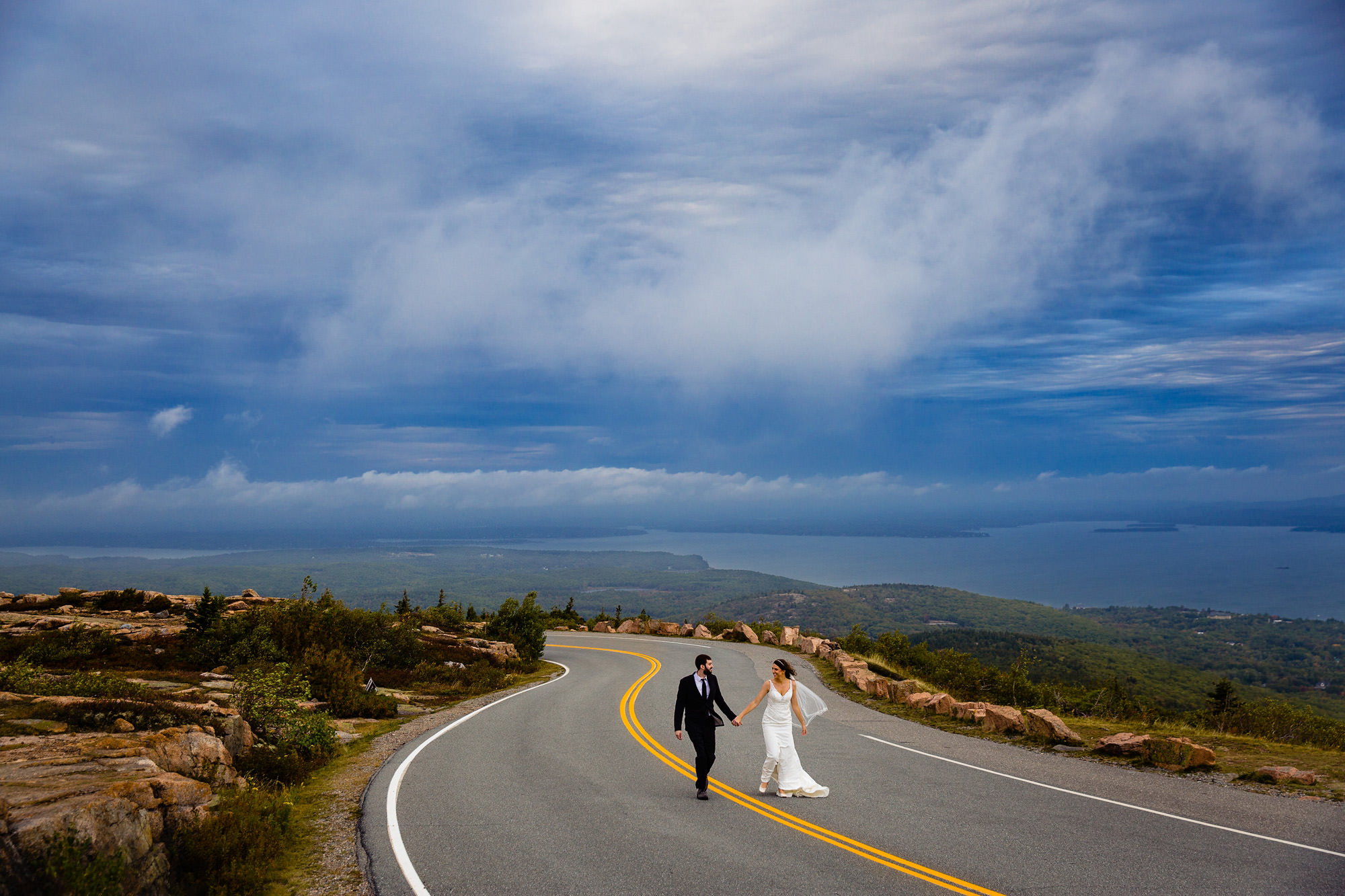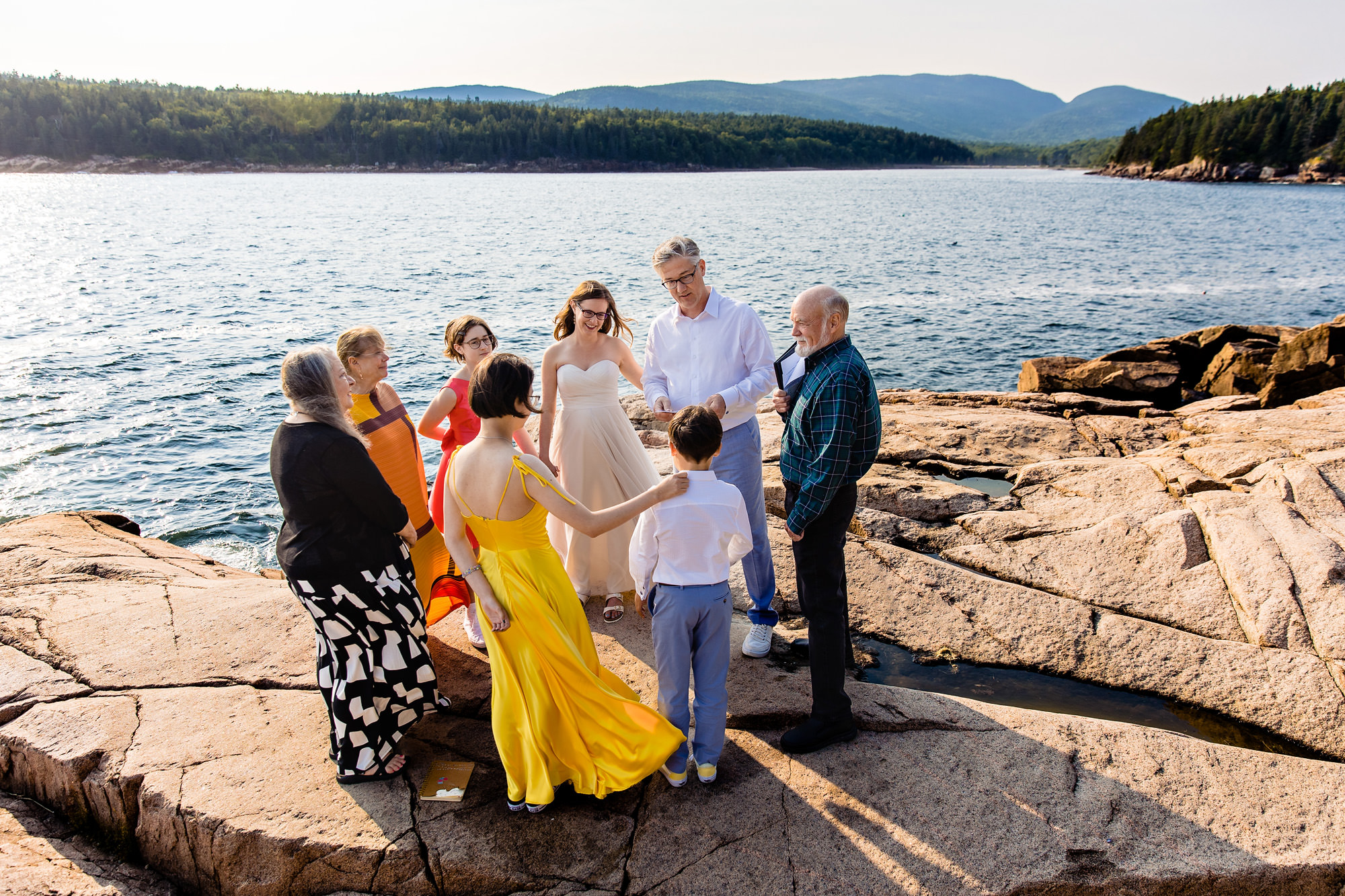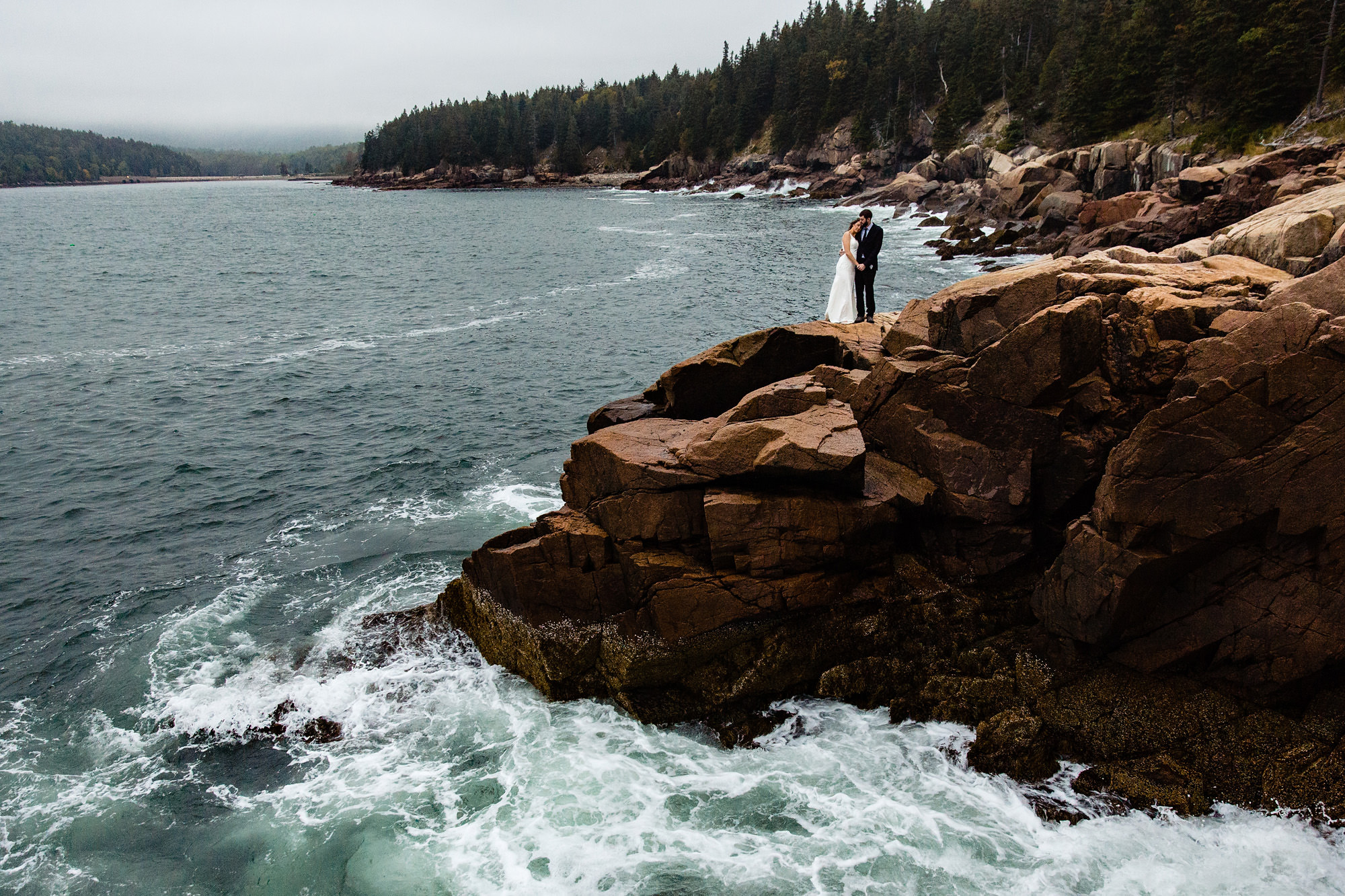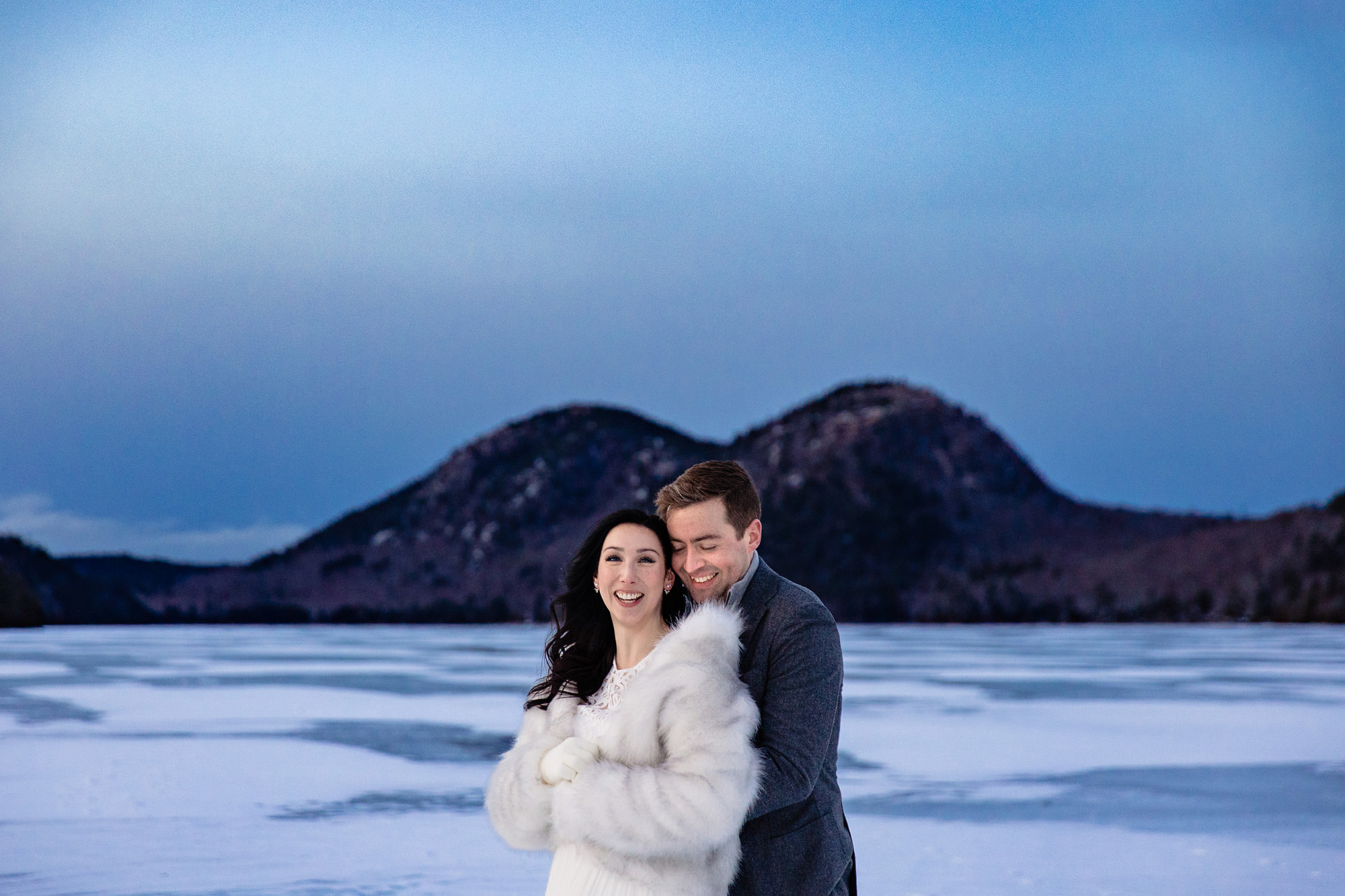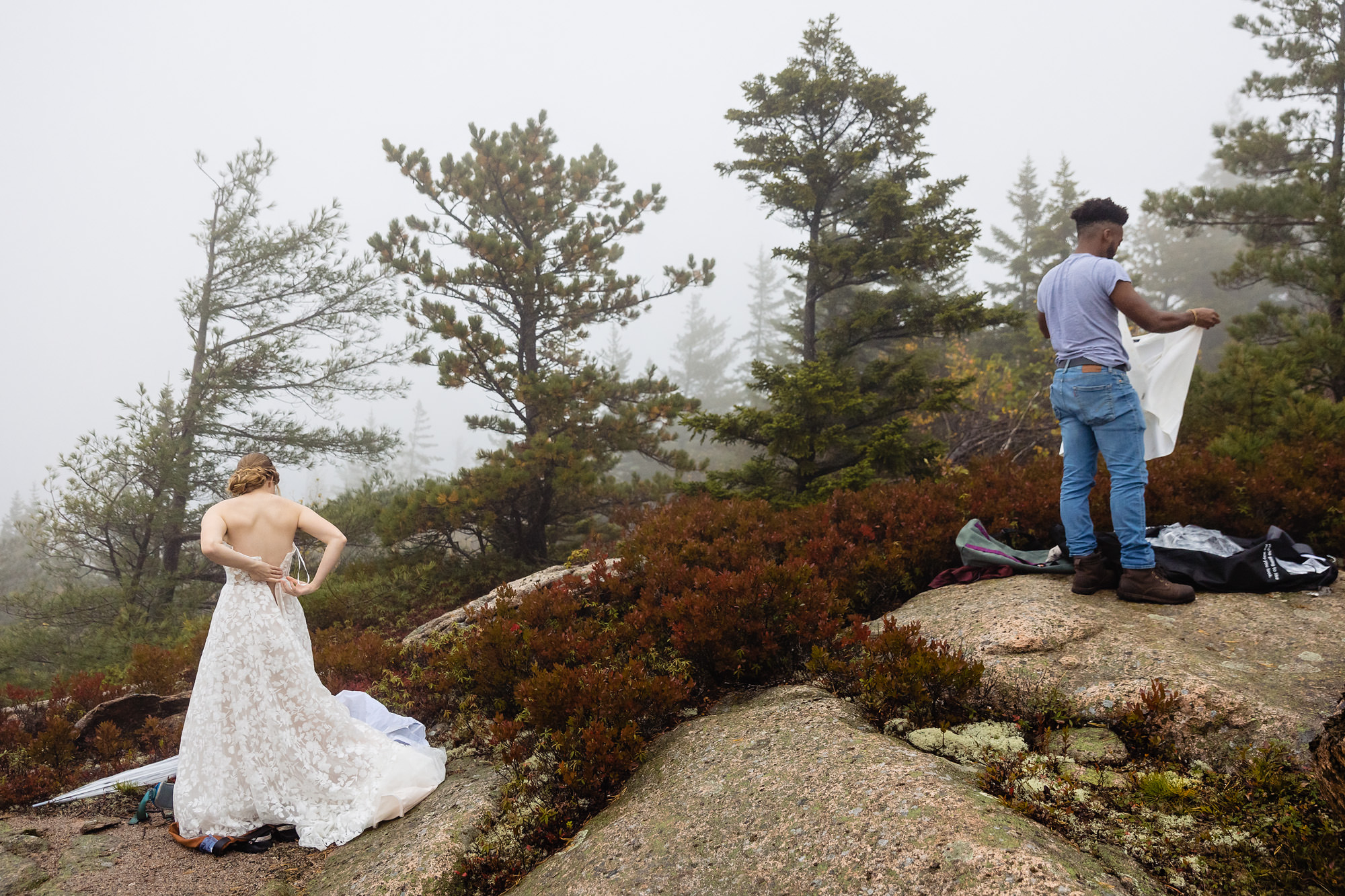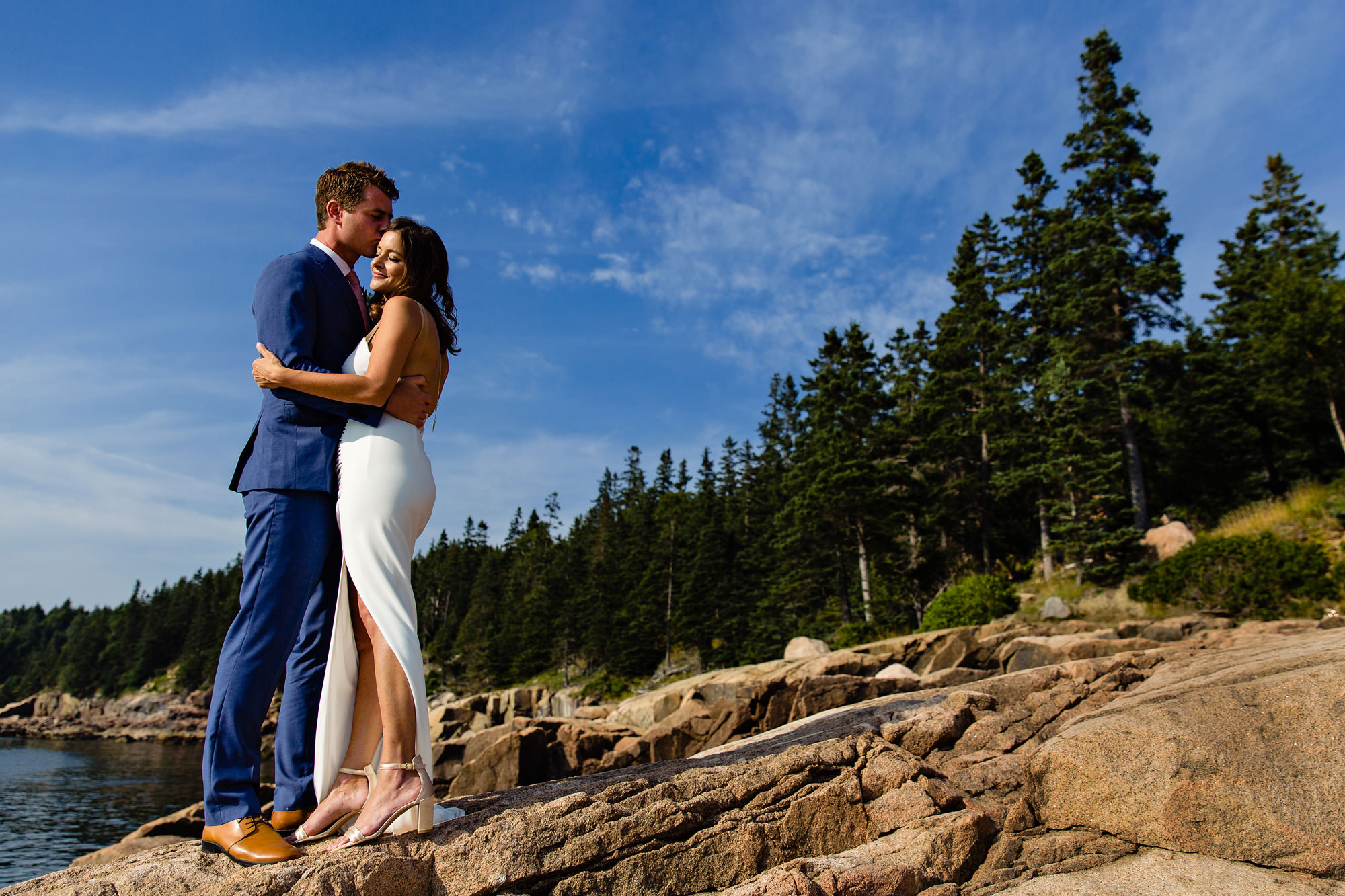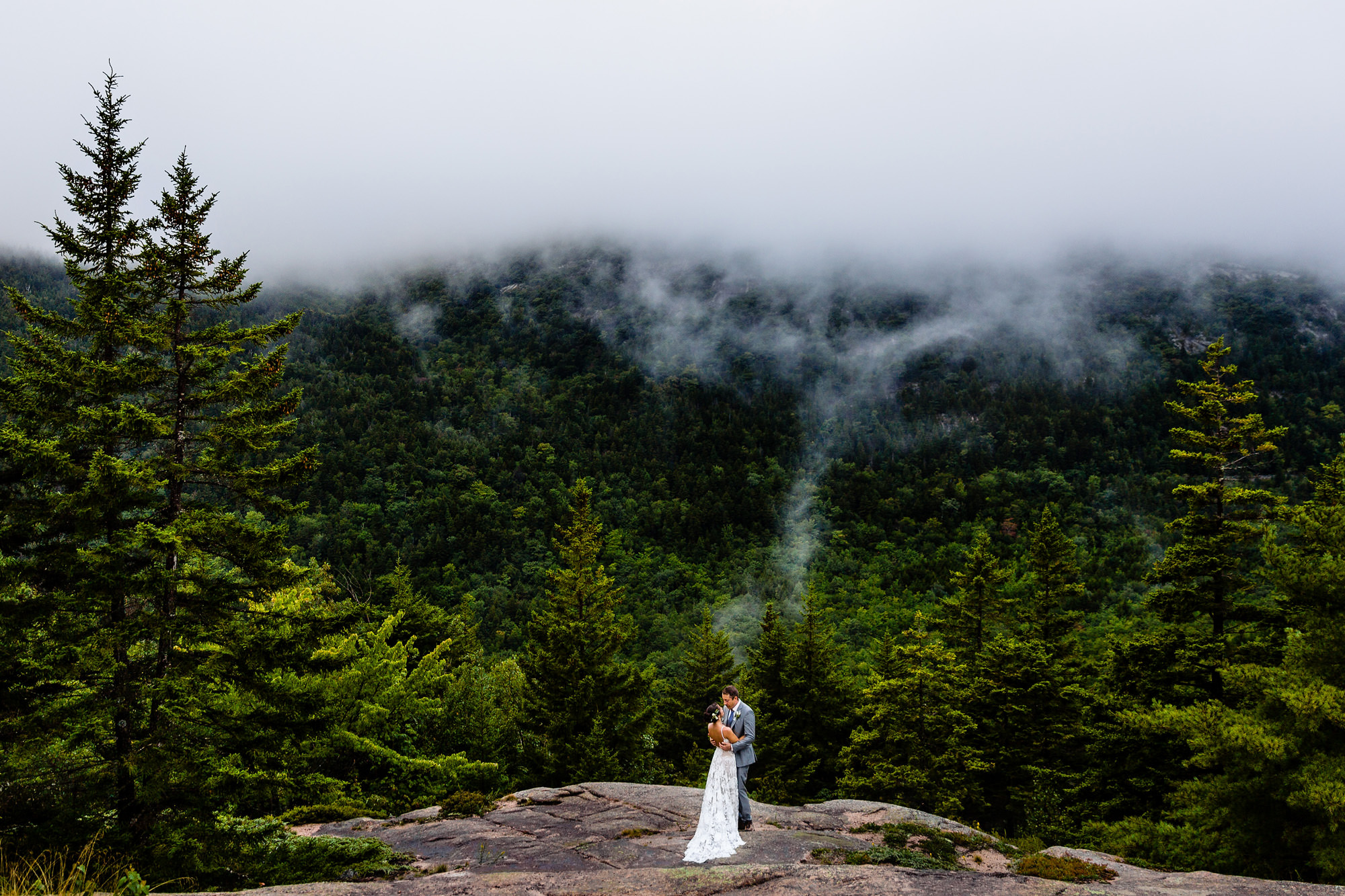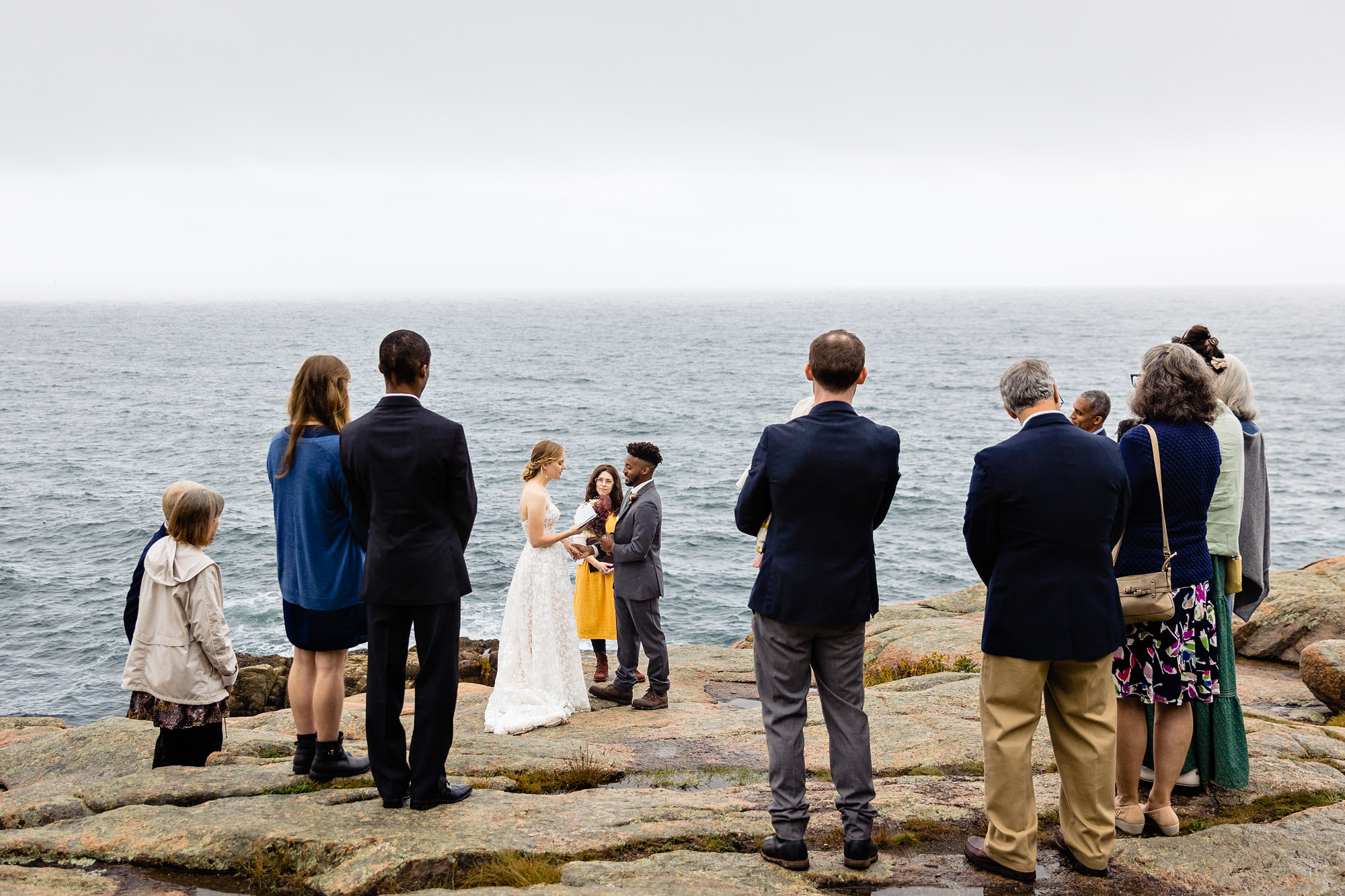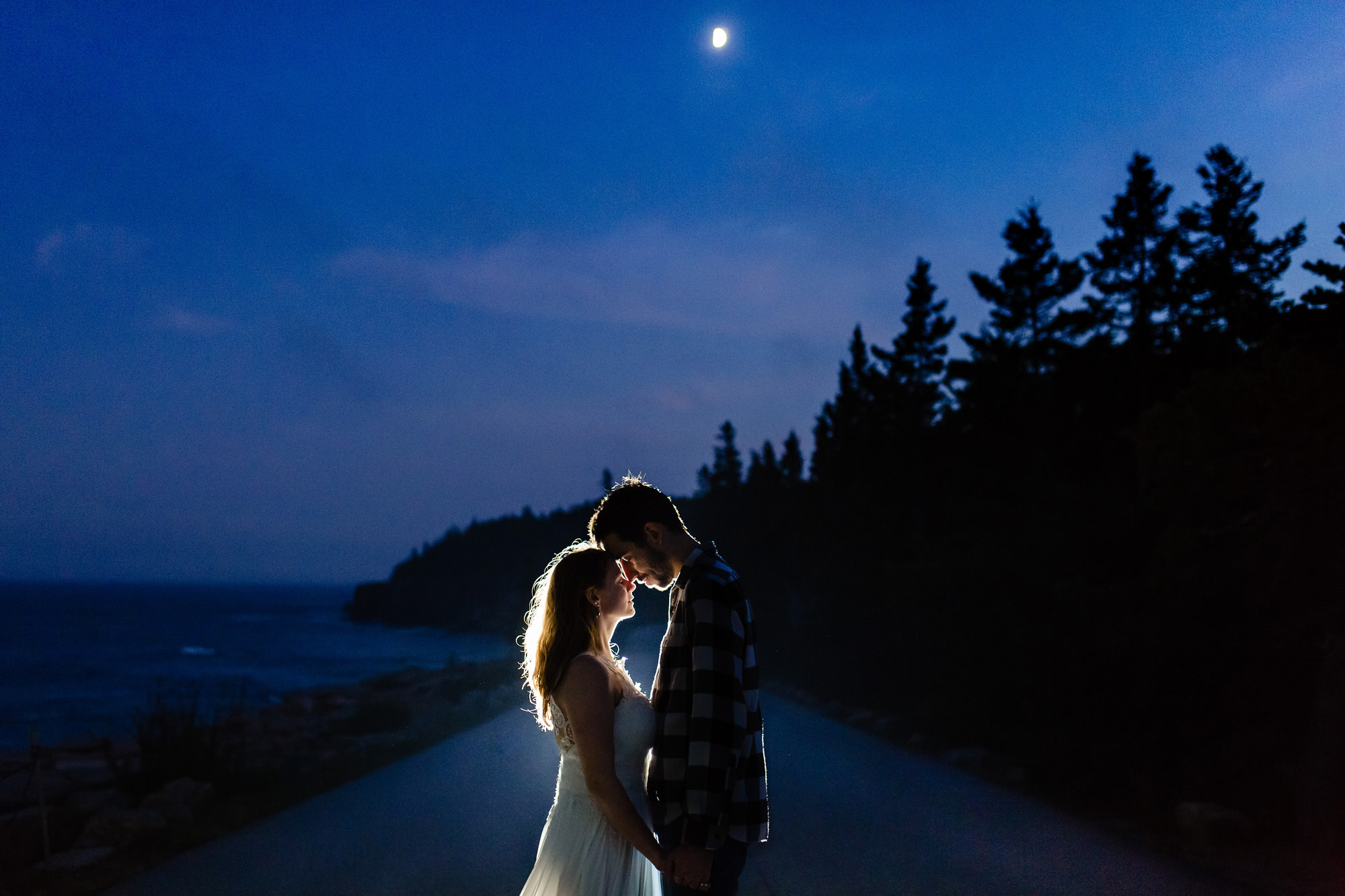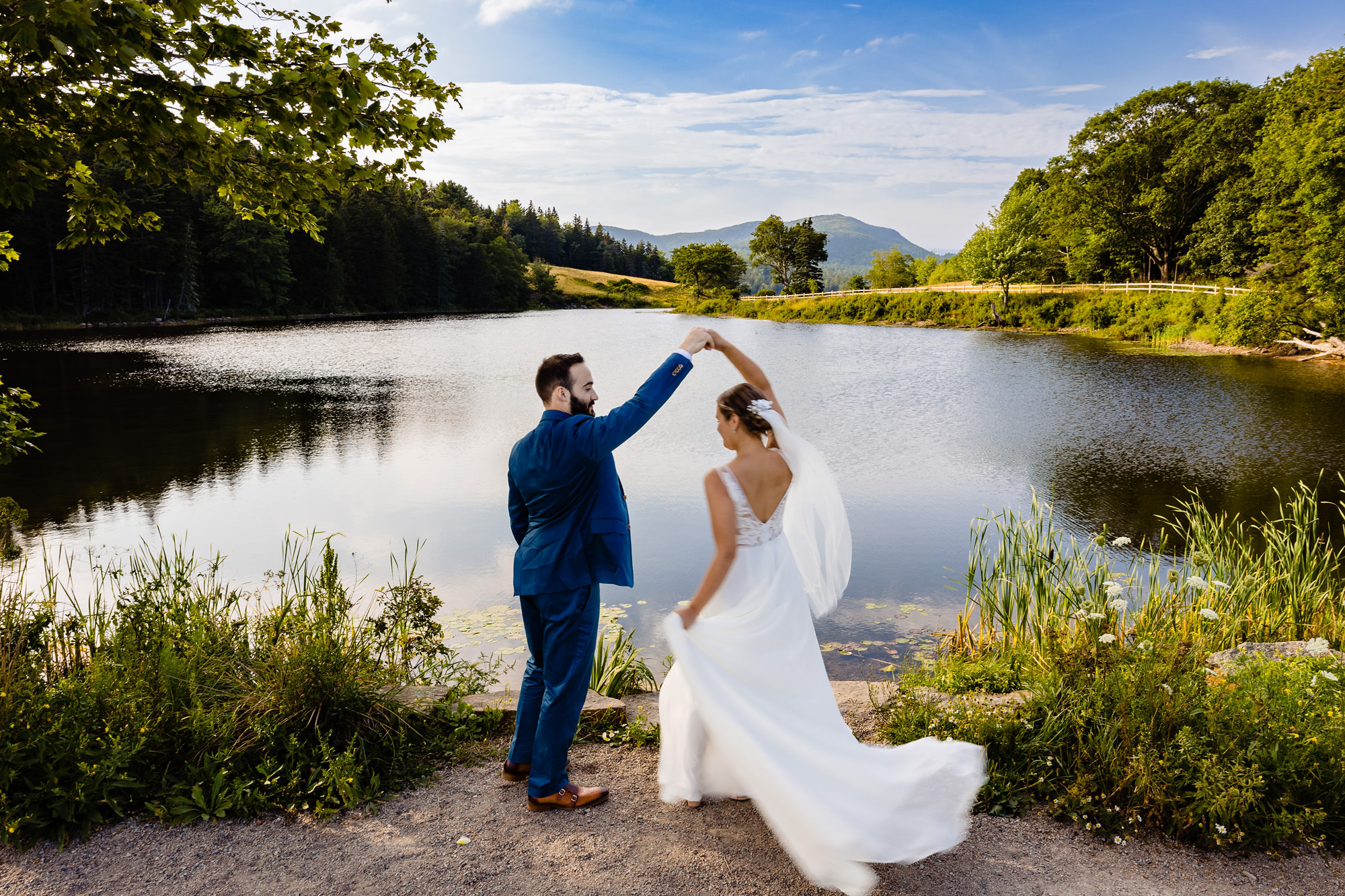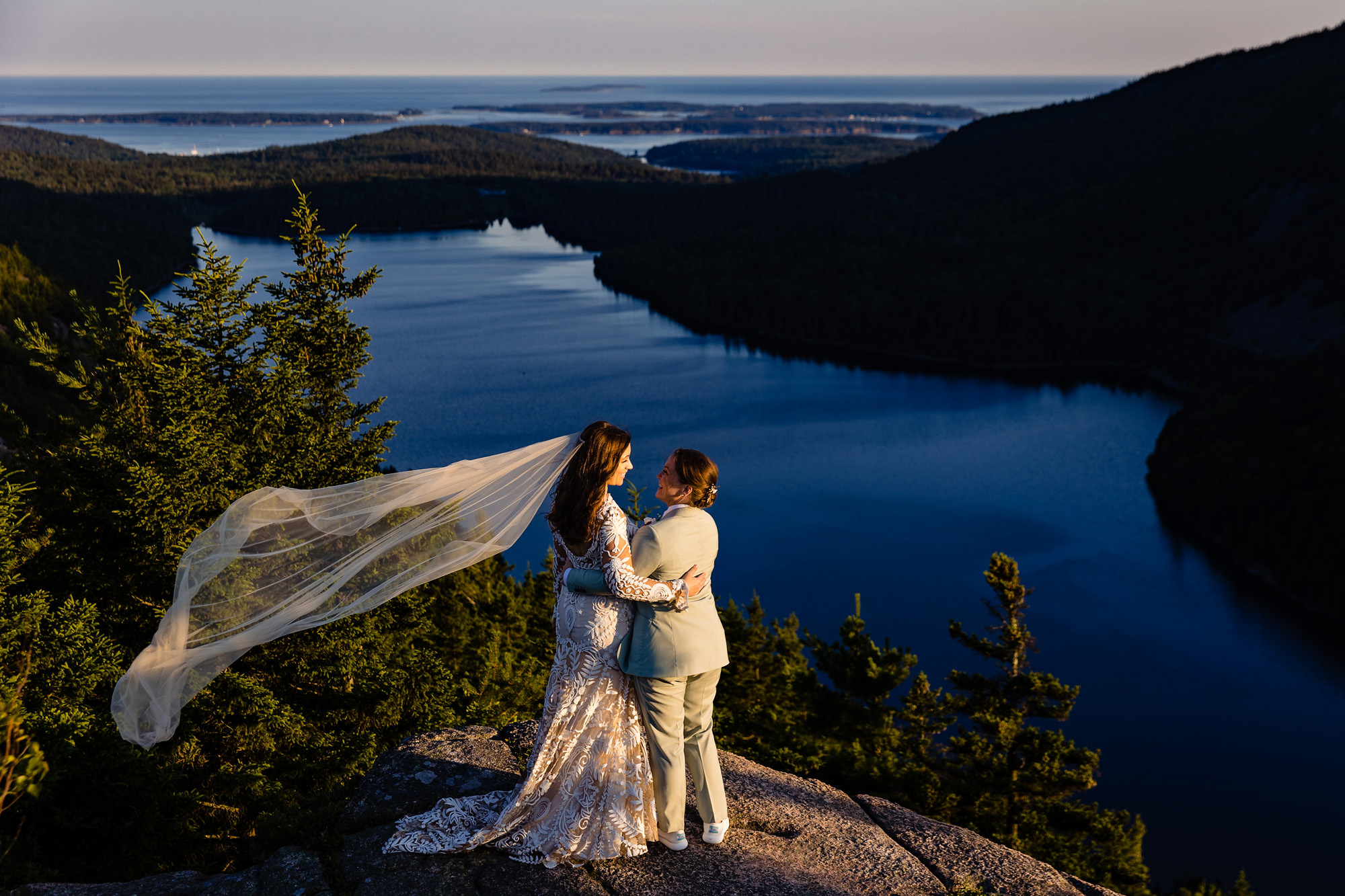 More Bar Harbor, MDI, and Acadia wedding venues
The following venues are ones I have yet to work at (hence having no photos to share), but have been on my radar and are worth checking out during your Bar Harbor wedding venue search!
Do you need a Bar Harbor wedding photographer?
Hey! You're probably still researching venues at this point, but I'm hoping you'll reach out to me should you end up picking a Bar Harbor wedding venue. I love photographing weddings on MDI- click the button below if you want to learn more about my services!
Pin this guide!