Mike and Aldo originally planned to elope up on MDI, a place near and dear to their hearts, but when they discovered friends and family wanted to join them, they decided to plan an intimate Asticou Inn wedding in Northeast Harbor. Their day started at Harbourside Inn (which has fabulous wallpaper, by the way, and I hope I get the chance to photograph more getting ready at this property!), in which Mike put on his grandfather's cufflinks, and Aldo wore a stunning pocketwatch. Once they were ready, we stopped by the parcel of land they own on the island. Mike, being an architect, will be designing their future Maine home, and so it was fun to take a few portraits on the very spot they'll be staying in the future. After a few portraits, we traveled to St. Mary's-By-The-Sea in Northeast Harbor, where they had an intimate ceremony in the stunning chapel. After taking the time to hug their favorite people and sign all the official paperwork, we continued on with more portraits at Thuya Garden, and eventually made our way to Asticou Inn, where cocktail hour kicked off on a deck overlooking the harbor and Asticou Inn's grounds.
When dinner began, I noticed Mike and Aldo had all three of their entrees laid in front of them- that way, they told me, they got to taste everything they were offering that night. What a great idea! Once everyone finished eating, guests began to dance, and even though the wedding was under 30 people, there was still an eager group of guests ready to dance.
I was obsessed with Mike and Aldo's choice of bold, bright floral work (which was done by no other than Bad Rabbit Flowers), and while I love any and all color palettes, I'm always thrilled to see saturated color at weddings.
Here's a few of my favorite photos from Mike and Aldo's wedding. Enjoy!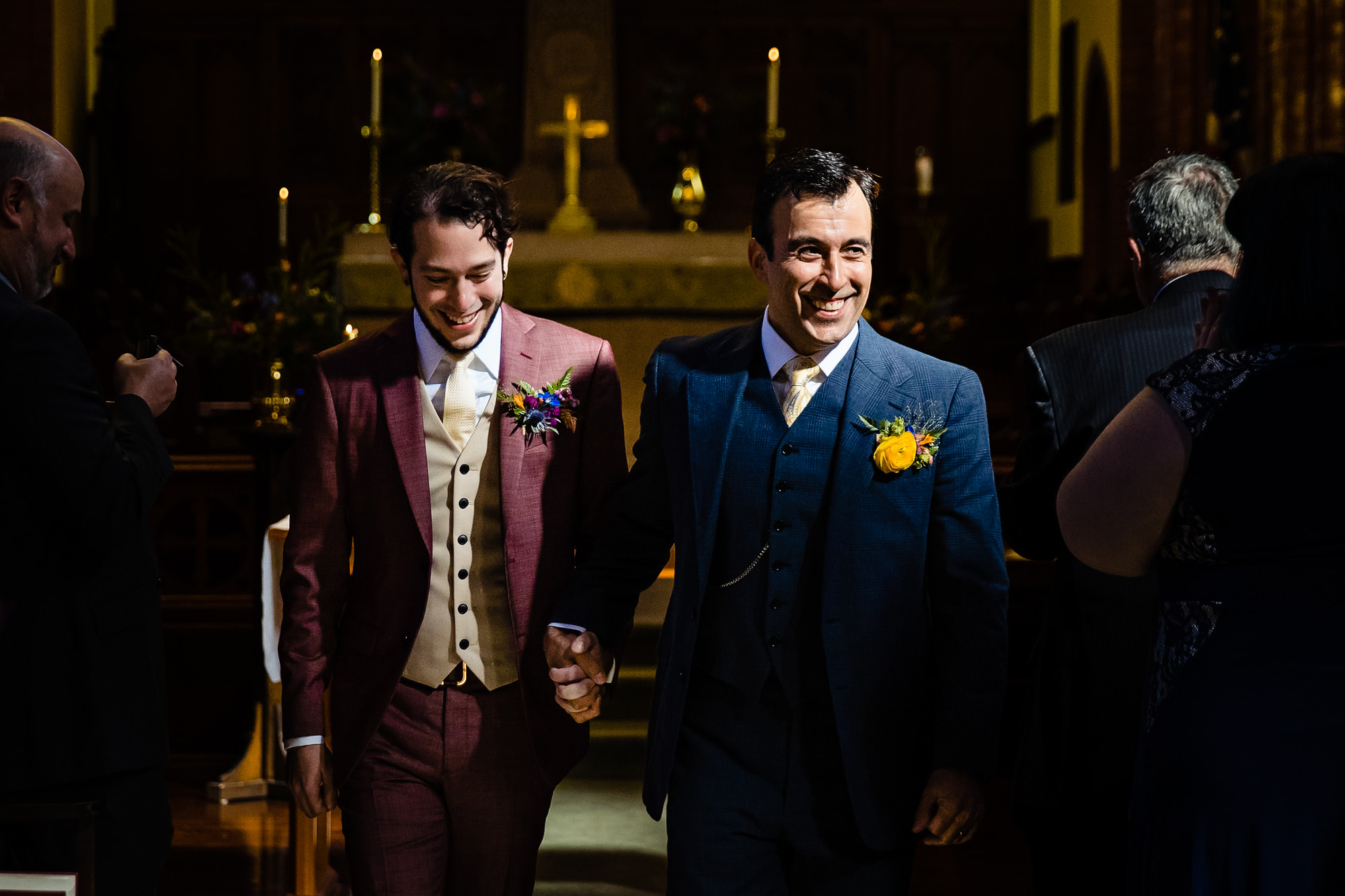 Vendors
Venue: Asticou Inn
Getting Ready: Harbourside Inn
Ceremony: St. Mary's-By-The-Sea
Photographer: Kate Crabtree Photography
Officiant: Rev. Stephen Muncie
Ceremony Musician: Robin Ann Barron
Caterer: Asticou Inn
Baker: A Slice of Eden
Mike's Suit: John Varvatos
Aldo's Suit: Ralph Lauren
Florist: Bad Rabbit Flowers