On a summer day in July, I met up with Ali, Rachel, their pups Rhino and Ralphie, and their friends Chelsea and Mike for their Acadia mountaintop elopement. It only made sense for Ali and Rachel to have an adventure elopement, as the pair loves to travel all over the world, maxing out their vacation time (Rachel, being a school nurse, has LOTS of it). We all drove in the same car into the park, but as Ali and Rachel wanted to share a first look in the park, they studiously avoided looking in each other's direction for the ride in. Once we arrived, we were delayed slightly by the conundrum of how to remove a tag from Rachel's veil (a kind stranger with a pocket knife intervened), but before long the two of them were back to back on the cliffs, holding hands, the anticipation mounting. Their reactions when they turned around was so delightful to witness, and I was so happy to skip around on the rocks as they admired one another. Meanwhile, tourists yelled their congratulations and it was such a happy-making moment.
We then got back in the car and drove to one of Acadia's many mountains, which we hiked up (yes, there are easy to hike up mountains in Acadia that you can visit during your elopement!). Once we arrived on top, the sun was perfectly spotlighting an overlook, and so the two of them descended upon it. As Ali and Rachel had technically gotten married back at home, they opted to not include an officiant, and read pages upon pages of heartfelt vows they had written for one another.
On the way back down, Ali tripped and BARREL ROLLED down a short segment of the mountain! She scuffed herself up, especially her hands, but she was an incredible trooper and continued on. We continued to Jordan Pond, where we soaked up the sunset and finished our time together.
Here are a few of my favorite photos from Ali and Rachel's Acadia adventure elopement. Enjoy!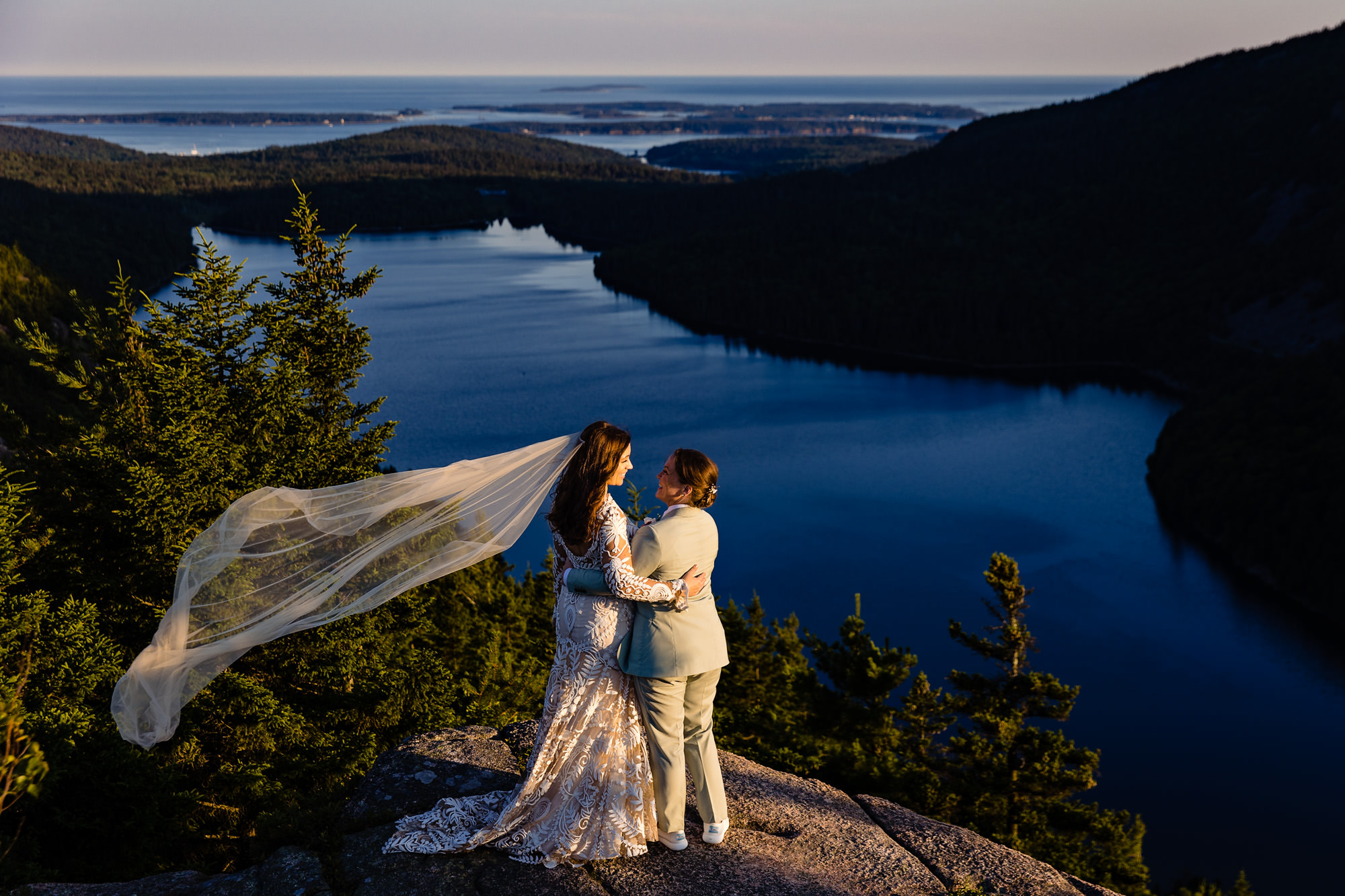 Vendors:
Photographer: Kate Crabtree Photography
Florist: Queen Anne's Flower Shop
Makeup/hair: Bar Harbor Beauty, Echo Salon
Dress: Rue De Seine Bridal
Suit: Indochino