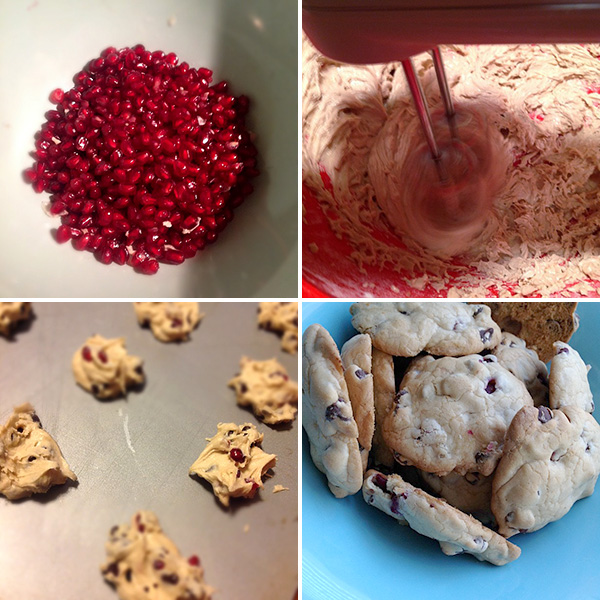 (I made chocolate pomegranate cookies for Thanksgiving– you should try the recipe out.  They are delectable!  Photos taken via Instagram)
I meant to write about Thanksgiving sooner, but I've found this blog post hard to write because Thanksgiving means so much to me.  Many of my friends (along with Tony) set their sights on Christmas before Thanksgiving even happened, but I refuse to focus on Christmas until I've been able to celebrate what I consider to be the most magical holiday of the year.
Thanksgiving, in my opinion, does what Christmas has, in recent years, failed to do.  While Christmas is certainly a wonderful holiday, its commercialization has made its inherent magic feel cheapened.  The focus of Christmas has become about the gifts, the toys, the saving of $20 dollars on a 52″ television.  But Thanksgiving has many of the elements of Christmas– the good food, the time spent with friends and family, the giving of thanks– and except for the abundance of turkeys that show up in supermarkets, Thanksgiving isn't about the buying.  It's about giving, sharing, and reflection.
For as long as I can remember I have spent Thanksgiving at either my uncle's or my cousin's house.  I adore the Wardwell Thanksgiving– the house, especially my uncle's, is always almost too warm to bear due to the wood stove and our collective body heat heating up the house (I am a true fan of the overabundance of heat), and our family is gathered together with their contributions for our feast.  My uncle owns a restaurant, my cousin has his own wine distributor business, and most of the rest of us are foodies, so our Thanksgiving feast, I swear, is more than just a traditional meal and is more like a meal from an upscale restaurant.  It is exquisite.  My uncle provides a variety of wines, and we feast on turkey, steak, ham, salad with goat cheese and pomegranate seeds, pie, and other delicacies.  And it is hard not to be blissful amongst family that I see only a few times a year and good food and wine in my stomach.
This year, I am thankful for:
1. Having a great family who I care deeply for and sincerely enjoy spending holidays with.
2. Having great parents-in-law.  We spent Thanksgiving evening with them and my brother-in-law Kyle, and played Scrabble.  A few days prior to Thanksgiving, my mother-in-law told me during a phone conversation that she was glad I had married Tony, which really made my day.  I'm lucky they are so kind, as we don't get to choose our families.
3. Having a husband who sometimes believes in me more than I believe in myself, which makes me incredibly blessed.
4. Really, really good food.  Gah.  Can I relive our Thanksgiving feast, please?
5. Being able to own a business that is more of a passion than something I have to do 40 hours a week.  An 8-5 job would bore me.
6. Being fit.  Even though I haven't been running as frequently as I'd like/should (that'll be changing this week!), I still have great endurance.  It took forever to build it up, so I'm thankful that I don't immediately lose it when I'm not working out as often as I used to.
7. Having clients that I really like.  Several have become friends, which is sort of awesome.  I have the coolest job!
I hope you all had a wonderful Thanksgiving, and that your upcoming holiday season will be magical!
By the way– here's a few other photos from Thanksgiving, from my cell phone (I was too focused on eating delicious food to take more).  My cousin recently adopted an adorable little kitty, which we all played with throughout the course of the day.  At one point, little Josie was placed in Tony's hood, where she just hung out, and of course we all got out our cell phones to take photos of this adorable scene, while Tony sat very still and asked nervously, "is she angry?  Is… this a good idea?"  Yes, Tony, it was a brilliant idea.  LOOK HOW CUTE LIL' JOSIE IS IN TONY'S HOOD!