With Heidi and Rick's engagement session at Wolfe's Neck Farm in Freeport, Maine, the old adage was true– the third time was the charm.  Our first scheduled session was rescheduled when Rick had an unfortunate encounter with his bathtub, which resulted in a black eye, and rain and gloomy skies threatened when our rescheduled session rolled around.  We almost rescheduled on our third date, but we decided to press forward, especially since the 50 degree weather was so delightfully mild for November.  We were still slightly drizzled upon for a short duration, but the grey, slightly foggy skies were a slice of classic coastal Maine that I'm always fond of.
I'll share more about Heidi, Rick, and our time together below, but let's get to the photos first!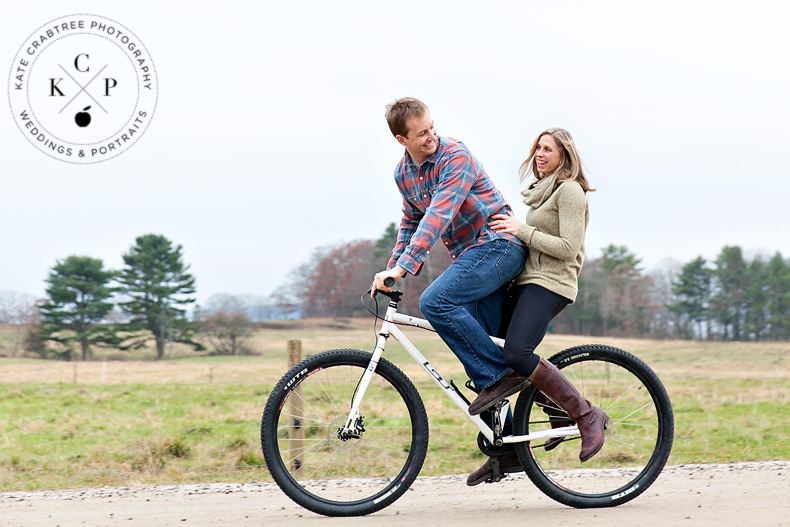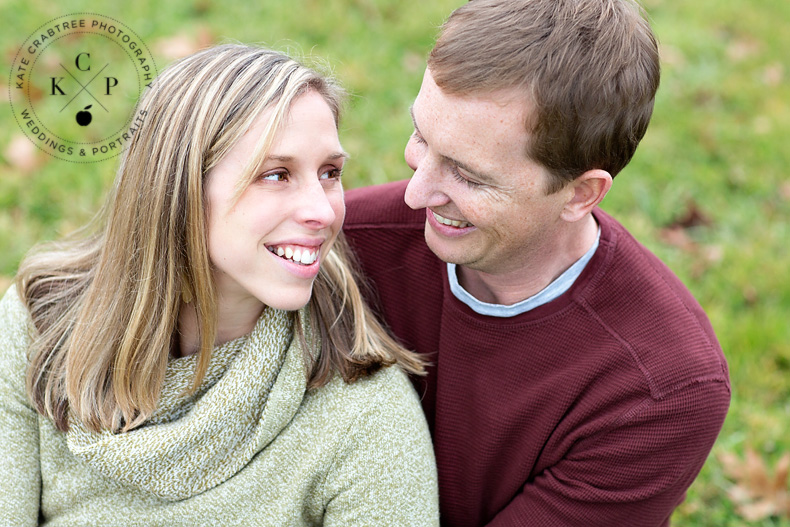 I met Heidi and Rick at The Great Lost Bear in Portland, where I made the mistake of ordering what I believe was the messiest hamburger ever.  I felt rather self-conscious as I tried to eat without looking like a slob, but luckily Heidi and Rick didn't judge me!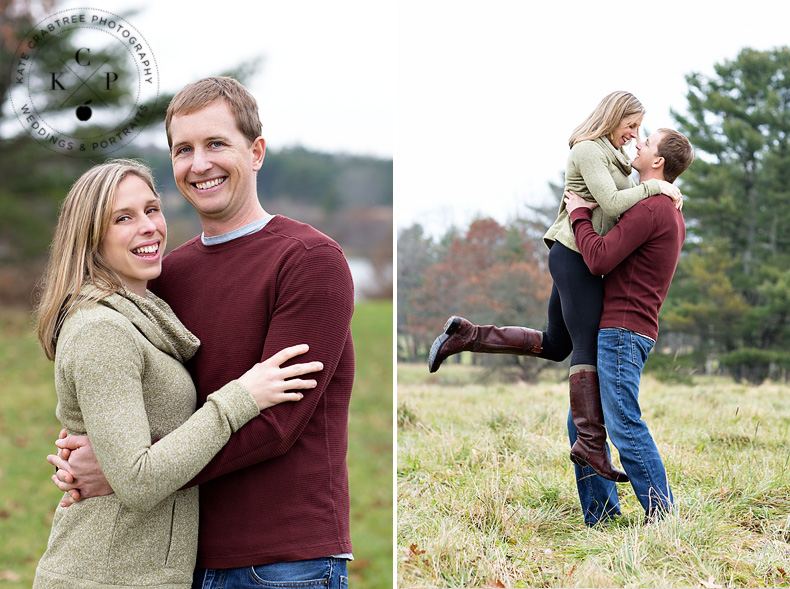 When Rick proposed to Heidi, he presented her with a lovely family ring.  However, Rick wanted her to have something of her very own, so he purchased her a pair of Frye boots.  Yes, that's the pair she's wearing in these photos.  Yes, Rick is a fabulous fiancé.




I've never done a "tossing leaves into the air gleefully" sort of photo, but figured, with all the leaves we have at our disposal, that it was time.


Although I love sun and blue skies, I'm such a sucker for grey, foggy skies and silver water– it provides for atmospheric photos that feel cozy and romantic.




Rick really, really wanted to take some photos of him and Heidi riding his bike at the same time.  I wasn't sure how he was going to pull it off, but naturally he did so easily and adorably.

Blitz, their adorable and energetic nine year old pup, joined them for a few photos as we entered the Wolfe's Neck woods state park.


This view makes me so happy that I live in Maine.


Heidi and Rick, I can't wait for your wedding next September at the New England Outdoor Center in Millinocket, Maine– can't wait to drink in views of Katadhin with you two as you say "I do" to one another!