Those of you who have been following this blog for awhile  know that I am a bibliophile.  I love books.  They're overflowing my bookshelves and my basement, and even though I hate clutter I just can't imagine purchasing a Kindle or a Nook.  There's something about  the feel of books in my hands, the smell of the paper, and the sound that the pages make as I turn each one that I know I'd miss if I switched from physical to digital copies.  I'll take my clutter, thank you.
With that said,  I (of course!) spent a ridiculous amount of time picking the perfect album and album company.  I didn't want to use any of the album companies that other local photographers regularly use, and I didn't want anything exceptionally girly or trendy– I wanted a classic, simple, and timeless album that looked and felt substantial.  I imagined an album that was exceptional and would be a reminder of a day of love, laughter, friends, and family.  It had to be heirloom quality.
Clearly, I had high standards while searching, but when I found my dream album I knew it was meant to be.  I ordered a sample, crossed my fingers, and when I ripped open the box and slowly lifted it out of its leather box, I fell in love, and was secretly glad it was a sample and that I didn't have to part with it.  Yeah, I'm kind of obsessed, and I'm so glad I can offer these to you!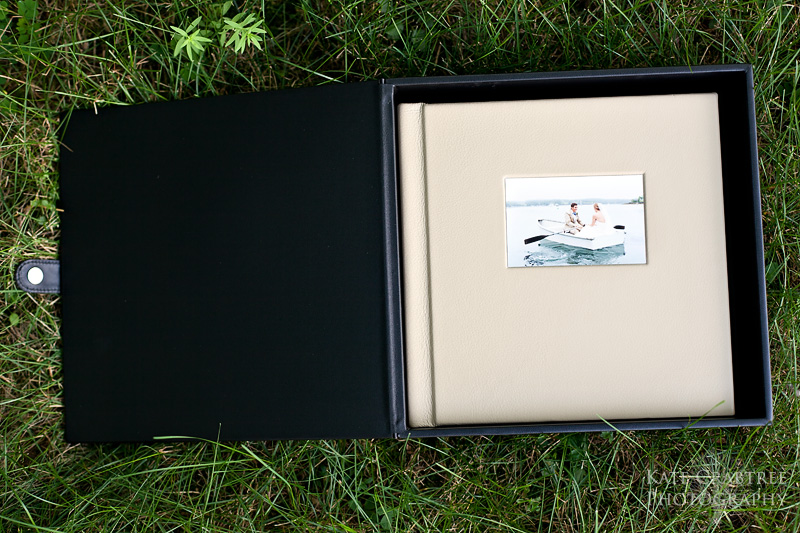 These gorgeous leather albums come with a leather box for safekeeping.  It's heavy and solid, and will stand the test of time.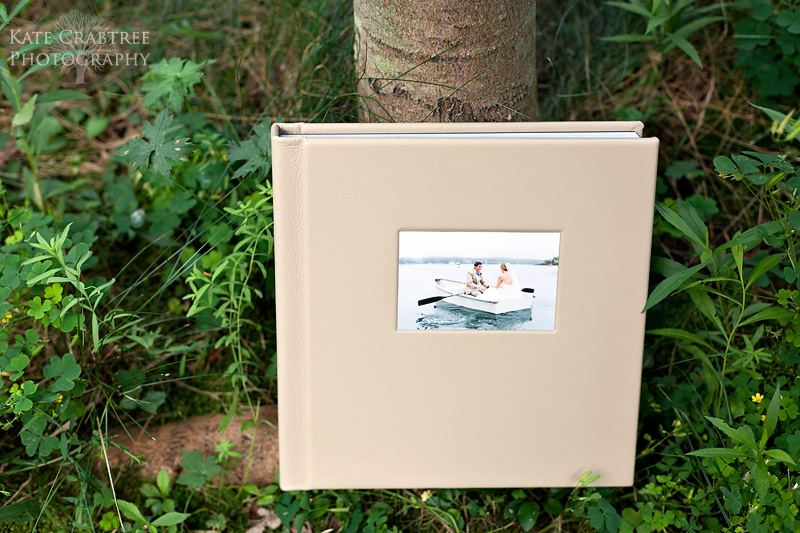 This album is a 10 x 10 (the size I recommend for wedding albums, although there are other sizes you can choose from).  There are a variety of colored leathers (and faux leather, if you'd prefer!) to choose from, but nothing else but khaki would do for Susie and Gardner's airy midcoast Maine wedding.  The cover is thick, heavy, and feels luxurious in your hands.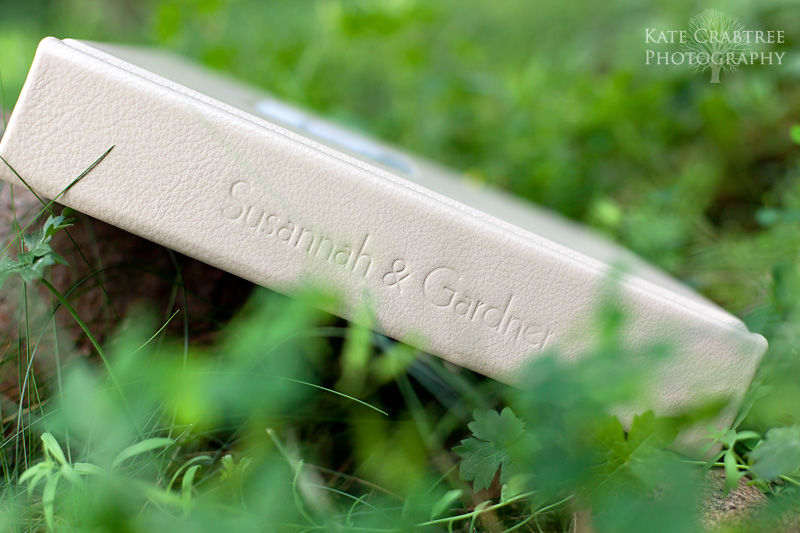 I love imprinting text on albums, and with these albums you'll have the choice whether you'd like any text on the binding, the cover… or BOTH.  Awesome, right?  You'll also have a choice as to whether you'd like to have a photo on the cover.
The image quality in these albums is ridiculously good; clear, sharp, and the color is accurate to what you see on your screen.
This is a hinged layflat album, which means there is a teeny tiny gutter in the center of the album.  It's almost imperceptible and is more rugged than albums that have no gutter (a now-popular option offered by other photographers), because wear and tear will eventually begin to do some damage to the center.  My goal is to provide you with a product that will last you for a long, long time, so I've decided to use an album company that offers a gutter.
These pages are thick and heavy and you never have to worry about bending them.  This album has 22 spreads and that amount allowed me to fully tell Susannah and Gardner's 11 hour wedding day.
I hand design each wedding album to best articulate the happenings and the details of the day.  At this time, I offer clients two options; they can select a certain number of images (dependent on the number of spreads they've purchased) they'd really like in the album, or I can pick the images myself that I believe best tell the story of your wedding day.  A free round of changes are included in the price of the album.
Too many brides and grooms neglect their photos by leaving them on their flash drive and on their computer.  Why not honor your wedding day, your relationship, and the photos themselves by binding them in a gorgeous heirloom album that will serve as a reminder of your wedding day?  I promise, after you hold one of these gorgeous albums you'll never want to let go.  I can't stop touching this album, and I'm tempted to hug it, which might be kind of weird, but I just don't care because I love these albums so much!
2013 brides, 2012 brides who have yet to add an album to your collection, or 2012 brides who are interested in upgrading to this album– contact me!  I want to tell everyone how awesome and how worth it this album is to me.